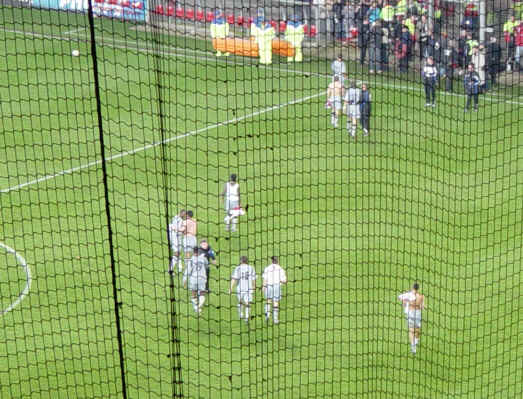 A job well done
Perhaps the biggest compliment that can be paid to the side after this game was that they contributed fully to an occasion that had all the hallmarks of a Champions League encounter, not only in terms of the stadium and opposition but also in evoking memories of the spirited efforts on our travels in the second stage European games last season.
This was the night that the UEFA Cup got serious and thankfully we responded, coming back from the early setback of conceding a well-taken but avoidable goal. And once level we kept the opposition at bay thereafter with no great problems, other than trying to retain some composure in the face of increasingly perverse refereeing decisions and blatant gamesmanship from the home team.
Symptomatic of our greater effort and deserved return was the performance of Jermaine Jenas, who marked his best display of the season with the vital goal that he didn't know much about but was certainly in the right place to notch. Aside from that, his passing and tackling were much improved and almost reminiscent of the earlier period of his Magpies career when he looked so effervescent and exciting.
But if the midfield benefited from this long-overdue improvement in form from JJ, then across the side there were numerous positive contributions, as for once we applied ourselves to a potentially sticky situation and worked through it to ultimately good effect.
PSV had looked dangerous in the opening stages and after taking the lead it looked like a long night in store for us. However, things started to gradually turn around midway in the first half and a long-range Speed effort signaled our recovery and consequent emergence as equal partners.
Frustratingly we lacked width, as both Ambrose and Robert tucked in whenever possible, but Bernard's contribution down the whole left flank was to prove invaluable, as was Bellamy's constant harrying of the PSV back line as they tried to build attacks.
Up front, Shearer found yet another referee who wasn't prepared to act on the evidence of his own eyes and penalise pushes, holding and lunges by defenders but who could overrule linesmen from half the length of the pitch when it came to invisible transgressions by visiting players.
Meanwhile in central defence, Bramble rode his luck at times but for once outshone Woodgate in the interception and blocking stakes, as Given was afforded some decent protection for once. However, an apparent elbow on a PSV player may yet cost United dear if Bramble follows Bellamy (Kiev) and Shearer (Inter) in being banned following a UEFA review of TV footage of an incident not picked up by the match officials. Note that we don't place Bowyer's suspension in this category, still preferring to look upon that as something of a blessing.....
Whatever fate is in store for Bramble plus the possible bans facing Shearer and Ameobi are situations to be faced as they arise, and the now fit-again Andy O'Brien provides cover alongside Woodgate. However, as the Irish defender is also just one booking away from a ban, what price Steven Taylor getting a go in his preferred centre back position in a semi-final game against either Marseilles or Milan?
Having accentuated the positives then and given praise where due, there has to be a mention of our shortcomings down both flanks this evening.
It's fortunate that PSV chose to play their game at a tempo that afforded our players the chance to regroup and allowed Robert and to a certain extent Ambrose to get away with not pulling their weight as hoped.
The former Ipswich man is in the early stages of his Premiership career and does show some good touches and a willingness to get involved, but too often fails to get into the crucial final third of the field to finish what he's started.
Ambrose can be allowed to grow up in public as it were, providing that there's some product from the opposite flank but tonight it came as often from the overworked Bernard as his countryman, who offered little save for the cross that we equalised from - not an insignificant contribution, but outweighed by his reluctance to drive on towards the PSV box in the opening half.
And that reticence became indolence after the break, as he stayed on the field despite being little more than a passenger, idling near the halfway line and often watching as his compatriot Bernard was outnumbered two and three to one. Presumably Robert was left on partly because we had no alternatives (Viana down the left no longer an option seemingly) and he was still available for the any set plays. Let's hope Robert was saving himself for the Gunners.....
A satisfying performance then, a reasonable result and a good foundation for the second leg, but no more than that. Unlike the epic night in Rotterdam we lacked the verve and the good fortune to record a victory on Dutch soil, but there's still the second game to go, where Hiddink's men simply have to score and have to attack.
What state we'll be in mentally or physically after the exertions of this game and the meeting with Arsenal remains to be seen, with another wee small hours arrival back in toon for the players following a post-match bus to Brussels and a night flight. Why don't they just stay another night where they are and have a sensibly-timed return on the Friday? Are they that penny-pinching?
So slightly less swashbuckling than other European nights, but no less deserved or well-earned for that and with an excellent chance of a last four spot. Dreams of Gothenburg persist, but this competition has really only just begun.