Date: Sunday 9th May 2004, 3.00pm

Venue: St. James' Park


Conditions: Pithy




Newcastle United

1 - 1
Wolverhampton Wanderers
Teams
38 mins: A neat finish from Lee Bowyer with a toe poke into the Leazes net, after Darren Ambrose had found Shola Ameobi down our right. He eluded Kennedy to dispatch a low cross, picking out the incoming and unmarked Bowyer six yards from goal. Bowyer's celebration took him over the advertising hoardings and into the embrace of the crowd - not as good as cartwheels but better than smoking fingers. 1-0
Half time: Newcastle 1 Wolves 1

70 mins: After the ball had pinged around the edge of our box, Kennedy's long shot was blocked by Bramble but the ball fell to Ganea who fired past Given, Cort lingering on the line and looking offside as the ball flew past him. 1-1
Full time: Newcastle 1 Wolves 1
Sir Bobby said:
"I can't stop the reaction of the crowd. They are what they are. We thanked the ones who stayed behind.
"But I have to remind one or two people that this club has played 28 times in Europe over the last two seasons. A few seem to have forgotten that. The expectation here is so high."
"Five of our big players did not play. All five would have played and you have to remember that. My policy has not been to talk about the injuries but we've lost first-team regulars."
"We'll need to have resolve and commitment to qualify for the Champions League now. My message to everyone is to get your head up and your chin up.
"There are still two games to play. In football you always have a chance and you have to believe that.

There was a certain amount of listlessness in the team and we were a bit weary. There are two games to go, two big cup finals and we have to believe.
"We have to win two away matches, not easy, but we have to be ready for it and give it all we've got."
"We missed a penalty. The keeper chose the right way - I never crib about missed chances, we take them or we don't take them. We all depend on people taking chances - and I'm not talking about just the penalty.
"The keeper took a gamble and it paid off. He made a good save and then Alan, in the next five minutes, nearly atoned for it because he hit a dipping 25-yarder over the bar and hit a diagonal across the face of goal, which just screwed outside."
About Dyer and Bellamy's injuries:
"They can't go out full blast because the hamstring isn't quite repaired yet and we won't make a decision about those two until Thursday or Friday,"
Dave Jones:
"We've come away with a worthy point today.
"It's not the easiest place to come to. I thought Paul Jones made some fantastic saves during the game and I felt we kept our discipline.

"We could have won at the death but we stood firm and really the fans and everyone associated with the club deserved the day today."

"We said to the players at half time that you've got to keep believing. They haven't let me down all season and they haven't let me down today.

"The players kept control of themselves because there were a lot of things that happened out there that we weren't happy with.

"And we've held our heads up high today."
Lee Bowyer's first Newcastle goal in 23 appearances and his first goal for anyone since he netted away at Middlesbrough for Leeds in October 2002 - a 42 match barren spell that included his mundane spell at West Ham.

Wolves went through the full Premiership season without an away win, meaning their last top-flight victory on the road is still a success at Liverpool in 1984.

If any one stat is symptomatic of a decline in our standard this season, it's the fact that we have won only one of the Premiership games that immediately followed a European match, home or away - a far cry from our Champions League adventures when we demonstrated resilience time and time again.
That game was Middlesbrough at home back in October, when we'd beaten Breda away on the previous Wednesday. This season we played 14 European games (but two back to back that alters the stat slightly.)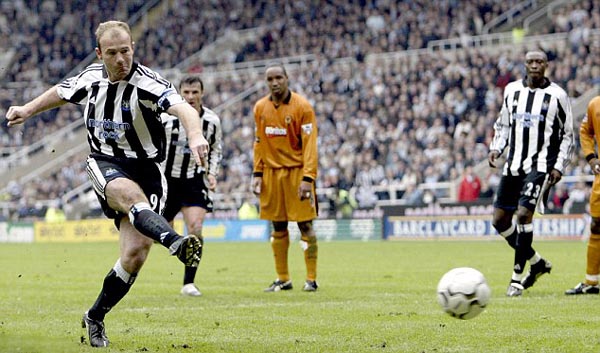 Amazing, incredible, unbelievable.

Three days after the semi-final of a European Cup competition and with a top four league place up for grabs, Newcastle are booed by a section of their own supporters and then handed a colossal vote of no confidence in the manager and players by a collective walkout at the final whistle.
But when the dust settles on this apparent show of petulance and emotions are checked back enough to allow for a modicum of perspective, then the reasons for this display of social disobedience have been plain to see for months. Since around 4pm on the first day of our season to be exact.
At that juncture, Newcastle fans were filing out of Elland Road after a 2-2 draw from a Sunday afternoon early kickoff, having just seen their side scrape a point from a game they should have won against a piecemeal Leeds side who even at that juncture looked to be in the proverbial - reminiscent of back in August 1988 when losing at Everton......
In our report of Leeds game, we finished by saying, "there's no real evidence of progression from last season at this admittedly very early stage" as well as saying of Bowyer that "this right wing role doesn't seem a good use of his talents." Two statements that have almost been repeated mantra-like ever since.
Can I just say straight away, before keyboards are abused and poison pens picked up, that booing is not something that we subscribe to. The arguments for doing it in certain circumstances are beyond question, whether you choose to throw in the examples of anger expression ranging from the suffragettes to Solidarity in Poland.

It's just something that just doesn't come into our heads - a bit like loser's parades. Just give us a quick wave and then everyone can go home and forget about it, don't play the extra extended 12 inch half-paced mix of Local Hero before traipsing out long-forgotten juniors and glum-looking crocks.
We didn't even have the Northumberland Senior Cup to hide behind this year - the only thing we've won was when Shearer's horse was first past the post....perhaps that should have been on the field, a nice bit of manure might have improved things....
No, something snapped collectively amongst the crowd on Sunday when Wolves equalised. It had been almost eerily quiet beforehand, aside from the celebration of the Bowyer goal, people too tense, depressed or sullen to try and lift the team.

A second goal before the interval might have masked the fraying edges and extinguished any remaining embers of ambition for the visitors, but the same piece of woodwork that had denied Drogba and Terry in the last two games was there at the Leazes end for Shola to bounce his shot off.

As it was we left the field for the interval having missed three good chances to augment Bowyer's effort and if the atmosphere wasn't hostile, then there was a certainly an air of apprehension.

That had become outright hostility by the time Wolves scored and then festered as Robert embarked upon a series of ludicrous efforts to tackle, win and then keep and pass the ball, to howls of derision. He was eventually withdrawn and replaced via a mixed reception of boos, catcalls and applause, but missing was the old shout of "Hugo Hugo" when the Portuguese midfielder emerged, the booing continuing as he entered the action. Some people were so het up I doubt they knew Chopra was on as well.

Amid an atmosphere of total negativity and fractiousness, those on the field became ever more desperate in their efforts and consequently their waywardness. In a word, rattled. Wolves sensed it and in their own half-baked style tried to impose themselves, Ince producing a cameo of his former fiery self with some thuggery and arguing with colleagues.
Then, apparent salvation. From the far end of the ground there was mixed opinion over why we were awarded a spot kick, but no doubt that the ball was on the spot and that the man placing it there was en route to his 29th goal of the season.

Only there was a doubt. A colossal doubt. Not for one second did I believe Al would score and the same line was repeated time and time again when asking fellow drinkers after the match. Who knows why? Maybe we are just fated to foul up, very publicly.
Under those strained circumstances, the announcement from the "I was only obeying orders" PA man of a post-match tramp round the field just further stirred up the emotions of people who had seen enough.
Seen enough: bad play, boring games, questionable tactics, unenjoyable wins, players not trying, fellow fans not getting involved, people walking out, inaccurate newspaper articles, patronising player interviews.

Ten months of slowly fermenting frustration, now mutating into sheer bloody disappointment once more.

I think it's safe to say that not one person walked out of this ground thinking about Boro winning the tinpot league cup, but in a way that's part of the problem. We may mock, but we cannot even excel to that extent. Generations of fans are now reared on disappointment.

Bobby and Co. may have cringed and griped at the booing, but they should reflect that it was typically British - in other places they would have waved handkerchiefs, (like his beloved Barca) hoyed cushions or bottles or come on the field and attacked those held to account.
(Long gone from proceedings, television footage later confirmed that Robert had taken part in the post-match cortege, filming his own personal long march with a camcorder - maybe he just wanted to gather evidence in case someone came out of what remained of the crowd and smacked him one.)

Partizan Belgrade is seen as a watershed for the club in recent times, but the seeds of discontent were sewn at Elland Road and the countless other homes of second-rate clubs that we underachieved in all season.

That feeling was crystalised on Thursday, when we were potentially ten minutes away from a UEFA Cup final. One goal would have put us level with Marseille and made for a nervous end to the game amongst the citizens of the Velodrome. But we never looked like getting it and continued to play in an unconvincing, dispiriting manner right to the end.
And here on Sunday it all fell down. Would 50,000 fans cheering themselves hoarse at the end of this game have sent the team off in better shape to win those last two games? It would have been nice to find out, but I doubt it - things like that don't seem to matter to that lot on the field anymore, expect when tossing off bland platitudes in interviews. After all, it didn't work at Wembley did it?
Never mind that we were without certain players. We've been without Bellamy and Woodgate as much as we've seen them and the contributions of Jenas and Dyer overall this season could be recorded on the back of a Bacardi Breezer bottle top.
On Thursday and Sunday, we had a team on the pitch composed of professional footballers acquired at great expense, cosseted, well-remunerated and with the potential to be the focus of adulation for decades to come. Just ask Bob Moncur.

Once again though as Jim Bowen would say, we got close enough to see what we could have won, before tossing it all away. We failed to beat a tinpot, tosspot team from Wolverhampton yet again and you wonder why people get upset?
Paying through the nose to sit (and stand) through a mind-bogglingly mediocre campaign doesn't leave one well-disposed to sympathising with the people appointed to carry your hopes and dreams, who week after week do a good impression of rubbing your face in the muck. And knowing that the rest of the league barring one team are utterly bloody ordinary just makes it worse.

Bobby may wail about bleeding black and white and pin on his toon army medals, but he was many, many miles away when we suffered in near-silence the tribulations of the Dalglish and Gullit eras. It's a mite unfair, but those on the field on Sunday bore the brunt of successive failed administrations and countless regrettable signings in recent decades.
Thanks for trying Bobby, but it's defeated you, like all the rest. We've cheered you, we've supported you and now we just plain don't believe you anymore. And neither do the players. We got close, we've almost failed. Again.
We'll now trudge off to Hampshire and Merseyside with whatever the opposite of hope in our hearts is. But not boo.

Biffa

Reports