Thanks to GNER who provided
us with train travel to this game
Date: Sunday 17th October 2004, 4.05pm
Live on SKYsports1

Venue: The Valley

Conditions: Mixed - sunny intervals, scattered and heavy rain showers

Away tickets: £25 (last season £30)
£2.50 programme (last season £2.50).





Charlton Athletic

Newcastle United

1 - 1

Teams
39mins After some neat passing in midfield Olivier Bernard was sent down the left and whipped in a superb cross to the near post, where Craig Bellamy stooped to head into the top corner. 1-0
Half time: Charlton Athletic 0 Newcastle 1
51mins A bouncing ball over the top beat Andy O'Brien allowing Kevin Lisbie to flick the ball over O'Brien, control and then round Shay Given. Just as he was about to shoot, Stephen Carr came across and nipped the ball off his toes.

However the clearance was goalbound and O'Brien could only turn the ball into the empty net. The Dubious goals committee later credited Carr with the OG 1-1
Full time: Charlton Athletic 1 Newcastle 1
Graeme Souness said:
"I think a draw is a fair result, we had our chance but it's a hard place to come.
"We've come back on the back of international matches and we've shown grit and determination.
"You have to compete well and we did that today. You hope to win every game so maybe I'm a little disappointed.
"We introduced Laurent (Robert), he wasn't playing because we have to be harder to play against away from home.
"We looked threatening at first but you have to be hard to play against and when Laurent came on they (Charlton) could have won."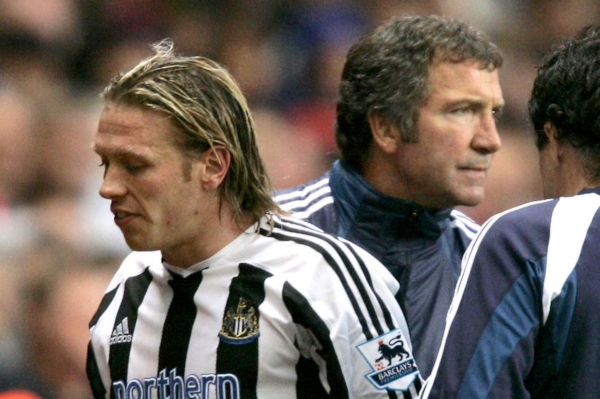 About Craig Bellamy's reaction to being substituted (TV pictures clearly showed Bellamy muttering, "f***in' pr**k" to himself as he walked off:
"I did not see it but I can understand players not being happy. I will look at it and ask him if it was directed at me and I will let you know what happens.
"If you are a top player, what comes hand in hand with that is a big ego and you have to be prepared to be substituted if a manager feels the situation is right.
"That is what I am paid for, making decisions, and if you get too many wrong you are looking for another job. That is the price on my ticket.
"We have a squad of 17 or 18 top players and that is the way it has to be - it is not any different at Manchester United, Arsenal or Chelsea.
"It is a balancing act for the manager.
"Psychologically he (Bellamy) is not going to be in great condition, physically he is not going to be at his best, so I think it was a common sense thing to do."
(Bellamy had played two games for Wales and lost them both in the week before the game).

By Tuesday, Souness had spoken to Bellamy and then to the media as follows:

"I'm angry about it, not because I was called whatever I was called because I'm a big boy and I've been called worse in the past.

"I'm angry because we're concentrating on this and not the important thing which is Thursday night. It happens too much and we should only be interested in the next game, not talking about incidents like this.

"All these things have to stop, if we're going to win things at this club we need to concentrate on what matters, not this petulance, not people acting like children.

"It has to stop and it will stop, I guarantee the supporters that. He (Bellamy) in particular has to sort himself out.

"From the outside looking in before I took this job it seemed to be a recurring situation. The club were making headlines not for attractive football but because some dope was doing what he shouldn't be doing."

Alan Curbishley commented:

"Both of us would have been disappointed if we came away with nothing.'

"They dictated the first half and we were trying to win it back. The goal was a blow but we said at half-time that if we get back in this game anything could happen.

"We got back in it and it was end to end after that. Myself and Graeme would have been upset with no points but delighted with three.

"Danny Murphy epitomises us. He came into the team a few days before the start of the season, he's had to get fit in the first team, he's taken a bit of criticism, but showed what a good player he is.

"If we can do better at home and get some points on the road we can have a decent season.

"The first eight games were like pre-season, people gelling and just about on first-name terms and hopefully we'll improve on this.''

Our Valley Record since its rebirth:

2004/05: Drew 1-1 Bellamy
2003/04: Drew 0-0 No scorer
2002/03: Won 2-0 Shearer, Solano
2001/02: Drew 1-1 Speed
2000/01: Lost 0-2 No scorer
1998/99: Drew 2-2 Ketsbaia, Solano
1996/97: Drew 1-1 Lee (FAC)

Newcastle are now unbeaten in their last seven league and cup games

, six since Graeme Souness took over.



Waffle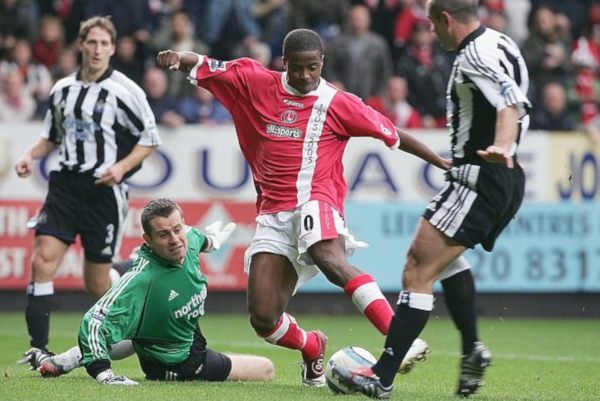 Back to the action then after an international break that gave us a breather before a run of 17 games in 11 weeks that takes us through to the end of the year.

And while we started off with something of a spring in our step, by the end of the contest, the limitations in our squad were starting to show.

With Kluivert at home (wherever that is) resting his hamstring and recovering from work on his wisdom teeth, Shearer bloodied and battered and Bellamy's Tourettes Syndrome once again a factor, the return of Ameobi from injury was a timely one.
Add to that a succession of reserve displays that underline the paucity of talent developing and the continued underachievement of Chopra at lowly Barnsley and by the time the yuletide decorations go back in the loft, it's a fair bet that there'll be some first footers making their bow on the training ground - and the quayside.
The scramble for the black and white lifeboats is now underway and if nothing else it's pleasing to see that Jenas continues to show encouraging signs he's getting back to somewhere near the level of play that made his purchase look so astute.
Again though we're in a dangerous spot with him, now that he's put in an adequate performance for Sven and as a consequence we've had a week of chin-stroking newspaper articles about his emergence as a midfield force - basically the same twaddle as has appeared countless times before, but with the names Cole, Dyer, Hargreaves or whoever crossed out and replaced by JJ.

Someone whose form suggested that he might have benefited from a rest rather than two hard England games was Butt. He may have opened his Newcastle goalscoring account in semi-spectacular fashion last time out, but in this game seemed intent on evening the scores with way too many loose balls to surrender possession in the midfield.

Precisely why Souness chose to start with Ambrose in this game isn't clear, but if it was to get a look at him in meaningful action rather than at Kingston Park then he now knows presumably what we know, that the jury remains out on his prospects of making a name for himself in a black and white shirt.
Certainly from what we've seen this season, at almost two years his junior, Milner looks to have more about him and a greater chance of breaking through to the next level domestically and internationally than the former Ipswich player and England U21 counterpart.
A better side than Charlton may have punished us more, but with the ghosts of Carl Leaburn and Mark Bright living on in the less-than-agile front pair of Bartlett and Lisbie, we just about got away with our slackness.
In fairness though, Butt did improve as temperatures rose after the break and dropped in a couple of trademark turns to get out of danger in a manner reminiscent of Robert Lee, once of Charlton and Newcastle and back at his old stamping ground of the Valley for this match as a spectator.

Butt of course will get a rest this week as the rest of his squad travel to Greece as he serves the second of his three game suspension, before returning to the starting lineup against Manchester City and no doubt some abuse from the North West corner of Level Seven at St.James'.

To even things up we'll no doubt be bellowing at Distin, but in the knowledge that he'd walk into our defence at present given the averageness of those filling the shirts and allegedly waiting for their chance to stake a claim to one.
Game triers, O'Brien and Elliott may be, and in this game as ever they gave a good account of themselves. But like those in the reserves at present (Bramble, Hughes, Johnsen) put them against a better level of opposition and the fissures appear.

Damien Duff might be this week's name in the frame, but given the £17m that Blackburn trousered for him July 2003, to add the boy from Ballyboden to our Irish contingent will require a significant outlay that would preclude spending anything more than pocket money (or signing on fees) on defenders singular or plural.

Who will go then? Robert? Dyer? Assuming they can find new clubs, it's hard to see us getting anything like a decent sum for either. That puts the onus on Freddy Shepherd to financially back his man in the way he did for Bobby, Rudi & Kenny.
As to the question whether this was one point won or two lost, taking into account Charlton's record (before today one goal conceded in four home games) it can be viewed in the positive if one takes the view that we're a team in transition - Souness trying to change attitudes among the current players, before he gets the chance to bring in his own folk as he has off the field.

So, not a high-class affair but a decent enough game though for a decent enough price, the rain just about held off (unless you were in one of the front seats), the stewards didn't work themselves over the standing up issue, the trains ran, the pubs were open etc. etc.

There'll be worse away days this season and more expensive ones, but the honeymoon period for Souness is still just about continuing with this point.
A look at the fixture list though for the rest of the year sees some real tests lined up against us. By January he will know a lot more about his squad and players and supporters alike will be more aware of what the man in charge can do for us.
Biffa