Date: Saturday 20th November 2004, 3.00pm

Venue: Selhurst Park

Conditions: Steady rain for most of the game

Tickets: £35

Programme: £3





Crystal Palace

Newcastle United

0 - 2

Teams
Half time: Crystal Palace 0 Newcastle 0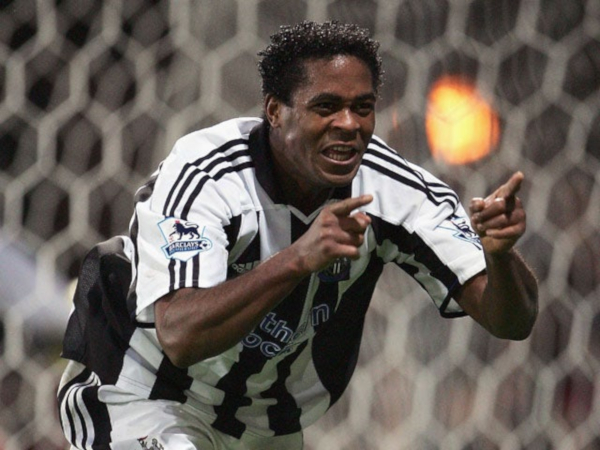 79 mins: Jermaine Jenas picked up a clearance and played in Bellamy down the United right. He made for the penalty area and beat a defender before pulling the ball back to Patrick Kluivert, who was making a run to the near post.

The Dutchman got ahead of the ball but was able to steer a sublime backheel into the far corner. 1-0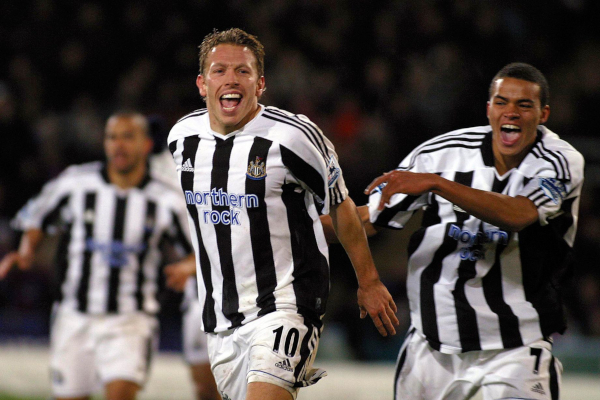 88 mins: Olivier Bernard launched a clearance to his compatriot Laurent Robert from the left-hand side of his own area. The winger surged forward from his own half, urged on by the travelling fans and as he neared the Palace box he looked poised to shoot, but instead threaded a finely-weighted ball through for Craig Bellamy to pick up and bear down on goal.

Evading one challenge the Welsh striker beat Kiraly to smash his shot past the 'keeper into the roof of the net. 2-0
Full time: Crystal Palace 0 Newcastle 2
Graeme Souness said:
"We played well today. We have come into the game on the back of two defeats against Manchester United and Chelsea - games we could have won.
"We have come here with some maybe feeling sorry for themselves but from the first minute we have taken charge and I think we bossed it throughout and it was a deserved victory.
"As a manager you are thinking the worst all the time but a bit of magic from Patrick and Craig Bellamy has won the game.
"You do think that when you don't take the chances that come your way, that just maybe they are going to get something on the break. But we defended well today and played some excellent football.
"It is pleasing that we got three points. You have to give Palace credit for sticking at it, but it was a deserved three points."

"I hate it when you talk about wingers. Can anyone show me a team which has got wingers that wins things?
"There's no such thing as a winger anymore. There are hard-working wide players. You can't say Ryan Giggs is a winger. In football now you don't have wingers."
"Laurent Robert's a super talent and I've no beef with him, but I've wanted him to do more. He's such a fabulous talent when he has the ball in the last third of the pitch. He's almost 30 now and can still learn.
"He did well in the second half, but we couldn't give the ball to him in the first half. The Laurent Robert we saw create the second goal is the Laurent Robert we want to see."
"We played some exciting football on a slippy pitch against a team whose No 1 priority was to stop us playing.
"In the second half we stepped it up and started to get through them. It seemed only a matter of time before we got a goal, but on the other side of the coin while we had all those chances they could have hit us on the break.
"We were on the front foot for the majority of the game but as long as it was 0-0 you were nervous about the situation."

Iain Dowie commented:

"I thought it was an even game until the first goal and we defended well because we didn't give them a lot of chances. I was a bit disappointed with the manner of our performance and we just didn't play.

"We didn't pass or move very well and there was no slickness. Apart from a good move in the first half we didn't really create any chances from good passing moves. We needed to be braver and bolder today and we weren't.

"We've lost three times after international week and maybe we need to look at the way we do things because that's been three lacklustre performances now.

"We didn't show enough ambition to win the game. We didn't move the ball enough and if you give the ball away cheaply you'll be punished in this division. Our performance in the second-half was too much like how we played at the beginning of the season.

"It's tightened up the bottom again and we go to Southampton next week where it will be a key game. There's no question that we have to go and beat the teams around us but we would have gone down there in a more comfortable position had we performed today."


Our recent Selhurst Park record:

2004/05 Palace - won 2-0 Kluivert, Bellamy
1999/00 Wimbledon - lost 0-2
1998/99 Wimbledon - drew 1-1 Shearer
1997/98 Wimbledon - drew 0-0
1997/98 Palace - won 2-1 Tomasson, Ketsbaia
1996/97 Wimbledon - drew 1-1 Asprilla
1995/96 Wimbledon - drew 3-3 Ferdinand 2, Gillespie
1994/95 Wimbledon - lost 2-3 Kitson, Beardsley
1994/95 Palace - won 1-0 Beardsley
1993/94 Wimbledon - lost 2-4 Beardsley 2
1993/94 Wimbledon - lost 1-2 Sellars (LC)

We last lost to Palace at Selhurst in season 1983/84 when we were beaten 3-1, our goal coming from Peter Beardsley.

Patrick Kluivert's goal was his first in 5 league games and 3rd in his 10 Premiership appearances.

We maintained our record of scoring in every away game this season - the only team in the Premiership to still have accomplished this feat. Whether we can still say that after our next away game is open to debate.....

Only Shay Given's 2nd clean sheet in the Premiership this season in 13 games, Blackburn at home being the other one. His last clean sheet away from home in the league was at Villa in April last season.

A second away win of the season - and both have come south of the Thames, Southampton



Waffle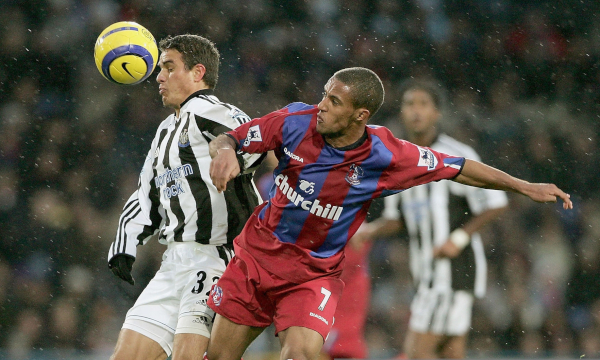 Relief.

That's the word that best summed up reactions of both United players and supporters at Selhurst Park to the sound of Mark Halsey's whistle, just before 5pm on Saturday.

But while many of those in the away section obeyed the instruction to pogo if they loved the toon while Laurent Robert indulged in a spot of Gallic hokey-cokeying, for curmudgeons such as us the joy was distinctly limited.

Of course any away win for our side is welcome, especially in the league, this being only our second in the whole of 2004. And a capital success provides a special satisfaction and feeling that natural justice has prevailed.

Add to that a decent and vocal travelling support who had two classy goals to cheer and in many ways, this was a day and a result to savour.... and drink to.

But after having watch ninety minutes of Palace proving that they were even worse than Blackburn had been this season in becoming our most limited Premiership opposition to date, the lack of imagination, application and craft that saw us struggle to break down Dowie's men does cause some concern hereabouts.
While in some quarters the display of Dyer was being hailed as a return to form for the under-pressure midfielder, from our £35 obstructed view he looked simply unremarkable. And while Robert had come close to scoring with a second-half effort that hit the crossbar and had done well to lay on Bellamy's goal, the rest of his afternoon was rather less than wonderful.
And had referee Halsey applied the laws correctly, the Frenchman would have collected a yellow card for his utterly unconvincing attempt at winning a penalty. Add to that some more wasted crosses and set-pieces and the question begged by his late burst of effort is why it took him so long to start getting at, to and past nondescript defenders.
Both of them at least contributed in some measure to our success overall, although when we were looking for inspiration to break down the opposition, none was forthcoming and our creativity was little better than Palace's for 79 minutes.

The least said about the inept Lee Bowyer the better, although his ineffectual display on this ground may have brought back memories for some of Geoff Thomas – another midfielder who ended up being capped for England for no apparent reason….

Plus points included the relative comfort of our defence in the face of a less-than-convincing attack from the Eagles that consisted mainly of one man (Johnson) – Arsenal must be stuttering if they were held to a 1-1 in Palace's last home game.

Another good performance from Jenas was heartening though and the award of the captaincy looks a positive move. However the clear and ever-present danger of waxing lyrical about him remains, with some Souness quotes seeming to egg on certain media sources into more fulsome praise of him.

JJ spoke maturely after the Madrid incident in midweek, but he's still only 21 and developing – lapsing from hyper-criticism one week to over-hyping his importance shortly after is a modern, counter-productive trait. Hopefully he can retain his focus and not be taken in by all the chin-stroking articles currently being penned in the "serious" press.

A man of the match performance came from Bellamy, looking far happier than of later after being restored to his preferred central striking role (although in view of the circumspect display of Kluivert for much of this game it was tempting to write sole striking role.)

His goal was the reward for an industrious and even-tempered performance, although expert lip readers may well have been offended by what he was saying as he ran away in celebration.

Of his strike partner, a goal of rare quality saved him from being rubbished by the rank and file, but doubts remain over his application – for a big man, the expression "put himself about" doesn't seem to have an adequate Dutch equivalent. It does have other connotations of course, but we wouldn't know about them, not drinking in Jesmond....
In many ways this game was a mirror of the contest on the same ground against Palace almost exactly seven years ago – your correspondent even being allocated almost the same dusty seat, at just double the 1997 price.

On that occasion, we moved two places up the table from ninth to seventh after winning 2-1 against a Palace side who were unsuccessfully fighting against demotion.

That season though proved to be a lost one in many ways, as we struggled to score goals and our defence continued to slip up on a semi-regular basis, two things that ultimately cost former Liverpool boss Kenny Dalglish his job early the following season.
We reserved some of our best form for the FA Cup, unfortunately coming up against an on-form Arsenal in the final, but still managed to get into Europe by the back door - many among us (including the number 9) would settle for a slight variation of that, but with the addition of something with ribbons and handles on....
Thankfully we can avoid the consequences of not winning this game, but with a tricky trip to France followed closely by the visit of a born-again Everton side and then the daunting task at Stamford Bridge, the respite may only be temporary.

Palace fans seemed reasonably pleased with their side's performance - maybe that's why they are probably going to be making their debut in the Championship next season. At these prices they shouldn't settle for a sub-standard product...and neither should we. Vital victory, nowt else.
Biffa