Date: Saturday 15th January 2005, 3pm

Venue: St.James' Park

Conditions: mild, light rain in closing stages





Newcastle United

Southampton

2 - 1

Teams
9 mins Referee Rennie correctly pointed to the spot after Calum Davenport tugged back Shola Ameobi as Antti Niemi raced off his line and collided with the onrushing striker.

After a break for the injured Finn to be stretchered off, debutant 'keeper Paul Smith took over between the posts at the Gallowgate End but could do nothing to prevent Alan Shearer's eleventh goal of the season.1-0
38 mins Celestine Babayaro's free kick from the left flank was swept home by Titus Bramble on the first bounce at the near post, as the visiting defence stood stock-still. 2-0
42 mins A corner played towards our back post was nodded back by Davenport for Kevin Phillips to head against Shay Given's crossbar, strike partner Peter Crouch reacting first to flick home the rebound from close range. 2-1
Half time: Newcastle 2 Southampton 1


Full time: Newcastle 2 Southampton 1
Graeme Souness said:
"I think in the first half we should have had more than two goals. Some of our football in the first half was excellent and then they have got a goal and got back in the game.
"In the second half we had chances again but got nervous in the last ten minutes and but for a stop by Steven Taylor they would have got something from the game which would have been hard on us.
"They (Southampton) have battled hard and not given up, at 2-1 you would expect that, but we have got to score more goals from the opportunities we create because we created lots of chances.
"It is an important three points today as we face Arsenal next week, but we can take some confidence as our football was excellent."
About Alan Shearer:
"Standing in the tunnel, we have got some young players and when you have got someone of his stature, it helps them enormously. He is a leader in every sense of the word.
"I think he had a good hour. The intention was always to give him an hour and he had a good hour. He will be better for that."
Saints boss Harry Redknapp said:
"I thought it was a bad decision (to give the penalty).
"We get the keeper carried off and concede a penalty - it's backs to the wall stuff from the first five minutes, but we hung in there and in the end we pressed them back and were unfortunate not to get anything from the game.

"We had a great opportunity at the end to equalise. We kept going, kept battling away. They gave everything they have got and you cannot ask more than that. That is all you can do.
"When the keeper went off and he gives the penalty, the keeper gets injured and gets carted off on a stretcher, you think 'This is going to be a good day here'.

"Alan Shearer is such a fantastic player and such an important player.

"At the moment, we're odds-on to go down,. Look at our remaining fixtures, we've got the most horrific run-in, the worst of any of our rivals. We've still got to play the top five teams at home so it's going to be hard, but if we can pull it off it will be a terrific achievement."
Former Toon boss, now assistant to Redknapp, Jim Smith added:

"It will be a f****** miracle!"
It's now four games unbeaten in 2005 with Arsenal next up at Highbury - the last team to beat us in our final game of 2004.

Our first double of the season - two more possibles: Manchester City and Crystal Palace.

Titus Bramble made his 50th Premiership start for Newcastle and his first league goal for us, his previous three coming in the UEFA Cup competition last season.

That matches his total of four for Ipswich, which were made up of two in the League Cup, one in the UEFA Cup and one in the Premiership - against the mackems.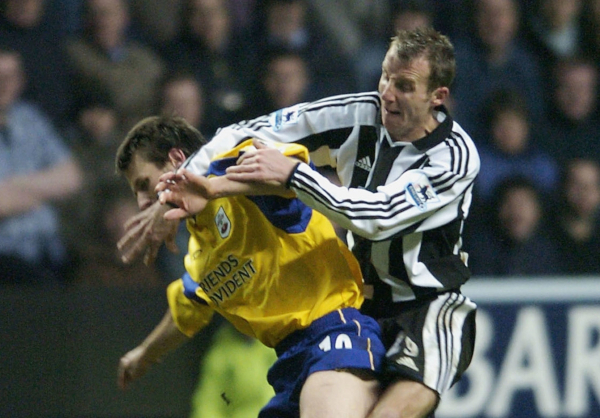 Another average team dispatched at St.James' Park then, but like Birmingham before them, the last minute of the game arrived with our opponents inexplicably still in with a sniff of a point.
The continued inability of this side to build on an early lead and sew up a game as a contest is now starting to grate.
Now don't get me wrong, the three points were very gratefully received and the result obviously more welcome than the disappointing draws against Everton and Pompey.
But from the outside looking in, it seems inexplicable that we can establish a pattern of play from the outset and look to be dictating both the pace and pattern of a match.
What people quite naturally cannot quite grasp is how we then continually falter as the game progresses - almost as if we invite the opposition in to make a game of it.
It's important to note here that we're not talking about conceding a goal - in this case Crouch's.
Of concern is the way in which we are seeming to wilt by around the hour mark, notably in midfield, where Dyer, Jenas and Bowyer all looked spent at the point against the Saints.
The net result was that the ball came bouncing back from Given's punts with depressing regularity.

That was despite (or was it because) Souness was able to field all four of his senior strikers at various times in this game - although the club could be open to censure under the Trades Descriptions Act if Kluivert were to be described as such....

Shearer of course continued to write his own headlines with a goal via a penalty conversion which may have been his first touch.

However the same also applied to the player he beat, Paul Smith's first touch in the Premiership being to retrieve the ball from the net. Imagine the headlines though if he'd denied the number nine a comeback goal.

Bellamy looked better when back in a central role (although how a few yards of field makes such a difference to him remains a mystery) while Ameobi was lively in the first half but faded after the break.

Our failure though to add to Shearer's goal put pressure on our new-look defence - unchanged from the last game for the first time in a long time.

The back four though came up with their own novel solution to the scoreline - creating and scoring what was to prove the winner themselves.

Unfortunately they'd barely finished congratulating themselves before indulging in a bout of statues as Southampton netted through beanpole Crouch, abetted by the much-booed Philips.

That was to be the only goal that Given conceded though, as we held the visitors at bay - at least until the final moments.

Then we were almost punished for some laxness, but thankfully Taylor was on his mettle to bail us out of the spot that Dyer had put his team in.

So, another three points, our unbeaten run in 2005 extended to four games, returns for Shearer and Kluivert and successful home/league debuts for Boumsong and Babayaro.

However the over-riding mood of the subdued home crowd at the final whistle was one of relief, rather than joy as we made heavy weather of this victory.

Precisely what awaits us at Highbury next week remains to be seen, but if we're to emulate the likes of Bolton's success then we'll need to reprise our last display against the Gunners - and ensure that we compete for the whole game, especially in what is likely to be a five man midfield.

Whether the talismanic qualities (or fitness) of Shearer will be sufficient to see him selected by Souness remains to be seen, as does the reaction of the media if he's kept in reserve for the FA Cup tie against Coventry.
Biffa