Thanks to GNER who provided
us with train travel to this game


Date: Wednesday 4th May 2005, 7.45pm

Venue: Craven Cottage

Conditions: pleasant

Admission: £31 (last season £28 / £30)

programme: £3 (last season £2.50)




Fulham

Newcastle United

1 - 3

Teams
18mins A deep cross from Charles N'Zogbia down the Newcastle left found James Milner at the far post. His attempted knock-back hit Liam Rosenior and fell nicely for Darren Ambrose to fire home past Edwin van der Sar at the Hammersmith End of the ground. 1-0
Half time: Fulham 0 Newcastle 1
62mins The unmarked Patrick Kluivert bulleted a header from N'Zogbia's corner past the 'keeper and Mark Pembridge guarding near post. 2-0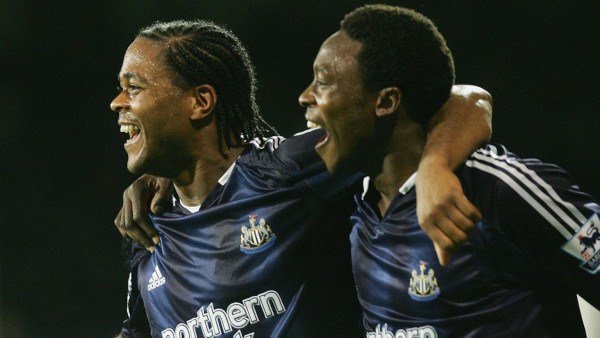 75mins another corner this time came from Milner, Shola Ameobi rising above former SJP colleague Alain Goma to nod in at the far post. 3-0
86mins Striker Tomasz Radzinski ran on to Rosenior's through ball before tucking a tidy finish past Shay Given. 3-1
Full time: Fulham 1 Newcastle 3
Souness said:

"We've made hard work of it. At 3-0 we had done the hard part but we were a bit naïve towards the end.

"We didn't keep the ball as well as we could have done but we've got three teenagers and a 20-year-old and I can't ask any more from the teams I've been putting out.

"This has been a difficult period for us with the games coming thick and fast and the injuries we've encountered.

"It's been a steep learning curve for me. I'm an experienced manager but managing this club is not an easy job.

"We've had a lot to deal with that we shouldn't have been focusing on.

"Next year hopefully we'll strengthen and do without the sort of stuff that gets us headlines for the wrong reasons."

About the rested Shearer:
"Alan Shearer took it as hard as anyone when we were knocked out of the Uefa Cup.

"He saw the Uefa Cup as our best chance of success this year. Both physically and psychologically he has been drained in recent weeks.
"He came to me the other day and said that he really could do with a rest. He came to me - despite what has been written about the situation by various people.

"I have not been worried about what people have said, not in the slightest. Why should I have been? He came and asked if he could be rested."

Captain for the night, Boumsong told the Chronicle wearing the armband was:

"One of the proudest moments of my career."
"The best thing last night at Craven Cottage was still beating Fulham."
"To captain a club as big as Newcastle United is a massive honour. It is something nobody can ever take away from me and it made me so proud.
"When the manager told me I was going to be skipper I was a little surprised but delighted, even though when Alan Shearer went off at Old Trafford last week he threw the armband to me.
"I was vice-captain at Auxerre but was only skipper on the odd occasion.
"We took the game very seriously right from the off although obviously we are nearing the end of the season. We came here to win and we were focused.
"What was important was that we broke that losing sequence and now we want to try and keep winning in our last two games.
"It was nice to have Titus Bramble back beside me in defence, but don't forget Andy O'Brien has also done well and this competition can only be good for the team when everyone is fit.
"We have another tough game against Everton and Duncan Ferguson on Saturday and whether I'm captain or not is not really important."
"Perhaps it would be best if I wasn't captain again and I could always say I had a 100% winning record whenever I have worn the armband for Newcastle United."

Fulham boss Chris Coleman grumbled:

"We weren't at the races. The first goal was always going to be a factor.

"We got punished from two set pieces. Overall it was definitely a case of after the Lord Mayor's show.

"That's the first home loss since December. We dug deep and worked very hard but weren't as sharp as Saturday."

"It was a disappointing performance. We've got two games left and it's really important we finish on a good note and not with performances like that."

"It's important we finish on a high - we can still climb a couple of places up the table and well be aiming to do that."

Moving on to lifeless striker Andy Cole, jeered by home and away fans:

"It's not just our crowd, it's crowds all around the country that have this thing about Andy Cole. There is nothing I or Andy can do about it.

"He has scored 12 goals in all competition and is one of the highest scorers in the Premiership in a team which is at the wrong end of the table. His goals have been incredibly important to us.

"He was not on form against Newcastle but neither were the other 10 players. Andy's fitness is not what it should be but we have not really got any alternatives at the moment so we had to play him.

"You can't question his attitude. When he is 100% he scores goals, but he has not always been 100% fit. He was not great and that is why he was replaced, but he will hold his hands up to that.

Seven game Premiership winless run now ended, our first win in eight games (all competitions) and we're unbeaten in three Premiership outings.

This was also our first Premiership away success since Palace in November - since when we're lost six and drawn four.

We've failed to score in four away games this season - Arsenal, Chelsea, Spurs and West Brom.

This was the first time we'd scored three goals in a Premiership away match under Souness - the last occasion being in May 2004 when we drew 3-3 at Southampton.

50th game in charge for Souness, of which he's won 24, drawn 12 and lost 14.

Fulham lost their unbeaten home record for 2005 as we joined Boro, Liverpool, Chelsea, Blackburn, Arsenal and Birmingham in having left Craven Cottage with all three points.

This was our first Premiership victory at Craven Cottage.

Toon at Craven Cottage - last 10

2004/05: Won 3-1 Ambrose, Kluivert, Ameobi
2001/02: Lost 1-3 Speed
1983/84: Drew 2-2 Beardsley, Keegan
1982/83: Drew 2-2 McDermott, Varadi
1981/82: Lost 0-2 (League Cup)
1979/80: Lost 0-1 No scorer
1978/79: Won 3-1 Connolly, Withe, Shoulder
1967/68: Lost 0-2 No scorer
1966/67: Lost 1-5 Pop Robson
1965/66: Lost 0-2 no scorer

We've also faced Fulham twice in recent seasons at Loftus Road:

2003/04: Won 3-2 Robert, Shearer 2
2002/03: Lost 1-2 Shearer

Shola Ameobi's second Premiership goal of the season (both of which were headers) and first since January 1st (Birmingham at home) - ending a run of 1,117 scoreless minutes. His last away league was almost a year ago - away at Liverpool in May 2004. In the absence of Shearer, he would have been our penalty taker.

Patrick Kluivert's sixth Premiership goal of the season - all of which have come away from home (Villa, Palace, Liverpool, Norwich, barring one against West Brom at SJP.

Darren Ambrose's fifth Premiership goal of his Newcastle career - and they've all come away from home, with efforts against Bolton, Manchester United and Fulham in the current campaign adding to conversions at Leicester and Southampton last season.

His only success on Tyneside came on his home debut, against NAC Breda in the UEFA Cup.

Waffle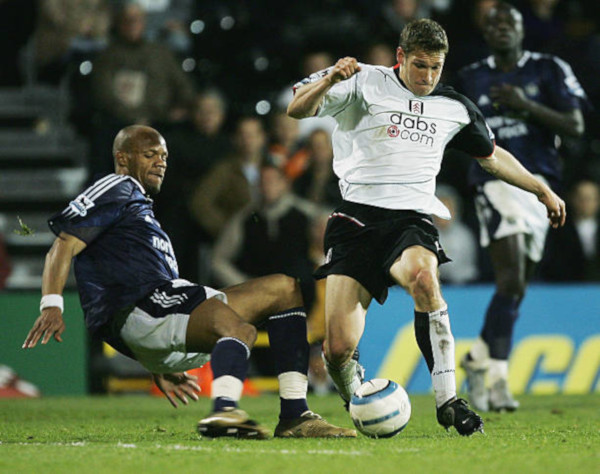 The final whistle in this game was the signal for fans to turn jeers into boos, as an embarrassed looking set of players in black and white meandered off the field.

Thankfully for once the objects of derision weren't Newcastle, who with old boy Lee Clark among them, were clad in the blue away kit for the final time, industriously applauding the toon contingent in the Putney end.

And although Steven Taylor's exuberant hand gestures would have been more appropriate had we just won a place in the Champions League final, the relief on and off the field was palpable - it may have been a meaningless win, but for those who made the effort it was a damn sight better than a meaningless point or loss....

While a fatigued Alan Shearer may have spent the night in his own bed, he'd have doubtless been kicking the cat when he saw footage of this game on TV.

Physically and mentally knackered he may have been, but surely he'd have been capable of sidling up to the incoming balls and scoring as Kluivert and Ameobi did, while seemingly uninterested home defenders looked on.

After having given one of their better performances of the season in stifling out Everton's threat last weekend here, Fulham demonstrated once again the inconsistency that's seen them marooned in Premiership no man's land alongside us since we met last November.

And having collected the point which confirmed their status in that game, the Cottagers seemed to have promptly swapped their boots for espadrilles.

Tonight Coleman's men were anything mustard, giving a reasonable approximation of the lifeless and blunt-edged displays seen recently at Gallowgate and like Newcastle in recent seasons, collapsing over the finishing line in some disarray.
Although it's easy to fall into the over-praising trap here. Milner, N'Zogbia and Ambrose all did well in this game, but so would a clutch of youngsters from any other club in the league against opposition as listless as this.

And it's a fair bet that one or two of the brighter sparks at clubs above us would have had a field day here as a more resounding victory was recorded than ours.

But we won and won so deservedly - a much-needed result for all concerned.

Newcastle revelled in the consequent space and lack of midfield bite from Fulham, Pembridge again looking like he's on borrowed time and Clark not far behind Cole in being grumbled at by long-suffering home fans, the fact both had recently returned from injury seeming to cut little ice with SW6 malcontents.

For Cole especially, the presence of his former club and the manager who publicly insulted him when showing him the Ewood Park exit door could have acted as a spur for him to grab another goal against us, to add to the ten he plundered for Manchester United and Blackburn.

In the event, the 33 year-old showed little in the 66 minutes he was given before Coleman put him out of his misery.
There again, we're not exactly well placed to mock - Cole's return of eleven Premiership strikes this season four more than anyone has managed in a black and white shirt - and no less than 9 more than Ameobi's meagre return.

Of Kluivert though it's a case of too little, too late.

Yes, he scored his 12th Newcastle goal, but five of those came in the UEFA Cup (four against some Arab part-timers). And save for efforts at Villa Park and Anfield in games we lost, they've all come against teams below us in the table - Palace, West Brom, Norwich and now Fulham. In cricketing parlance he's a flat track bully.

Shola though deserves some credit for his display in this game and deserved his goal after showing up well in the wide role he's taken on recently. While overseeing the comings and goings before next season, Souness also has to try and solve the conundrum of this enigmatic man, who should be an asset to us but so often just isn't.

The biggest problem Shola faces though (apart from not shooting on target or scoring often enough) is that the man absent tonight but with an extended contract and looming coaching responsibilities doesn't seem to dovetail with the Nigerian Geordie on the field.

So, relief for Newcastle fans and an early birthday present for Graeme Souness, as he reaches his half century of games in charge of this madhouse, sorry, football club.

If there's one negative to this positive night though, when the goals were laid on by the younger members of the side and the returning Bramble boosted Boumsong in defence, it's that our best league goal tally in a game since October didn't come on home territory.

The moribund three hours that Tyneside football watchers endured last week hasn't helped, but given that we've not won a home league game by more than one clear goal since Souness's bow against West Brom, then season ticket renewal waverers could have done with a first-hand reminder such as this to banish some of those Gallowgate blues.

After having deflated the hopes of one former toon trio here, Newcastle travel to Goodison Park on Saturday looking to do the same to messrs Watson, Pistone and Ferguson.

But while our injury situation is expected to ease still further, for a former Kop favourite to put a dent in Everton's hopes of claiming Merseyside's Champions League place will require a greater effort in a more frenetic atmosphere than this undemanding evening by the Thames.
Biffa