Date: Sunday 15th May 2005, 3.00pm

Venue: SJP

Conditions: Relieved





Newcastle United

Chelsea

1 - 1

Teams
33mins Milner's in-swinging corner from the Milburn/Leazes side was palmed away by Carlo Cudicini from under his own crossbar at the expense of another flag kick.

To good applause from home fans in the opposite corner, Charles N'Zogbia jogged over and his effort ended up in the back of the net via the boot of Geremi from close range, the proximity of Titus Bramble leading to initial confusion over who had scored.

While the PA credited the Newcastle player though, Bramble's lack of celebration suggested he had no part in it - a fact later confirmed by the TV replays 1-0
35mins Almost straight from the restart, Jiri Jarosik's flick found Eidur Gudjohnsen with a clear sight of Shay Given's goal, only to be dragged down by Celestine Babayaro. Frank Lampard netted the resultant penalty. 1-1
Half time: Newcastle 1 Chelsea 1


Full time: Newcastle 1 Chelsea 1
Graeme Souness said:

"Our season has been simple to describe.

"When we've had our better players to pick from, we've been a good team. But when we've run into injuries, as we have done, then we've been getting beat by teams we shouldn't be losing to.
"Chelsea were always going to join Manchester United and Arsenal given the money they have spent on everything. That shows the level we are working at and what we have to try and catch.
"What I have learnt in my time at this club is how people react when the pressure is on, who is really with me, who might be with me and who is not with me.

"We are far clearer in what our aims are and what I expect from them than we were eight months ago.
"What we are looking to do is bring in several new faces that will make a big difference to this team. I cannot put a number on it. I'd love to say six players, but I'm a realist and I know that won't happen.
"I would not speculate on who is coming and who is going because, obviously, there are people we would like to cash in on, but there has to be a buyer for them and maybe people do not value them as much as we will, so they will be here next year.

"Likewise, the kind of players that we want to buy are players who are top players at big clubs at the moment, and those clubs will not want to sell their players, so there is an interesting summer ahead for us.

"We could end up with a lot of new faces or no new faces, but I cannot answer that now.
Jose Mourinho commented:
"It will be hard because they know the team we have, they know what we can do and they know they need to be better if they want to fight with us for the championship, so it is absolutely natural.

"Manchester United, Arsenal, I can guess Liverpool, Newcastle, teams with power, I think it is normal they want to improve and fight with us for the championship. It is normal."
Former NUFC coach Steve Clarke added:
"I hope the Newcastle fans are not blaming (Celestine) Babayaro.
"He came out with us at our request. Our manager asked him to come out with us. Babayaro spent eight years with Chelsea and he has been a great servant for us. He played five times for us in the Premiership this season and that also makes him a champion in our eyes and we felt it was only right he should come out with us.
"I am sure the Newcastle fans will understand and appreciate that. Don't forget, I have worked up here and I know that the Newcastle and Geordie public are football people.
"They understand their football and they understand and appreciate good football and the great tribute they paid us was also a tribute to themselves.
"The bright spot for United and Graeme Souness at the end of the season is that they have brought in a lot of younger players and that will stand them in good stead for next season.
"The manager will be able to work with them in pre-season, something he did not do last season, which is important. If they get one or two signings in hopefully they will be back challenging again at the top of the Premiership.
"In the meantime, what they have got to do is to take a step back, look at their situation and decide what is the best way forward for them, and I'm sure that's what Graeme Souness and Freddy Shepherd are doing."
From the official Chelsea website report - which sounds more like an extract from a Chelsea Flower show report:
It was a strolling end to a magnificent season, the best in Chelsea history and the best in top flight history. Chelsea have 95 points. And at the end Newcastle fans, team and management were magnificent in their praise and applause. It was a lovely finale.

New strip was sported for the first time as we maintained our run of never having lost our final home game of the season since 1990/91 (when already-relegated Hull City beat us 1-2)

And what did the first and last toon Premiership games of the season for Souness have in common? His side took the lead courtesy of an OG - David Prutton putting through his own goal at Southampton back in September.

Three home games against this lot in season 2004/05 and we ended up with a victory apiece and one draw.

Chelsea ended the season with 29 wins and a new Premiership record of 95 points.

They also beat Arsenal's record of 17 goals conceded in a Premiership season and Liverpool's post-war top flight record of 16. Geremi's goal saw them equal Preston's record of letting in 15 goals in 1888/1889 (from 22 matches)

By contrast all of our records were unwanted ones:

Lowest Premiership finishing spot (14th - previous was 13th in both 97/98 & 98/99)
Lowest number of wins in a Premiership season (10 - previous 11 in both 97/98 & 98/99)

Largest ever differential between our points tally and Champions (51 points behind Chelsea)
Largest number of goals conceded in a Premiership season (57 - previous 54 in 98/99 & 99/00)

Joint lowest number of points in a Premiership season (44 - equal with 97/98)
Joint lowest number of home wins in a Premiership season (7 - equal with 98/99)

We were officially the least resistant side in the Premiership, having failed to win 14 Premiership games that we were ahead in at some stage.

Chelsea in toon - Premiership years

2004/05 Drew 1-1 Geremi (og)
2004/05 Won 1-0 Kluivert (FAC)
2004/05 Lost 0-2 No scorer (LC)
2003/04 Won 2-1 Ameobi, Shearer
2002/03 Won 2-1 OG, Bernard
2001/02 Lost 1-2 Shearer
2000/01 Drew 0-0 No scorer
1999/00 Lost 0-1 No scorer
1998/99 Lost 0-1 No scorer
1997/98 Won 3-1 Dabizas, Lee, Speed
1996/97 Won 3-1 Shearer 2, Asprilla
1995/96 Won 2-0 Ferdinand 2
1995/96 Drew 2-2 Albert, Beardsley
(lost on pens) (FAC)
1994/95 Won 4-2 Cole 2, Fox, Lee
1993/94 Drew 0-0 No scorer

There was a second half appearance for Michael Chopra 14 minutes from time, the striker having ended a season on loan at Barnsley with his first Toon outing for 12 months.

Waffle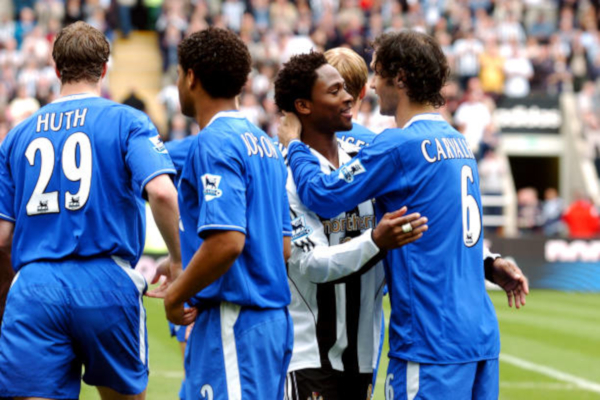 Friends reunited
A third successive home draw brought Newcastle's incident-packed season to a conclusion on a suitably low-key note, with the newly-crowned Champions obviously eyeing their espadrilles.

When Cameroonian visitor Geremi put through his own goal 12 minutes before the break, United's scoreless home run was ended after 323 minutes. However, within 90 seconds the visitors were level, Frank Lampard shot from the penalty spot after Celestine Babayaro impeded Gudjohnsen.

In an anaemic first half, goal chances were few and far between and although things got a little better after the break, again we played some vaguely decent stuff but failed to hurt the opposition.

The suspicion remained that the visitors were going through the motions and would have been capable of raising their game several levels, had anything more than statistics been at stake.

Wearing their new home kit, the Magpies earned a point but dropped to their lowest ever final Premiership finish of 14th place, after Fulham hit half a dozen without reply against Norwich and Birmingham beat Arsenal.

Despite that though, the mood was upbeat among Newcastle fans, with the Champions warmly applauded onto the field - Celestine Babayaro running out with the visitors having made four league appearances for them earlier this season.
And later in the game Kluivert was clapped from the field when withdrawn and the whole squad was cheered after the final whistle from an almost-full ground.

Contrast this to the scenes in the final home game of last season, when a side ten points and eight places better off were given the cold shoulder by tens of thousands of disillusioned supporters.

Twelve months on and what did we see? Pride? passion? or stupidity?

You pays your money and you takes your choice - how many will do so in the form of season ticket renewals remains to be seen though...

Of course though this being Newcastle, we had to balls it up.

With the team in the centre circle applauding all four sides of the ground, the geek on the SJP PA managed to drown out the singing of the Toon fans by playing "Is this the way to Amarillo?" at full blast, doing his best to kill the atmosphere, with a completely inappropriate piece of music.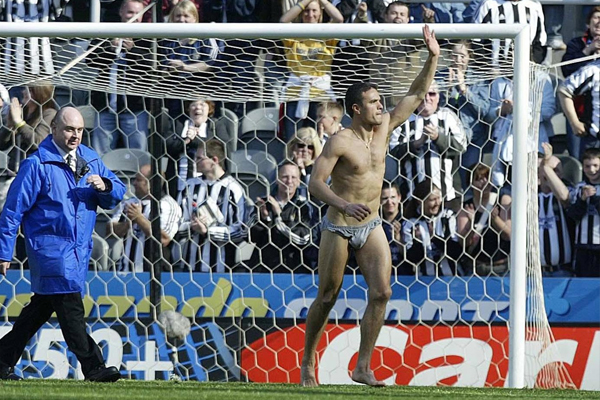 Brief encounter

A place in the Intertoto Cup now beckons, while the smoggies celebrate UEFA Cup qualification. In a word, sickening.

Having failed to appear from the bench during the game, the departing Laurent Robert said his "au revoirs" to the United faithful after the match in rather individual style.

In a group of player that went to applaud the fans in the Gallowgate end, Robert first tossed his shirt into the crowd, followed by his boots. The socks and shorts then went in, before he took his leave of St.James' Park in a grey pair of pants that looked like they'd come off a market stall.

Meanwhile Patrick Kluivert also made his final bow at St.James', trotting off to be replaced by Michael Chopra. The Dutchman did reappear in the centre circle at the final whistle alongside his colleagues, including Nicky Butt, Lee Bowyer and Kieron Dyer.

Kluivert's final action as he left for the final time was to turn and spit on the turf - a contemptuous gesture but a fitting farewell for a man who milked this club for a king's ransom and reserved his most entergetic performances for Osborne Road rather than Barrack Road.

Good riddance to the pair of them.

Hopefully they'll take their skiving turncoat pals with them to the next station that the gravy train stops at. To quote John Lydon, "ever get the feeling you've been cheated?"

It gives us great pleasure to draw a line under this miserable season, when domestic underachievement was tolerated in the vain pursuit of trophies.

Had it come off there would have been no-one happier than us - but when the time came for the big men to stand up and prove how good they were, our stars were nowhere to be seen.

Cowards, liars, wrigglers and bottlers - the lot of them. Not fit to wear the shirt.

We've watched some sh*te turn out for this club since first taking our place on the terraces in the 70s, but throughout all the years of Shintons et al, there was still a belief that those entrusted with a place in the team had a vague sense of pride, duty, effort and commitment to the cause.

Not any more.

Had it not been for the efforts of younger players in recent weeks, this would really have been a sombre end to the campaign.

As it is, we wish Souness and Shepherd the best of luck in their task of ridding us of miscreants and misfits and trying to find new recruits with a modicum of bottle, dignity, grace, passion and professionalism.

Keep the faith.

PS: While we find ourselves increasingly at a loss to understand what goes on in the heads of some of our fellow fans, we're still buoyed by the reactions of others - some known to us for longer than we care to mention, some new faces.

To everyone who ensured that this season was the most successful ever for NUFC.com in terms of audience size and email receipts, thanks for sharing your views, jokes, competition entries, coxy's, corrections, TV listings, moans, diatribes and everything else that we've received.

The team might make us feel like packing in, but you lot never do.

Finally, to all of those who must remain nameless but who contribute to this site in the form of support, encouragement, finance and information.....cheers, cheers, cheers.

Biffa