Date: Thursday 14th April 2005, 8.15pm(BST/local)
Live on Channel 5

Venue: Alvalade Stadium, Lisbon

Conditions: Cataclysmic.

£21 admission for toon fans - 2 pirate programmes @ 5 euro each, light green and dark green covers.





Sporting

Newcastle United

4 - 1
(4-2
on agg)

Teams


Seated immediately behind the toon contingent were the uninvolved members of the squad - Robert (dropped following pre-match comments), Hughes (suspended), Caig, Elliott and Ramage (not selected) and Boumsong (ineligible.) Their presence was largely ignored by toon fans, although they did sign various programmes, tickets and flags etc. upon request.

Dyer's goal was met with a clenched fist gesture from Robert but little else from his colleagues.

20 mins Kieron Dyer took advantage of a defensive blunder, sprinting onto a wayward header before advancing into the box before nutmegging 'keeper Ricardo on his near post. 1-0
40 mins Romanian strike Niculae headed past Given after Titus Bramble had only managed to flick on a cross from the right. 1-1
Half time: Sporting 1 Newcastle 1
71 mins An O'Brien miskick fell to Barbosa and when his shot was parried by Given, Sa Pinto nipped in to tap in the rebound. 1-2
77 mins Beto climbed unopposed to head home the third six minutes later from a Rochemback corner. 1-3
90 mins Carr made an awful blunder to allow Rochemback to tuck the ball past Given. 1-4
Full time: Sporting 4 Newcastle 1
Manager Graeme Souness said:
"I think we did an okay job in the circumstances. I know that 4-1 doesn't look like a great scoreline but look at what happened here. We looked good after scoring the first goal but we missed too many chances."

"We are very disappointed. We felt that things conspired against us.

"We had some golden opportunities to kill them off, and then we started to lose our better players with Jenas coming off at half-time, Titus coming off and then Kieron Dyer, who had been a real threat during the game, coming off.

"We must not feel sorry for ourselves."

"We had some boys out there doing men's jobs - it shows how thin our squad is but there's nothing we can do about it. We just have to take it on the chin and make sure we prepare properly for what will be a very difficult game at the weekend.

"If we had managed to keep our starting XI on the pitch I wouldn't be sitting here telling this story - it would be a much different story. But that is what happened. We took some risks with players and it didn't pay off."
Goalscorer Dyer said:
If you concede four goals in any match, you don't deserve to win anything. We were comfortable but then we just blew a gasket. We shot ourselves in the foot and only have ourselves to blame.
"The bookmakers had us down as favourites but the defending was not good enough and it cost us dearly in the end. We have just got to pick ourselves up quickly and improve considerably and hopefully get the rub of the green."
Sporting boss Jose Peseiro said:
"Yes, but we have won nothing yet. We are just in the semi-final of an important European competition.
"We are among the best in Europe and I am very proud of this victory, but if it was not for the players, if it was not for this great club, I would not be here today."

Shay Given recovered in time to extend the club European appearances record to 51.

Our worst ever away defeat in European competition and our biggest reverse anywhere in the UEFA Cup. Our only other 1-4 loss came at SJP against Inter Milan in the 2002/03 Champs League campaign.

Third visit to this stadium, but the first one since it was totally rebuilt for Euro 2004. Previously we drew 1-1 with Sporting and lost 1-3 to Setubal here in the 1968/69 Fairs Cup run.

Waffle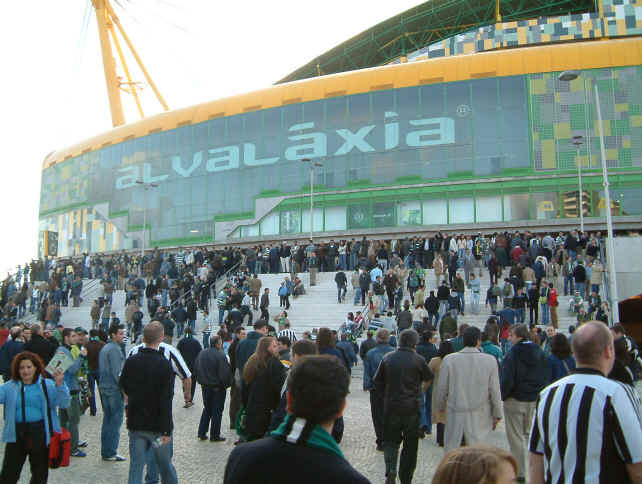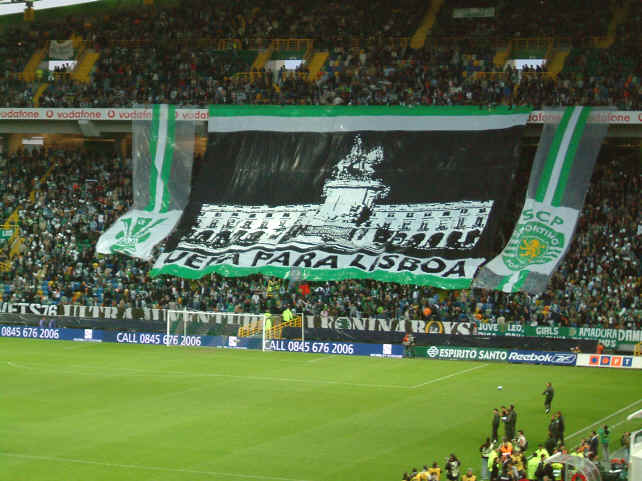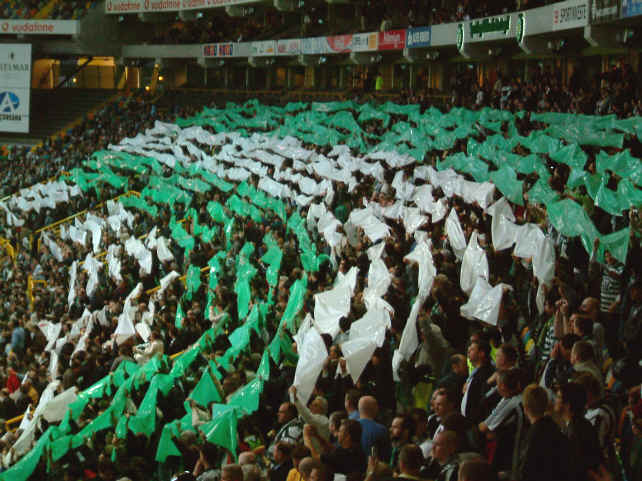 So, that light at the end of the tunnel did turn out to be a train coming towards us after all.

What was widely assumed to be our best chance of cup progression dissolved in the Alvalade Stadium on Thursday, amid a welter of injuries and recriminations.

And while the travelling supporters tried in vain to lift the team in a second half in which our shortcomings were laid bare, behind them in the posh seats sat Laurent Robert - merely the latest in a long line of talented players to have let those fans down.

Freddy Shepherd and co. may well feel rightly aggrieved by the continuing misadventures of his richly-rewarded charges, but that's nothing to the disillusionment of the rank and file who pay through the nose to watch them.

Tyneside wardrobes must now be in grave danger of collapse, given the number of discarded toon shirts now occupying them - "Robert 32" now joining the mountains of Viana, Bellamy and Kluivert editions.

But bewilderment rather than rage seems to be the order of the day - along with a generous dose of resignation as to our plight and unending aptitude for self-harm.

The unanswerable question continues to be how a set of players given adulation, remuneration and opportunity continue to underachieve and find themselves at odds with the club.

Simply, what do Kluivert and all the rest of them lack at Newcastle that stops them from succeeding?

Anyway, to the game and in classic United style, hopes were raised by Dyer's goal and a certain sluggishness from the home side, who looked vulnerable at the back.

But, as it had against Marseilles last season, when push came to shove... we fell over and finished up on our knees.

Bad luck, bad judgement and bad attitudes had deprived us of a full quota of players and as others fell by the wayside over the course of the evening, the outcome was all too inevitable.

Robert's pre-match comments were inopportune, disloyal and unwanted - but sadly accurate.

Of course he lacked the self-awareness to include himself among the underachievers, but his words do strike a chord when one considers the negligible contributions of too many so-called big name players this season.

One can only wonder what inspirational words Souness can find to motivate the remnants of his squad - but if the players feel as wiped out by this defeat as the fans, Sunday promises to be sheer purgatory.

Trying to find solace amongst all this, it's at least better to be in these things than on the outside and this has been an enjoyable perambulation across Europe.

And anyone who rightly sniggered when Billy Rafferty was wheeled out as a half time hero earlier this season needs no reminding of the dark days when 16,000 gates and losing at the likes of Swindon and Barnsley were our staple fare.

But there's frustration in that we never seem to learn or advance from the plateau we've reached on a number of occasions in the last decade.

Only in the world of Newcastle United could an army of 30,000 plus travelling fans make a pilgrimage under such a cloud of collective depression.

Never mind Cardiff though, we should all be going to Lourdes, such is our need for a miracle.

It feels almost disloyal to write this, but there's a thin line between optimism and self-delusion.

Try as we might, there's nothing that gives us any cause for optimism when considering our chances on Sunday - our chief weapon appearing to be over-confidence on the part of the opposition.

There have been plenty of villains this season, but the heroes are in short supply so far.

If nothing else we have to play for pride though and sing, cheer, cajole and support from the stands - even if we don't quite know why.

To steal a phrase from one of Souness's former clubs "no surrender."
Biffa