Date: Sunday 17th July 2005, 3.00pm(BST)
4.00pm (local) Live on Setanta PPV

Venue: Mestsky Stadium, Dubnica Nad Vahom

Conditions: Glorious





FK ZTS Dubnica

Newcastle United

1 - 3

Teams
4 mins First attack, first goal as Chopra sprinted away onto Milner's through ball and drew the 'keeper before firing home to his delight. 1-0
6 mins Two attacks, two goals. N'Zogbia's twisting run into the box from the left channel and shot was deflected into his own goal by Svestka, only to spin back out and be forced over the line for a second time by Shearer.

And although our number nine was adamant after the game that his was the vital touch, he later accepted UEFA's judgement 2-0
42 mins An absence of marking allowed Tesak to steal into the box and plant a header past Harper, to the delight of the locals and passing train drivers. 2-1
Half time: Dubnica 1 Newcastle 2
70 mins Having looked a certain scorer minutes earlier only to strike the post when shooting in on an unguarded net, Milner ran on to Elliott's forward punt and lobbed the oncoming Dubnica 'keeper to wrap things up nicely. 3-1
Full time: Dubnica 1 Newcastle 3
Graeme Souness said:
"We have done very well with the players that were available. We were missing some very big players today and we had to use what we had. We have only been back training for two weeks and that is not enough to be playing competitive games.
"But we have won the game fairly comfortably, even though we looked like a very tired side out there for the last half an hour. It's been a good outing for us because we have won the game, avoided any injuries and it has done wonders for our fitness.
"We didn't want to take a risk with either of them at this stage of the season. It was just a precautionary thing, Kieron hasn't pulled anything, his hamstring just felt a little tight and Lee felt a small twinge at the top of his thigh.
"It's not serious and we hope to have them back next weekend. We have given the lads who were on international duty this summer a rest as well so we'll have some big players to come into the side if we want them to next weekend."
"It will be a very memorable night for Michael. It was his first goal for the club and that is always a special moment, especially when it is your home town club." There may also have been a first of the season for captain Alan Shearer, although it appears likely that the veteran forward will not claim it as he pursues Jackie Milburn's club record.
"I'm not sure who scored the second goal and I don't know whether Alan has claimed it or not.
"From where I was sitting it looked as though the linesman had already raised his flag to say the ball had crossed the line when Alan touched it. But if Alan wants to claim it I'm not going to take it away from him, it's up to him."
Michael Chopra added:
"It was a very special moment for me and obviously it is a relief to get off the mark. Hopefully there is more to come."
"Yes, I know Dubnica thought I was offside but that doesn't worry me. Even in training the manager always tells me to go ahead and put the ball into the net and worry about anything else after that, and that's exactly what I did.
"This was only my second start in the first team and hopefully I have given the manager something to think about and given him a headache so he will pick me for Saturday's second leg.
"The goal will have done my confidence the world of good. It's what I needed and I'm sure a lot more will come. We haven't a lot of strikers at the club at the moment so I have got to give it my best shot and keep working hard to try and force my way into the first team."
"I think my substitution was tactical. Their No 10 was causing us a few problems and the manager wanted to switch to 4-3-3 to stop him."
"This is my club and I want to stay at Newcastle United for as long as I can.
"And I know the best chance I have of achieving that is by scoring goals."

Dubnica coach Ľuboš Nosickż said:
"The chance to play Newcastle United is a big bonus for everybody who worked hard at Dubnica for many years."

"We are in the third round of the Intertoto Cup and the game against this opponent is a big football celebration for our fans, players and coaches."



First appearance of the new "lucky" blue away kit.

Michael Chopra opened his United account (copyright J,Gibson 1927) with James Milner adding his second goal for the club and first in European competition.

Our first tie against Slovakian opposition: we've now appeared in 22 countries competitively (including England - Southampton in the Fairs Cup) and faced opposition from 23 countries - playing Tbilisi of Georgia last season at SJP only.

We've now won three and drawn one of our four away games in this competition.

Waffle
Reflections on another memorable European expedition: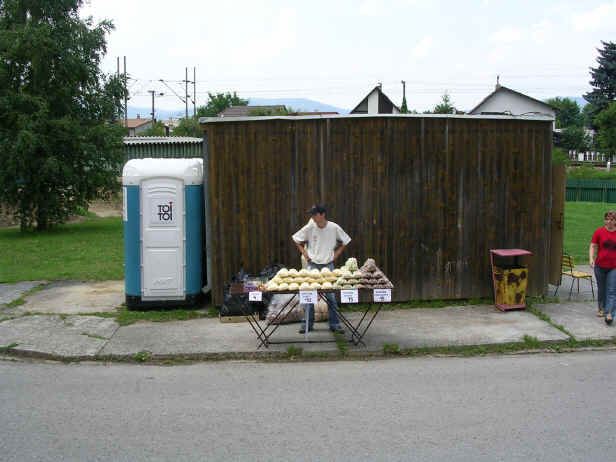 The popcorn man awaits the Slovakian hordes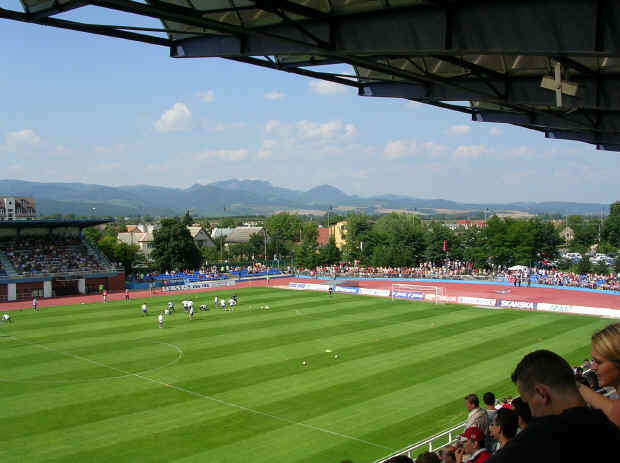 View from the away stand showing the Carpathian mountain range in the background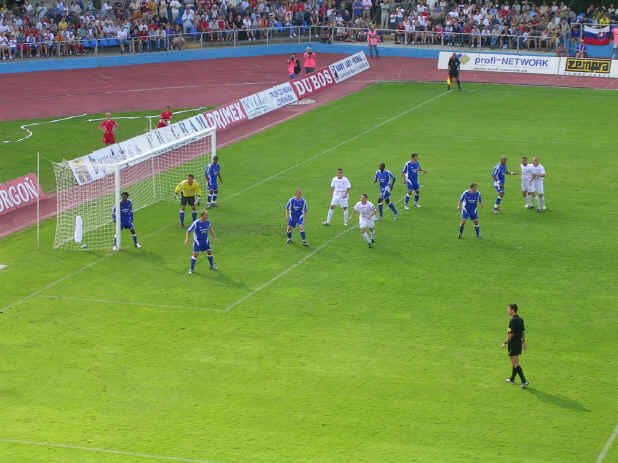 United defend in depth

Waffle:
What Graeme Souness hopes will be his first full campaign in charge of the Magpies got off to a winning start in Slovakia on Sunday afternoon.

And although the Magpies boss was forced to field an unfamiliar line-up - shorn as he was of over £20m of midfield talent - those handed new blue shirts ultimately did enough to make the second leg as near to a formality as this club gets.

Our on-field failures last season meant a return to a competition we last featured in four seasons ago and little had changed in the interim for the small band of loyal travelling supporters.

Fine weather, unfamiliar opponents, small but perfectly-formed stadia and an atmosphere more akin to a church fete eased the long-suffering black and white followers back into the swing of things - the local cheap ale also acting as a relaxant: very effectively in some cases.

And while the fixture came only two weeks into our pre-season preparations - the timing of which obviously irked Souness, the fact this was a competitive game of some sort surely made it a far more worthwhile exercise than a totally meaningless kickabout tournament - with or without the carrot of a UEFA Cup spot that promises to test us sternly, given the unfriendly draw we were handed.

Certainly Michael Chopra and Charles N'Zogbia will have cause to remember this venue in years to come, as they both "netted" for the first time in our colours at senior level - in the case of Chops perhaps after fearing he'd lost the chance to do so, when Souness's arrival last season left the young striker continuing to languish on loan at Barnsley.

As for N'Zogbia, having safely negotiated the attempted blocks and challenges of three defenders, he was then faced with the intimidating prospect of not only another Dubnica player deflecting his shot in, but also his captain scenting easy pickings, the chance to draw one closer to Milburn's record and put an end to his ten-game scoring drought.

In the event the authorities came to his rescue, UEFA later crediting him the goal (although it was without doubt an own goal) - let's hope the Court of Arbitration for Sport look equally favourable on the young Frenchman when they rule over his eligibility to be a Newcastle player.

Although the home side went on to have their moment of glory and got a goal back, Milner's second-half effort preserved what should be a winning advantage - although Harper had to be sharply off his line on a couple of occasions to cure confusion in our backline.

The extra resources available to Souness next Saturday will hopefully result in a few more goals hitting the Slovakian net - certainly after the woeful home games at the end of last season, it's fair to say SJP regulars are owed a goal or four.

Hopefully it might be a bit cooler on Tyneside - as long as those Tall Ships haven't used up all the wind - and the lower temperature might benefit Alan Shearer, whose performance underlined the fact we're nearly a month away from the real stuff getting underway - when all of his energies will be required for the cause.

As a limbering up exercise involving a Newcastle United XI, this was a low-key but enjoyable first match, those players featuring getting a boost to their pre-season preparations, no doubt amid much talk of "good workouts."
It remains to be seen though how quickly many of those appearing today drop from the first team squad and find themselves playing in the Tyneside equivalent of Dubnica's Stadium - namely Kingston Park.

As Alan Hansen once said, "you win nothing with kids" - except perhaps Intertoto group games, when the big lads don't turn out.
Biffa

Reports