Date: Saturday 23rd July 2005, 3.00pm

Venue: St. James' Park

Conditions: Warm, dull, slightly overcast

Programme: £2

Admission: £12





Newcastle United

FK ZTS Dubnica

2 - 0
(5-1 agg)

Teams
Half time: Newcastle 0 Dubnica 0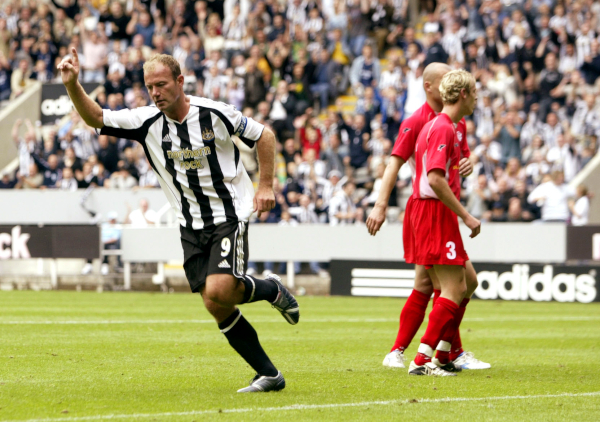 71 mins James Milner swung the ball in from the Strawberry corner and it fell perfectly for Alan Shearer to head home. 1-0
90 mins Alan Shearer doubled the advantage with a header at the Gallowgate End following a right wing Stephen Carr cross. 2-0
Full time: Newcastle 2 Dubnica 0
Graeme Souness said:
"We would like to have scored earlier, but we've been patient and got our just rewards. And the crowd of 25,000 was quite remarkable - they were patient too and eventually got the goals they deserved.
"There was no dispute about Alan Shearer's goals today - and I'm delighted for him. The other pleasing points are that we've got through and won a tie 5-1 when we've played first after only two weeks, and then after only 17 days of training.
"We knew that this team went to Turkey and won 4-0 and expected them today to play everyone behind the ball with the striker being the exception. So we were obliged to chase the game, but we've won it 5-1 in the tie after being back training for just two weeks.
Chops would be unlikely for Wednesday but I don't think he can come back after what happened. It will depend on the doctors. JJ is feeling his groin-cum-hamstring, but it might be more of a worry with his back."
Dubnica coach Ľuboš Nosickż said:
"This is a beautiful stadium.

"We didn't come here with the expectation of victory. But we wanted to play good football and I wanted the lads to enjoy this game and this occasion.
"We have never played in front of so many spectators before and it played psychologically on our players. They were a bit shaken, and that's why they lost quite a few balls at the beginning. But we settled and did well in midfield, although there was no danger up front from us.
"We were concentrating on the defence and trying to do our best to score a few goals. It was when we opened up near the end that we conceded the two goals."

Shearer's first ended a 394 minute drought in front of goal for a Toon player at SJP, stretching back to April 2005 (and not counting Geremi's own goal on the final day of last season).

That's now 194 for the number 9 in our colours and the at Milburn record comes a little closer. For the record they were also the first goals Al has ever scored in this competition and the first occasion he's ever netted competitively in July.

Those two goals extended Shearer's European scoring record for the club to 30 while Shay Given extended the European appearance record to 52.

We had wondered whether we'd set a new low European home attendance, but a decent walk up on the day comfortably eclipsed the 19,046 here against Dublin side Bohemians in the 1977/78 UEFA Cup.

This was the smallest gate for a competitive first team match since the ground capacity was extended above 50,000 in 2000, just under the 25,633 here for the League Cup game against Brentford in September 2001.

It was also our smallest home Intertoto attendance to date: 29,021 for Lokeren, 36,635 for 1860 Munich and 36,577 for Troyes.)

Waffle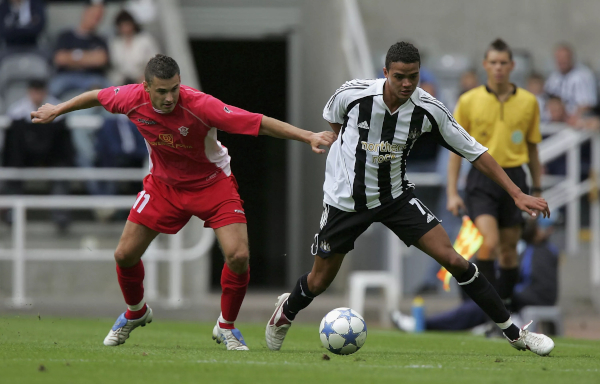 Two second half headers from Alan Shearer ended his ten game personal goal drought and gave a healthy St. James' Park crowd of 25,000 plus something to cheer on Saturday.

With large queues around the ground before kick-off, the 15,000 advance ticket sales were always going to receive a hefty boost and so it proved, with families and youngsters much in evidence.

However, it took 11 minutes before the home fans had something to shout about, Jermaine Jenas shooting over at the Leazes end after James Milner had won possession from a Dubnica throw-in down by the corner flag.

Within a minute, Shearer then showed for the first time, putting his shot wide of the goal.

The visiting 'keeper was called into serious action for the first time on 21 minutes, diving low to his left to tip Milner's shot round the post for a corner.

And the Magpies came even closer to opening the scoring two minutes later, when Jenas saw his free kick beat the motionless Dubnica 'keeper but strike the crossbar, Amdy Faye unable to keep his header down in putting the rebound over.

A goal looked imminent and nearly arrived within 60 seconds, as Jenas got on the end of a right-wing free kick from Lee Bowyer, but placed his header too close to the 'keeper, who was able to block.

However, things calmed down again with Newcastle struggling to create clear opportunities and some loose play in the centre of the park seeing us lose possession on a number of occasions.

Milner seemed to have a good penalty shout for handball denied on 33 minutes, while attention switched to the other end two minutes later, as Shay Given saved comfortably - his first meaningful touch.

Graeme Souness attempted to inject some urgency into his attack by introducing Michael Chopra in place of Jenas at the interval.

However, the striker needed treatment within seconds of appearing or touching the ball, as he tangled with the visiting goalkeeper and seemed to take an accidental blow in the face.

Stretchered off for treatment behind the Gallowgate goal, he did reappear on the field some four minutes later but looked groggy and soon made way for Martin Brittain.

We continued to lack imagination going forward and with a lack of free-kicks or corners being won to give us a springboard to launch attacks and Dubnica managed a couple of unsuccessful upfield forays of their own.

Just after the hour, Charles N'Zogbia worked an opening in similar fashion to that which had brought a goal last weekend, but this time his shot passed across the face of goal with nobody able to get that vital touch.

But with Dubnica beginning to tire, we at last broke the deadlock on 71 minutes, as Bowyer saw his shot saved at the expense of a corner.

Milner swung the ball in from the Strawberry corner and it fell perfectly for Shearer to head home, to the relief of all concerned.

Having made the breakthrough, we then went in search of further goals and Bowyer had a shot on goal before Shearer attempted to claim a spot-kick after being bundled over by the 'keeper.

We almost doubled our lead on 86 minutes thanks to the same combination that opened the scoring, but this time Shearer met Milner's cross from the right wing with his head - only to strike the crossbar.

However, the number nine was not to be denied his 30th European goal for the club, Shearer heading home Carr's cross from the right seconds after the end of normal time to round things off.

An hour after our game finished, news broke from Croatia that Deportivo had won 3-0 at Koprivnica to complete a 4-0 aggregate success and provide our semi final opposition.

Aside from it being a geographically difficult trip for toon fans, our first visit to the Riazor Stadium promises to be a tough one where we may be employed in keeping the score down ahead of the second leg on Tyneside.

It's debatable whether we really need to qualify for the UEFA Cup as Freddy Shepherd continually states - certainly Souness would point at the experience of last season as evidence that our Premiership form suffered from regular midweek diversions into Europe.

But while we may not get past Deportivo (or if we do then the final opponents of either Marseille or Lazio), they will provide opposition for two games that should test us to the full at this stage of our preparations.

Regardless of the eventual result, our problem is that we're not in a position to give anything like our preferred first XI that examination - injuries and signing problems meaning that we're still having to pick a formation to suit what players we have, rather than vice versa.

That increases the chances of Intertoto failure and places yet more pressure on Souness, who knows his time could be short.

For evidence of that, one needs to look no further than the 25,000 season ticket holders not at this Dubnica game despite the low entry cost - and the veiled criticism of the performance from various newspaper reporters the following day.

Happy new season.

Biffa

Reports