Date: Wednesday 27th July 2005, 8.00pm (BST) 9.00pm (local) Live on SkySports1

Venue: Riazor Stadium

Conditions: warm and sunny - late kick-off and sea breezes keeping it from being unpleasantly hot.

Admission: £32

Programme: none





Deportivo La Coruna

Newcastle United

2 - 1

Teams
11 mins Munitis broke down the right and squared for Ruben to sidefoot home, his close-range shot going through Given with the visiting defenders playing at statues. 0-1
Half time: Deportivo 1 Newcastle 0
48 mins Lee Bowyer's left-footed volley bulged the back of the net after Stephen Carr's corner had been headed away at the near post. 1-1

58 mins Defender Andrade picked the ball up inside his own half and ran largely unchallenged into our box before curling the ball past Shay Given inside the far post.

His celebrations were justifiably prolonged and heartfelt, with most members of the team plus subs, coaching staff and the odd steward joining in with the glad-handing. 1-2
Full time: Deportivo 2 Newcastle 1
Graeme Souness said:
"We would probably have taken that scoreline before the game if we're truthful.

"When you look at their side compared to ours, they had an experienced side out with a load of internationals.

"Even their bench was packed with experienced internationals, while we are down to the bare bones and short of numbers.

"But I couldn't have asked any more from every player in a Newcastle shirt. They are ahead of us in terms of training, but we did okay and we look forward to the second leg at our place.

"We may have one or two players back by the time that game comes around, but we know it will be another tough game regardless of the side we put out."
Deportivo coach Joaquín Caparrós said:
"I'm happy with the work of our players. I also believe that the 2-1 score is pretty short, but if we continue in this way we will have good choices to win this tie.
"They have a better physical condition, but we have speed as our advantage, that's why we tried to make moves quickly. We will play in the same way (in the second leg). The objective is to be far away from our area.
"The team must try to avoid situations like the goal allowed today, but who knows... when the game starts, there's nothing you can do."

Striker Pedro Munitis added:

"I believe that we did a lot better than the final result suggests, but the match has left me with a very good feeling because in my opinion we were just as good in defence as attack and even though we still have things to work on it has all been very encouraging.
"I went home after the match feeling very happy as much on a personal level as collective because I believe that the game was a good sign for the future for us."

First appearance of the new green striped second kit.

First defeat out of five away games in this competition.

Our sixth competitive game on Spanish soil, of which our only victory was at Mallorca - two trips to Barcelona, one to Bilbao and one to Zaragoza all resulting in Newcastle defeats.

If we manage to qualify for the final, it will be the first time we've overturned a first leg deficit in Europe since 1996's second round UEFA Cup tie against Ferencvaros, when a 2-3 reverse in Budapest was followed by 4-0 success at St.James'.

The last time we were in this situation was 1999's third round UEFA Cup tie against Roma, when we could only draw 0-0 on Tyneside after losing 1-0 in the Stadio Olimpico.

Waffle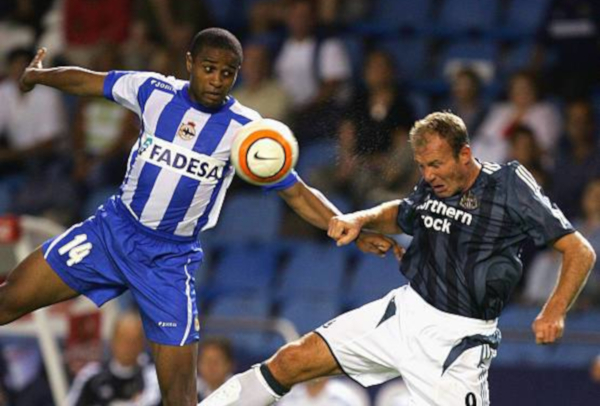 The quest for a place in the UEFA Cup took the Magpies to the province of Galicia, for what proved to be anything but a Spanish stroll at the seaside - but one in which we stopped short of being totally shipwrecked.

And for our smallest away support in living memory, the expense and effort expended to make it to this coastal outpost of Spain barely seemed to be reflected in the contribution of a number of their onfield representatives.
While Deportivo's stock has fallen recently, they still seemed keener, faster and more creative than our collection of players - something that couldn't be totally attributed the more advanced pre-season preparations of the home side.
However the Spaniards did at least find Boumsong in good nick as they failed to make their overall superiority count in front of goal - a fact gives Newcastle reason to look to the second leg of the tie with more optimism that their own performance tonight might warrant.
Shorn of Jenas and Dyer, our midfield had a depressingly austere look to it - something that neither Faye nor Butt seemed interested in changing.

And with Milner and N'Zogbia mostly marginalised or penalised by over-zealous officiating, Shearer consequently enduring a barren evening chances-wise.
Goals never seemed to be on our agenda, so when Bowyer clattered in a well-taken second half equaliser it was greeting with both surprise and delight in the away corner.

Unfortunately there was little else to cheer throughout the evening from a toon perspective, aside from the final score - Bowyer's goal being our only shot on target all night.
And when under-employed defender Andrade (once reputedly coveted by Souness) meandered upfield to be allowed a run on goal and the chance to beat Given, it seemed as if we were almost intent on bidding adios to this competition.
For Deportivo though the goals that could have put them a step nearer to the final didn't come - meaning that Newcastle officials were spared the scenario of a near-deserted St.James' next week for the footballing equivalent of a dead rubber.
There can be a measure of grim satisfaction from Souness that his below-strength team still have a foothold in this competition - even if he'd privately rather have been out of contention and free to prepare for a domestic campaign, without moonlit midweek returns from foreign lands.
At this rate though, the elder statesman of the team will be worn out by the time we get to Highbury - the sight of him being flogged up front without respite perhaps the most deeply depressing aspect of the season thus far.
Elsewhere both Carr and Babayaro look to be committed Eurosceptics given their uninspiring showing here, the latter drawing some criticism from the away corner and the former blowing hard in the second half.
But regardless of the paucity of entertainment provided here tonight, we survived and set up a vaguely interesting game on Tyneside next week - well, it's got to be better than the Newcastle Gateshead Cup.....
Clichés about it being early days fitness-wise do have some validity, but while our manager's preferred line up exists only on paper a downbeat, almost joyless atmosphere can be sensed.
Nothing has changed from the back end of last season on the field as yet - except we have a numerically smaller squad and as well as shedding attitude problems, have also lost goals and creativity.

Under those circumstances it's questionable whether tonight was a good result or not, if it leads to further exertions in Europe and dilutes our domestic challenge - as was the case last season.

Our share price may be on the up, but any levels of optimism remain immeasurably small at this juncture, some 18 days before our opening Premiership fixture.

Biffa