Date: Wednesday 3rd August 2005, 7.45pm
Live on Sky Sports

Venue: St. James' Park

Conditions: Mild

Programme: £2

Admission: £15





Newcastle United

Deportivo La Coruna

1 - 2
(Agg 2-4)

Teams
39 mins James Milner helped on Lee Bowyer's shot at the Leazes end, Amdy Faye's infield pass setting up the chance. 1-0
45 mins Andrade punished slack defending to lob over Shay Given 1-1
Half time: Newcastle 1 Deportivo 1
48 mins Robbie Elliott's miscue was punished by Munitis, with Given a helpless bystander 1-2
Full time: Newcastle 1 Deportivo 2
Graeme Souness said:
"How many players do we need? As we speak, four.
"We will just have to wait and see what happens over the next few days. The chairman is aware of where we need to strengthen.
"It's disappointing but it means we can fully concentrate on the job in hand. Only next May will we be able to say whether or not it has been beneficial to go out at this stage.

Common sense tells you that if you have a small squad of players, the fewer games you play, the better chance of have of being a success.
"I would hate to think that we would give away a goal like the second one when the season starts. It killed us. It can happen and we have to accept it. But it cost us dearly. At 1-1 and attacking our favourite end, we had them on the back foot. That goal was critical."
Alan Shearer added:,

"We need more bodies. It's clear for everyone to see. We have let seven players go and brought in three. And we didn't have enough bodies last season."
And his early entry for Colemanballs:

"On another night it could have been our day."
Deportivo coach Joaquín Caparrós said:

"We have shown that we know how to withstand pressure and have the aptitude to react.

"The team is playing in the way that I want them to and we have to continue doing that. I am very pleased with every player tonight.

"Andrade played very well, but I do not like to pick players out and I think that this Depor team showed a collective mentality and proved how competitive they are.

"It is necessary to take into account the high level of opposition we were up against, with their fans creating enormous pressure and I think that that makes this victory even greater.

Intertoto Finals:

Hamburg v Valencia
Cluj v Lens
Deportivo v Marseille

Barring another Frank Sinatra type comeback, this game saw the final chapter in Alan Shearer's international club career, as United tumbled out of the Intertoto Cup.

The number nine exits to concentrate on domestic matters, having set a European scoring record for the club of 30 goals in :

UEFA Cup: 20
Champs League: 7
Intertoto: 2
Cup Winners: 1

Those further divide into types of goals:

Shot: 18
Header: 7
Penalty: 5

And finally by venue:

Home: 18 (11 Leazes, 7 Gallowgate)
Away: 12

Nearest challenger? Shola Ameobi (10)

Waffle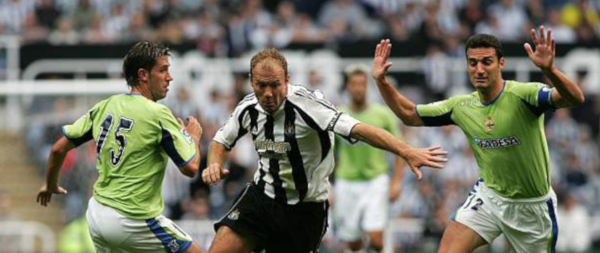 Two defensive errors ultimately ended our taste of European football this season, but Graeme Souness at least took satisfaction in seeing Emre and Scott Parker complete promising debuts.

In front of a healthy crowd United started slowly and Deportivo could have taken the lead from close range through Capdevila, who fortunately swept the ball over the bar.

At the other end Molina was called into action to palm away a Shearer header, before feigning injury following a challenge from the number nine as the resultant corner was swung over.

That was the signal for an outbreak of Galician daftness that saw much pushing and shoving in the Leazes goalmouth and some argy-bargy between the two benches.

Regrettably that incident also provoked some of the daft element of our crowd to throw bouncing balls on the field (given away outside the ground.) Whether the referee includes the missiles in his report remains to be seen, but at least two chuckers had their collar felt by the boys in blue.

With temperatures raised and the crowd finding their voice, the Magpies levelled the tie before half time through James Milner. Unfortunately that wasn't the final action of the half, Andrade stealing in to lob Given for his second goal of the tie - the Toon 'keeper reacting slowly to the danger, but left exposed by his defence.

Within seconds the half time whistle had blown, players of both sides coming together again as the teams left the field - Stephen Carr notably being restrained.

And if the tie was now on a knife edge - with a second Toon goal conjuring up the possibility of a penalty shootout - then within two minutes of the restart we'd erred again, this time fatally.

A dithering Robbie Elliott hit a weedy back pass from the left-hand touchline that left Given stranded. Two Deportivo players chased it down and although Carr became entangled with Tristan, the ball ran free for Munitis to walk the ball into the empty Leazes net.

Needing three goals to go through, Shola Ameobi was introduced for his first appearance of the season as United went about their task without ever really looking as if they believed it possible.

Had Shearer ended a good move by keeping his close range volley down on the hour rather than blazing over, then players and crowd may have been boosted but it wasn't to be.

Other efforts from Ameobi and fellow sub N'Zogbia went narrowly wide, while Molina stuck out a leg to divert another shot from Shola.

Our final chance of salvaging a draw on the night came when Emre came close to capping an eye-catching debut with a goal; his swerving free kick cannon off the underside of the crossbar.

So it's goodnight to Europe for another season and with the side in a state of flux, it's perhaps no bad thing if one looks at the toll last season's prolonged UEFA Cup run took on us domestically.

Treating this as a pre-season game, there were positives in seeing Emre show up well on his first outing, while Parker had a lower-key introduction to the Toon but showed some good touches and kept going for 90 minutes - no mean feat given that this was his first competitive match of 2005.

The shortcomings evident on the field were those that were known previously and very much on United's "to do" list - principally the lack of support for Shearer and orthodox width in midfield.

Whatever the hell is wrong with Celestine Babayaro though needs sorting and quickly, as the one-paced Elliott was found out tonight on numerous occasions other than his rick for the goal.

Overall a reasonable night's entertainment for the crowd and TV audience - aside from those Mags who went to Coruna and saw their hopes of a free trip to the next round courtesy of the club disappearing before their eyes, as we foretold with grim accuracy.....

It was confirmed shortly after the final whistle that Marseille had beaten Lazio 3-0 in France to secure a 4-1 aggregate victory.

We didn't want to go back there anyway.
Biffa

Reports