Date: Saturday 6th August 2005, 3.00pm

Venue: St. James' Park

Conditions: Sunny, occasionally cloudy

Admission: £5

Programme: None (free teamsheet handed out)





Newcastle United

Yeading

5 - 0

Teams
39mins Emre's corner was met by a Craig Moore header at the Leazes end 1-0

Half time: Newcastle 1 Yeading 0


79mins Dyer's through ball allowed Emre to shoot home 2-0

83mins A good solo turn and finish from James Milner 3-0

90mins At last Shola Ameobi managed to beat the keeper with a shot 4-0

92mins And then from the next attack Shola Ameobi overlapped to knock home another 5-0


Full time: Newcastle 5 Yeading 0
Graeme Souness said:
About Jenas:

"From our point of view we want to keep him.

"He's a valuable member of the squad and we're looking to build things here.

"We did (have a bid) a month ago, I believe, from Tottenham Hotspur, but as far as I know that's not been followed up.

"That decision will be taken by the chairman. If we were offered £15m for JJ I think that would get him thinking, but that's not the case so that's not an issue.

"I think he had a good game when you consider he's not played any games since last season and not had a lot of pre-season training.

About Coco:

"He did impress me and I've asked the chairman if we can sign him. The deal would be a loan for this year and then see where we are after that.

"He's played 17 times for Italy so he cannot be a mug.

"The only issue is his injuries. He had an operation on his back a couple of years ago, but he's been fit for the last 12 months. but the coach at Inter Milan has decided not to play him - a bit like Emre, the coach didn't use him much either."

Emre commented:

"I'm very happy, but I'm still not totally ready. I've only played two games, but I think when I get another couple of games I will be fit.

"I tired a bit near the end of the game, but that is to be expected. I felt my performance was OK, and the goal was not bad!

"Last year in Italy I only got one goal, I know I need to get more goals. On Wednesday I hit the post, so it was nice to get a goal.

"I want to score goals, but I am also happy to set up my team-mates. As long as we win, it doesn't matter who scores!

"We did well in the second half, we are still not 100 per cent but we will be by the time we play Arsenal. It was a good performance to get score five goals, but the result doesn't matter.

"Today was all about getting the fitness right, and the most important game for us now is Arsenal next weekend."
Yeading boss Johnson Hippolyte commented:
"We couldn't believe it. It's not every day Newcastle United ring you up and ask for a game.
"Their fitness told in the end but I'm so proud of my players. We gave them a real game before we tired at the end. When you play 70 minutes against a team like Newcastle it's like playing 120 minutes against anyone else.
"We couldn't have done any better. It is one of my proudest days in football and a day that none of us will forget.
"It's going to be very hard (to play non-league football) but we have got to adjust. Newcastle was wonderful but this is what we are all about."

Second ever meeting with Yeading, following up on January's 2-0 FA Cup success.

As in that game, Shay Given and Alan Shearer didn't feature.

Yeading's new signing Jermaine Roche didn't appear in this game as he couldn't get the time off at short notice. He works for his father.....

Waffle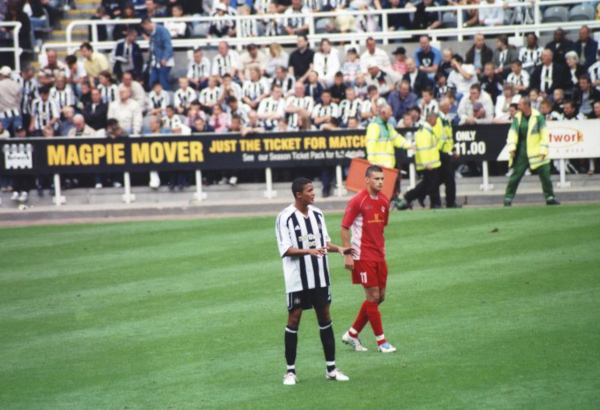 With 11 minutes remaining, Newcastle were just 1-0 up and had seen a Yeading "equaliser" ruled out for an offside flag - hardly the sort of scoreline to engender a feel-good factor on Tyneside.

However a late flurry of goals from the Magpies ensured a veneer of respectability to the final result in this hastily-arranged kickabout following our Intertoto Cup exit three years earlier.

Debutant Craig Moore had opened the scoring as he headed home Emre's corner, but that was a rare highlight in a muddled first half when the non-league side didn't look outclassed.

With the crowd present threatening to doze off in the sunshine, Newcastle belatedly got their shooting boots on in front of the empty Gallowgate stands, Milner, Emre and a late pair from Ameobi giving the scoreline a more palatable look.

For Shola the relief was evident, after a game in which he and Dyer had almost appeared to be giving a master class in how not to score goals.

With Shearer sidelined through an (allegedly minor) calf problem and Souness showing no sign of giving Chopra a decent runout, then the burden of responsibility for scoring looks like it's going to be shared across the team, pending the arrival of the promised two strikers.

Well on this evidence, we're in bother.
After the game Souness confirmed that he intended to pursue the loan signature of Coco, but precisely what the manager saw from the left-sided defender is open to question - given that he was asking to come off after an hour, by which time he'd barely had a tackle to make.
However with Elliott having reverted to type, Babayaro seeming to have gone beyond the point of no return and no-one coming through the ranks in that position, then gambling on the fact Coco isn't match fit (but has gone through pre-season with Inter contrary to some reports) is probably a punt we have to take.

A casual glance at the scoreline suggests that this was a typical pre-season workout with an expected outcome. Unfortunately that wasn't the case and we stand one week away from an outbreak of hostilities in a remarkably similar fashion to Ruud Gullit's 1999 pre-season campaign.

Back then it was Reading not Yeading; and at least Souness hasn't taken to the field like the Dutchman. However there's a similar climate of downsized expectation among supporters that this team's selection and performance in this match did little to dispel.

Biffa

Reports