Date: Tuesday 9th August 2005, 7.45pm

Venue: Carlisle Grounds, Bray

Conditions: dull and dry (light rain soon after game)

Admission was €15 adults. Programme €3.




Bray Wanderers

Newcastle United

1 - 7

Teams
37 mins Dyer played in Ameobi, who made no mistake with his firm shot 1-0
45 mins Once again Dyer's pace on the ball caused problem for Bray, and when Carr put in a low centre across the six yard box, Ameobi was on hand to poke the ball into the roof of the net 2-0

Half time: Bray 0 Newcastle 2


47 mins Dyer exchanged passes with Bowyer before virtually passing the ball into the net with a faultless strike 3-0

49 mins A strong shot from Milner, who lashed home into the top right hand corner of the goal - the goalkeeper helpless to stop it 4-0
53 mins Bray got one back when Harper palmed down a shot from Robbie McGuiness, but Georgescu was on hand to knock the loose ball home 4-1

66 mins Bowyer released the overlapping Carr and when the low cross came over, N'Zogbia beat Faye to score 5-1

75 mins With his first meaningful touch, substitute Chopra got in on the scoring action, Milner this time having got the ball out wide on the right for Carr to return 6-1
83 mins After a couple of mishits in the box, N'Zogbia eventually prodded the loose ball home 7-1

Full time: Bray 1 Newcastle 7
Alan Murray handed the post-match interview duties and said:
"The lads we left behind were for precautionary reasons, we expect them all to be available.

"With Scott, Emre and Alan, had it been a league game on Tuesday they would have all probably been able to play.

"We've just been extra-careful. Shay's the same, we expect him to be fit for Sunday and raring to go. We've just wrapped them in cotton wool and looked after them.

"In Alan's case we took advice from our medical team, and they said leave him behind so we did. But we are really confident he will be okay."

"It was an excellent workout at short notice. Give the players credit, they went about their business in a very professional manner and ended up with a very good result.

"We started off by showing them the respect they deserved, and then ability takes over. If you showboat and take things easy then it becomes difficult, but all the players put in a good shift and we're very pleased.

"Shola was looking sharp and aggressive, and we need more of that from him. He's got to make sure his good work has some end product and he's shown that on the night.

"The work-rate of James and Kieron will always give people a problem. They are like dogs with a bone, at it all the time, and that's very pleasing for the manager.

"As for young Charles, he is still only 18 and people keep forgetting he was pushed into situation last season where the team was under pressure.

"We've said all along that with younger players, ideally you want to put them into the Premiership when the team is doing well so we can nurture them along rather than under pressure. But credit to them, the still performed well under pressure.

"They've done well and it bodes well for the future that we have players like Charles, James and Steven (Taylor). It might be that they take more of back row position immediately, but it's still great to have people like that who you know can come in and do a job for you."

Stephen Carr added:

"It was a late decision to come over as we needed another game and a work-out for the lads.

"The Irish football fans love Premiership teams coming over, it's a big game for them and gives them a lift.

"At this stage it's all about getting fit and pushing yourself to the limit for Sunday's game at Arsenal. It's about getting sharp.

"Pre-season games are important. A few of the lads have not played that many games and needed a work-out - but Sunday will be completely different in terms of pace and quality. It will be tough."
Second visit to Bray for the Magpies - we won 6-0 here during pre-season in 1998.

And for Souness this is his third in as many years, having brought Blackburn to Bray in 2003 (won 3-2) and 2004 (won 4-0) previously.
5th August 1998 - Kenny Dalglish takes his Newcastle team to Bray, wins.
27th August 1998 - Kenny Dalglish ceases to be the manager of Newcastle.

7th August 2004 - Graeme Souness takes his Blackburn team to Bray, wins.
6th September 2004 - Graeme Souness ceases to be the manager of Blackburn.

9th August 2005 - Graeme Souness takes his Newcastle team to Bray, wins......

Waffle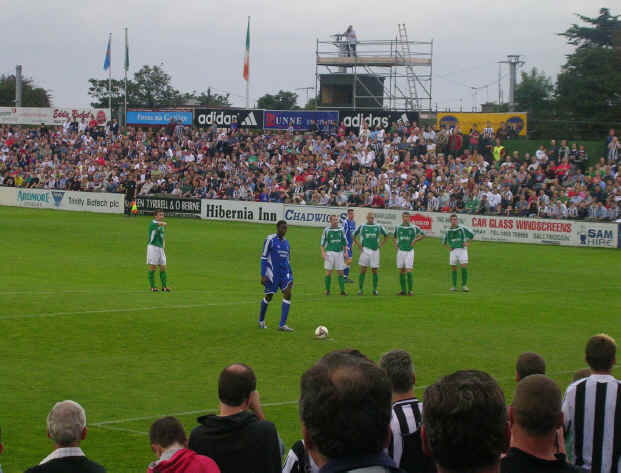 Shola Ameobi prepares to take - and miss - a penalty
Newcastle concluded their pre-season programme on Tuesday evening with a successful visit to the County Wicklow town of Bray, on the eastern coastline of Ireland.

And after Ameobi made amends for an earlier penalty miss by scoring twice just before the break, United pulled away from their Eircom league hosts in the second half to make it a dozen goals in four days - albeit against inferior opposition.

Efforts from Ameobi, N'Zogbia (2), Dyer, Milner and Chopra were well received by the many locally-based Toon fans present

And off the field we did our cause no harm at all, with Souness signing dozens of autographs before the game - as did the players, who passed their shirts into the crowd and posed for photos, but had to be quick on their toes at the end to avoid the (friendly) pitch invasion by youngsters.

Whether the two hastily-arranged post-Intertoto friendlies will ultimately prove to have been sufficient preparation is anyone's guess, but tonight's game at least provided a little light relief for those present - the calm before the storm perhaps.


Biffa


Reports