NUFC.com
in association
with GNER



Date: Sunday 14th August 2005, 1.30pm
Live on Sky Sports

Venue: Highbury

Conditions: scattered showers with sunny intervals.

Admission: £35 (last season £33)

Programme: £tbc

Arsenal

Newcastle United

2 - 0

Teams
Half time: Arsenal 0 Newcastle 0

81mins: Deep in the box and running towards the North Bank, Ljungberg appeared to be starting to lose his footing when Charles N'Zogbia helped him on his way down with an attempted tug and contact from behind.

No great appeal followed the spot kick award and Thierry Henry converted it low to Shay Given's left and just beyond his grasp.

His celebration consisted of running to the North Bank fans and making a "T" shape with his fingers - later confirmed as a tribute to his newly-born daughter who is named Tea - is that because she has a sugar daddy? 0-1
87mins: Given was beaten at his near post at the end of a quicksilver Gunners counter-attack, as Robin van Persie latched on Ljunberg's right-wing centre from the goal-line. 0-2
Full time: Arsenal 2 Newcastle 0
Graeme Souness refused to attend the press conference or speak publicly, giving out the following message via the club's official website:
"If you speak your mind, you end up in trouble, so I'm not going to speak about him and the same goes for my players.
"They are quite rightfully upset at the things that went on out there. I am protecting them from saying something that might land them in trouble.
"I blame myself for Jermaine's sending off. About 10 seconds before I was standing on the touchline shouting at him to be stronger in the tackle and that's what happens.
"Up until the sending off of JJ, we were more than a match for a team who will be challenging for the championship come the end of the season."

And after the decision to reduce the red card to a yellow, he spoke to the same outlet:

"Fair play to the referee for having another look at the incident and making this decision.

"We have to be happy that he has made it.

"I said after the game that it was never a sending-off offence, there was no doubt in my mind that the tackle from JJ didn't deserve a red card."

The following Souness quotes appeared in the Chronicle:

"We did not have a bad player out on that pitch today. We had so much spirit and before the red card I thought we matched Arsenal all the way.
"Indeed, I am convinced that had we kept 11 men on the pitch we would have got something out of this game.
"It's always difficult coming to Highbury but one of the things which pleased me most is that our players showed absolutely no fear today and I am sure our supporters will have noticed this.
"Before going down to 10 men we were confident against a team who will be challenging for the Premiership title and this is very encouraging.
"I thought the Jermaine Jenas sending off was very unfair and he was close to tears because he felt he had let the rest of the players down.
"Charles N'Zogbia is a bit down after conceding the penalty but he will learn from this and we have high hopes for him.
"The new lads, Emre and Scott Parker, were excellent and if we can get another couple of players into the club I feel that we can go anywhere and give anyone a game.
"That's why the chairman is working his socks off to get us some new players in."
Arsene Wenger commented:
"We know we can be much sharper and stronger.

"It was vital for the team. I think overall we were a little bit apprehensive as a unit because in our heads was an important game.
"They had a competitive advantage because they have started their season already. I could see from the start of the game we had problems to change our pace and Newcastle were sharp and clogged the middle of the park.
On the Jenas tackle:

"It looked to me a dark yellow or a clear red.

"It could have changed our plans as we cannot afford to lose him (Gilberto) like we did last season. It looked like a dangerous tackle to me and an unnecessary one.

"If you ask me whether I have seen people getting away with that in the Premiership, I would not say no.
"We didn't want Jenas to be sent off, that was the referee's decision. But when he brought his right leg into the tackle and took away the standing leg of Gilberto, I didn't like that.
"The rules are the same for everybody. Everyone knows that at the start of the season you get a yellow or red card more quickly, then, in September or October, it is reversed for the rest of the season.

On the penalty that brought the opening goal:

"I feel he (Ljungberg) was hit on his left foot and that provoked him to kick the ground. We were maybe a little bit fortunate to get the penalty, I can agree.

"You could discuss it for two days and not know any more. In fairness, in the last 20 minutes it had looked like a goal was coming."

On the Jenas signing rumours:

"I really wanted to watch him today - I was interested in him, but not at the moment. The fee is still too high. He is a good player, I know him well, but I have four midfielders now and I can wait another three weeks."

Thierry Henry chipped in:

"You have to give them credit. I think 2-0 is a bit harsh on them. They have some quality in the midfield and they protected their back four well.
"I don't know too much about the new rules but, from where I was, the sending off seemed a bit harsh. Jermaine Jenas is not a dirty player. [I went over because] when it happens to you sometimes you would want someone to say to you that was a bit harsh.
"But I am not the referee and they have to make a decision in a split second. Maybe he had another view that I was not there to see."
"When we have been down to 10 men, we have gone on to win sometimes. It seems you have more power and desire sometimes.
"We did not play our best game but you have to give them credit as well, it was not just down to us not playing well. We knew right from the start it was a game where we had to be patient.
"And it is always a good thing to know you can play better but you are going home with the victory as well."

Toon at Highbury - Premiership years

2005-06: Lost 0-2
2004-05: Lost 0-1
2003/04: Lost 2-3 Robert, Bernard
2002/03: Lost 0-1
2001/02: Lost 0-3 (FAC)
2001/02: Won 3-1 O'Brien, Shearer, Robert
2000/01: Lost 0-5
1999/00: Drew 0-0
1998/99: Lost 0-3
1997/98: Lost 1-3 Barton
1996/97: Won 1-0 Elliott
1995/96: Lost 0-2 (LC)
1995/96: Lost 0-2
1994/95: Won 3-2 Keown og, Beardsley, Fox

On a stadium which owes much of its recent success to the presence of talented Frenchmen, the record books will show that our final three league goals at Highbury were scored by players from that country.

Emre and Scott Parker made their Premiership debuts for the club, becoming the 115th and 116th players to do so - the former becoming the first Turkish player ever to appear for Newcastle.

This is the fourth instance we can remember of a red card awarded against a Newcastle player being withdrawn:

Gary Speed v Aston Villa (h) May 2001 - Another bloody Orpington official, Barry Knight - what is it about that place?

Alan Shearer v Charlton (a) December 2001. Having made the long journey from Essex, Andy D'Urso left his calling card.

Craig Bellamy v Arsenal (a) December 2001. Graeme Poll popped down from Tring for the evening and was suckered by Ashley Cole's dying swan act.

Jermaine Jenas v Arsenal (a) August 2005.

Waffle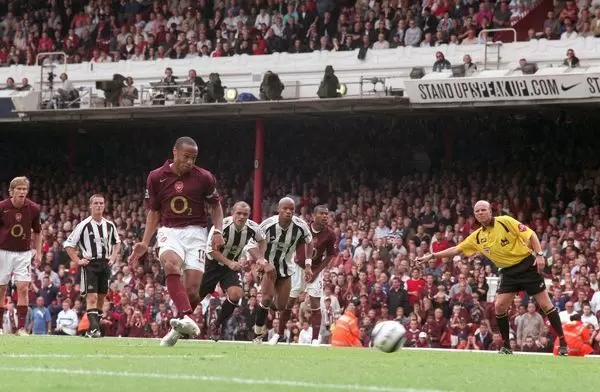 Having voiced his concern at being centre of attention in the Geordie aquarium, it was entirely in keeping with the absurdness of this club that Jermaine Jenas came to dominate this game in the open waters of Highbury.

Part of a five-man Magpie midfield that swallowed up Arsenal attacks for the first half hour of the season, Jenas had cut a low profile against his alleged suitors, prompting Graeme Souness to urge him from the touchline into greater tackling efforts.

However that translated itself into a well-intentioned but clumsy lunge on Gilberto that made contact with the ball but also the man - and saw our season opener derailed in scarcely believable circumstances.

But if that decision brought consternation to the Newcastle bench and bewilderment to the team, then the reaction from the away section was a mixture of outrage and resignation.

Quite simply, things had been going too well - a temporary state of bliss, which the long-suffering Toon fan knows from bitter experience is inevitably shattered by a plague of broken limbs, outrageous misfortune or some other as-yet undevised method of football-related torture.

Shorn of any attacking options save Shearer and featuring a reputedly unfit Dyer, an unhappy Jenas, untried Emre and rusty Parker, the team served up a display that was both disciplined and inventive - and to be frank, unexpected.

Lacking Vieira, the home side were almost single-handedly outfought by Scott Parker, who dived into tackles with a vigour and glee one wouldn't expect from a man playing his first Premiership game of the year after a broken foot. Certainly the best midfield display since Butt at Boro last opening day - but hopefully not a one-off like that one....

And Parker was well supported across the field, from the co-ordinated defending of Boumsong and Taylor to the whole-hearted effort of Bowyer and even a performance from Babayaro that belied his apparent lack of interest in pre-season.

In short, there was a genuine collective spirit about United, one which just didn't seem to be there last season - something that had caused raised eyebrows (from this quarter) at least when Shearer pinpointed the dressing room character of the squad as a reason to delay his retirement.

Whether this goes down well with certain sections of the crowd, or the boardroom for that matter remains to be seen. But on this evidence at least, the Souness-led clearances of unwelcome dressing room influences looks to have borne fruit - even if we seem almost hell-bent on reintroducing a jumpy jack element, judging by our alleged transfer targets.

Back to that Jenas decision though, which drastically altered the shape of the game - giving the initiative to a home side who had looked as moribund as their snoozing support in the stands, already reduced to pathetic dives and vain attempts to gain ground by underhand means.

The subsequent downgrading of the offence to that of a booking merely added insult to injury, but our reduction to ten men did have the effect of guaranteeing that Souness was the recipient of post-match sympathy rather than the ridicule that could have followed the defeat in an eleven against eleven contest.

A change of formation saw us surrender possession and thanks to the referee the limit of our achievement was always going to be a gallant 0-0, something that we looked like picking up as a minimum in the opening stages. Typical.

With the introduction of some fleet-of-foot replacements, Arsenal belatedly lived up to their nickname -although it took a messy penalty award to hand them a golden opportunity to net.

The consequence of that was stretch us to a point when a second goal was a regrettable but inevitable postscript, as we vainly tried to make an impact up field without a striker.

So, our final scheduled visit to what was once an atmospheric old ground may not have been as memorable as the opening half hour promised.

However our unexpectedly heart-warming display ensured that players and fans left Highbury in an up-beat positive mood - there's certainly something there to build on, rather than an instant crisis for Souness to try and manage (although we'll doubtless now see the meaningless midweek internationals add to the injury list).

But tactics that brought some reward in a tricky away game won't pass muster at home - our circumspect approach to the Deportivo game providing early evidence of the folly of such a move.

On this evidence, midfield looks to be semi-sorted, the defence probably as good as we can expect. Further forward though there's a yawning hole in both the side and the scoring stats that Ameobi and/or midfielders just won't fill.
The acquisition of goalscorer(s) to provide goals are simply essential if we're not to stumble through this season, with the inevitable boardroom intrigue and managerial nonsense that looms constantly round the corner at this club.
Hopefully 50,000 voices at SJP on Saturday will inspire the team to replicate and renew their efforts and blow away those negative clouds that settled across Tyneside at the back end of the last campaign.
Early days then, but not dark ones - if the required reinforcements are forthcoming in the next fortnight.
Biffa

Reports