Date: Saturday 20th August 2005, 3.00pm

Venue: St. James' Park

Conditions: Hot and sunny but once again seasonal storm clouds building on the horizon....





Newcastle United

West Ham United

0 - 0

Teams
Half time: Newcastle 0 West Ham 0
Full time: Newcastle 0 West Ham 0
Graeme Souness commented:
"It was frustrating, but not unexpected. If you look at us, we have got one proven goalscorer at this level on the pitch.
"They are a team that is well-organised, a team who came here after winning last week, so it is not totally unexpected. I felt we dominated the play and they did not have a shot at our goal - I cannot remember Shay Given making a save.
"But the obvious thing that is missing is the door-openers and the ones that put the ball in the back of the net, which is the hardest thing to find and the most expensive thing."
West Ham chief Alan Pardew said:
"If you are a football person and you think that was a foul, then I do not know, that does not wear with me because I felt he went to ground and won the ball cleanly before he even touched the player.
"I have seen it a few times from a few different angles and my opinion, I do not think, is going to change. I hope Dermot's opinion does because he seems to think that it is still a foul.
"He has seen the replay. I showed him three or four times. At the moment, I do not hold too much hope out because he seems adamant that it is a foul, and I have got to be honest, I just cannot fathom that.
"Even when it happened, I have been here before when a penalty decision comes close or something like that, and this place just goes berserk, and they did not.
"They were almost surprised around the stadium and there was a little bit of a chuckle, I felt, from the Newcastle faithful because they could not quite believe he had been sent off."
Our failure to find the net on Saturday meant that season 2005/06 is the first Premiership campaign in which we've opened up with two successive blanks.

And you have to go back to 1981/82 to find the last time we failed to score in our opening two games, a 0-1 home loss to Watford followed by a 3-0 clumping away at QPR.
Not counting the own goal Geremi scored in the final day non-event with Chelsea, that's now 10 minutes short of 8 hours since a Newcastle player hit the back of the net in a league match at SJP.
Jermaine Jenas made his 150th appearance for the club.
At the age of 32, Saturday saw a second debut in a Newcastle shirt for Lee Clark, almost 15 years after his first appearance for the Magpies.

And it's over eight years since the midfielder last appeared for the club - in the final game of 1996/97 when Forest were beaten 5-0 at SJP.

That same game saw the end of Robbie Elliott's first spell in Toon, his four year stay at Bolton ending in 2001.

Peter Beardsley left it six years before coming "home", while Clarkie's eight year exile was matched by Terry McDermott, who departed in 1974 and returned in '82.
Both are comfortably beaten by the current Brighton boss Mark McGhee though, who had two separate periods on Tyneside, a decade apart ('79 and '89).

And the award for the longest gap between spells playing for the club we can recall goes to defender John Craggs, who made a brief return to United with Kevin Keegan in 1982, some 11 years after being released.

Waffle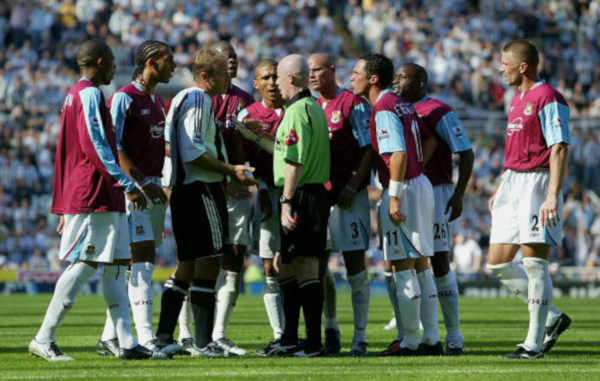 This game was a new experience for me - the first time I'd watched a match at St. James' Park from Level 7 of the Milburn Stand. It was certainly tough making it up the 17 flights of stairs to our seats but compared to the hard work we made of things on the pitch it, the climb upwards now looks a lot tougher for Graeme Souness and his side.
There were several things that were unreal about this Premiership encounter. Witnessing Lee Clark warming up in Newcastle colours was something I thought I'd never witness again and to see Teddy Sheringham still turning out in the top flight was also massively unexpected.
Another old-timer was due to be watching this one from the stands but Alan Shearer's decision to postpone his retirement saw him lead out a very young side against a team who most Hammers' fans would concede, scraped into the Premiership through the play-offs last season.
New boys are best avoided early doors - relegated Norwich put a nail in Bobby's (managerial) coffin when they came back from 2-0 down near the start of last season - and I had this one down as a draw or surprise defeat not long after the fixtures were announced.
West Ham's 3-1 beating of Blackburn last Saturday had obviously given them good heart but I also thought that might work in our favour - with three points already in the bank an expected away defeat wouldn't be too much of a disaster for the newcomers.
Our line-up did nothing to ease my fevered brow - the climb up to the clouds and the vertigo had left me in a bad state prior to the kick-off - Shearer being supported up front by James Milner and Charles N'Zogbia meant that our attacking threat looked minimal against a side being widely tipped to ship goals aplenty this season.
How on earth have we got ourselves into this pickle? Souness' main problem when he took over was how to deal with three top class strikers vying for two places. Two have gone and one is seemingly now playing on his knees with almost two transfer windows opened and closed.
We will inevitably get a striker or two before the end of August but will they be players we have wanted for months? Will they be names Souness had on his shopping list soon after he arrived? Will they be the next generation of forwards to fire this club to greatness? It seems more likely that they will be desperate stop-gaps to try and get us out of an almighty hole. That's monumental mismanagement, whoever's door you would like to lay the blame at. And to think a year ago we tabled a £24m bid for Wayne Rooney....
As is always the case with this club, if you'd predicted the last 12 months this time last year it would have been incredulous: Dyer's refusal to play, Woodgate sold, the Rooney bid, Bobby sacked, Souness appointed, finishing 14th, Bellamy, Kluivert, Robert, Butt, O'Brien and Hughes all gone, no European football and expectations lowered so much that it's difficult to know which teams to root for in other Premiership games. Take a look at this week's fixtures and work out if it's relegation fodder or European hopefuls who you want to lose.... Have we fallen that far?
The air of unbelief was apparent on Saturday. At no time was there anything approaching confidence on or off the pitch that we were going to take all three points. After a couple of early chances that N'Zogbia and Jenas squandered it was the visitors who looked most threatening. Sheringham and Harewood were able to find acres of space and their movement was twice as sharp and intelligent than anything we could muster.
Souness commented after the game that he couldn't remember Shay Given making a save. Almost 50,000 others could clearly recall that Shay had kept us in the game when Sheringham slotted a ball through for Yossi Benayoun (a player we had watched) and it was an outstanding save and goalline clearance that prevented the visitors going in front.
N'Zogbia had brought a decent save from Roy Carroll and Jenas had vainly appealed for a penalty when he should have buried a left-footed chance in front of goal. Our want-away midfielder also wasted a clear header six yards from the goal after the erratic Carr had swung over a decent cross from the right. Lee Bowyer and Scott Parker were busy in the middle but to say that a home goal looked on the cards would have been a gross exaggeration.
It was a sedate first half and no-one was trotting around at half-pace more than our captain. A couple of uncharacteristic wayward passes and losses of possession revealed that our 35-year old is already feeling the strain. Four full competitive matches plus 72 minutes at Highbury isn't a gentle way to start the season. Sheringham, who also played the first 72 minutes of West Ham's first league game looked sprightly until he limped off at the start of the second half with a knock.
Half-time should have allowed us to regroup and afforded Souness, Saunders, Murray and McDermott (too many cooks...?) time to redraw the battle plans. If the plans were redrawn then the team picked up the old ones and huffed and puffed without creating anything again.
But ten minutes into the second period suddenly Jenas was sprinting with the ball from the halfway line towards the Hammers' area. The chasing Konchesky was catching up with every stride and even from my lofty perch he looked to have cleanly won the ball. Gallagher blew for a foul and reached to his pocket for a card. Usually, the Banbury whistler is shy at showing cards of any colour and I assumed it would be yellow but after a quick chat with his linesman the red was waved.
I think I just shook my head rather than cheering for several reasons. It was clearly a wrong decision but the irony of last week's red card wrongly given against Jenas seemed too scripted but I briefly enjoyed things going in our favour for a change. That was until within seconds I realised that we were now looking at a certain goalless draw. The surprisingly attacking Hammers were surely now going to shut-up shop as we had tried to at Highbury.
Shearer's free-kick needed to go in but even his dead ball attempt seemed weary and the usual venom was missing as Carroll saved comfortably. And with that, 50,000 seemingly shrugged their shoulders and accepted it was not to be our day. With over half an hour remaining the home supporters fell silent and the away contingent sensed that a comfortable point was there for the taking.
It was only the introduction of Lee Clark that stirred people out of their slumbers which was again an incredible situation. Here was a club with pretensions of being a European superpower clinging to the feint hope that a player deemed not good enough by many fans and his manager ten years ago (at the peak of his career) was now going to help us beat a side down to ten men that had finished sixth in the Championship last season. For f*ck's sake, if that wasn't so tragic it would be almost comical.
And to add insult to injury, Clarkie, bless him, almost scored as he forced Carroll to save an effort from the left side of the box.
As the silence became deafening suddenly it was announced that there were four minutes of injury time to be added. A slight murmur almost interrupted the visitors' chants of "Easy! Easy!" but that wasn't going to give those on the pitch much inspiration. Incredibly though, we could and should have won it as Parker had a golden opportunity to grab an undeserved victory but scooped a shot way over the bar, failing to convert a cross from the left.
And do you know what? I think most of us almost wanted him to miss. Since the days when I stood under the Scoreboard on the Gallowgate, those around me have never been happier when they're truly miserable and a late Parker goal would have ruined that misery. There are also those who see a succession of bad results as the quickest way to rid us of our current management. That's taking nose-cutting and face-spiting to a ridiculous degree.
This correspondent never wanted Souness anywhere near this club but a change of manager as the transfer window is about to close would be suicidal. Where did it get us last season? 14th. For those looking at this week's Premiership fixtures hoping for a home win at the Reebok, shame on you. This club desperately needs to win some football matches. Quickly.
Niall MacKenzie
Our immediate post-match comments:
Having returned from Highbury pointless but with some positives taken from a battling display, Newcastle once again revealed themselves to be incapable of playing offensively on their own ground.

And for 19 year-old Steven Taylor to be (rightly) voted man of the match against a side who were promoted via the playoffs and who played the last 35 minutes of the game a man short tells its own sorry story.

That short-handedness was the result of referee Dermot Gallagher sending off Paul Konchesky on 55 minutes, as he tangled with a goalbound Jermaine Jenas.

Amidst a welter of protests from the visitors, the referee consulted with his linesman before red-carding the former Charlton player.

And while there appeared to have been an initial tug on JJ, the decision to dismiss Konchesky looked as debatable as the one involving Jenas last week, with the Charlton man's defence also being that he played the ball.

Even with a man less though the Hammers rarely looked in trouble, as we simply seemed to lack the brains or talent to make the numerical advantage count.

Such was our lack of adventure or cohesion though that the sending off merely made the chances of yet another 0-0 draw more likely.

And for Lee Clark to make a playing return to the side and look more threatening than most of his colleagues simply added to the anguish for those watching - for younger viewers Lee was sold by the club in 1997 as he wasn't good enough for us......

Anyone who bought a season ticket for the the first time will doubtless have been questioning their own sanity as they trudged out of St.James' on Saturday.

The final whistle was greeting with some booing, while that old favourite "sack the board" got a brief airing outside the main entrance.

But most fans simply suffered in near -silence, neither cheering nor booing, just seemingly resigned to being yet more of the same turgid rubbish that made last season virtually unwatchable.

How long they'll stay quiet though remains to be seen.

Having known that striking reinforcements were required ever since Bellamy went to Celtic in January, we're now days away from the transfer window closing with nothing to show for our efforts other than hot air and chip wrappers.

But even if we were to bring in a new face up front, our total inability to create anything from wide positions threatens to undermine the arrival of any attacking reinforcements.

PS - To see Alan Shearer today was nothing short of tragic - a once fantastic player now being flogged in his twilight years with no support, service or assistance. Al deserves better than this.
If he was an animal the RSPCA would have been alerted by now. And save for penalties, it's difficult to see where those six goals to equal Milburn will come from.

Like Al, this is only going one way - backwards.

Souness might not have seen it before, but those in the stands are only too aware of what they're seeing - a familiar tale of Geordie underachievement.

There's no reason to suggest that we'll get anything from our next two games against Bolton and Manchester United, leaving us with a solitary point after four games and an international break in which to concentrate fully on tearing ourselves apart in front of the watching media.

And we pay to watch this, pay to watch Jenas running around cluelessly, pay to watch Milner prove time and again that he hasn't got a first touch and pay to watch Bowyer squaring up to opponents rather than trying to take them on with the ball.

Two games in and this season stretches out like a prison sentence.

The pressure is firmly on - but increasingly people are starting to see that the root of our problems is as much in the boardroom as the dressing room or manager's office.
Reports