Date: Wednesday 24th August 2005, 8.00pm

Venue: Reebok Stadium

Conditions: mild, calm

Admission: £36 upper tier only available for
away fans this season (last season £35)

Programme: £3





Bolton Wanderers

Newcastle United

2 - 0

Teams
37mins: In front of the Newcastle fans, Nicky Hunt curled a ball in from the Bolton right, and El Hadji Diouf rose at the far post to head in from six yards, with a team mate behind him also waiting for to pounce. 0-1
Half time: Bolton 1 Newcastle 0

50mins: Diouf chased an overhit cross out of the United area in the direction of the corner flag before turning and firing it in to the six yard bos where Stelios Giannakopoulos tapped the ball home unopposed.

From a defensive perspective, it was an absolute calamity. 0-2
Full time: Bolton 2 Newcastle 0
Graeme Souness said:
"Up until the second goal went in - which was offside - there was nothing in the game. We may have started better than them, but in the end they won comfortably, scoring two goals at a great time - just before and just after half-time - with the second goal seeing us off.
"It's no secret what area we feel we need to improve in. Michael (Owen) would make us a different animal altogether. He has a track record of scoring goals and I'm sure he would here if he chose to join us.
"We've played three games and tonight is the worst we've played so far. To get a result here you need to scrap. The next game cannot come quick enough for us. It is a big game.
"Being turned over by Bolton is never a nice feeling. We just did not have the cutting edge and that is something we are trying to address.
"The fans were behind the team tonight and as always we can never argue with the kind of support we get. But it is time to roll our sleeves up. We need to have a real go and make sure in the next game we come out throwing punches."

Alan Shearer added:
"Confidence is not very high at the moment. I would be lying if I said anything else. We battled away at times but we are not creating chances and this is very disappointing.
"The time to worry is not when you are missing chances but when you are not creating them, and that's what is happening now.
"Yet when we have our strongest 11 out we are a match for anyone, but when we have two or three players injured, we are finding that we don't have the strength in depth.
"We are scratching our heads at this moment in time as we all know we need bodies in to help us along."

Sam Allardyce commented:
"We overcame a lot of obstacles which we thought may have caused us a problem.
"Certainly my praise goes to Henrik Pedersen first and foremost. He played at full-back and it's the first time he's played there in the Premiership.
"After all that, Radhi Jaidi picked up an injury and Abdoulaye Faye came in for his first Premiership appearance. After that early chance for Bowyer we went from strength to strength.
"Ultimately, we controlled the game, but in a different way to that against Everton on Sunday. Then, we bombarding them without getting a goal, whereas this time we were more patient."

Gary Speed chipped in:
"It was a much-needed victory for us. We hadn't won either of our first two games but thankfully we got the win.
"I don't know why I went back on the line for Lee Bowyer's shot as the majority of the lads were going out - thankfully it came straight to me and I kept it out.
"We know how Newcastle feel - we felt like that after our first two games. But there are only three games gone and a few teams have had poor starts.
"As an ex-player, Newcastle don't need me to tell them what's wrong, but they've got too many quality players to stay down there for long."

This was the 2,500th competitive senior away game in our history.
For the very first time in the 113 year history of Newcastle United, the Magpies failed to score a single goal in their opening three league games.
Toon at the Reebok - Premiership years

2005-06: Lost 0-2 No scorer
2004/05: Lost 1-2 Ambrose
2003/04: Lost 0-1
2002/03: Lost 3-4 Shearer 2, Ameobi
2001/02: Won 4-0 Solano, Robert, Shearer, Bellamy
1997/98: Lost 0-1
1995/96: Won 3-1 Ferdinand 2, Lee (at Burnden Park)
Since his last Premiership goal (a canny strike at Manchester City back in February, Alan Shearer has endured 1,262 scoreless minutes on the field, or just over 21 hours.

Waffle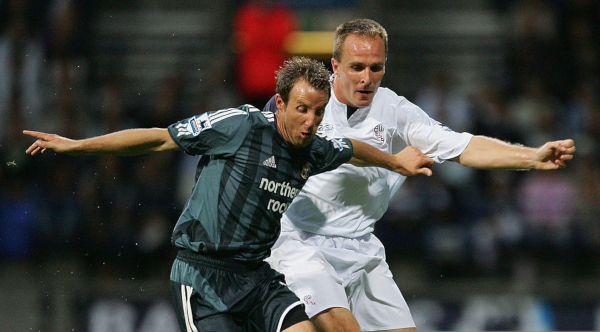 Already the mood of cautious optimism tinged with relief that could be sensed after the season opener at Highbury seems vague and distant.

Returning from London that Sunday evening 10 days ago, there was at least a sense that we'd been genuinely denied the chance of taking something from the game by bungling officialdom.

And pleasingly, there had been talk of a pre-match dressing room bonding session, with rallying calls from unexpected quarters, followed by some demonstrable on-pitch togetherness.

However that was severely diluted by the miserable interlude that was the West Ham game, when the sun shone but the mood among the faithful lengthened in tandem with the shadows cast over the pitch by the stands.

And there was nothing that vaguely smelt of Toon spirit tonight, from a Magpies side as collectively out of sorts and off-colour as their green away garb.
Quite simply, this was one of those games one looks back on in wonderment at how we managed to fill almost 100 minutes of play with absolutely nothing admirable or memorable to show for it.

From the lofty perch of the South Stand it was impossible to see whether the word "United" had actually been deleted from our club badge, replaced with whatever the Latin is for "making w*nkers look like worldbeaters."

Had that been the case it would have been no great shock, United looking odds-on from the first whistle to act out in full the forgettable display here last season.

That saw Sam Allardyce deservedly hand Graeme Souness his first defeat as Newcastle manager - prompting post-match quotes from our man that dwelt on the lack of style in Bolton's victory, as if that was some sort of punishable offence.

Tonight it was moaning about an offside for the second goal - a futile gesture really, considering most toon fans present had believed the evidence of their eyes and mentally chalked up a home win as soon as Diouf headed past Given.
That old testament line about planks in eyes was never more apposite - there were certainly plenty off-cuts lumbering around in our side tonight, notably the inert midfield featuring the three stooges Faye, Bowyer and Jenas, all eclipsed by veteran Gary Speed - who also managed to have more shots than our entire team in the game.....
Then as now Bolton were no great shakes, but possessed sufficient quantities of fight and basic footballing intelligence to outwit our numbskulls. And unlike us, they had a stomach for the battle.

They even managed to employ a half-crocked striker at full back without our apparent knowledge, judging by the easy ride Pedersen got (Carr trying to take him on rather than Jenas? baffling).
From behind the goal it was impossible to see whether the Newcastle Chairman was present to hear the sporadic abuse and calls for his departure from a good number of those Toon fans present.
Souness was at pitchside though, acknowledging chanting of his name from the away contingent, in the manner of a fallen pop star in the ID parade on Never Mind the Buzzcocks - grateful for an unexpected curtain call.

But while journalists add the finishing touches to his black and white obituary and scan websites for references to the previous August departures of messrs Dalglish, Gullit and Robson, there's one earlier ousting that probably won't appear in their search engine results.

It was a defeat at the old Burnden Park that finished evil old Bill McGarry almost 25 years to the day - coming on the back of a 0-2 opening day away defeat and a miserable home draw. Sound familiar?
Old boy Alan Gowling playing the part of Gary Speed that afternoon in Bolton, as a collective yellow streak as wide as our banana away shirts saw us ship four goals and barely cross the halfway line.

Like Souness, McGarry had been brought in to restore order to a dressing room that, while not -strewn with anarchist graffiti, was something of a simmering hotbed of discontent.

The difference was that the club now is unrecognisable from then - two stands, two open ends and the SJP treasurer dreaming fondly of the occasional 25,000 gate.

Even then though, the mood of negativity from the pubs and terraces was picked up in the boardroom - and that was in the days before online petitions, text messages or nightly radio dial-a-plonka sessions.

McGarry was blamed for the ills of the club - having kept the firing side of the bargain, but failed in the hiring department.

Kicked out by the guardians of the "family silver" and replaced by the then unknown Chesterfield boss Arthur Cox - who found similar problems hindering him - getting grief from the fans as a result.

What's the point of saying all this? dunno really, expect to say we seem doomed to revisit previous scenarios....and go down the wrong road again. Only the stakes are now bigger and having been asked to part with ever-increasing amounts of cash, punters feel enfranchised enough to moan - or stop playing their part in lining other people's pockets.

While those with their hands on the club cheque book are justifiably being vilified for their failure to plug the gaps evident all year, Souness has to shoulder some of the blame for the defeatism that seems to have permeated through those selected for service.
Tonight we looked devoid of confidence, with the body language of a walking corpse.

Tactics were either non-existent or ignored and shockingly there was an overall feeling that we simply didn't know what the hell we were meant to be doing - look back at the opening goal far enough and you'll see its roots lie in some pointless interplay in the centre of the park, as successive Newcastle players proved unwilling or unable to create anything with the ball at their feet. Having nobody to pass to didn't help....

If ever fans, players and perhaps the whole club were in need of a lift before the Manchester United game and the slamming shut of the transfer window then it's now.

Our immediate future seems to rely on the success of Shepherd & Co. in the transfer market - with things looking grim indeed for them - and us - if we fail to pick a winner.
Back to tonight though and it has to be asked - exactly what good would a certain M.Owen esq. have done us? I know he's good, but even Peter Beardsley failed he tried to set up attacks and get on the end of his own passes.

To blame all of our ills on the lack of a striker provides a convenient excuse for the well-paid professionals who showed themselves up at the Reebok as they did against West Ham.

Had someone been capable of getting the ball into the box (as opposed to the opposite stand), then a bloke who has scored one or two goals in the past might have remembered how to do it.

Michael Owen would be worshipped at this club - but he's not the messiah.

Even the sons of Nazareth carpenters (and Gosforth sheet metal workers) need a helping hand if they're to perform their miracles.

Biffa

Our immediate post-match comments:

A phrase normally reserved for referees but at the moment it applies to anyone who falls under the laughable banner of Newcastle United.
The Chairman, the Manager, the Coaching Staff and the players are taking this club to new depths and dragging us all down with them.
Never in the 113 year history of Newcastle United has a league campaign got off to a hat-trick of goalless games but after another pathetic performance at the Reebok Stadium this current shower has made unwanted history.
A goal in each half for the Trotters ensured that after three games we join Wigan and the mackems in the Premiership relegation zone. The opening season drama is now turning into a crisis.
And what can we expect in the next seven days? More transfer heartache as Owen et al fend us off with their bargepoles, a home defeat to Manchester United and then the ritual sacrifice of the Manager?
That won't wash anymore, something really drastic needs to happen for this club to gain any credibility from its fans and the football community at large.
A new Manager or the arrival of Michael Owen would only be like putting a sticking plaster over a festering sore. This club is rotten to the core - a whole barrel of bad apples, not just the odd one or two that have already been discarded.
All we need now is for Freddy Shepherd to tell us (via Sky) that "it's never dull here". Don't you bloody dare....