Date: Sunday 28th August 2005, 4.00pm
Live on SkySports1

Venue: St. James' Park

Conditions: Quite literally, strained.





Newcastle United

Manchester United

0 - 2

Teams
Half time: Newcastle 0 Manchester 0
66mins: A long punt forward from Van Der Saar somehow eluded Boumsong, allowing Wayne Rooney to close in on goal unopposed and hammer the ball past Given at the Leazes end.

Pitchside microphones relayed his "You f*cking beauty" celebration across the planet. 0-1
90mins Rooney outpaced the Newcastle defence down the right flank and when his low cross was missed by Jean-Alain Boumsong, Ruud van Nistelrooy was on hand to hoof the loose ball into the bottom corner of the net from eight yards. 0-2
Full time: Newcastle 0 Manchester 2
Press conference duties were handled by coach Alan Murray:
"It was a calculated risk. We tested them through the week and they worked hard. It was a gamble but you can't replicate match situations. Unfortunately, it hasn't worked.
"It's preying on Dyer's mind. What he needs is a run of five, six, seven games with the team, injury free. Hopefully that'll ease his worries.
"With Emre we think it's the same again. He'll have a scan and we'll know a bit more about it then.
"Lee's got an abductor strain, but it's not too serious. He couldn't make changes in pace and it was best for him to come off.
"The manager's fine, it's just a change of face, change of scenery. It's not a problem.
"We know we need a bit of luck, we'll take a shinner now. We'll take one off somebody's backside. The first goal's going to be important for us.
"We've got lots of positives to take out of the game. We more than matched Man United when we had our first XI out and they are a very good side, make no mistake about that.
"We won't feel sorry for ourselves. We can take lots of positives out of the game. We'll use the break to regroup and get everybody back, and hopefully the internationals won't come back with anything major and we can prepare for the next home game."
Manchester United chief Alex Ferguson said:
"It was an important result because Newcastle were a very determined team - very, very difficult to break down. We stepped up our passing in the second half and played with increased pace, which we needed to do because we were far too slow in the first half.

"Newcastle had a lot of pressure in the first half and one or two dangerous moments in our penalty box but we created chances - although it's about taking them.

"But once we got in front I was quite confident. Our second goal was a great example for any person who wants to get to the very top. Wayne has a fantastic work ethic.

"It wasn't a great performance but we were determined in the defensive part of our game, our goalkeeper was excellent and we had a solid look about us.

"The two young boys (Rooney and Ronaldo) are fantastic, just incredible.

"It's great to see them enjoy themselves in training and in the dressing room."

There was a Premiership debut for Albert Luque, who becomes the 117th player to appear for us in that competition.

The Magpies have now failed to score in their opening four league games and SJP spectators haven't seen a Premiership win in the last six games. By contrast, our visitors have yet to concede a goal in their three league fixtures to date (five including European ties).

Souness @ NUFC Premiership record: P37, W9, D13, L15

Reds in Toon - Premiership:

1993/94 drew 1-1 Cole
1994/95 drew 1-1 Kitson
1995/96 lost 0-1 no scorer
1996/97 won 5-0 Peacock, Ginola, Ferdinand, Shearer, Albert
1997/98 lost 0-1 no scorer
1998/99 lost 1-2 Solano
1999/00 won 3-0 Ferguson, Shearer 2
2000/01 drew 1-1 Glass
2001/02 won 4-3 Robert, Lee, Dabizas, Brown og.
2002/03 lost 2-6 Jenas, Ameobi
2003/04 lost 1-2 Shearer
2004/05 lost 1-3 Shearer
2005/06 lost 0-2 no scorer

Ruud van Nistelrooy has now played in this fixture five times:

01/02 lost 3-4 van Nistelrooy, Giggs, Veron
02/03 won 6-2 Solskjaer, Scholes 3, Giggs, van Nistelrooy
03/04 won 2-1 van Nistelrooy, Scholes
04/05 won 3-1 Rooney 2, van Nistelrooy
05/06 won 2-0 Rooney, van Nistelrooy

Rooney v NUFC:

2002/03 NUFC 3 EFC 3 Rooney 1 - in shootout (LC)
2002/03 NUFC 2 EFC 1 Rooney 0
2002/03 EFC 2 NUFC 1 Rooney 1
2003/04 EFC 2 NUFC 2 Rooney 0
2004/05 NUFC 1 MUFC 3 Rooney 2
2004/05 NUFC 1 MUFC 4 Rooney 0 (FAC)
2004/05 MUFC 2 NUFC 1 Rooney 1
2005/06 NUFC 0 MUFC 2 Rooney 1

Waffle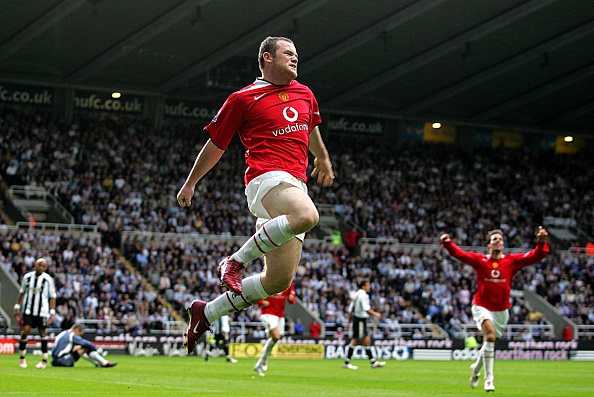 A day of gambles then - none of which came off for our Manager, who has now officially been accorded "beleaguered" status by the media.

Throwing in the unfit Emre and Dyer ultimately failed to pay off for Souness, as neither of them were able to provide that spark of creativity so sadly lacking in our three games so far.

And their departure from the field, coupled with the later substitution through injury of Bowyer gave our side a familiar, tired look; Ameobi wandering around, nobody prepared to take the initiative and get wide or into the final third of the field, Shearer marooned up front, attempting knockdowns to nobody.

Utterly stale, utterly depressing - a waste of my time, your time, everybody's time.

While Boumsong's double rick ultimately cost us twice, equally disheartening was seeing him punt the ball forward time and again, giving Rio & Co. some heading practice and Shearer a stiff neck.

Things had looked rather better in the opening exchanges, with the visitors seeming a little out of sorts and susceptible to our early bullishness, Shearer and new boy Luque both earning free kicks as they unsettled their opponents.

For the Spanish debutant there was much to learn - with an interpreter on the touchline and a whole new style of play to instantly adapt to, one where dwelling on the ball in a manner acceptable in the Primera Liga isn't the wisest of moves.

An early effort from a saved Shearer shot was rightly ruled out, while another half-chance that saw the ball drop between volleying and heading height saw him balloon the ball high and wide.

Unfortunately what should have been a first taste of his new club ultimately became a full-blown immersion by the end, as the use of subs for the three injuries meant the tiring debutant had to remain on the field until the bitter end.

As might be expected, the appearance on the field of the reds and Roy Keane sent the blood pumping round the captain's system at an increased rate and Shearer strained every sinew in the cause - including his tongue, as he kept up a mini-barrage on referee Webb in the face of infringements - real and imagined.

And for a while in the first half, we almost got things right.

Packing the midfield isn't the most positive of ploys for a home manager, but in doing so Souness lessened the chances of the multiple goal mauling some had predicted.

It also had the temporary effect of bringing Babayaro and Carr into the game as our wide men - both players looking threatening as they attempted to deliver the killer ball into the area.

Unfortunately the tactical reshuffle and introduction of Jenas meant we weren't able to continUe with this ploy, ultimately degenerating into a shapeless mess by the time Faye came on (why Lee Clark wasn't on the bench remains a mystery - bloody Jeff Clarke would have given us more than the listless man from Senegal).

So 55 minutes into the game and with only Parker remaining of the starting midfield, things were starting to slide back to the blandness of Wednesday.

However we had crucially held out and kept the contest even - partly due to good work from Given and Taylor and partly due to some profligacy from the visitors.

If ever fate was going to deal us something, anything it was now - be it a dubious penalty or an unkind deflection.

Nothing was forthcoming though - hardly surprising, given our continued lack of threat in front of goal, which overshadows all of our efforts elsewhere on the field.

Confidence is low and brittle - this game was lost as soon as Boumsong allowed the ball to reach Rooney, as it had been when Diouf got his head on the cross at the Reebok. Score a goal and you've beaten us.

This correspondent certainly didn't see a way back - and neither did the rest of the team, or crowd judging by the all-pervading mood of resignation.

Whatever Souness thought about the whole thing, he chose not to share it with the fans afterwards. His glass certainly seems half-empty at the minute though - with a hole in it.

Quite what good now bunking off to Spain with a handful of first teamers and reserves does for anyone is unclear, but keeping out of the eye of the storm by leaving the region may be the only chance Souness has to clear his head and face the challenges of the coming months.

Down by our bootstraps as we are, the cards seem stacked against Souness, who for various reasons doesn't have many trump cards left to play. Ill-fortune, desperation, botched medical advice and unprofessional attitudes from some members of his squad don't help though.

Looking for bright spots at this time in our history isn't a rewarding task, when to make a mistake is to lose a game. Now that really is an unsustainable situation.

Having consistently spoken up about the gaps in the squad, he now has less players now than when he first made that statement last season.

Striker efforts notwithstanding, Souness has to plan for the visit of Fulham next though, with that opportunity for him and 52,000 other footbaling experts to compare and contrast Luque with Luis Boa Morte - and pass judgment on that particular gamble.

And then a week later, the possible return of Bellamy against us at an Ewood Park that will take great delight in reminding Souness of his current problems at every opportunity. Then straight after that a grudge match at Manchester City with Andy Cole - oh, and then the return of the Hampshire Geordies to Tyneside - who at least can't torture us with Laurent Robert.......

It doesn't get any easier - and without a strike partner for Shearer, it's game over.

Why Owen would want to come here remains a mystery, but on the 23rd anniversary of Keegan's debut, our need for an inspirational signing is as pressing now than it was back then. If not then we're doomed to wander in the wilderness - something in years to come will seem almost deliberate when trying to make sense of our baffling transfer policy.
Biffa
Our immediate post-match comments:

Two blunders from Jean-Alain Boumsong and another fitness farce cost us dear, despite a spirited performance against Fergie's tumbling Old Trafford clowns.
The goalless and winless streak continued as a full house, Sven-Goran Eriksson and Sky viewers saw Newcastle undone for the third time by Wayne Rooney - Shrek Part 3, if you like.
Debutant Albert Luque showed some promise but missed two decent chances and had another ruled out for offside but at least we threatened the opposition goal in an encouraging first half.
Unfortunately our plans were scuppered inside the first 37 minutes when Emre and Kieron Dyer limped off having pulled the hamstrings that have kept them out of the last two Premiership games.
Both apparently passed fitness tests on Friday but once again players have been brought back too quickly from injury only to see their time on the treatment tabled lengthened further.
Our fitness staff now have an appalling record for losing players through muscle strains, pulls and tears and for recurrences of the same injuries. Can a club really be this unlucky?
Ten minutes into the second period Lee Bowyer hobbled off with a groin strain and Amdy Faye replaced him leaving us hoping for no further ailments. Faye may have come off himself but quickly had a head wound stapled at the side of the pitch to keep eleven bodies still on the field.
The goals were personal nightmare for Boumsong. With the first he allowed Rooney to ghost in behind a harmless looking punt upfield and the England striker lashed the ball past Given. Our keeper had made a fine save in the first half to deny Ruud van Nistelrooy.
The second goal came in injury time as Boumsong failed to cut out a cross and this time van Nistelrooy finished easily from close range.
The players who were able to complete the game deserved a little more for their efforts but we never quite looked the same as the reshuffles disrupted our game plan.
Alan Shearer looked a little more like his old self and was involved in some decent tussles with Silvestre and Heinze - the Argentinean full-back treating us to his own version of 57 varieties; that's 57 different ways to go down clutching his face despite minimal contact with other parts of his anatomy.
Ronaldo was an absolute disgrace with his theatrics as was van Nistelrooy while Silvestre and O'Shea were particularly unpleasant with their underhand tactics.
For our part, Stephen Carr was lucky to stay on the pitch after tugging Ronaldo to the ground but it served the Portugal winger right for his diving and attempts to get our players booked.
Still just the one point and no Premiership goals tells its own story. September 10th seems a long way off when we get our next chance to find the net and claim three desperately-needed points.