Date: Saturday 10th September 2005, 3.00pm

Venue: St. James' Park

Conditions: Depressingly familiar





Newcastle United

Fulham

1 - 1

Teams
13 mins: A scarcely believable catalogue of errors: Steven Taylor's back pass to Shay Given was intercepted by Radzinski. He found Luis Boa Morte and the former Toon target turned the ball across goal.

As both Titus Bramble and Jean-Alain Boumsong slipped, Brian McBride had the simple task of knocking the ball into the empty Gallowgate net 0-1
Half time: Newcastle 0 Fulham 1
78 mins: Some Michael Owen trickery on the right hand side of the box saw him waltz round two visiting players and flick the ball to Boa Morte's left, while taking the opposite route and tumbling over.

Substitute Charles N'Zogbia curled a superb free kick high into the top left hand corner of the net and over the helpless Tony Warner. 1-1
Full time: Newcastle 1 Fulham 1
Graeme Souness commented:

"I would have preferred to have played Michael's first game away from home - the occasion maybe got to us a little bit with all the hype that was going on.
"It took us until the second half to get going. They were better than us in the first half - they were first to everything.
"In the second, we managed to exert some pressure on them, but we seem to be taking one step forward and one back - or even two back - at the moment.
"I am referring to (Albert) Luque, who has done yet another hamstring. He's got what Bob Paisley used to call `a six-weeker'.
"We didn't really get any real supply to Michael (Owen) today. With them getting the goal - not a good goal to concede on our part - they defended quite deep, and that's not best suited to Michael.
"Al the players are disappointed - they wanted to win today. Disappointed because we have not played particularly well and disappointed because we did not get three points."
On the sending off:
"I have been in to see the referee and told him that Claus Jensen has said he wasn't pulled back and we will have to wait to see how he (Wiley) views it now.
"Jensen has said what he has said and Scott Parker has said that, when he realised he had a hand on him, he lifted it up in the air but didn't pull him."


Michael Owen commented:
"It was a great occasion - but while you dream of a great start, with a goal and a win, it wasn't meant to be.
"I'm sure there will be plenty of those to come though. It was one of those games when you get encouragement but then something goes against you.
"We got back into the game and were ready to have a go at them late on with the crowd behind us but then got a man sent off. But we didn't do badly to get a point considering we had 10 men at the end."
Fulham chief Chris Coleman said:
"We were making chances and if we got the second goal we could have gone on and scored three or four like last year.

"We've got to build on that. We had a good performance against Everton, we've come here and taken a point but we've gained more than a point in my eyes - it was a fantastic performance.

"Last year were didn't deserve to come here and win 4-1, Newcastle were by far the better team. Today we deserved to win, we were the better team but sometimes you don't get what you deserve. I thought it was a great performance by us and I'm delighted with the players.

"You know what the crowd are like here, if they'd have scored early doors we could have been in a bit of trouble but I thought our centre backs were outstanding, they kept Michael and Alan very quite the whole game. When the ball did get to them, we defended very well.

"We can't compete in the transfer market with Newcastle but we can on the pitch when our players put up a performance like that in their backyard.

"It was another wonder strike that beat us and you can't do anything about them. Tony Warner's a bit disappointed because he thought it was going over the bar.

"We missed a few chances but to be fair to the guys, they're getting in there now. Our midfield boys are gambling more, they're pushing forward and not holding back. We look more dangerous overall and we played some lovely football."
Newcastle's first Premiership goal of the season arrived after 438 minutes of trying and 495 minutes since Chelsea's Geremi put through his own goal here in May.

There was a Premiership debut for Michael Owen, who becomes the 118th player to appear for us in that competition.

Souness @ NUFC Premiership record: P38, W9, D14, L15


FFC @ SJP (Premiership)
2001/02 drew 1-1 Dyer
2002/03 won 2-0 Solano, Bellamy
2003/04 won 3-1 O'Brien, Speed, Robert
2004/05 lost 1-4 Bellamy


We've now gone seven games since a home victory (two losses and five draws).

Waffle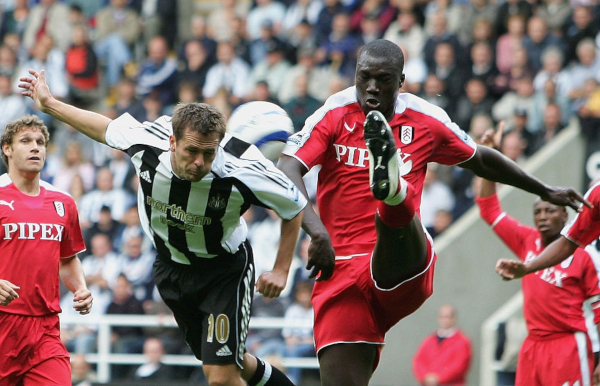 And so the big day arrived.

Amid an avalanche of publicity and expectation, the signing that had propelled us back to public prominence started work in his new job.
Of course we'd seen it all before, from Malcolm to Kevin to Alan - and always with a golden beginning, if not the much-craved happy ending.

Not this time though.

Having played his first game of the season in what will in years to come be an infamous night at Windsor Park, Michael Owen was anxious to impress but as he admitted himself, lacking in match fitness.

And although he was too polite to say so publicly (unlike the previous incumbent in the Newcastle number ten shirt), even a £16m man couldn't work miracles with some of the tools he was handed to work with.

Owen may not have been as familiar with the script that unfurled itself as 100,000 black and white eyes watching, but from the halfway line he doubtless had the same sinking feeling as the rest of us when Given picked the ball out of the net before our new boy had touched the ball.

At least he now knows what he's come to and that there's no time to work on fitness or form - the time is now, the pressure is on instantly. Welcome to Tyneside, Michael, you'll earn your money with this lot.

As Robson was obsessed with Gus Poyet, so Souness seems to be similarly in thrall to Luis Boa Morte - urging his employers on to purchase him and when that failed, reshaping his side to counteract the surges down the left that cut us to ribbons in this game last season.

The tactical solution was to push Carr forward and tuck Taylor in behind him, bringing Bramble back in to partner Boumsong.

On paper this was a reasonable ploy, but one which failed as it relied on Bramble being instantly up to speed after his lay-off (he wasn't). It also moved Taylor from a position where he was just starting to show some solidity - and show up big money Boumsong in the process.

Unfortunately Carr was unable to replicate the right midfield role that Jenas had filled a year previously to cut out Southampton's Fernandes.

The defensive bit wasn't too bad, but when called upon to go forward, the role was totally alien to him.

A similar comment could be made of Faye, who found himself in more advanced positions than usual, but seemed daunted by the whole occasion.

Bought as a squad player, Faye simply adds nothing to our side and today we would surely have been better off with either Clark or Bowyer grafting from the first whistle, rather than coming to try and put things right retrospectively.

By contrast, Fulham's fluid movement caused us constant problems as they swarmed forward in numbers, utilising that old-fashioned push and run trick.

Certainly the blueprint for beating us at home seems clear - simply play with more than one up front and be able to commit players of sufficient mobility to get forward and back. And make no mistake, Fulham should have won this game, in contrast to last season's game when they somehow left with the points. There's probably some sort of perverse justice there.

By contrast we seemed ponderous for much of the contest, unable to coherently work the ball forward - two fluid passing moves from 90 minutes of action is simply not sufficient.
With nothing seemingly going our way, Luque off on a stretcher and Taylor feeling the effects of wrapping himself round a goalpost, we were perhaps relieved that the interval arrived with us only one behind - as we had been at the same stage last season.

Certainly the crowd seemed as stunned as the team in the first half, with Shearer again totally anonymous and looking as drained of energy and confidence as any of his colleagues.

Despite the fact this game wasn't live on Sky, we seemed intent on playing the ball in the air - perhaps the lack of communication between players is so acute that some of our number think we actually signed Jan Koller on deadline day.

Three words - Brain-dead football. Three more - not good enough.

So, one brief moment of joy in 450 minutes of toil thus far in 2005/06 - hardly the stuff of dreams and more fodder for the anti-toon brigade in the media, who doubtless took great delight in reporting the awfullness of the situation Owen has come into.

The unpalatable reality for Souness is that when his first choice selection is unavailable, he's been so far unable to fashion a side from the remainder of his squad that is capable of creating goalscoring chances.
Whether the continued unavailability of those "big" players is due to bad buying policy, bad luck, dodgy training methods or some other explanation is open to question - but for this club to pay £16m for a player with a record of hamstring problems is a disaster waiting to happen....

We now have to go Blackburn with a depleted midfield and attempt to gain our first ever Premiership win at Ewood, with a certain Craig Bellamy doubtless desperate to increase the discomfort of the manager who ended his career on Tyneside.

In more relaxed circumstances we'd be able to at least try and shore up the side for a point, but even at this stage that option doesn't look open to us.

Perhaps the pressure is no bad thing though, if it instills a sense of urgency and focuses the wayward minds of our players. We need to put the bunting away and just get on with it.

While the hype centred on our signing of Owen, at this point in time the second coming of Solano looks to be as vital, as we desperately require some touch and vision in midfield.

Someone has to galvanise whatever midfield we put out, if Shearer and Owen are not to be totally redundant.

But for the whole lot of them playing the ball on the ground, moving and passing to each other would be a start - that's not really too much to ask for, regardless of who plays - is it?
Biffa