Date: Sunday 18th September 2005, 2.00pm
Live on Sky PPV

Venue: Ewood Park

Conditions: Sunny intervals.

Admission: £30 (last season £28)

Programme: £3





Blackburn Rovers

Newcastle United

0 - 3

Teams
Half time: Blackburn 0 Newcastle 0
62 mins: Michael Owen was fouled by Neill in a central position outside the box. Lee Clark rolled the ball to Alan Shearer, who hammered an unstoppable shot into the Darwen End goal. 1-0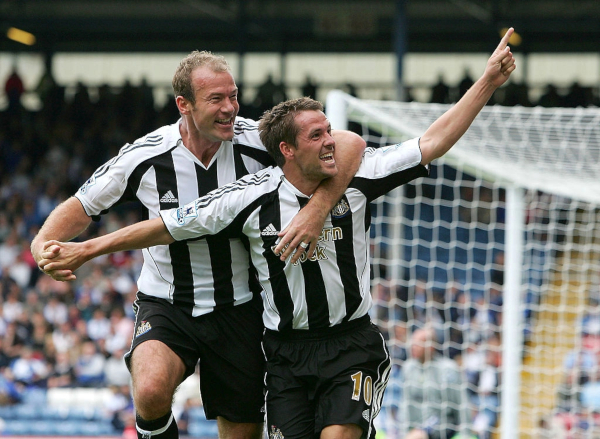 66 mins: Charles N'Zogbia checked back inside on the left side of the box and floated in a measured cross for Michael Owen to meet at the near post and firmly head down and past Friedel. Cue further pandemonium behind the goal. 2-0
85 mins: A fine cross-field ball from Clark released Celestine Babayaro in space down the left. He played it forward to N'Zogbia who had just stayed onside. Advancing towards goal, the young Frenchman showed admirable skill and composure to roll his boot across the top of the ball to slip inside Friedel and knock the ball into empty net. 3-0


Full time: Blackburn 0 Newcastle 3
Graeme Souness said:
"It was a bit of a makeshift midfield but we're absolutely delighted. It doesn't matter who you play against, to win 3-0 away from home is a terrific result.
"Charles (N'Zogbia) is going to push whoever we decide to play on the left. He is going to push them all the way for a place.
"That's not Charles's favourite position. He needs to be in and around bodies because he's a really, really strong boy. He'll be a bit of a beast when he fully matures. We think he's got a real chance of being a top player.
"And we know what Lee Clark is all about, he would play for this football club for nothing. Bowyer was playing in a position that doesn't really suit him.
"Amady's having a bit of a confidence crisis at the moment, because he's not a particularly confident boy. He'll be very useful over the season.
"I thought it was a nervy affair, really, until we scored a goal. It was two teams aware of their situations. Confidence plays such a big part in football. Some people need a great deal, some people get by with not a lot - and I think it showed at times in our play.
"When we scored our goal we started to play with confidence and pass it around. The way Blackburn set out to play they don't open up and chase you, so it was a dogged affair early on.
"There won't be many teams that come here and win 3-0 the way they're set up to play. They are hard to break down and the players don't step out of position.
"We're obviously relieved to get three points and there were lots of nice things. We've won it with 10 men, we scored three goals, we kept a clean sheet, we got away without any injuries and we're a few places up the table.
"It has been a difficult start. Part of my job is to come up with the reasons when you don't do very well. We can look at certain factors and we think we know where our problems have been. Hopefully we're now coming out of them.
"Security is not something that goes hand in hand with football management, but the result means I'll be more pleasant around my family.
"The pressure starts again now. We're in for training and the build-up starts to the Manchester City game. I will have to look at the sending-off again but I am obviously relieved to come here and get three points.
"I don't bear grudges - I've got fond memories of being here and this club was very good for me."
Alan Shearer commented:

"It was a nice feeling (to score) but it was an even better one when the final whistle went and we had picked up the three points.
"This was a big result for us when you consider the injuries and suspensions we had. It was always going to be an advantage to get the first goal especially the way Blackburn played with just one up front and I'm glad we got it.
"We knew that if we did grab the first goal then Blackburn would have to abandon their system and come out and attack us and that's what they did and they left gaps at the back which we are able to exploit.
"I suspect it wasn't a great game to watch for the first hour, and it was probably pretty negative. But when you are in the position we found ourselves in with the injuries and suspensions you just have to dig deep and see what comes out.
"You have to keep it tight and that's what we did. Thankfully we got the goal and we were able to get two more because they pushed out and opened up a bit.
"The three points were more important than anything and the reason we got them is the players back in our dressing room."

Fellow scorer Michael Owen said:
"Since I've come back it is quite tight, there is not as much attacking and it is difficult to score a goal. It is a slightly different Premiership I have come back to from Spain.
"Early indications this year are that there have not been so many Premiership goals - maybe that is of some concern.
The goal wasn't a relief at all, I am confident about scoring goals in whatever team I play in - I've done it all my life, so I am not relieved to get off the mark at all.
"But I am relieved to get the first three points of the season, so it is a big relief to get off the mark in that sense. Let's hope these wonderful fans of ours get used to seeing me score goals for Newcastle United.
"It was a special day for myself, the team and everyone. To win 3-0 away from home when the pressure is on is a great result. We have now picked up our first win and with four points from out last two games we feel a lot better about ourselves.
"You are always happy when you score but it was more important in a game like this.
"Blackburn only had one player up front and they had to change it once we got our noses in front and that left gaps. It's nice that we went out and got a few goals and three points for our fans. In fact it's amazing what a win can do.
"People start looking at the positives and now we are hoping we can keep the momentum going. It was a good day all round for us and let's hope it is the start of big things.
Charles N'Zogbia added:

"I am happy to help Newcastle win the game. We needed the win, and now we have the points we can look forward to the next game.
"In the first half we didn't create many chances. I was playing more in the middle because we wanted to try and stop Robbie Savage from playing.
"But after half-time we looked a lot better. We caused them problems and scored goals.
"Alan Shearer gave us a lot of confidence when he scored and I was happy to cross the ball for Michael Owen to score. We know that if we give him service he will score goals for us.
"Then at the end I was pleased to get the chance to make it 3-0. Babayaro set me up, and I had time to decide what I wanted to do and I was pleased to put the ball in the back of the net.
"I said last week that if I was given a chance to play, I wanted to take it. Now I'm in the team I want to stay there.
"I will keep doing my best in training, and hopefully I did enough for the manager to select me again against Manchester City.
"I'm pleased with the way I'm playing, and feel I can do a good job for the team."
Mark Hughes commented:
"We've obviously looked back at the game since, and really we can't understand why we got beat by the margin we did.

We had something like twenty attempts on goal with seven on target. Newcastle had four attempts, three on target and they scored three goals.

"The whole shape of the game changed once they scored the goal, obviously from chances converted they were a lot more clinical on the day.

"That's what we have to find in our game, we are creating chances, having plenty of opportunities to get the ball in the net, we just aren't converting them at the moment.

"Yesterday we came in and we went over a few pointers in the game, as we do with every game we play, and there are areas we need to address but nothing major, we are creating chances we just need to be more clinical.

"We felt we were quite comfortable, certainly in the first half and we started reasonably well in the second half.
"We were the more likely team to win the game right up until their goal. I felt the free-kick was a little bit harsh, but if you give away a free-kick in that position, then everyone knows what Alan Shearer can do.
"We were a little bit naive with the way we went about it, we didn't keep our shape. We have to learn very quickly, it is a harsh league and you can't have off days. We've had four or five players who weren't at the level that was required for this league.
"I felt sure that if we'd scored first we'd have seen the game out, but our performance wasn't as it should be and we need to learn from that.
We weren't on the front foot enough throughout the game - we needed to press forward a little bit more with dynamic play.
"We are obviously very disappointed. We really felt that the three points were there for the taking. We haven't done that so we now focus for the next game on Wednesday."
Craig Bellamy said:

Nothing. For once.

First goal in Newcastle colours for Michael Owen - who becomes our 70th scorer in the Premiership. His last Premiership goal came in May 2004 - for Liverpool against Newcastle.

Lee Clark started a competitive match in Newcastle colours for the first time since May 1997 (Forest at home)

Titus Bramble made his 100th league and cup appearance for the club.

Reserve winger Alan O'Brien received his first senior callup, but didn't come off the bench.

First time we've scored three goals in one half since the Sochaux away game in November 2004.

Our first Premiership victory at Ewood Park, knocking another one off the list.

The big two remain Stamford Bridge and Old Trafford (but we're also yet to succeed at Portsmouth, West Brom, Wigan and Man City at their new ground.)

Rovers v United - Premiership years:

2005/06: Won 3-0 Shearer, Owen, N'Zogbia
2004/05: Drew 2-2 Dyer, Robert
2003/04: Drew 1-1 Bellamy
2002/03: Lost 2-5 Shearer 2
2001/02: Drew 2-2 Shearer 2
1999/00: Won 2-1 Shearer 2 (FAC)
1998/99: Won 1-0 Saha (FAC)
1998/99: Drew 0-0 No scorer
1997/98: Lost 0-1 No scorer
1996/97: Lost 0-1 No scorer
1995/96: Lost 1-2 Batty
1994/95: Lost 0-1 No scorer
1993/94: Won 2-1 Hottiger, Clark (FAC)
1993/94: Lost 0-1 No scorer

195th Newcastle goal for Alan Shearer. Since his last Premiership goal (a canny strike at Man City in February, he had endured 17 games without a goal before today - a total of 1,504 scoreless minutes on the field.

It was also Shearer's final competitive appearance (barring cup ties) at a ground he won a Premiership medal on. He marked it with goal number 11 against Blackburn for Newcastle (7 of which have come on this ground and 4 at SJP.)

Waffle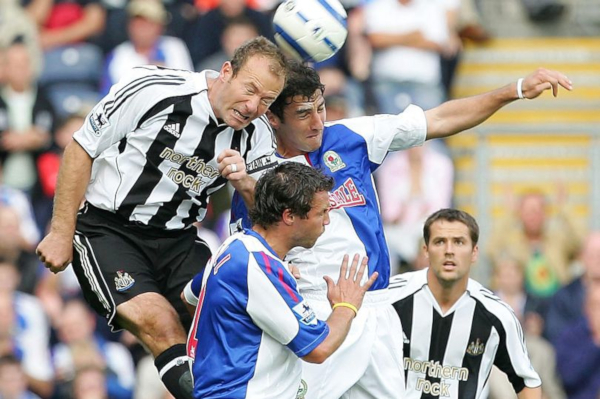 At last, something positive to report.

We'd come into this game with something approaching dread: an injury crisis and our continued inability to collect three points at this ground combining in our mind with the desire of Rovers in general and Bellamy in particular to stiff their former boss.

Result? Ninety minutes of Magpies misery and a week's worth of recriminations, culminating in the chairman flying back in from Spain like a modern-day Neville Chamberlain ("I have in my hand a piece of paper that says P45 for Souness").

Thankfully that proved to be anything but the case, as fortune smiled on us and once Shearer's goal drought ended, the confidence that drained away in Lisbon and Cardiff visibly returned.

By the end we were even starting to look like a football team - albeit a ten man one playing against a rabble.
The beginnings of an upbeat mood had first surfaced shortly before 5pm on Saturday, when a Baggy Magyar's headed equaliser silenced songs of victory in mackem throats and spared us the ignominy of plunging to the bottom of the table.

And despite a mundane first half at Ewood, those upbeat vibes remained - not least because Bellamy looked anything but sharp and those around him seemingly had little clue what to do.

For Mark Hughes to opt for a 4-5-1 formation at home after three scoreless games played into our hands - Bellamy not having a great track record of success when being a sole striker. It also betrayed a staggering negativity and reflected badly on his backroom staff - Rovers having been represented at the Reebok when we lost to Bolton and revealed our vulnerabilities.

For whatever reason though, they failed to come at us from the start, allowing us the luxury of misplacing passes and stumbling around without being punished (Babayaro in particular failing to find his range, while Bowyer was a bystander.)

That said though, half time arrived with what passed for entertainment confirming that we'd need to beat Friedel at some stage to avoid defeat - our disjointed defensive display not raising hopes of a first away clean sheet in 15 league games.

And given that the former Newcastle 'keeper (on our books, never played) didn't have a shot to save before the break, our prospects still didn't look overly bright.

Two minutes past the hour mark though, the clouds parted and black and white shoots of recovery appeared.

At that point our season - and Alan Shearer's - burst into life, a mere five and 2/3 games after most other teams.....

It began with a foul by Neill on Owen, the lumbering Australian having found his way into Riley's book within two minutes of the first whistle.

On this occasion it was clumsy rather than crude, but the whistle went and Shearer lined up for what would be an all-too rare chance at goal.

The rest is history - the relief on the scorer's face matched only by that collectively expressed by the celebrating Toon fans. Noteworthy also to see the togetherness in the team exemplified by the mass goal celebrations - something that didn't always happen when Bellamy stuck one in.

And before Hughes could alter his negative approach and introduce his trio of forward-thinking subs we were two ahead, as it all came flooding back to us and we proved capable of finding space, passing and moving - key skills tragically lacking in previous games.

While the two big money men scored their goals and enjoyed their celebrations, our allegedly makeshift midfield was proving superior to Blackburn, the stamina of Clark and industry of Faye crucially allowing Zog to provide creativity as spaces began to appear.

The custard pie moment that so often comes along saw Taylor banished after a final warning from Riley, but neither the home players or fans seemed confident of getting back into the game and our ten men rode the slight turbulence rather than the expected storm.

2-0 up with five minutes to go, some unexpected icing on the cake was provided by the emerging cult hero Charlie Zog, with a fine finish to a chance that Dyer would probably have missed, Jenas not got to in time - and Ameobi doubtless tripped over the ball.

While this was very far from a classic display and sales of this game on DVD wouldn't be brisk, it has to be taken in context. After our wretched start to this season and the entertainment-free final stages of the last one, this was a present from the Premiership gods in recognition of our perennial suffering.

Back to Bellamy - who may not have done a Supermac and boasted in public about how he'd do us, but certainly gave it plenty in private.

He was rather less cocky though when nervously shaking hands with Shearer before the start and left the field at the final whistle, head bowed, to be greeted by the outstretched hand of his nemesis, Souness. I don't hold grudges said Graeme. Oh aye, that'll be right.
Bellamy has dropped a b*llock by moving to Blackburn and he knows it.

Acres of plastic seats on three sides of the ground and a heaving mass of celebration on the other - the latter a sight well known to him from happier times past in Rotterdam and elsewhere.

Indifference is the order of the day in this town - is it really worth getting wound up into a frenzy on the field for these lot, snoozing their way through the afternoon?

And on the field in his number 10 shirt, a signing so huge that any thoughts the Welshman may have retained about returning to claim it have been eradicated. All for making his spat a public one by inviting Sky to broadcast evidence of his witlessness.
The final whistle saw Souness take a few paces on the field to embrace Boumsong before acknowledging the cheers from the Darwen end.

After the season he'd endured so far nobody would begrudge him that, but there's no relief from the pressure.

At least he's now got points, goals and confidence on his side , but his next challenge is to pick a side to satisfy the 50,000 football experts who'll gather in judgment of him on Saturday - and hope they produce on the field. His job still depends on it.
Biffa

Reports