Date: Saturday 24th September 2005, 3.00pm

Venue: St. James' Park

Conditions: Sunny intervals





Newcastle United

Manchester City

1 - 0

Teams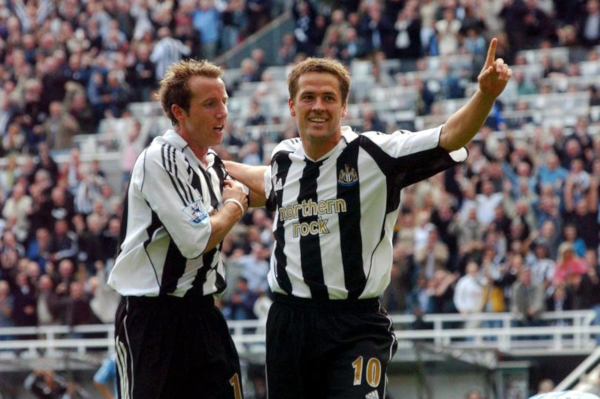 18 mins: Lee Bowyer's pass released Michael Owen, who beat his England colleague David James with a low shot into the bottom left hand corner of the Leazes end goal. 1-0
Half time: Newcastle 1 Man City 0


Full time: Newcastle 1 Man City 0
Graeme Souness commented:

On Scott Parker:
"I'm not quite sure (of his best position) because he's a bit of an all-rounder.
Ultimately, that's where he'll play and I think in the very near future, he will end up playing for England there because he's a player who would complement the Lampards and Gerrards."
On Michael Owen:

"He is like any other player, he needs games under his belt, but we have not had that, we have not had people running away from back fours and getting in one-on-ones with goalkeepers.
"I was very pleased with the first half. I thought we played some good football, passed it, kept it well and got our goal.
"I would have liked, obviously, to see Michael finish the second one, but we had three, maybe four, one-on-ones with the goalkeeper today which we have not had prior to Michael arriving.
"Give credit to Manchester City in the second half. We knew there would be a reaction from them because I felt we had dominated so much in the first half.
"They had a fair bit of the ball in the second half, but I cannot remember Shay having to make too many saves. You will talk about Michael getting his first home goal and how he finished it.
"But I would also like you to write about Shay's save from (Antoine) Sibierski early one when we were caught cold with a quickish free-kick and he got a good header in and Shay saved with his foot."
Stuart Pearce said:
"For the first 45 minutes, we gave Newcastle too much respect. We didn't get tight enough on the two forwards, we didn't win tackles, we didn't push up and it looked as thought we thought we just had to turn up to get a result.
"As I well know, in the Premiership that is not the case. If you are not at it for 90 minutes, you will get beaten. Our first 45 minutes cost us the game, basically.
"If we had played like we did from half-time onwards from the start, we would not have been beaten today and we might have won the game.
"I don't think Newcastle are firing on all cylinders at the moment and as I said to the players, 'they are probably a side waiting to give you a result, but at the moment, you are not playing well enough to go and take it from them.'
"Alan (Shearer) knows football and knows how to get the best out of himself. He is an intelligent player. Once he has lost his pace, like Teddy Sheringham, he is not prepared to just keep doing the things he has done.
"He has sat back and thought 'how can I impose the tools that I have got in my body now on the opposition?' He plays to the best of his ability in respect of that.
"With Michael, they have got somebody who can threaten in behind which might allow Alan to get a bit more space into feet. On paper it's an ideal partnership.
"Alan is the physical muscle up there with the kid that will go and get the headlines getting in behind. That's why you pay £15m for one and £16m for the other. It's a lot of money so they have got to deliver.
"A lot of our players will be disappointed with that, they know they are and they know my feelings in respect to that first half. I'll have to study that performance and say, 'this is why it went wrong, and next week this is why it won't go wrong.'

"Stevie Ireland's looking to get better and better, Crofty's full of energy and puts people on their back foot, I'm delighted for the two lads.
"I never for one moment doubt Nedum, he's strong mentally, he's an intelligent young man and in some ways I probably put too much faith in him than I should.
"I look beyond his 18 years and I lose track that he is only 18 years old to be honest with you! No matter what this kid comes across in professional football he will take it in his stride because he is a mature kid, and I think he has a great future in football."
"Once again we had a lot of Academy players out on that pitch, and they are out there because they deserve to be, and he's a point in case."

Newcastle ended their seven match winless league run at home.

First home goal for Michael Owen, second for the club, on the occasion of his 300th appearance in English football (270 starts, 30 subs, 160 goals).

Lee Clark made his 200th league appearance for the club (155 starts, 45 subs, 23 goals) and was presented with a silver salver before kickoff.

Australian international defender Craig Moore was named on the subs bench for the first time since arriving at the club in July.

United v City @ SJP - Premiership years

2005-06 Won 1-0 Owen
2004-05 Won 4-3 Robert, Shearer, Elliott, Bellamy.
2003/04 Won 3-0 Shearer 2, Ameobi
2002/03 Won 2-0 Shearer, Bellamy
2001/02 Won 1-0 Solano (FAC)
2000/01 Lost 0-1
1995/96 Won 3-1 Ferdinand 2, Beardsley
1994/95 Drew 0-0
1994/95 Won 3-1 Gillespie 2, Beresford (FAC)
1994/95 Lost 0-2 (LC)
1993/94 Won 2-0 Cole 2

Waffle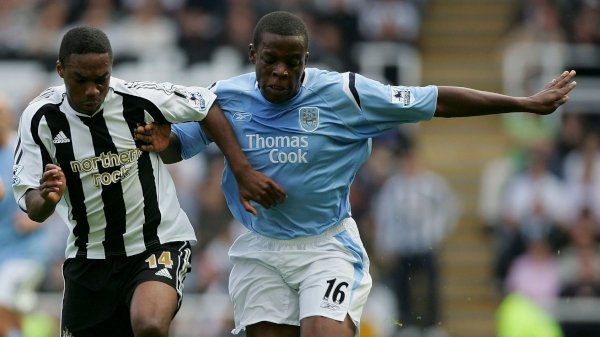 Toon old boy Stuart Pearce may have preferred to criticise his players for showing Newcastle too much respect in the first 45 minutes of this game, but for once I hope he's wide of the mark.
Having sat through varying degrees of grimness for vast tracts of 2005 though, any hint of a United performance involving positive and intelligent play is one to be cherished by SJP regulars, not downplayed because of some imprudence in the City.

If City did lack anything, it was the ability to get support to Vassell, who looked lost without Andy Cole. Mackem Reyna looked as gimpy as ever, while Musampa was still apparently sulking about not having actually smashed the crossbar against Bolton last week with his piledriver effort.
Pearce's men also seemed not to notice that in the absence of Solano, we again lacked a regular presence down the right.

In fairness, City were probably too busy trying to get a foothold in midfield, where Parker and Clark looked bedded in, Charlie Zog showed more promise and Bowyer's pass released Owen to score what proved to be the decisive goal.

Owen snapped that one up without breaking stride and went on to miss one that he had a little longer to think about, before sending a third chance whistling just over the bar after somehow manoeuvring a shooting chance from a narrow angle.
He looked quick enough to me, but the consensus seems to be that he's still getting match fit. On that basis there's much to look forward to, as we await the return to fitness of the four players that Souness has acquired to create the chances for the England hitman.

If the first half had been encouraging, the second 45 ended up being a bit of a mess as the visitors inevitably reformed and tried to play a more pressing game.

Unfortunately, we lacked the necessary finesse to pick them in the manner that saw Blackburn smothered the previous Sunday - Owen in particular making a couple of trademark runs, only to turn in disappointment to find the ball still being worked along the halfway line.

A lack of choices forced Souness to reshuffle by introducing Faye for Bowyer - and while the man from Senegal seemed more alert than usual, it did little to increase our forward momentum.

The partly-fit again Shola did a little bit more in the closing stages, but in his own inimitable manner twisted and jived vaguely in the direction of the Gallowgate End, before capping things off by blasting wide after being set up by Owen with the last kick of the game.

Owen's face at that point was a picture - wonder if he's read that Shola interview where he talks about playing up front for England in the World Cup next year?

Summing us up briefly at present; we're increasingly competent, confident, a little raggy at times but with a world-class finisher up front that is capable of getting us out of gaol (not sure about him springing Lee though if the CPS get their wicked way....)

Light years away from the likes of Chelsea, but not too far away from the humdrum teams clogging up the Premiership at present.
At least Souness now has something to work with, both in terms of being able to format on the training pitch what will be a first choice side, not to mention being able to draw breath without being on the verge of being sacked, at least according to the ladies and gentlemen of the press.

It wouldn't take much to knock us backwards though - just pray the number 10 avoids injury.
Biffa
This match report is dedicated to far-flung Toon
follower Marina Muratova from Taraz, Kazahkstan