Date: Saturday 1st October 2005, 3pm

Venue: Fratton Park

Conditions: Pre-match rain showers but the game itself was played in watery sunshine.

Admission: £30 (last season £30)

Programme: £3





Portsmouth

Newcastle United

0 - 0

Teams
Half time: Pompey 0 Newcastle 0


Full time: Pompey 0 Newcastle 0
Graeme Souness said:
"Ideally I would like a month's break, then I would possibly have them all back. Two weeks is fine by me.
"I am like all our supporters who will be interested in seeing what all these players are like - they don't know a lot about Luque or Emre. I want to see Nobby (Solano) on the pitch, and the others on the pitch all working together - then we will see if we made good decisions in the summer.
"If everybody is fit, I would have decisions to make, but at this time, I have got no decisions to make - they are made for me. When they are all fit, I will have some sleepless nights worrying about what XI I am putting on the pitch."
"Maybe a little bit of magic which might have got us a goal was missing. We are not doing cartwheels back up to Newcastle, but I am not putting my head in the oven either."
On Dyer:

It is a concern. I want to get him on the pitch. He is one of our door openers. He has got a problem with his hamstrings, both I believe. He will be very frustrated with the situation.
"He loves playing football, that is why he does it so well, and it will be hurting him at this moment because he sees we have got good players and he wants to be on the pitch and play with them."
Shay Given added:

"As a team we've got to take confidence from another clean sheet. We showed that we are now more mentally strong in coming to places like this and getting a result.
"We are definitely a club looking up the league and not down. The aim is to get into the top six and qualify for Europe - that's where this club belongs."
Alain Perrin commented:
"We played many games with 4-4-2, but did not score. I wanted to show them I wanted to be more aggressive with three forwards. Unfortunately, LuaLua was out and Laurent Robert could not play.
"Matty (Taylor) played well, but our midfielders are not really forwards. I tried during the week to work with Karadas and put Dario on the right side, but it was not good for the team because then I lost Dario Silva in the middle.
"So I am looking for a solution to give confidence to the team and to change something and for the target - which is to score goals.
"I like 4-4-2, it is my best choice, but sometimes I have to change for players to be more comfortable in playing another way. In this case it was my defenders, but I will see in the next game.
"I don't want to put the pressure only on the strikers. We have not got enough money to buy a very good striker, a big striker, but we have good strikers and I think we have good midfielders who can also score goals."

We preserved our unbeaten record at Pompey in the Premiership, but Fratton Park remains one of those grounds where a victory has eluded us since the leagues were reformed.

Toon at Fratton Park - last 10

2005/06: Drew 0-0 No scorer
2004/05: Drew 1-1 Dyer
2003/04: Drew 1-1 Bellamy
1992/93: Lost 0-2 No scorer
1991/92: Lost 1-3 Quinn
1990/91: Won 1-0 Brock
1989/90: Drew 1-1 Quinn
1987/88: Won 2-1 Lormor, Scott
1983/84: Won 4-1 Beardsley 2, Keegan 2
1964/65: Won 2-1 Cummings, Robson

First time that we've kept three consecutive clean sheets since Souness became Newcastle manager. The last time we managed this was in January 2004 (Southampton away in the FA Cup, Leeds at home then Manchester United away).

Our South Coast run continues and it's now seven games since we were defeated on our longest trip of the season - 3 draws at Pompey and 2 wins and 2 draws at Southampton.

A 2-1 loss at St.Mary's was the last time our colours were lowered in these parts (we've not played at either Brighton or Bournemouth in that time).

Ex-Mag pair Laurent Robert and Lomana LuaLua both missed out - the former being unable to play against his former side due to prior agreement, the latter recovering from malaria.

Waffle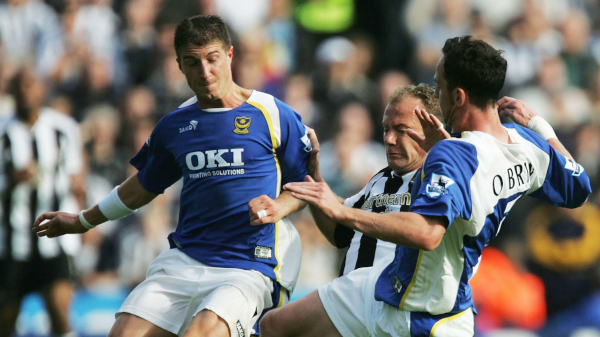 We came into this game with renewed confidence and a win/clean sheet double in our last two outings. In front of us lay a demoralised Portsmouth side, without a home win in four attempts and lacking striking cover in the squad and shorn today of both Robert and LuaLua.

However Alain Perrin was able to call on the services of two more former Mags, Messrs Griffin and O'Brien having been shipped out of Tyneside after giving good service, but finding themselves marginalised by allegedly better players.

What had looked like an eminently winnable game on Friday though had become decidedly more dicey 24 hours later, when Dyer didn't make the plane and Owen's dead leg meant that his boots would be going into the England kit bag unworn.

Having barely featured in recent months, another absence for the midfielder wasn't earth -shattering. However as we ended our last report saying, "It wouldn't take much to knock us backwards though - just pray the number 10 avoids injury."

Our celestial broadband must have been switched off though and after his 90 minute brisk walk across Kingston Park for the reserves, back came Ameobi to partner Shearer.

From the off though we looked utterly uninspired and the frown on the number nine's forehead was an ever-present feature throughout the afternoon.

So to was the shambling Ameobi. I've seen every one of his 177 appearances for us and this was like most of them - eminently forgettable.

By the time he next plays for us, he'll be 24. That's a long way from being a young prospect after over 5 years in top-flight football, but is he really any better than back then?

Has he improved one iota from the night he scored twice in Leverkusen back in 2003? Answers on a postcard to Sven (and if seeing Marcus Bent in the full England squad isn't a kick up the jacksie then he needs jump leads).

Our cause wasn't helped by some woeful corner-taking, N'Zogbia choosing Robert's new home pitch to reprise his old party trick of pinging the ball off the first defender at the front post, time and time again.

It also needs to be recorded that another game passed without a chance from open play for the number nine. No wonder the rumours of Anelka have re-surfaced - question is, is it for next summer.....or January?

And once again, we looked as if we just hadn't done our homework as far as the opposition players were concerned, handing Pompey 'keeper Ashdown only his second clean sheet in 15 games by simply not testing him - save from one Zog centre at the end of the first half.

Yes we can make a virtue of the third consecutive clean sheet and the cover that the midfield provided to the back four. But we weren't playing Real bloody Madrid, just some earnest trundlers - a United Nations of low cost players, South Coast mackems.

We're severely hampered by injuries, but we met a Pompey side today in a similar position - except they haven't even got injured "door openers" as wor Graeme calls them.

Quite simply they seemed more interested in getting a result and more committed to entertaining their fans - or at least trying to. We, by contrast, appear to be playing the "not got a full side out" card at every turn as if it absolves those on the pitch of any blame.
Had our 'keeper not had a blinder, Portsmouth would have scored and we would have lost - one goal would have done it as our international cap-laden side showed no signs of threatening at the other end. That's just unacceptable.

May our wounds heal and our reservoirs of optimism be refilled by the time we convene again. Go in peace to love and serve the Toon - and don't waste your money on "The Match." Class dismissed.
Biffa

Reports