Date: Saturday 15th October 2005, 12.45pm
Live on SKY PPV

Venue: JJB Stadium

Conditions: Overcast but mild with the sun threatening to break through by kick-off. Gloomy, very gloomy, by the final whistle....

Admission: £25 (last season n/a)

Programme: £3





Wigan Athletic

Newcastle United

1 - 0

Teams
40mins: Scott Parker gave the ball away cheaply and after some neat interplay down the right, Jason Roberts was released through on goal. Shay Given came out to narrow the angle but the Latics striker successfully slipped the ball under him.

The visiting 'keeper got something (an inside leg or his rear end perhaps) on the shot, but not enough to give Parker or Stephen Carr the chance to clear before the ball crossed the line at the North End of the ground where the away fans were housed. 0-1

Half time: Wigan 1 Newcastle 0



Full time: Wigan 1 Newcastle 0

Graeme Souness said:

"Football's a frustrating business. When things don't work out the way you want them to it can be very frustrating. There's three people out there and their job is to see things like that.

"I won't talk about referees because I've paid for too many jolly-ups at the FA in my time. I'm under strict instructions from my wife.

"There's nothing more I'd love to talk about and be really, really honest. If I was to do that I'd be hung, drawn and quartered."

"Throughout the game I don't think the decisions were particularly kind to us. You would hope that over a season these things even themselves out."

"You expect a reaction after international week, which there was." [Wigan had more players on international duty than we did, mind....]

"I felt in the second half we did better. I don't know if that's because Emre came on or we got the stiffness out of our legs. My over-riding feeling is of deep disappointment because things have gone against us."


Paul Jewell commented:

"We were unhappy with Shearer backing in (to the defenders) all day, so it was six and two threes.

"They're moaning about the goal being disallowed but they won't moan about the push on De Zeeuw when he went for the header."


Our debut at the JJB Stadium, which becomes the 44th ground we've played a Premiership game on. Wigan's record at their stadium since moving there in 1999 is P166, W90, D41, L35.

This was our first ever league game against the Latics and only the 2nd away game in which we've faced Wigan. The first came in January 1954, when 26,500 shoehorned into Springfield Park for an FA Cup 3rd round replay.

Shay Given managed to beat his Premiership record of 350 minutes without conceding a goal but the bar was only raised to 387 minutes, with Jason Roberts' 40th minute goal ending the run.

He was, however, unable to extend the best cup and league run of his United career, a 425 minute spell, which included four consecutive full shutouts and encompassed two seasons.

That began with the final goal of Michael Owen's treble at Anfield in May 2001, followed by a 0-0 home draw with Arsenal and a 3-0 final day success at SJP over Aston Villa. Shay then started the next season with home and away Intertoto Cup shutouts against the Belgians of Lokeren (4-0 and 1-0), before finally being beaten by 1860 Munich's Paul Agostino at the Olympic Stadium.


Waffle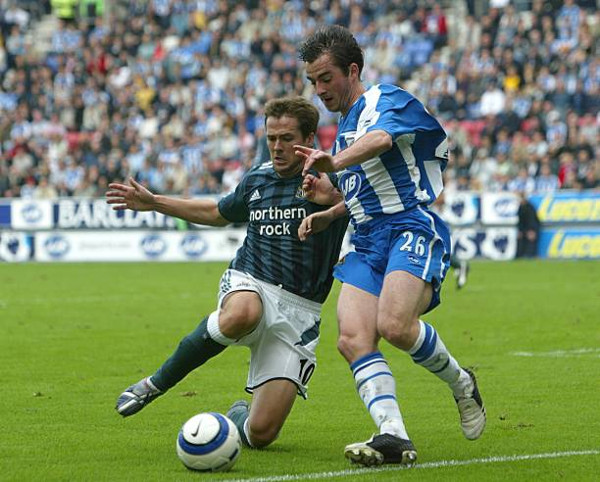 It's not often I get optimistic about away games.

I've always held the view that it's less painful to expect disappointment rather than leave deflated after not living up to unrealistic high hopes.
But for some reason I fancied us to win this one. Wigan's tremendous run of form simply had to come to an end and with Michael Owen restored to the line-up I thought we would have too much for this season's surprise package.
I tried to put myself in the Wigan fan's shoes (or should that be clogs). When we were plucky young upstarts against the big boys we'd rarely win games like these. A run of decent form would set us up nicely for a real test against a top side and then we'd get thumped, just to put us back in our place. Yes, that's what the home fans would experience today - we'd shatter their dreams with an awesome display of firepower or steal it with a late goal like Chelsea had done in the first ever Premiership game played at the JJB.
A lunchtime kick-off, especially on a Saturday never seems quite right. It was always Football Focus and then egg and chips while the racing was on before going to match when I was small. Later to become pre-match pints before heading off to the ground. So ambling towards a large Meccano set surrounded by a retail park before noon on a Saturday just seems wrong to me.
The ground was a bit disappointing - a slight variation on other new grounds but basically a cheaper version of your Reeboks, Pride Parks and Smellnets. A flat-pak, out-of-the-box, ready made stadium, probably put together with big Allen keys. It seemed daft to have four big stands that all only had one tier of seating - but then again if they haven't filled it yet then there's little point in having even more empty plastic seats.
We were there ridiculously early - it'd been a while since I'd seen Steve Harper almost decapitate a steward with a wayward goal attempt but I see he still hasn't lost the knack. Pre-match "entertainment" was like a blast from the past. Commandos leaping off the roofs of stands and sliding down ropes and then kicking lumps out of each other on crash mats. But as a recruitment drive it was probably more effective than some of their dodgy TV ads and one of the squaddies in our corner got a big cheer for revealing a Toon shirt underneath his combat top.
As for the cheerleaders/scantily clad teenagers, it's still baffling to understand what on earth goes through the minds of those that organise things like this but long lost chants from the 80s inevitably resurfaced....
Robbie Elliott's first league start of the season worried me. I was as gutted as he was to be shown the door by Kenny Dalglish in the summer of 1997 but he simply hasn't got what it takes to be a Premiership left back nowadays. His honest endeavour and local pride can paper over some of the cracks but the pace of Francis, Camara and Roberts seemed sure to expose bare bricks, let alone suspect plaster.
I'm still not a big fan of Stephen Carr. Too many wayward passes, not enough pace and just a general demeanour of panic and fury perturbs me but I suppose we got what we paid for. The jury is still out on the Boumsong/Taylor partnership and although both can be outstanding stoppers, they are both prone to the odd lapse now and again. This defence isn't a solid foundation on which to build.
Our midfield looks better with Parker in it but Faye and N'Zogbia are again causes for concern. It's difficult to understand how Faye has progressed to the Premiership without being able to pass a ball more than five yards and N'Zogbia's undoubted promise is in danger of being ruined by being thrown in at the deep end too much, too young. At the moment it's good to see Bowyer as the fourth midfielder as he seems to have got the bit between his teeth this season. He's not a wide man, however, and this quintet doesn't provide much width to supply the big guns up front.
It was a strange start to the game - we didn't look too bad in the first 20 minutes and Owen might well have had a penalty when he seemed to be knocked off balance as he prepared to convert an early ball into the box. Referee Dowd seemed totally uninterested in the claims which was a taste of things to come.
Both sides then struck a post. Roberts latched on to a terrible back-header from Boumsong and Elliott did well to force him wide before a snapshot surprisingly struck the outside of Given's post. It was also unexpected that a scuffed Bowyer bobbler hit the inside of Filan's upright at the other end before the Australian 'keeper gleefully grabbed it.
Unfortunately we lost Bowyer after 37 minutes. He put in a crunching tackle on the edge of our box that almost saw the ball go out for a goal kick at the other end. Whether it was this challenge that crocked him or another, it's hard to say but he was unable to continue. You'd think Clark was a ready made replacement if an hour was going to be too much for the returning Emre. But blow me down, up steps "our Rooney" and self-proclaimed England wonder-striker Shola Ameobi to give us that extra steel in midfield....
Now there's a substitution that takes some digesting. Were we going 4-3-3, despite being outfought in midfield and distinctly on the backfoot at this point? No, Shola was put out on the right as a direct replacement for Bowyer. Amazing. I've not got any UEFA coaching badges but it's difficult to work out which manual this one came out of.
Three minutes later we were behind. Parker, of all people, gave away possession down our left and three passes later Roberts was bearing down on Given. I still had hope - Roberts can often blow this sort of chance - and when his shot hit Shay it looked like we'd escaped. The ball, however, squirmed towards the goal and crossed the line before Parker or Carr could clear. Once again we trudged to the dressing room having failed to score in the opening 45 minutes - for the eighth time in nine league games this season. That's appalling.
While there were more disturbing antics from the cheerleaders down the touchline at half-time and another fruitless "crossbar challenge", this heart was gladdened by the sight of Emre warming up in the centre of the pitch. It did cross my mind that he could replace Shola but removing Amdy Faye from the proceedings came a close second. You've got to ask why we have a player who is withdrawn for tactical reasons when we're in trouble? It doesn't do the player or the team any favours.
I still thought we could win this one. Fifty odd minutes was a long time for Wigan to hold out and we simply had to play better in the second half. And with Emre's prompting and energy we looked a different side but there was still a dearth of attempts on goal.
Ameobi should have had a penalty when he was brought down by Filan but with the ball running to Owen it's difficult to know whether the ref gave us the "advantage" but there was no advantage as Owen's prod was easily smothered. Referee Dowd could still have given the penalty after waiting to see if Owen converted, but perhaps he deemed Ameobi's tumble too dramatic and it would be tempting to add not winning penalties very well to our no.23's unimpressive CV.
For me, Ameobi is now just an ineffective embarrassment and does little more than disgrace the shirt. His ambling and fouling should have seen him shown the door long ago. We keep being told he has ability. Ability to do what exactly? When it really matters he can't perform.

Yes, he can pirouette the ball into the net when he's playing against celebrities or Belgian part-timers but there aren't enough occasions when he does the business. If he wasn't fully fit then he shouldn't have been on the bench, if he was fully fit then then he shouldn't be allowed anywhere near the bench ever again. He needs to pursue his international career elsewhere. It's time Shola was shipped out.
Shearer's "goal" came after 65 minutes and Latics fans in the North East corner couldn't hide their hilarity at such an obvious blunder from linesman, Andy Williams. It was a definite push by Shearer before he headed the ball but if the officials hadn't seen the foul then they had to award a goal. This rubbish about refs not being able to award goals from the edge of the box is just nonsense. He was five times nearer than I to the incident and with a much better view but I had no doubt that the ball crossed the line. You just know.
I'm sure we would have gone on to win had the goal been given but thanks to Andy Williams, instead of Up, Up and Away it was back to The Way We Were, huffing and puffing to get an equaliser.
We should still have got back on terms when Shearer put one just wide of the post near the end but it did seem that Wigan's guardian angel was watching over them. McCulloch was rightly dismissed for a vicious assault on Emre and we were on the attack when the ref blew for time. For some reason he had only played three minutes and 15 seconds of the "minimum of four minutes".
Good luck to Wigan. I think they probably deserved their slices of luck in that they played to their potential which is something that hasn't been said about our side for a long, long time. I think we got exactly what we deserved - nowt - while the home side probably deserved just a point, rather than all three. I wouldn't mind coming back here again next year - there are plenty of other sides I'd happily see tumble ahead of them - but to leave the JJB seven points behind Athletic after just nine games is flabbergasting. Games like this have to be won.
It was another ground to add to the list but one more notch on the Toon-watching belt is about the only positive thing to take from this one. It was certainly another nail in the coffin of misplaced optimism.
Niall MacKenzie

Reports