Date: Sunday 23rd October 2005, 1.30pm
Live on SKY PPV

Venue: St. James' Park

Conditions: Cool, calm, collected (3 points)





Newcastle United

mackems

3 - 2

Teams
34 mins A drastically improved Shola Ameobi bulleted home a header at the Leazes end, after he was left unmarked at an Emre corner. Peter Ramage's head-slapping celebration is worthy of note as the players celebrate en masse in the Leazes/Milburn corner 1-0
35 mins The scores were level barely 90 seconds later, when Liam Lawrence hit a 25-yarder beyond Shay Given 1-1.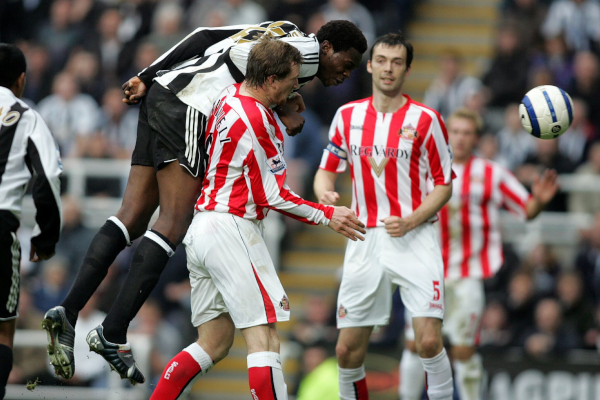 37 mins Back came United and after a Stephen Carr cross to the far post was hooked back by Charles N'Zogbia, Ameobi's strong challenge forced former Magpie Stephen Caldwell to put it through his own goal. Both touched it but the Scotsman looked to get the last contact: Shola Ameobi claimed it and the FA dubious goals committee later agreed. 2-1
41 mins Stephen Elliott was given far too much room (Jean-Alain Boumsong particularly culpable) although the strike was sufficiently good to leave fellow countryman Given grasping at thin air 2-2
Half time: Newcastle 2 mackems 2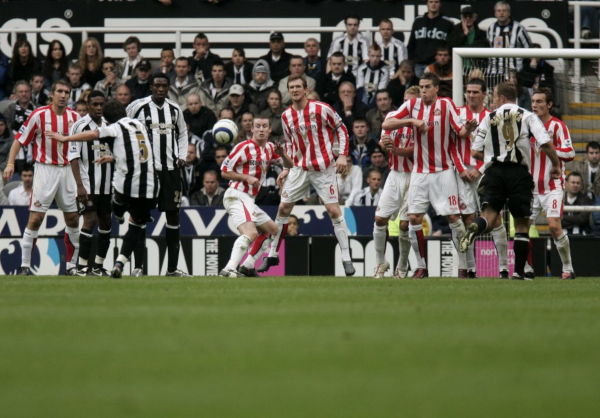 63 mins Caldwell fouled Ameobi just under 30 yards from goal. Nolberto Solano tried a practice air shot, Alan Shearer loomed behind the ball - and
Emre promptly stepped up and hit the perfect outswinger that hit the post and nestled into Kelvin Davis' goal. Wonderful. 3-2


Full time: Newcastle 3 mackems 2
Graeme Souness commented:
"That was a cracking advert for the Premiership and the north east. I love derby games. I was tempted to say beforehand that derbies have always been kind to me, but I didn't want to tempt providence on this occasion.
"I'm just delighted to come away with the three points, but no, there's no relief in winning this match.
"The problem for me, and hopefully it's sooner rather than later, is that I am going to have to fall out with them simply because I have had no decisions to make. I want them knocking on my door on Friday after training when I have told them the team, but right now they are all on side because I have not had to leave anybody out.
"Even the big players I have not had to say 'sorry, but this is the reason you are not starting tomorrow', and I want that problem. Any manager wants that problem.
"We have taken criticism, but that's part of the deal because we have not lived up to expectations. But if any team is without the likes of Kieron, Nobby Emre and Albert, then they are going to be less attractive. That's commonsense.
"We have got two of the best goal-getters in football, but we have not been creative, and the reason for that is we have not had our creative players on the pitch, and that's why we have been what we have been in recent weeks.
"In the first half, when we had Nobby and Emre in there, we played some really good football. But as I have said all along, judge us when we have everybody fit.
"If everybody had been fit we would have taken Scott Parker and Stephen Carr off at half-time. Scott suffered a dead leg on his thigh and Stephen was having problems with his groin.
"Credit to Sunderland they played a big part in what was a cracking game of football, but I felt we were dominant in the first half and played very well until half-time.
"I love derby games. I was going to say before yesterday's game that they have been kind to me in my career, but I didn't want to tempt fate. I am delighted we got three points and I am delighted for my team, who are a cracking bunch of lads.

"We have one of the best goalkeepers around and not just in the Premiership, but in the whole of football. He may have been a bit disappointed with the first one, but I am not disappointed with him because it bounced in front of him and picked up the pace that the ball sometimes can do on this pitch.
"As for the second one you could have had two goalkeepers in there and they wouldn't have stopped it."

"Emre's a special player and people can see that, but I know what he is capable of and people haven't seen the best of him yet. He is still two yards short and is not ready yet.
"We have been solid so far this season and have two of the best goal-getters in world football, but we have not been creating, because we haven't had our creative players like Emre, Nobby, Kieron Dyer and Albert Luque on the pitch. As we have said all the long judge us when we get everybody fit."

On Ameobi:
"Our supporters have to understand that there is a player in there waiting to come out - and he came out today. If you turn up at the training ground you will see that two days out of five he is unplayable, not just in terms of his physique because he is a big, powerful man, but also with his touch and control.
"We have to get that off the training ground and onto the pitch like we did today".

The goalscorer commented:

"I know what I can do and it is so frustrating when it doesn't happen on the pitch. It is definitely something mental in there that is stopping me from doing it on the pitch at times.
"It is something I want to produce because I know the player is inside me and I want to bring it out more like against Sunderland.
"I have to be fully focused in every game and I am certain that this can be the starting point for me to show people what I can do. I am seeing a lot of people to try to work on it - it is early days yet, but it proved valuable against Sunderland.
"It is about having the confidence to go out and play how I know I can - that is the bottom line."
Alan Shearer said:
"There's always pressure because there's 52,000 fans here demanding success. That's pressure in its own right and if you can't handle it then you shouldn't be here.
"But we can handle it, the manager can handle it, and now we can go and have a good night tonight on the back of what is a great result for everyone at this club.
"The fans can also have a good day tomorrow because we've got the bragging rights after what is an important win.

"We've three points, but it's more important than that because it was against Sunderland. Although it's not just about winning this week. We've got to win next week as well and carry this on. We need to get some consistency in our game."
Mick McMackem said:
"There's a sense of pride, but no sense of injustice because these are things that happen in the game. I never doubted they would get a free-kick on the edge of our box at some stage, while we should have had a penalty.

But there was as much chance of us getting that as me making my way home under my own steam, flapping my arms.
"But such is life. What I do feel is that the width of the crossbar has been the difference between a great performance and a great result and me sat here p*ssed off because we've been beaten.
"I felt we were the better side in the second half, but it doesn't matter now because they are the ones with the bragging rights."

This was the 136th competitive meeting between old foes and we've now won 49, drawn 44 and lost 43, scoring 203 goals....and conceding 203.

This was our fourth consecutive derby victory and it's the first time either side has scored three times in a game since Beardsley's hat trick in the 3-1 New Years Day 1985.

Neither side has ever won five on the bounce in the history of the fixture.

United v SMB at SJP - last 10

2005-06 Won 3-2 Ameobi, og(Caldwell), Emre
2002/03 Won 2-0 Bellamy, Shearer
2001/02 Drew 1-1 Bellamy
2000/01 Lost 1-2 Speed
1999/00 Lost 1-2 Dyer
1996/97 Drew 1-1 Shearer
1992/93 Won 1-0 Sellars
1991/92 Won 1-0 Kelly
1989/90 Lost 0-2 No scorer
1989/90 Drew 1-1 McGhee

Emre's strike was his first for the club - and the first against the mackems at the Gallowgate End since Alan Shearer in 1997 - breaking a run of seven conversions at the Leazes End.

Steve Caldwell was the only player on the field to have played on both sides in a Tyne-wear derby - former mackems Lee Clark and Shay Given not having been involved in the fixture during their stints in the dark place.

Second Newcastle debut for Solano, whose last game for us had been in January 2004, when he was replaced by Ameobi as we slipped out of the FA Cup 2-1 at Anfield.

His first Newcastle appearance was away to Chelsea in August 1998, when we drew 1-1 and he was a second half substitution for our goalscorer Andreas Andersson. Survivors in our side from that day on the occasion of his second debut were Shearer and Given - plus today's half time hero Philippe Albert.

Nobby's last appearance at SJP had been in Villa colours back in April 2005, when Bowyer, Dyer and Taylor all saw red and David O'Bleary sent on the Peruvian as a 84th minute substitute against the eight-man Magpies.

Waffle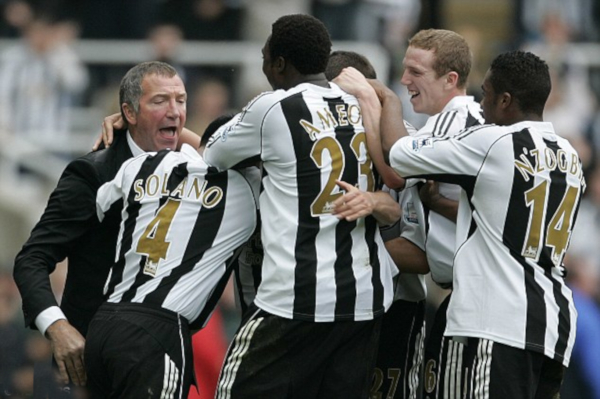 Of everyone involved in this game (and that includes Graeme Souness), Steve Caldwell was perhaps best placed to be wary of the man filling in for the missing Michael Owen.

Wearside hopes may have been boosted at the news, but the former Newcastle stopper had reason to suspect he might not have things his own way, despite the absence of the £16m man.

Caldwell and Ameobi had never met at club level before Sunday, but each knew plenty about the other, having come through United's Academy together. And they had even partnered one another in central defence at one stage, before Shola's conversion to a striker.
Both made first team debuts in September 2000, the Scotsman getting on the scoresheet first and then grabbing his only Premiership goal against the smoggies in 2002, when Shola also netted.

Bobby Robson ultimately ended Caldwell's United career, farming him out to Blackpool, Bradford and Leeds, before allowing him to leave under freedom of contract in 2004.

And there were times when a similar fate looked set to befall Ameobi - as periodic high points (Leverkusen away, Chelsea home etc.) were followed by troughs of form and whispers of a departure to pastures new - Southampton and Spurs being regularly linked.

By Sunday night though, a bloodied Caldwell could reflect on his first competitive encounter with Ameobi - as his former team mate scored once, forced him into an own goal for the second and earned the opportunity for us to score the third.

Oh aye, and in between did a pretty damn good impression of a proper footballer: using his physical presence intelligently, chasing back, harrying and showing obvious effort.

Whether Caldwell has any more idea than the crowd or his manager how to get Shola to reproduce this performance is doubtful though - seldom has a player been so deserving of the label enigmatic.

It's perhaps worth pointing out that misgivings over Ameobi haven't been confined to knee-jerk whingers, wailers and phone in slackjaws, but have come from Toonies who are in for the long haul.

For that reason it was interesting to note the response from the away fans at Wigan last week to another disappointing Shola moment - not a venomous negative outburst, but more of a spontaneous expression of collective exasperation from the hard core support, who would no more boo a Newcastle player than they would give up their season ticket.

People want the lad to be a success; they want him to be the local hero in black and white once you know who finally shuffles into retirement.

The question seems to have been simply whether Shola actually shared that desire, despite frequent and fawning affirmations in the local papers from him. The scenes when he scored the first goal in this match tell you that it's all there for him, if only he could just get himself sorted.

It's fair to say that reservoirs of goodwill towards the lad were dwindling fast and he was in desperate need of a big performance like this. He may not be totally fit and playing despite his persistent hip injury but that doesn't enter the equation when he's on the field. Fans demand 100% regardless.

A perceived lack of effort and enthusiasm for the cause by the SJP crowd was enough to (rightly or wrongly) finish Viana at this club and in the run up to this derby match, it was possible to envisage a situation where Shola got on the wrong end of the fans due to another forgettable display, taking the brunt of general frustrations with team, manager and club.

But, like that team, doing it once and then reverting to type at Grimsby or West Brom will get fans back on his case. It's no good Shola turning it on at special occasions - consistency for his club will inevitably put him in a position to do the same for his country, especially given the current occupant of Newcastle's number 10 shirt. It seems staggeringly obvious.

As for his strike partner Shearer (who it's now been confirmed needs a hernia op), then it was almost a case of what he didn't do that was his most valuable contribution to proceedings.

His movement in the box first of all created a pre-corner furore and centred attention on him among visiting players, before he made his dart forward as the ball was expertly swung over and Ameobi popped up in the space to head home.

His sheer presence also frequently tied up two defenders, while allowing one of the two ball-playing artists standing next to him to flight home the free kick rather than try to smash through the mackem wall was crucial.

And while he didn't quite do his thing down in the corner flag in added time, he ensured that we kept hold of the ball and didn't leave our slightly-shell shocked midfield and defence open to any further panic attacks.

On another day he'd also have probably gone off before the end, but with the Gallowgate field hospital taking new patients, it simply wasn't an option.

Similar statuesque but of far more concern though was Boumsong. To say he's gone off the boil would suggest he's ever been switched on, but his continual discomfort is being highlighted by the continuing progress of Taylor, who seems more confident, assured and reliable despite his vastly inferior experience.
I suppose that it would be churlish not to mention the part the mackems played in what was the most memorable and breathless encounter in recent years between the sides.

For someone who studiously avoids any of their televised games and makes it a point of pride not to recognise any of their players, the performance McCarthy coaxed out of them was little short of remarkable.

Two eye-catching goals, slightly less thuggish behaviour and slightly more graft and industry than expected. The usual never-say-die approach and some genuinely anxious moments in the closing stages of the second half.

But they lost.

Regardless of all the bluster, they took zero points from a game against their great rivals - for the fourth time in succession. Plucky? yes, unlucky? perhaps, losers? definitely.

Thankfully we matched their application and were able to rely on our superior talent (as well as some of the good fortune conspicuously missing this season)
So, a day when nobody on the field let us down and we almost had heroes to spare.

After the staggering dullness of Pompey and Wigan, things could hardly have got worse - but losing to this lot would have been a low point from which Souness may not have been allowed to try and come back from.

Three points and three goals increased his chances of fielding his dream team one day, rather than writing about it in his autobiography, while someone else gets the benefit of his acquisitions.

The performance of Ameobi and the return of Solano were equally as heartening as the three points, not to mention our little nugget of Turkish delight.

In the great scheme of things though, this was a little victory.

Biffa