Date: Wednesday 26th October 2005, 7.45pm
Live on Sky Sports

Venue: Blundell Park, Cleethorpes

Conditions: A balmy night on the Lincolnshire Riviera - after the rain stopped.

Admission: £17

Programme: £3





Grimsby Town

Newcastle United

0 - 1

Teams
Half time: Grimsby 0 Newcastle 0

80mins: Martin Brittain's ball into the box found Michael Chopra after Town defender Tom Newey slipped. Chops pulled the ball back for Alan Shearer to wallop a left-footed strike into the corner of the net, before running to the Toon fans behind the goal in familiar pose. 1-0
Full time: Grimsby 0 Newcastle 1
Graeme Souness said:
"It was fitting Alan scored the goal because he was on the end of a very dangerous challenge in the first half.
"I didn't see the incident at the time but I saw it with the benefit of the TV replay and it was not a good challenge.
"He is entitled to be angry. I don't know what defenders think they are going to achieve by doing that to him because he was always going to come back (and score).
"When a small team plays a big team their manager's team talk without a shadow of a doubt will have been, let's see if they've just turned up for the fish and chips.
"But every one of my players turned up. We didn't play as much as we want and we didn't pass as much as we want, but we turned up and did what we had to do.

"This was a battling performance which we knew we would need before the game.
"And it is most definitely a case of a job well done. We were missing a lot of quality players and that makes a difference for us.
"I never felt that we were under any real pressure although once we went in front we gave away a lot of silly free-kicks around the halfway line which allowed them to pump high balls to their giant centre half."
Alan Shearer spoke about the Whittle incident:

"Winning is the most important thing. I think it would be easy for me to go out there and stick one on him.

"That's what I wanted to do but the easiest way is to answer them in goals and come away with victory, that's what I've done.

"I am unhappy. He's done me. It's blatant. I know he's done it and the referee is five yards off me and hasn't done anything.

"That's life. It's a hard game is football, you've got to look after yourselves out there and I've done that for a number of years but I've been done tonight.

"That's the best way to answer it. As much as I'd like to go out and do him, as I know he's done me, it's a coward's way. The best way is to answer that in goals and I've done that.

"It was never going to be easy coming here. They knocked Spurs out in the previous round and that was a reminder if we needed it. To be fair, we rolled our sleeves up, battled and never game them a sniff.

"Spurs were knocked out, Liverpool are out and there are one or two others out tonight but certainly we've got a chance.

"We've only got two chances to win a trophy this year and this is one of them.

"I'm still angry but I'm not bothered if anyone wants to have a look at the incident again.
"What good would that be to me or Newcastle? In fact, I hope nothing happens because, to be honest, I'm not like that. I don't like to see that going on.
"What I do like is fair, honest games, and if there is something going on for the referee to sort it out, but he didn't do that and it's very disappointing.
"It was a nasty challenge and the easiest thing would have been for me to do him in the second half, because inside that's what I wanted to do."
Russell Slade spoke:
"I'm very proud of my players in terms of their work ethic and application and I thought we weathered the first 25 minutes very well. It was taking the shape of the last tie against Spurs, it was a tight affair and we were waiting for our one window of opportunity to come along.
"I don't necessarily think that is the right message that he (Shearer) should be sending out, of course, but I am sure he knows that. It is an emotional sport and we perhaps say things that we don't quite mean in the heat of the moment and maybe that is one of those occasions.
"You can say things that are out of frustration. Having said that, he did what he should do - he put the ball in the back of the net.
"Clearly, contact has been made and he is upset that he's taken an injury. I spoke to Whittle and he says he's made contact but nothing was deliberate.

Justin Whittle commented:
"We both jumped for the ball. I've gone with my arms up and caught him in the face and he's moaned his head off at the referee; he wasn't happy about it. Earlier on he caught me in the face and I just turned around and got on with it. It's just one of those things.
"He's always jumped with his elbows up and I've done the same throughout the game - that's the way it is against centre-forwards who are strong. It's my job to defend and I thought I did well against him. Man-to-man is a big part of my game and I stuck with him."
This was our 113th tie in the various incarnations of the League Cup, of which we've now won 49 - but gone out of the competition 23 times at the first time of asking.

Alan Shearer scored his seventh Toon goal in this competition, but the first since a home tie against Ipswich Town in November 2001. In the five ties we've played since then, Al started two and came on as substitute in a third.

There were League Cup debuts for Peter Ramage, Steven Taylor, Martin Brittain and Charles N'Zogbia.

Lee Clark last appeared in this competition for Newcastle in October 1996, when Oldham were beaten 1-0 at SJP thanks to a Beardsley penalty. The only other current member of the Toon squad involved that night was Robbie Elliott, an unused sub at Grimsby 9 years later.

This was our first competitive visit to Blundell Park since the 1993 promotion party, a game Clarkie also featured in.

Second time unlucky for Mariners boss Russell Slade. The former school teacher was in charge of Notts County in 1993 when Newcastle won 7-1 at Meadow Lane, after a 4-1 first leg success for the Toon at SJP. Slade was promoted for the night from being assistant to Howard Wilkinson, who preferred to spend the second leg scouting, rather than watching his current side.

Waffle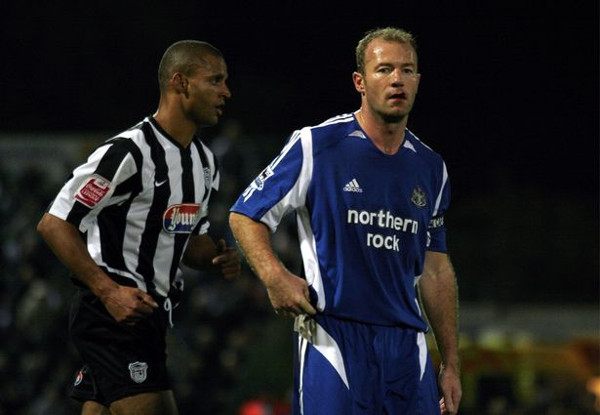 If our number nine was a peripheral figure on Sunday while others hogged the headlines, then three days later he made himself the centre of attention in this, his first-ever appearance at Blundell Park.

A smack in the mouth, a ball in the net and a place in the last sixteen of the competition. Not a bad night's work. Hernia 1 Mariners 0.

After having seen Spurs beaten on this ground in the previous round and Liverpool dumped out at Selhurst Park 24 hours before, Graeme Souness recast his side for the task ahead.

In came Faye as Emre was rested, while Kieron Dyer's shaky fitness wasn't tested on the well-watered pitch.

Previous campaigns had seen Shearer kept in reserve for some ties, but our lack of attacking options, coupled with the desire of a man who shares the desperation to claim any form of silverware with his fans and manager, saw him lining up for his 15th game of the season.

Perhaps in ideal circumstances Shearer wouldn't have played, or at least started. However under the circumstances it was to our advantage that he was on the field in this one.

His well-taken goal separated the sides, but his battle-hardened strength of will - not to mention footballing intelligence - were invaluable in keeping the black and whites at bay.

It's not just goals that Newcastle have to replace, it's the sheer physical presence of the man who takes the ball into the corner in the final moments and soaks up whatever the opposition throw at him, legally and illegally.

And it he wants to moan afterwards to mediamen, so what? Sign Anelka and you'll certainly get the latter, but the former is less likely.

Grimsby were as enthusiastic as expected, with former Mackem Reddy as industrious as his erstwhile colleagues had been on Sunday - shame about his barnet though, seemingly a throwback to the straggly locks ex-Mariner Paul Wilkinson. Perhaps it's still trendy round these parts.

And they proved to be more than route one thumpers, with a little bit of organisational know-how which saw N'Zogbia's early excursions down the United left met with an extra player moving across to block his runs.

Having said that though, Shay Given's contribution wasn't immense, as those in front of him just about snuffed out the danger. Again we seldom looked at ease when defending high balls into our area, regardless of the opposition, but that's a trait we've exhibited through the decades....

The chief concern for those housed in the antiquated away section trying to watch round pillars and fellow Toon fans standing up was precisely where the goal(s) to avoid extra time, penalties and win the game would come from.

Some early flurries saw Zog shoot narrowly wide, but when were presented with sight of goal there seemed a hesitancy to test 'keeper Mildenhall.

There may have been elements of boredom among the Toon fans, with Souness, McDermott and even Derek Wright serenaded in the first half, while reminders of the mackem result were almost as frequent as the unoriginal fish-related insults directed at the locals.

But that thankfully never manifested itself in getting at the players vocally, with the support lifting as the game wore on and Newcastle began to press towards the goal behind which their fans were housed.

A near-post corner routine almost brought reward for Shearer, but shortly after the introduction of Brittain down the right, Chopra capped a solid and persevering display by expertly teeing up the man himself to crack home what proved to be the winner. Normal service resumed. Almost.

And of the incident that overshadowed the game, on-the-spot opinions of it seemed mostly to be informed by the ubiquitous text message. Something had obviously gone on, as was witnessed by the familiar sight of Shearer berating the referee while dabbing his mouth.

However, aside from some gesturing at the final whistle and the beginnings of something involving Shearer and a home player, the goings-on were only really confirmed by post-match radio and TV reports.

Not a classic then - but a win in it's own way as vital for Souness as sending the mackems home to think again the previous Sunday.

A change in personnel ensured a few hairy moments, loose passes and needless fouls, but everybody seemed to come through it reasonably intact, giving Souness the luxury of a genuine choice of formation and personnel as we look to notch a win against the Baggies after four successive draws at the Hawthorns.

Before that though, the fates await in the draw for the next round of the League Cup. A good draw followed by the right result could conjure up the possibility of a return to Cardiff.

For now though we'll just settle for winning matches and avoiding yet more injuries. Job done tonight without slipups - not glamorous, but necessary.

Biffa

Our immediate post-match summary went something like this:

Alan Shearer survived a vicious assault to thump United into the Fourth Round of the Carling Cup.
Lower league clogger and former Army Pay Corps (commonly known as REMF), Justin Whittle, smashed his elbow into Shearer's face in the first half of a tough encounter at Blundell Park and amazingly ref Mark Halsey waved play-on, despite initially putting his whistle to his mouth.
But Big Al didn't get angry and he didn't just get even, he simply smashed the small-fry Mariners out of the cup with a strike of stunning quality.
And that was the difference between the sides; while thugs like Whittle scratch around in the fourth English division for a few years, our captain will live on as one of the legends of the modern game.
At the end of the match, seconds after flattening Shearer again, Whittle had the cheek to offer to shake our no.9's hand which was rightly refused.

The Grimsby man then pushed Shearer and laughably offered him out which was treated with the contempt it deserved.