Date: Sunday 30th October 2005, 4pm
Live on Sky Sports

Venue: The Hawthorns

Conditions: Dry, mild and euphoric.

Admission: £29 (last season £28)

Programme: £3





West Bromwich Albion

Newcastle United

0 - 3

Teams
Half time: Baggies 0 Magpies 0
46 mins: United won possession straight from the kick-off and Charles N'Zogbia down swapped passes with Shola Ameobi before whipping over a cross that Michael Owen kung-fu kicked past Kuszczak with a superb volley. What a cross, what a strike, what a goal. 1-0
78 mins: Kieron Dyer left Darren Moore trailing in his wake in the box and Michael Owen made sure he would be first to meet a near-post cross. This finish was less venomous but more precise than the first, steering the ball into a gap between post and bar out of the 'keeper's reach. 2-0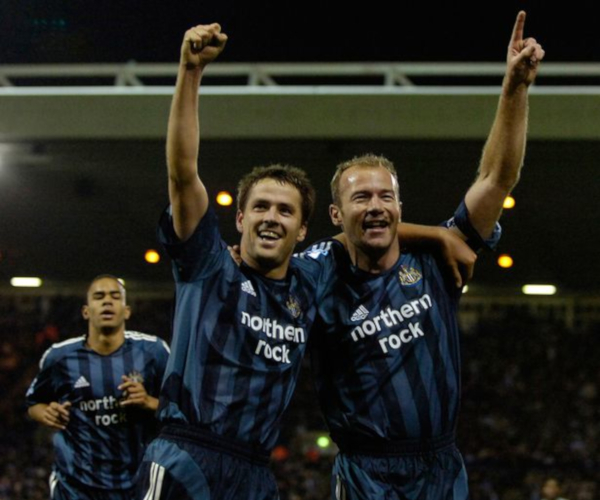 80 mins: Dyer was again the architect, cutting inside from the left. The ball found its way out to Peter Ramage who was overlapping on the right. The defender sent over a dangerous low cross and Alan Shearer nipped in front of the lumbering Moore to poke in the third. 3-0


Full time: Baggies 0 Magpies 3
Graeme Souness said:
"There wasn't a lot in the first half-hour. I thought in the last part of the first half we started to control things. It was one of those situations where we didn't want half-time to come.

"We couldn't have dreamed about the start we had to the second half. We then had a difficult 10 minutes where Shay Given had to make a great save from Robert Earnshaw. If it had gone to 1-1, it could have been a very different game.

"The momentum would have been with them but they didn't score and, from that moment on, we passed the ball very well and controlled things.

"There were a couple of fine goals from Michael Owen and Alan Shearer got one as well - but there are no surprises there. That's what they are about.

"They have done it all their lives and will continue to do it. They are top drawer and we are a fortunate club in being able to afford players like that. They decide games of football."

"This was the first game since last November where I've had decisions to make about who to leave out. The team has picked itself up until this day.

"Now we want to finish as high up the Premier League as possible - that is the target - and give the supporters something to smile about."
Bryan Robson sent out Darren Moore to face the press:
"We felt individual mistakes cost us. I gifted Michael Owen the first goal, although it was a great finish by him.

"The gaffer is very disappointed because it is individual mistakes which have again cost us the game and, as a defender, I have to shoulder some of the responsibility for that.

"I don't think the manager has to read the riot act. I am absolutely gutted, disgusted with myself."
The Hawthorns - last ten visits:
2005/06: Won
2004/05: Drew
2002/03: Drew
1990/01: Drew
1989/90: Won
1985/86: Drew
1984/85: Lost
1977/78: Lost
1976/77: Drew
1973/74: Won

3-0 Owen 2, Shearer
0-0 No scorer
2-2 Jenas, Viana
1-1 Quinn
5-1 OG, Brazil, Brock, McGhee, O'Brien
1-1 Wharton
1-2 Baird
0-2 No scorer
1-1 Barrowclough
3-0 Macdonald, Barrowclough, Tudor (FA Cup)

Our second away win in the Premiership this season, coming after another Sunday victory live on Sky TV, at Blackburn.

Counting the Grimsby Carling Cup success and that game at Ewood, all seven of our away goals in domestic competition this season have come in the second half of the game and in the goal behind which the travelling Toon support has been sited - cue many photographic opportunities.

The only person to pierce our much-maligned defence away from home in all competitions in the last 490 minutes has been Jason Roberts of Wigan.

First victory in the green second choice kit at the fourth attempt (Deportivo, Bolton, Wigan).

Goal number 197 in Newcastle colours for Alan Shearer.


Waffle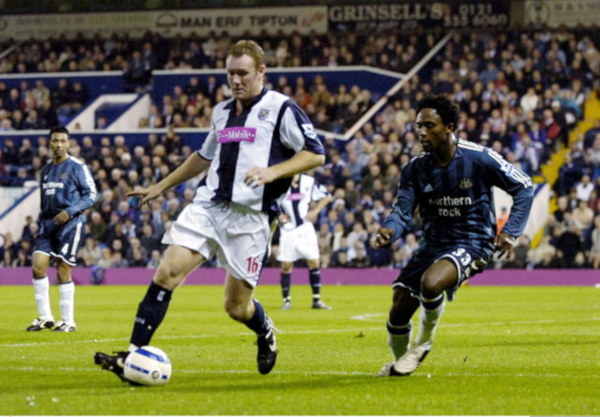 I'm sure a lot of us are resigned to never seeing this damn team win anything.

Perhaps there's still a bit of us that hasn't had the stuffing completely knocked out of it and still stirs each year when balls are drawn from velvet bags but in general it just seems to be our destiny. We'll never win **** all....
For me, the blind faith teaches me store up all the anguish, all the pain and keep it festering in the pit of my stomach for the day that never comes. The day when we finally get to see something shiny and silver waved by one of our heroes and then line the streets, not marking another hard-luck story but wildly celebrating some triumph. One day it'll be worth it. One day.
If you can cling on to that thought, then trips to places like this on dark Sundays when you could have stayed at home and watched it on the telly have some reason, some purpose; they become part of something much bigger.
But once in a while on this fantastic quest, comes a moment to punctuate the agony, a snapshot of time that can be recalled again and again without losing its magic. Something that brings out the goosebumps and warms the heart: Terry Hibbitt and Supermac at Hillsborough; Keegan v QPR; Beardsley chipping Corrigan; Albert chipping Schmeichel or Tino's post-Barca treble hand spring.
You'll have your own favourites but maybe, just maybe, we witnessed another of these little oases in the desert of Toon-watching today at the Hawthorns in 2005.
There was little to suggest anything spectacular loomed after an opening period that did little to stir the senses. Alan Shearer warming the bench wasn't a massive surprise having been forced to play the full game at Grimsby but an Ameobi-Owen partnership up front just hadn't worked.
Even Emre had been unable to unlock the Baggies' backdoor before the break - despite the home side being hit by injuries and suspensions. Only Michael Owen had a slight look through the keyhole when he tried to lift the ball over Tomasz Kuszczak but other than that we didn't really threaten and the main enjoyment of the first forty-five minutes had been gained from watching Scott Parker. The lad oozes class.
The annoying local DJ who is given the roving microphone on match days didn't sound like he was convinced by his own side's starting eleven or his own exaggerated announcements, but having got to the break without conceding, the mood among the home fans was upbeat. It was vital that Boumsong who had played well (as captain) recovered from Kanu's size 13 in his face and that we got off to a good start in the second half.
A good start was something of an understatement. Straight from the kick-off we won possession and played it out to Charles N'Zogbia down our left. He exchanged passes with Ameobi and before I'd had a chance to berate him for not steadying himself before whipping over a cross, Owen had kung-fu kicked the ball past Kuszczak with a superb volley to give us the lead. What a cross, what a strike, what a goal.
At the break I fancied that the first goal would win it for either side and thankfully, much sooner than I'd imagined, I now knew it was us who had got it.
The next fifteen minutes were a surprise, though. From nowhere, West Brom suddenly became a potent attacking force. The anonymous Kanu and Earnshaw suddenly looked dangerous. It was a worrying time for us with Earnshaw somehow failing to connect at the near post and then seeing a thunderous close range effort miraculously saved by Given.
I expected them to pour forward and for us to catch them on the break but them equalising wasn't really what I'd imagined.
We survived and the chances at our end subsided and putting Shearer on for Ameobi seemed sensible given Al's ability to be our best defender - olding on to the ball in the opposition's half.
A few minutes later and another unlikely sub, Kieron Dyer, joined his captain after replacing N'Zogbia who had had another decent game. Dyer's pace was frightening and when he left Darren Moore trailing in his wake in the box, Owen made sure he would be first to meet the near-post cross. The finish was less venomous but much more precise than the first and he steered the ball into a small gap between post and bar out of the 'keeper's reach.
Two minutes later and Alan Shearer broke his duck - it may have been the great man's 197th Newcastle goal but it was his first at The Hawthorns and his for us after coming off the bench. The build up was as good as the other two and when Peter Ramage sent over a dangerous low cross Shearer nipped in front of the lumbering Moore to poke in the third.
And then came the moment. Shearer and Owen with symmetrical smiles as wide as the Tyne and symmetrical arms raised, came to celebrate yards from where we were standing. £32m worth of goalscoring talent, two of England's finest strikers arm-in-arm wearing Newcastle shirts looking like they'd just won the World Cup sharing the moment with me and a couple of thousand others.
I'd not been here for the famous 3-0 FA Cup victory in 1974 but I'd stood on the same terrace sixteen years ago when we'd put five past this lot on our way to the play-offs. I thought I was in heaven then but that pales in comparison to seeing these two legends celebrating this moment so close to me. I'll remember the image forever.
Some of the stuff we played in the last fifteen minutes, admittedly when the game was won and West Brom had raised the white flag, was sublime. Dyer reminded us that he has ability, Solano and Emre stroked the ball around with nonchalance and everyone wearing a green striped shirt seemed keen to have, and hang onto, the ball.
Was this a glimpse of things to come? We desperately hope so. It's just a shame that we show signs of greatness just eight weeks before Santa arrives. I used to ask the great bearded one to deliver a cup to Tyneside when I was younger but nowadays a few more magical moments like this is all that I ask for....
Niall MacKenzie

Reports