Date: Saturday 5th November 2005, 3.00pm

Venue: St. James' Park

Conditions: First signs of winter





Newcastle United

Birmingham City

1 - 0

Teams
Half time: Newcastle 1 Birmingham City 0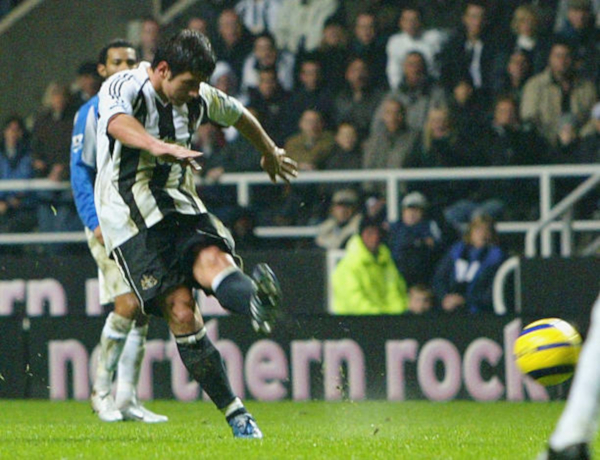 78 mins: Three times Emre has been on the field for us in the second half of a home game, as we attacked the Gallowgate End. On the first occasion he almost broke the crossbar against Deportivo and the next time he broke mackem hearts in the grand manner of Sellars and O'Brien.

This time it was a fierce 20-yarder, struck after Ameobi and Babayaro (and perhaps even Owen) opted to pass rather than shoot. Tickets and lotteries. The ball squirted through a ruck of players there was no deflection and so the wrong-footed Maik Taylor had no excuse for letting it squirm through his grasp 1-0
Full time: Newcastle 1 Birmingham City 0
Graeme Souness commented:
"It was a difficult game for us. They came with a game plan to frustrate us - one up front, they loaded the midfield.

"We played lots of lovely football at West Brom but not this week. These are games we've got to win and we got the result.

"The crowd played their part. Steve Bruce knows it - the crowd can be frustrated - but they stayed with us throughout and we deserved to win because we tried to win the game.

"There's a couple of things - we showed resilience today; we kept wanting the ball and the crowd stuck with us. They won't be the first to try and frustrate the crowd but they stayed with us.

"It wasn't a good game but we got the points and we've got to win games like that. We did the ugly things today.

"I've got some special players and it just takes one to hit a free kick in or do something special to get you a goal, and that's how it turned out.

"They never caused us any problems other than free-kicks when they got them in and around our box. It was a scrappy affair, but we have the three points.
"We have all been involved in games like that and we will be involved in games like that again.
"Steve Bruce is a Geordie, Steve Bruce knows very well what this Newcastle United is all about. When I brought teams here, the thing we used to drum into them was frustrate the crowd, frustrate the crowd and sooner or later, that nervousness would transmit itself on to the pitch.
"That didn't happen today and the crowd deserve a special mention for that.

"It's not surprising that Emre is known as Istanbul's David Beckham because I know he the biggest star in Turkish football. He can't walk down any street in Turkey without getting mobbed. He is the equivalent of what David Beckham is here.
"When games are tight like this you expect one of your special players to make the difference and thankfully that's what happened. It's early yet but I think there's a lot more to come from Emre. He's already one of our star players but he's only young and will get better."
Emre added:
"Really for us it was a difficult game, I am happy to score but today we play not very well but sometimes football is like this. I am happy and I think the fans are happy too.
"Every game is difficult, we play against West Brom away, I think as we play well away, at home it's very difficult. Every team is against Newcastle a little bit different you know.
"It's important for us, three points, three wins is nine points, we are very happy.
"I think a little bit lucky because the goalkeeper didn't see the ball but sometimes if it's luck it's luck, a goal's a goal.
"For each of the last nine years - five with Galatasaray and four with Inter - I have been with a club in the Champions League and this is the first time I have not been in it, but I know what is needed.

"I know we have the players good enough to get into the Champions League and I really believe we can make it this season."
Plastic Geordie Bruce said:
"I've never, ever publicly criticised anybody, but the goalkeeper knows he's made a howler, unfortunately. It is difficult to speak after what I've just witnessed.
"The best team lost, but it just sums up our season. I'm getting fed-up with hard luck stories. It's difficult to take because that's as well as we've played, especially away from home. I was very pleased with them.
"All I can do is tap them on the back and say I was proud of every one of them.
"The longer it went on and the more chances we missed, I did begin to wonder about what would happen. You can't afford to dominate a team like Newcastle and not take your chances.
"Matthew Upson should certainly have got a goal when it was easier to score and on another day we might have got three or four. I can't remember Newcastle creating a goal scoring opportunity until they got their goal and not many teams who come here will be able to say that.
"We've lost six or seven games by the odd goal and that's a fine divide between success and failure, but there is nothing wrong with the spirit. And, when our big players are back, I'm convinced we will be okay, but the simple fact is we are second from bottom.
"I know we are capable of getting the 10 wins or so we need in the remaining games we have got left," declared the manager. "What happened at Newcastle pretty much summed us up these past couple of months.

"It's got to turn for us, it's got to change - and after seeing what I saw, I am sure it will.
"Anyone who was there will have come away and told you we were the better team and deserved to win. I'm as fed up as everyone with hard luck stories, but I'm convinced we can put together a run of the right results.
"I detected the signs on Saturday and the difference Muzzy and Stan made to us was clear.
"I've maintained all along that when we get our big players back we will be okay - and they are starting to come back.
"I thought Muzzy was immense. He's only 5ft 8in tall or whatever, but he was a giant for us. He's not started a game for us since November and he'd only trained on the Friday for the first time in six weeks. He showed he's as good as Scott Parker, he showed he's as good as Emre. He's a top, top player.
"I wish those supporters who question the players' commitment could have seen him in the dressing room afterwards - he had cuts, bruises and ice packs everywhere."

Emre's goal was our 150th against the Brummies.

NUFC vs Brum @ SJP Last 11 games

2005/06: Won 1-0 Emre
2004/05: Won 2-1 Ameobi, Bowyer
2003/04: Lost 0-1
2002/03: Won 1-0 Viana
1992/93: Drew 2-2 Cole, Lee
1985/86: Won 4-1 Beardsley 2, Anderson, Whitehurst
1979/80: Drew 0-0
1977/78: Drew 1-1 Nattrass
1976/77: Won 3-2 Burns 2, T.Craig
1975/76: Won 4-0 Macdonald 2, Gowling, Burns
1974/75: Lost 1-2 Macdonald

Played four, won four so far in Nobby's second spell at United.

Win number 14 for Graeme Souness in his 45th Premiership game in charge (drawn 15, lost 16)

And this was the first time that our manager could celebrate three consecutive Premiership home successes since joining the Magpies.

Waffle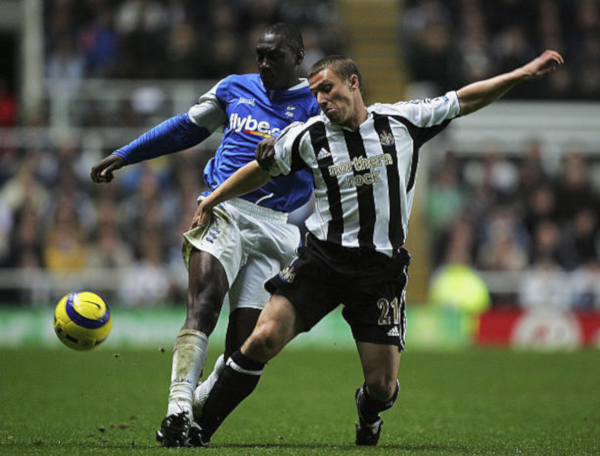 This was a long dull afternoon that threatened to end in frustration, as we managed to fill in most of the game without really teeing up any of our three strikers with a chance worthy of the name.

Thankfully though, the Celestial spirit level came into force, as that over-the-line Wigan wrong was righted and for once we profited, rather than suffered, from some goal line tomfoolery (although the ref had earlier avoided blowing for the most obvious back pass you'll see).

Truth was, we didn't really look like scoring and our dynamic engine room full of door openers struggled to a get a grip on the handle - their task not being helped by the frequent aerial bombardment that passed over their heads and made Owen virtually redundant.

Gone was the free-flowing style of the previous weekend - replaced by the halting, wingless frustration that epitomised the opening 45 minutes at the Hawthorns.

That was partly because we were up against a slightly more organised and resilient back line than that assembled by Bryan Robson, but also due to the fact that Steve Bruce had marshaled his forces with the express intention of stonewalling us. And he nearly managed it.

Short-handed due to injuries and the ineligible and concussed Nicky Butt, Bruce gambled on the fitness of Lazaridis and Izzet while leaving prized catches Pandiani and Forssell on the bench until the finale.

It didn't work - and like his old Liverpool lot used to (at least when he played for them), a goal was conjured up, somehow, by Souness's side.

1-0 to the Geordie Boys, with the collective on-field celebrations again seeming to reflect the united front we're presenting at this point in time.
And there was extra glee in seeing the miserable mug of Steve Bruce glowering across the field and later into the TV camera lenses.

How awful for him that he wasn't able to return to his "beloved" Tyneside and bless us all with the smug expressions that dominated the pre-match press footage - along with those oh-so-familiar conspiratorial quotes about how he could have been at the head of this black and white flock, if only he'd taken up Freddy's offer.

Quite simply there was a time to put up - and now there's a time to shut up.

When Sir Bobby carried his putter out of the training ground for the final time, Bruce had the chance to live his dream and be among his own folk (or some other cliche-ridden claptrap) but he didn't take it did he?

No, he preferred to stay where he was, in a grubby part of Birmingham, working for some grubby publishers.

Just like "Big Sam", who preferred life in his handy-for-the motorway retail park, with drummers, daft mascots and all the big match atmosphere of an episode of "It's A Knockout."

Just like Mike Baldwin preferring to remain in the shadow of the Transporter Bridge, with his 13,000 mad-for-it fans rattling round his tinshed of a ground on European nights.

And don't even mention that other charmless fecker who we lent Milner to.....frankly, I'd rather have rogue elements of the Baader Meinhof gang taking charge of us.

They all had the chance to take the reins and receive the adulation (or anger) of 50,000 fans - and all preferred to paddle around in the shallow end.

No such problems for Souness, who was running out of people prepared to chuck him a lifebelt at Ewood and as such, had no qualms about jumping into the deep end. But at least he had a go, rather than blather on about it.
He was right to praise the fans for staying with the side today. There have been times when the lack of faith in our present manager is tangible, but although the support was less unsurprisingly less fulsome than against them lot from down the road, there was a warmth there.

Were it not for Emre's goal though, one suspects that the boos would still have accompanied the sounding of the final whistle. It remains a fine line.

The expression winning ugly does have a certain resonance when summarising this fixture - but we've endured enough losses and defeats not to be in a position to worry overly at this point in proceedings.

The trip to Chelsea will in all probability see us return empty-handed as we have done on the last three occasions.

However it's not only the downturn in Mourinho's fortunes that makes us look ahead to that annual Stamford Bridge examination slightly more optimistically than would have been credible a month ago.
Biffa
PS: Belated 16th birthday wishes to Daniel Kenney from the lads at NUFC.com