NUFC.com
in association
with GNER



Date: Saturday 19th November 2005, 3.00pm

Venue: Stamford Bridge

Conditions: autumnal

Admission £48/45 downstairs
(last season £40)
Programme £3 (last season £3)

Fish & Chips from Harry Ramsdens, outside the away section: £4.99 (and goldfish by the look of them....)







Chelsea

Newcastle United

3 - 0

Teams
Half time: Chelsea 0 Newcastle 0

47mins: Ameobi's weak attempt at a header saw the ball in the centre circle at Bramble's feet.
A second later it was being knocked foward by Gudjohnsen to Joe Cole, who beat Given from the edge of his area with an angled shot. 0-1
51mins: Essien looked to have fouled Solano in claiming possession, but was allowed to advance forward and slip the ball to Lampard. Playing in his record-equalling 159th consecutive Premiership game, he advanced unopposed towards our box before funnelling the ball out to Hernan Crespo. The Argentinean forward side-stepped Bramble and curled the ball home from inside the box. 0-2
90mins: Given was beaten for the third time by a combination of Damien Duff and Scott Parker, the Irish winger advancing in from the left flank and looping his shot in via a deflection from the former Chelsea man 0-3
Full time: Chelsea 3 Newcastle 0
Graeme Souness said:
"I haven't seen it on TV but it looked like a penalty. But I don't talk about referees and you don't ask them anything, because you don't get any sense out of them.
"There was not a lot between the two teams in the first half but within six minutes we were two goals down and that changed everything. Three-nil is hard on us and apart from two mistakes and a deflected goal there was not a lot between the teams.
"He (Owen) felt a bit of a groin strain in training and we thought we might get away with it, but this morning he felt it was not right so he travelled back up north at lunchtime."

Sole striker Shola said:
"It is always more difficult to play as the lone striker but hopefully it won't be the case again. I was hoping to play with Michael and I was looking forward to it.
"It was a real shame when he pulled out because we missed him - me more than most. Hopefully we will get some good news on his fitness this week.
"It's difficult to play up front on your own, but you just have to do what you can. I felt that I fought well for the full 90 minutes and I think I made it difficult for Chelsea at the back.
"Their defenders will feel that they have been in the game and that's all I can do. It's difficult to take on three players on your own. I did all I could and I gave 100%, but it will be nice to get some of our players back.
"It would have been difficult enough to get a result at Chelsea if we had had all of those players. But without them, it was always going to be a tall order. Even so, we managed to match Chelsea for a long time. But what happened was a massive disappointment.

"We have to respond in the right manner and this is an important match for us. We need to bounce back at Everton - we don't want to lose again.
Given the nature of Newcastle's defeat - defensive errors cost the Magpies dear - the main focus of this week's training programme will be on tightening up at the back.
"We could have accepted what happened at Stamford Bridge if Chelsea had outplayed us at the weekend, but if you make mistakes against the kind of world-class players Chelsea have, they will punish you.
"Chelsea put a bit of pressure on us and forced us into those mistakes. But I don't think 3-0 was justified. We have to learn from it, pick ourselves up and move on."
Jose Mourinho commented:
"It's nice to win. Life is difficult when you lose. When you are used to winning so many times, life is not easy when you lose because you are not happy. I said in pre-season that we will win the title on the last day of the season (at Newcastle) and I still think so.
"My half-time talk was more about preparing the team for the changes I would make in the last 20 or 25 minutes in case the result was still 0-0. The team played well in the first half but we were not winning because Newcastle gave us a difficult game.
"I have no headaches about selection. Injuries are headaches to me. I like to have all my options available but Claude could not carry on. He is feeling pain in his knee and he will have some further examinations to see what kind of injury it is.
"When a player like Claude cannot play the rest of the game it might be something serious. We will have to wait and see."
"I think now he (Joe Cole) is a player. One year ago he was a player with potential, now he is a player.
"He has everything. He is strong defensively and physically and has not lost the attacking qualities or the skill that potentially made him a very good player. He understands the game and works for the team. We are very happy with him.
"The hand ball I never saw. The other one was John Terry's tackle on Lee Bowyer - no penalty for me."
"It was suggested that he (Crespo) was injured playing for Argentina and that I ordered him to come home. The injury was cramp and I didn't. He came back on Thursday and there were no problems as far as I was concerned."
Our failure in front of goal at Stamford Bridge on Saturday now means that we've completed 467 scoreless minutes since Clarence Acuna netted there in August 2001.


Toon at Stamford Bridge -
Premiership Years
93/94: Lost 0-1 No scorer
94/95: Drew 1-1 Hottiger
95/96: Lost 0-1 No scorer
95/96: Drew 1-1 Ferdinand (FA Cup)
96/97: Drew 1-1 Shearer
97/98: Lost 0-1 No scorer
98/99: Drew 1-1 Andersson
99/00: Lost 0-1 No scorer
00/01: Lost 1-3 Bassedas
01/02: Drew 1-1 Acuna
01/02: Lost 0-1 No scorer (League Cup)
02/03: Lost 0-3 No scorer
03/04: Lost 0-5 No scorer
04/05: Lost 0-4 No scorer
05/06: Lost 0-3 No scorer

We also repeated the feat of 2004/05 in holding the Blues to a scoreless draw at the interval, only to start shipping goals shortly after the restart.

Just short of 19 years since we last won here - November 1986 (3-1 Andy Thomas 2, Beardsley)

Waffle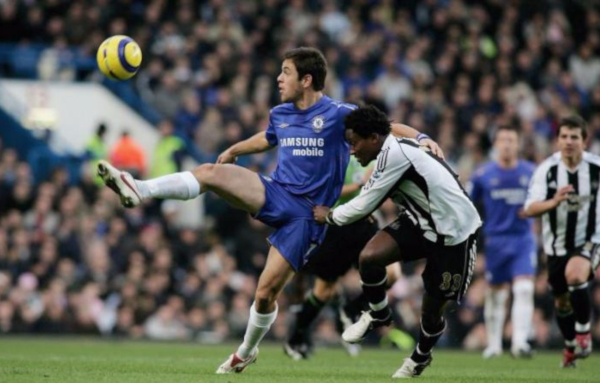 Our special one didn't have to sit through this after having tweaked his groin, but for all the use an Owen-less United were, the occupants of the away section may as well have joined him in fleeing the Capital before kick off.
As it was, those who spluttered at the ticket price (but still paid) found precious little that was pleasurable on view from our improved vantage point, as we held Chelsea at bay for the first half but took 83 minutes to register our first - and only - shot on target.

Successive stumbles by the reigning Champions had seen Jose Mourinho bidding to avoid a hat trick of defeats for the first time in his Chelsea career, as both Real Betis and Manchester United had opted for the Corporal Jones tactic aka "they don't like it up them" to good effect.

Owen's injury meant that Ameobi was denied the chance to play up front alongside him in front of the watching Sven, but rather than being reunited with reserve partner Chopra, Shola found the unfamiliar figure of Bowyer lingering in his vicinity from kickoff.

That was a decision that appeared to please no-one except the manager and his cronies - Bowyer returning from injury into a role which by definition required him to harry and chase anything that moved.

He did find himself in the Chelsea area occasionally, but Halsey's refusal to blow his whistle meant that his main contribution to proceedings was in vain, when Terry upended him in the box.

Souness had no Shearer, Luque, Milner or Owen, while Chopra had limped off in Monday's reserve game and may not have been 100%. However a 4-5-1 with Shola at the head was simply a waste of time - we knew it, he knew it, they knew it.

Whatever the value of Chopra playing and scoring for the reserves is, it's surely not to try and come on here to salvage something in the last 20 minutes when we're two behind.

Similarly Brittain was named as sub after setting up a number of goals in the stiffs recently, but for all the chance he had of coming on here, the club could have raffled off his place on the bench to a fan. Pointless. If these lads will never play, why haven't we paid them off?
There was a certain stoicism about United in the opening 45 minutes, as we unsurprisingly didn't take the game to Chelsea, but didn't look in any danger of conceding as Given didn't get the chance to reprise any of his eye-catching stops from recent away games.

But as we had last season, we failed to switch on after the break and stood by as Chelsea moved through the gears with the minimum of fuss, into the comfort zone and then out of sight with staggering inevitability.
It's entirely typical of us to open up the vague possibility of registering a positive result from a tricky situation, only to then ruthlessly then crush that hope with some self-administered mistakes.

As John Cleese once said, "...I can cope with the despair, it's the hope I can't stand."

Too many futile trudges along the Kings Road since 1986 have taught us that we stand virtually no chance here, even with a full complement of so-called door openers.

To arrive shorn of virtually all our positive options made our chances of getting anything from this game negligible, but for our defence to just about stick together for one half then combust at the start of the next is still a colossal kick in the knackers.

Bramble took the bulk of the blame in the post-match inquests, but the man alongside him inspired nothing approaching confidence, while Babayaro seemed to think he'd done his shift at half time.

Only Ramage rolled up his sleeves despite being out of position, in a manner similar to the sadly-absent Taylor. Everton may see him back in the middle, but that would mean that the trundler Carr was back in at right back to depress us still further.
Come the final whistle and half a side applauded the away end, the combative Parker at least having the decency to look genuinely gutted at the outcome.

We left, muttering darkly about getting them back to our place with a full team and having a real full-blooded go at them - possibly after having bought another one or more of their players....

In reality though, by the time Chelsea visit Tyneside in May, the game will be as sterile and inconsequential last season's anodyne affair.

What happens between now and then will dictate whether Souness celebrates his 53rd birthday that weekend as a committed participant, or an interested bystander. Despite some valiant if uninspiring work from his side, a failure to rectify the deficiencies in his defence will ensure the latter.

Our four match unbeaten run disappeared today, as we once again came a cropper when confronted with a decent team. But regardless of who we played up front, we would still have conceded those goals. Fur coat and no knickers then - and the fur coat was a fake.

I hate this place - and paying theatre prices to watch unfunny comedies.
Biffa

Reports