Date: Sunday 27th November 2005, 1.30pm

Venue: Goodison Park

Conditions: Fresh

Admission: £27/29 downstairs, £31 upstairs
(last season £25/£27 downstairs only sold)

Programme: £3





Everton

Newcastle United

1 - 0

Teams
Half time: Everton 0 Newcastle 0

46mins: Yobo climbed above Peter Ramage to head home a corner at the Gwladys Street End 0-1
Full time: Everton 1 Newcastle 0
Graeme Souness kept schtum and sent out Alan Murray instead:

"The referees are paid good money, they are full-time professionals, and they should spot things like that. It would have been a turning point in the game, there is no doubt about that.
"If we score a penalty before half-time, their confidence is dented, ours is lifted, and we could well go on and win the game comfortably.
"Instead, we are talking about a decision that went against us, and just like at Chelsea last week when we should have had a penalty, we are talking about a defeat."
"We are disappointed with the result, and our performance in general over the 90 minutes wasn't what we expect from the team. It is disappointing to lose, but over the course of the game we didn't do as well as we know we can."
Peter Ramage commented:

"There seem to be a few decisions that aren't going our way. We could have had a penalty at Chelsea, and been a goal up at half-time.
"We didn't get that, and they scored after the break. That's two weeks in a row we've conceded a goal just after half-time, and yesterday it cost us the game.
"The penalty decision could have changed the game, with us going into the break 1-0 up and possibly having a man extra as he could have been sent off.
"I'm the first to admit it was my man who headed the ball - these things happen.
"He took a lean on me and won the header, I've got no complaints. I've got to learn from it, and I apologised to my team-mates after the game.
"A lapse in concentration has cost us the game. In the first half, when we did pass the ball, we created a few chances.
"Shola's had a shot, Alan's been one-on-one with the goalkeeper and I've had a header.
"The manager had strong words at half-time, and said we should be playing better."
David Moyes said:
"I thought his performance was as good as he has played for us. His heading, the way he was taking balls on his chest and laying things off was excellent.
"Yes, his miss was disappointing, but today we can talk about misses and not worry - and it wasn't only James. Van der Meyde had two I would have fancied him to do better with.
But it was a good, old fashioned game in many ways, and I felt we deserved it in the end.
"We had a few scares in the first half and needed the goalkeeper to make a few saves. We got away with the handball like we didn't get away with the penalty last week which was outside the box, or the handball by the goalkeeper.
"But in the second half we got the goal early and that gave us the confidence to go and try to get a second.

It was important to bounce back, not so much from the defeat last week but from the performance. The players have known how I felt all week. But they knew it themselves as well, to be fair.
I thought we were simple in our play. The two centre-forwards did very well, we kept the ball better and were a threat. We caused their centre-halfs problems which we have not done an awful lot this season.
"We have won three out of four now, which is the kind of consistency I have been looking for. Now we have three games in December and I will be looking for points from all of those fixtures as well.
"There were no plusses last week. This week I have been able to say to all of the players 'well done'.
"You saw the Shearer incident, you write about it.

"I just felt our boys were determined. They knew they had to play better, fight more and compete for everything. We did that really well. In the end I felt we deserved it."
Basketball star James McFadden chipped in:
"It would have been easy to give the penalty but in my opinion it was ball to hand. I didn't know much about it. It definitely struck my hand, but it was not intentional.
"Last week we were disappointed with the result and the performance, we had a lot to prove and we have done that. Last season we were very dangerous with set-pieces and today was reminiscent of some of our performances from last season.
"Possibly there is still some anxiety over goalscoring but we made a lot of chances and maybe we were unlucky not to score two or three more. The big thing is that we were in the position to make those chances.
"It's been difficult this season to be stuck in the bottom three so hopefully we can now continue this momentum and move up."

And goalscorer Yobo told reporters:

"The goal was a bonus. I saw the ball coming and knew that this was it. It was good for me to get on the scoresheet but I was more happy with the defensive play.
"Sometimes football is about ups and downs. What I needed was consistency and I realised that. The manager has been talking a lot to me and I have still got a lot to come.
"I know what I can do. I have got a lot of qualities but sometimes it doesn't really happen. But when I see Everton struggle I know it is time to step up. This is a big morale boost.
"Last week we conceded a harsh penalty and our heads went down. But when we got the goal, everyone realised this was it. We played with more character and confidence.
"The result last week was poor, we realised that, and the only way we could put that right was by showing a lot of character.
"Our record is now three wins out of four. We all went out there, gave it our all and we are all happy that we won the game.
"Every game is important now because we know the situation we are in could be really bad. We have realised that but we are playing and fighting as a team and we are picking up points.
"We don't want to let anything slip. Thanks to the crowd as well because they've been tremendous."
Toon at Goodison -
Premiership Years

2005/06:
Lost 0-1
2004/05: Lost 0-2
2003/04: Drew 2-2 Shearer 2 pens
2002/03: Lost 1-2 Robert
2001/02: Won 3-1 Bellamy, Solano, Acuna
2000/01: Drew 1-1 Unsworth og
1999/00: Won 2-0 Hughes, Dyer
1998/99: Lost 0-1
1997/98: Drew 0-0
1997/98: Won 1-0 Rush (FAC)
1996/97: Lost 0-2
1995/96: Won 3-1 Ferdinand, Lee, Kitson
1994/95: Lost 0-1 (FAC)
1994/95: Lost 0-2
1993/94: Won 2-0 Cole, Beardsley

Since the PL began, our own personal hall of shame on the wrong side of the Pennines reads:

Played 64, Won 10, Drawn:17, Lost:37
Goals for: 68, Goals against:104

Which breaks down as follows:

Everton: 15 points from a possible 39.
Blackburn: 7 points from 33.
Man City: 6 points from 21.
Bolton: 6 points from 21.
Liverpool: 5 points from 36.
Man Utd: 5 points from 36.
Oldham: 3 points from 3.
Wigan: 0 points from 3.

This defeat was our 100th away from home in the Premiership.
Magpies away -2005/06 Premiership

Arsenal - lost 0-2
Bolton - lost 0-2
Blackburn - won 3-0 - goals on 62, 66, 85.
Portsmouth - drew 0-0
Wigan - lost 0-1
West Brom - won 3-0 - goals on 46, 78, 80.
Chelsea - lost 0-3
Everton - lost 0-1

Not since Darren Ambrose netted at Craven Cottage last May have we scored in the first 45 minutes of an away league game and we've not found the net at all in the opening period of any of our nine away league and cup games this season.

And with The Magpies failing to find the net at all in six of their eight Premiership matches on the road, the 23 and 34 minute triple goal salvoes at Ewood and the Hawthorns remain rare high spots in what has otherwise been an insipid campaign on the road.
Nine of our 14 Premiership games home and away have been goalless at half-time.
Michael Owen's goal against Manchester City is the only one scored against a side in the top half of the Premiership. The other teams we've registered against being Fulham (14th), Blackburn (13th), mackems (20th), West Brom (17th) and Birmingham (19th). (Positions correct 27.11.05).

Waffle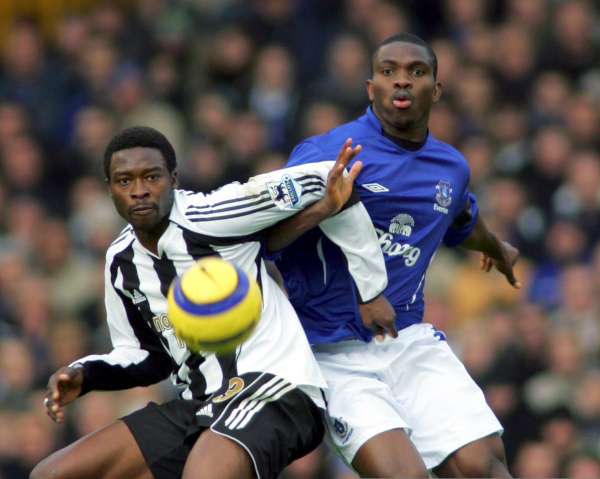 The sound of silence again then from a doubtless seething Souness - after having endured another miserable and controversial return to Merseyside.
From post-match sound-bites we're able to glean that our manager had strong words for his players at half time in this game, following a scoreless opening 45 minutes. But after we again fell behind almost instantly, are we alone in wondering what the hell he says to them?

Presumably wor Graeme was as bored as we are with the "ref done wrong" diatribe that invariably brings him into disrepute with officialdom, but to once again send out a lackey to do his post -match job does him no favours with his own fans.

OK, we should have had a penalty, just like last week. 0-0 at half time becomes 1-0 and the game has a different complexion (not that our ability to hold a lead bears close inspection).

But if referee Webb's response to James McFadden's transgression was out of our control, then the other 89 minutes and 59 seconds (plus stoppages) certainly weren't.

With both sides conceding on their travels last week, this game never looked like there would be goals in it. But it was depressingly predictable to go one behind with 44 minutes remaining and to be more worried about conceding further than salvaging something from the game - our much -vaunted door openers looking as if they'd struggle to break into a wendy house.

We've said it before and we've said it again. If Peter Ramage is covering the right hand of our midfield and fighting for the ball by the opposition corner flag, then there is something wrong.

And that something appears to be Solano - failing once again to occupy the flank in favour of an infield slot that crowded his colleagues in the centre; his replacement Bowyer equally uninspiring.

Other small things that caused us doubts:

Albert Luque - a man reportedly "flying" in training - came down to earth with a bump on several occasions and looked like a fish out of water, despite his natty blue boots - complete with his name and the Spanish flag.

And as for his language problems, unless tuned in to an MP3 of "Larn Yasel Geordie" in the warm up, he'd perhaps be better off listening to his colleagues than to the iPod in his pocket.

Emre - opinion divided on whether he looked like Missie Elliott, the Michelin Man or skateboarder Tony Hawks, but modelling his Winter collection on a merely chilly day doesn't augur well for his contribution when the bad weather comes.

But at least that expensive pair were on the field, unlike England's number one who once again was a no-show.

After our much-publicised injury problems this year, it's perhaps no surprise that we chose to err on the side of caution - especially with such valuable goods. The memory of Alan Shearer's career taking a wrong turn at this venue in 1997 remains vivid.

However to see Michael Owen pogo-ing across a Swiss pitch after beating the Argies, only to promptly report to the sickbay again upon his return to club football is starting to cause raised eyebrows among those who turn out, rain or shine.

Had this been Bellamy, then we'd be marching on the FAW HQ in Cardiff by now....

With Luque feeling his way and Shola Ameobi once again out of the running after letting early frustrations affect his concentration and contribution, it was left to the returning Shearer to try and lead from the front.

He did have a shot cleared off the line in the first half and was lurking in the second looking in vain for a pull-back from Luque, but got little change from Yobo or Weir on a day when he desperately missed Owen's pace and guile alongside him.

Sideshow Bob's panto down the A19 continues to distract attention from our own shortcomings, as the SMBs (Slapstick Mackem Buffoons) provide frequent comic interludes. For how long though? Until we're out of both cups?
The absence of Owen from the field and Souness from the press call left Newcastle fans with unanswered questions that neither Ameobi nor Alan Murray proved capable of resolving.

It's a fraction over a decade since Kevin Keegan's "Entertainers" wiped the floor with Everton here before the Sky cameras. Ten years on and we can't even win ugly - just lose ineffectually.

That Wigan Carling Cup tie looks more and more vital to our chances of salvaging something, anything this season, after another wasted opportunity to make Premiership progress against moderate opposition.

Biffa

Reports