Date: Wednesday 30th November 2005, 7.45pm Live on SKY PPV

Venue: JJB Stadium

Conditions: Dry & murky

Admission: £12 (£15 on the night)

Programme: £3






Wigan Athletic

Newcastle United

1 - 0

Teams
Half time: Wigan 0 Newcastle 0

88mins: Rob Elliott's hand was on the shirt of Jason Roberts - whether there was a tug is dubious, but there was contact and down he went. Steve Bennett pointed to the spot and David Connolly sent Shay Given the wrong way at the far end of the ground from the Toon fans 0-1
Full time: Wigan 1 Newcastle 0
Graeme Souness said:
"It's been a long time since one of my teams was outplayed like that. We were poor and the game should have been over by half-time.

"They were totally dominant and although the penalty was a wee bit unfair, we are not complaining about it too much because the best team won.

"You cannot think it is going to be an easy game because you are playing against some players you have not heard of before.

"To the foreign lads we pointed out to them that cup football in this country is not like it is on the Continent where it is not taken as seriously.

"We told them it would be a hard game. We went over that before they went out there but they didn't heed the warning.

"The one thing a player should be able to guarantee is that he gives 100 per cent when he crosses the white line but not every one of my players did that tonight.


"This is the most angry I've been as Newcastle manager. Six or seven thousand people have travelled from Tyneside tonight to watch a game of football in which they thought we had a great chance of going through. We didn't do it for them.
"The best team won, the best team should have won by half-time. Every single person who travelled from Tyneside tonight we have let down. I understand the fans' reaction and can't complain."

(those comments actually do a disservice to the many Toon fans who didn't travel from Tyneside but who were at the game. A good chunk of those behind the goal weren't regular attendees, but took advantage of the availability of tickets to turn out. For those North West Mags, they might have been home quickly, but at the expense of being a laughing stock yet again at their work / school/ college).

Alan Shearer commented:

"We got what we deserved. The first-half performance was unacceptable, and in the second half we rallied a bit.
"But it was too little, too late, and we'll find out who our men are on Saturday.
"I can't try and defend what's gone on. It was unacceptable. It was an awful performance and an awful result. Wigan deserved it more than us.
"It's very disappointing, and it hurts when you look at the teams left in the competition. None of us can come out here and make any excuses. It just wasn't good enough.
"I could stand here and give a million excuses, but at the end of the day it just wasn't good enough."
"There were 5,000 fans at the game tonight and we let them down - I can understand why they're frustrated.
"We'll find out who our men are on Saturday when we've got 52,000 demanding a result.
"We've got to go out and give a performance, whoever's playing.
"Whoever plays on Saturday has got to stand up and be counted."
Nobby Solano added:

"Believe me, every one of the players is very, very disappointed and frustrated, especially for the fans that came to see us.
"In the first-half we didn't play well, but in the second-half we did much better.
"We're disappointed at the referee's decision. For me it wasn't a penalty, and that's cost us the game. If it had gone into extra time, who knows?"
"We need to pick ourselves up, and show we are men. We need to be together when we win, and when we lose.
"All the responsibility isn't on the manager, the players need to take responsibility as well. The manager hasn't done anything wrong - it's the players on the pitch.
"We have to work hard and prepare for Saturday and my former club Aston Villa which is a very important game for us. We need to start livelier and stronger, everywhere on the pitch we need to be stronger.
"We need to give 100% per cent to the manager.
"It's the players who need to take responsibility. We're the ones on the pitch.
"What's happened has happened, and we need to show character and move forward."

Freddy Shepherd:

"I felt sorry for our supporters, especially those who have travelled 165 miles on a freezing and foggy night to watch a performance like that, and I would like to say sorry to them.
"But we are all in this together. From me as chairman, to the management and the players, we have all got to stick together and get a win on Saturday, which would give everyone a huge lift."
Paul Jewell commented:
"It was a 1-0 hammering.
"We were the best team from start to finish and played exceptionally well. I think we had 19 attempts on goal, that's the only disappointing thing that we didn't win the game by four or five goals. It should have been over at half-time but it's great to get a victory against a so-called top Newcastle side."
"I thought it was a tremendous performance from the players, the only thing missing was a goal. That would have capped off a top class performance.

"That was a great performance against a team, who on paper, were at their strongest. Those lads have done themselves no end of good tonight.

"I thought the whole team was outstanding. We played good tempo, and good football and the only thing missing was goals.

"We changed our shape, we played with a diamond tonight and the players took to it really, really well. We carved Newcastle open at will.

"There was no pressure on us in a way because it was a cup game, but we ran them ragged! I think one-nil flattered them greatly."
Newcastle failed to record our 50th victory in this competition and failed to improve on our miserable record of five Fifth Round draw appearances in 45 years.

We've now gone 282 minutes without a goal and scored 13 times in 16 domestic games - nine of those coming in three games, meaning just four in the other 13.
We've won four and drawn one of the six matches with Owen in the side, the no.10 getting four of the nine goals. Without, it's just two wins (mackems & Grimsby) one draw and three defeats.

And Souness maintains his record of never having managed a Newcastle side that has come back to win after falling behind in a domestic match. Turning a 0-1 into a 2-1 at Heerenveen in the UEFA Cup remains the only time he's managed this.


Waffle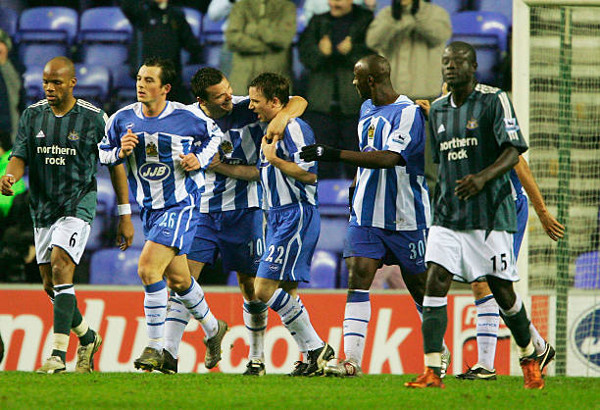 We tried, we really tried.

Tried to put aside the years of resentment and ill-will we built up against Souness as a player and Manager in giving him something approaching a clean slate when he was appointed - a Gallowgate Ground Zero, if you will.

Did our best to accentuate the positive when we did get a winning run together - albeit against similarly mediocre sides at home and abroad.
Tried to convince ourselves the means justified the ends when players were shipped out - some we were glad to see the back of, some less so.

Sympathised when his so-called door openers were absent and our Bare Bones XI churned out insipid performances, crashing out of two cups and continuing to plummet. And still we dreamt of better days.

But at the end of a miserable night in Lancashire we couldn't summon up anything but contempt for Souness and his side. And that contempt seems to be echoed by his players - whose display (or lack of it) spoke volumes about what they think of the manager.

Only two people fully escape this - Shay Given and Peter Ramage. Partial pardons can be given to Martin Brittain and Michael Chopra, expected to try and pull the team out of the clarts despite being left in little doubt by the Manager that their futures lie elsewhere.

But the rest - alleged international stars and legends in their own mind - were comprehensively worked over by a "no stars" Wigan side including no less than seven players who had featured in a reserve game against us less than two months ago.

Less committed onlookers at this point may wonder why our annual premature exit from the League Cup provoked such an instant negative response from those present, later amplified by other commentators.

The simple fact is that Souness raised the stakes this season as far as this competition was concerned - ensuring it had more importance than in recent seasons. And as a consequence, this exit had more significance than the ones at the hands of Chelsea, Everton and West Brom etc.

How? By convincing Shearer to stay on for another year, presiding over our Intertoto failure, by his "we want to win this" comments and by his positive team selections - no sight of Harper this year.

No solace in the League, as our Premiership inconsistency already looks like ruling us out of a European qualification spot. And the number nine now has only the unlikely prospect of an FA Cup win to collect that elusive medal - and some regrettable ball selection in Sunday's Third Round draw could snuff that one out.....

When casting around for positives after his initial appointment, we clung to his victory in this competition when was Blackburn Rovers boss. Surely if Souness could inspire those numb Ewood buggers into collecting silverware then he might be able to do it for us?

So, with this competition assuming paramount importance and having little or nothing else to look forward to this season, a positive result was essential in this game - even if a good performance was less vital.

Add in a slice of unfinished business arising from the controversies of the league visit to the JJB and it seemed a fair bet that we'd be in the mood for this - Owen or no Owen.

But what did we get? Not a team, just a rabble. A spiritless, aimless, lack-lustre rabble - and in Bowyer a player who was visibly taking the proverbial as he sauntered around the field.
Souness may have come out to face the press after this game, but while it progressed he was nowhere to be seen. Instead the touchline histrionics were left to Saunders - his "up and under" gestures seemingly inspired by this game being played on a rugby ground.

Words simply cannot describe the depths to which this team fell. Poor at Everton, dreadful here.

Given saves and Latics misses saved us from being four down at the break, Wigan's second string featuring nine changes from their last Premiership outing but outclassing the strongest team we could muster to an alarming degree.

At one stage the corner count was 11-0 in favour of the home side. If we'd had a towel we would have thrown it in.

The second half was a more even affair, but even with Emre hitting the post, Wigan continued to create and miss chances, as our midfield was completely overshadowed.

We introduced Brittain and Chopra which gave more impetus to our attacking efforts, but that was negated by Emre's inability to find a team mate with a pass.

Shearer may have had a goal chalked off on his only other visit here, but in body language alone, his display tonight betrayed the folly of this extra season.
And as for Luque, anyone who witnessed this game live or on TV will by now have formed their own opinion about his £10m valuation. Souness once memorably signed a charlatan when at Southampton and so far, he looks to have repeated the feat.

Let's face it, we've seen enough duck eggs here in our time to know when another one appears.

The team we put out in this game just has to be capable of more than this - it simply defies logic that international footballers can be so collectively woeful.

But whatever skill we may possess was overshadowed by a lack of commitment, desire and organisation. That being the case, the buck stops with the Manager.
And as for the Chairman, he was left in no doubt about current feelings when around 40 fans surrounded his Range Rover as it got stuck in traffic leaving the ground, chanting "Souness out".
If Souness is spared then he has Paul Jewell to thank - had the Latics boss unleashed his first-choice side against us (or even just some on-form forwards), then a good hiding would most likely have been the end result.
Precisely when Freddy sticks the boot in and puts him out of his misery remains to be seen, but much more of this and it will really become inevitable. Souness of course will remain at the helm until he gets his payout: this laddie's not for leaving - cheaply.

Meanwhile we face a divisive time, with elements among our support almost willing us to lose, in order to hasten the demise of a man who has been fighting a losing battle to be accepted ever since he was appointed.

Souness deservedly felt the wrath of the fans tonight, but their reserves of patience have evaporated over decades of disappointment.

He may regard fans who sang his name only recently as being fickle, but as it did with his predecessors, he's reached the point where the optimism has turned to despair.

Our history shows there isn't usually a way back from losing the fans and apparently losing the players - and as for who becomes the next Saviour to be handed the poisoned chalice, after a night like this we're almost past caring (but who will would fancy it with Shearer still in situ?)

The result was bad, the performance worse, the future unthinkable. You could weep.

Our initial post-match reaction went something like this:
Disgraceful
Wigan Res 1 Newcastle 0
Diabolical, deplorable, dreadful, shocking, pitiful, pathetic, embarrassing, unbelievable, dismal, feeble, useless, awful, appalling, abysmal, shameful, astonishing, staggering, atrocious, inexcusable.
Biffa

Reports