Date: Saturday 3rd December 2005, 3.00pm

Venue: St. James' Park

Conditions: Light rain in closing stages




Newcastle United

Aston Villa

1 - 1

Teams
32 mins: Yet another handball from Liam Ridgewell in the Leazes box allowed Alan Shearer the chance to drive his penalty past Thomas Sorensen, who got a hand to the ball but was beaten by power. 1-0
Half time: Newcastle 1 Aston Villa 0
75 mins: Lee Hendrie's ball infield from the left flank found Grant McCann running into space with Shola Ameobi trailing in his wake and the former mackem shot home with a low and true effort. 1-1
Full time: Newcastle 1 Aston Villa 1
Graeme Souness commented to the written press:

"I'm a football person, I understand last Wednesday at Wigan, we didn't perform in any shape or form, and I can understand the feelings of our supporters.

"I was angry and disappointed, but today, I'm far happier because the team had a real go. If you are a paying supporter, surely you realise you cannot win every game you are involved in, but the least you can hope for from your team is to give you 100%, and we got that today.

"The last week has not been enjoyable, but it's not tough. None of you know me, only people close to me know me, and it's not been tough. There are far bigger things I worry about in life than football. Several times a week, people come to our training ground who are far less fortunate than ourselves - that's the reality of our situation.

"I know if we had won today and won the next four games and then lost two, you would be writing the same things about me then. That's the price on the ticket here at Newcastle.

"I have to say Titus has to have a close look at himself. Why he's gone to make that challenge at that time - I will be asking him about that on Monday.

Meanwhile his assistant Alan Murray spoke to the TV and said:

"Itís been very difficult this week. The manager has handled it very well, but the media are looking to pick someone off. The fans arenít happy with a home draw but we had six players out who would definitely have played if available."

Aston Villa chief David O'Leary said:

"I was more delighted that we got a penalty. I thought we didn't deserve to be losing at half-time and it was important to keep the lads' spirits up.
"Ironically I thought our best player missed the penalty. He's a good lad, he didn't mean to miss and he played well for us.
"I'm a coach that believes in attacking football and our goal was a good move and a good finish.
"It's always hard to come here. It's a wonderful pitch with fantastic passionate supporters. I suppose with Michael Owen not playing it was a good time to come here.

"I don't think we deserved to be losing at half-time, but it was important at half-time to keep the lads' spirits up. I felt we had to keep going, playing, taking the game to them.
"We scored a good goal - I wanted us to go on and win the game and I thought we would, I thought we should have. Probably in my opinion, the best player for us, at least, missed the penalty.
"I didn't think it was 90 minutes for myself in any way. We are under pressure to perform in any game.
"We let ourselves down on Tuesday night. The buck stops with me. I pick the team and put it out and it was my responsibility on the night.
"We were well beaten, but going into that game, we had been playing quite well. If we hadn't had that game, everybody would have said Villa were on good form coming into this game."

Villans in Toon - Premiership years
2005/06: Drew 1-1 Shearer (pen)
2004/05: Lost 0-3 No scorer
2003/04: Drew 1-1 Robert
2002/03: Drew 1-1 Solano
2001/02: Won 3-0 Bellamy 2, Shearer
2000/01: Won 3-1 Glass, Cort, OG
2000/01: Drew 1-1 Solano (FAC)
1999/00: Lost 0-1 No scorer
1998/99: Won 2-1 Shearer, Ketsbaia
1997/98: Won 1-0 Beresford
1996/97: Won 4-3 Ferdinand 2, Shearer, Howey
1995/96: Won 1-0 Ferdinand
1994/95: Won 3-1 Venison, Beardsley 2
1993/94: Won 5-1 Bracewell, Beardsley 2, Cole, Sellars.
Alan Shearer's penalty conversion was from our first penalty award of the season - our last one being in Athens against Olympiakos in March's UEFA Cup tie.

And as for Premiership spot kicks, this was just the second of 2005 - the last being in January against Southampton, when Shearer netted at the Gallowgate End.

It's over two years since Al took and scored a penalty at the Leazes - October 2003 against Pompey being the last occasion.

Waffle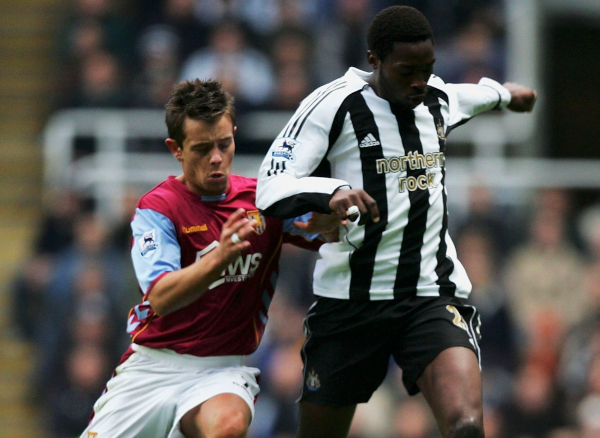 A result that ultimately provided little satisfaction to anyone but the managers of the sides concerned, who were both desperate to avoid a league defeat on the back of a cup humiliation.

And whatever the future holds for Graeme Souness, it's debatable whether he'll ever be in the position of staring down both barrels that Bramble the human bowling ball put him in on 88 minutes.

Thankfully for him, Gareth Barry was unable to make it three penalty conversions in two games here at the same end of the ground. If Kevin Phillips had not been ill though, he'd have doubtless scored for that "2-1" feeling familiar from previous times here.

And although the gathering moans and grumbles were replaced by cheers as Barry's effort sailed over the bar, there were doubtless some among the home ranks wishing it had gone in to increase the pressure on Freddy Shepherd to do the deed again.

With United shorn of players in all outfield areas, it could be argued that a point wasn't the worst result in the world - with a first goal in four games and an end to the losing run that started at the same time.

And for Alan Shearer there was the satisfaction in netting from the spot, to move closer to Milburn's record and beat Sorensen from twelve yards at last. Had he not been foiled by the big Dane in previous home games though, he would have been over the double century mark by now.

Then there's the unexpected display of Faye, who was busy, alert and mobile, even popping up in the attack to shoot at one point - an incident that confused the Match of the Day commentator, who obviously couldn't believe the evidence of his own eyes, mistakenly labelling the blockbuster volley as being from Shola.

Other than that though, the good news was in strictly short supply in a game we should really have lost. We struggled to field a team, struggled to play football worthy of the name and our chief weapon in stopping the home fans booing appeared to be boring them into submission...

After the recent ill-fortune that saw us robbed of stonewall spot kicks at Stamford Bridge and Goodison, the Gods favoured us today - not only with the Ridgewell handball being penalised and the Barry penalty miss, but also the lack of adventure shown by O'Leary's men.

Given leapt to fist away one dangerous ball in the second half, but the unremarkable Angel contributed little of note - mackem McCann looking dirty and dangerous but left alone for a well-taken equaliser.

Up front Souness had opted for a three-man forward line of Shola, Shearer and Chopra - Ameobi shooting wide from our only first half chance and being scarcely noticeable after the break.

Aside from the penalty, Shearer's main contribution was a volleyed rocket that thudded off the Gallowgate crossbar - almost a replay of the effort that beat Villa's Peter Schmeichel some four years ago.

Making only his second ever Premiership start, Chopra gave it a good go but on a number of times crucially failed to exhibit the necessary strength and guile to get himself between the ball and his opponent.

And while Solano was at least more recognisable as a right-sided player, that old spark just wasn't there - it could be argued that the ineligible Milner's appearance would have boosted both teams.

This game solved nothing really - the draw knocking the wind out of the sails of those who had gathered for the blood-letting, but failing to provide anything in the way of comfort to hang on to for those of a less radical bent.

While there are others missing from the side, the absence of Michael Owen continues to overshadow everything.

The number 10 provides a get out of gaol card for the manager, while naturally cynical fans speculate as to the true nature and extent of his latest injury - and those on the field hardly provide a cheery spectacle to hasten him back into the fray.

December 10th marks the crossroads in many ways for Souness.

Get Owen back playing, get the team fighting and concentrating and get a result against the Gunners. Doing that will get some of the crowd back on his side and the silence the doubters, at least temporarily.

Or, in front of the cameras, put in another mundane performance like this and be punished by a better standard of opponent - leaving home fans deciding whether to cheer for pride alone, make for the exits in disgust or hang around to barrack their manager.
With six successive failures to overcome the Gunners in League and Cup here, the odds remain stacked against him turning this round.

A win today would have hidden a multitude of sins, but again we just didn't deserve it. Like sympathy, patience is wearing thin with Souness and his players - whether playing or sidelined.

Biffa