In their first link up with us, full refunds of bills to pre-match attendees were promised if Nolberto Solano scored
the first goal - and the Peruvian didn't disappoint...


Date: Saturday 10th December 2005, 3.00pm

Venue: St. James' Park

Conditions: Abrasive
Newcastle United

Arsenal

1 - 0

Teams
Half time: Newcastle 0 Arsenal 0
82 mins: Played in by Alan Shearer's shielding of the ball and ball out to the right side of the box, Nolberto Solano's fine low shot beat Jens Lehmann in the Leazes goal. 1-0
Full time: Newcastle 1 Arsenal 0
Graeme Souness commented:

"We know that Arsenal are a top-class football team and if you give them time and space they will cut you to ribbons. So we felt that was the best way to go about our business today.
"We had players who gave everything. I doubt we could field a team that could make us fight any more. That was epitomised by the grumpy old man up front (Shearer) who was especially angry today.
"The route we went was to try to get into Arsenal's face and get them turned. With the players we had we couldn't take them on in a passing game.
"They are a fantastic team so we tried to play a game that suited us.

"Alan Shearer is the best centre-forward that you English have ever had of that style. I think he plays in such a manly fashion that is great to see and extremely effective.
"He's playing with his back to play. He's not the biggest man in the world, but I doubt if there is anyone with a bigger heart.
"He plays facing the wrong way - he's facing his own goal 95 per cent of the time and he's playing against generally men who are a lot bigger than him, and most certainly a lot younger than him.
"You ask any centre-half, they would not enjoy his style of play because he plays it like a true man. He's a handful for anybody and there's absolutely nothing wrong with his style in my eyes, and I have always thought that, long before I came here.
"We are in the north and in the north we are maybe more confrontational that other parts of the country. Alan epitomised that today. That's part and parcel of the English game, and if Arsene's unhappy with that...."
"I'm delighted with the effort, delighted with the commitment, delighted for my players.
"In the first half, we were a bit nervy but we tried to be a little bit more direct because with Michael (Owen) in the team, we can be.
"We know Arsenal are a top-class football team. If you give them time and space, they will cut you to ribbons, as they have done on numerous occasions against top-class teams.
"We are without certain players and we felt that was the best way to go about our business today, and it's turned out that way.
"We had a stinking dressing room when I arrived. It was about to implode. Now people are not moping around feeling sorry for themselves.
"I believe we are in it together now. That has to happen at a successful club. I have a genuine group of lads who are together. It is generally accepted we have sorted the dressing room out, we now have a healthy one.
"We had some very disgruntled senior players who were not enjoying coming in to work every day. That is not the case any more.
"I am not saying they are delirious now because we are not winning every game - but we don't have the in-fighting and bickering that was going on before I came here.
"What problems were they? You would have to ask them. It is very easy for me to waffle on about that, speak to some of the players. The players we brought in were very good players. I believe this set of players can finish in the top six."
Alan Shearer said:
"We needed to get the crowd stirred up because they are our 12th man, so it was all about commitment, work-rate, endeavour, passion and tackles.
"You have to have diggers and fighters in your team. Every successful team has players like that. Everybody put in a shift and that's the way it should be, week in, week out.
"If you get stuck in, give it a go and don't give them time to settle, you've got half a chance.
"Bolton did that to them last week and we've done it to them again. I'm not saying that works every time but that's what you've got to do.
"If you play the passing game against them, nine times out of 10 they will beat you.

"We have still got a few first-team players out, but we can't keep talking about that.
"People are fed up of us talking about the injuries that we've got. The injury argument is not going to work anymore.

"You have to be physical. If you go out there and let yourself be pushed around and bullied, you won't get anywhere. You have to be physical because football is a physical game.
"I'm not aware of anyone, particularly in the midfield area or up front, who doesn't give a little bit. If you don't, you'll get pushed around and bullied. It's a big position for big boys.
"I wasn't aware that Arsene Wenger had been complaining about how physical I was. I don't mind that. I've never seen (Patrick) Vieira pulling out of challenges.
"Arsenal are a great side with great footballers in it. If you stand off them and let them play, they will beat you. But if you get stuck in, give it a go and don't give them time to settle, you've got half a chance.
"I'm not saying that works every time, but that's what you've got to do. If you play the passing game against them, nine times out of 10, they will beat you.
"We have still got a few first-team players out, but we can't keep talking about that. People are getting fed up of us talking about the amount of injuries that we have got.
"It is a fact, but people aren't going to listen when we are capable of putting in a performance like that. The injury argument is not going to work anymore.
"I thought it was great out there. Everybody put in a shift and that's the way it should be week-in, week-out. We have set a standard now. Hopefully, that can be a turning point and we can climb the table.
"That performance should help our confidence, there's no doubt about that."
Arsene Wenger said:
"Will I miss him? I don't even know him. He has never been my player so I have no comment to make on that.
"(Alan) Shearer is an example of a man who, when the ball is in the air, goes for the man first. We have to decide: do we want football or to make it into a judo party?
"I have nothing against physical football but I found Newcastle's approach difficult to accept. I am talking about the intention when they go for the ball.
"There is now a belief in the game that if you go physical with Arsenal you can win because the referees let you do it. I feel that many teams now go overboard and don't let us play football.
"We tried to play football and were punished for it. The intentions of the two teams were surprising considering we were down to ten men and they had 11.
"We must take this defeat on the chin but I wouldn't want to face this kind of game all year. Some people say they enjoy it but I don't.
"If Gilberto Silva was sent off, I need to re-adjust my eyes. How many fouls were made without any intention to play the ball today without being punished? And Gilberto gets sent off for a second yellow card.

"Shearer got one cosmetic one (booking) in the 90th minute because the game was over.

"I do not want to go overboard on Alan Shearer, I just think he has an influence on the referee and gets away with more than other people.

"He is an example of a guy when the ball is in the air, he goes first for the man and then for the ball, today more than ever, and he gets away with a lot.

"I don't understand, clearly, any more when you play a ball in the air whether it is a foul or not. I would like it to be explained, then we can work properly in training and at least we can say, 'Listen, you can jump first at the man and then if you can, you play for the ball and then we get away with it and then it's okay'.
Gunners on Tyneside - Premiership

:

2005/06: Won 1-0 Solano
2004/05: Lost 0-1 No scorer
2003/04: Drew 0-0 No scorer
2002/03: Drew 1-1 Robert
2001/02: Drew 1-1 Robert
(FAC)

2001/02: Lost 0-2 No scorer
2000/01: Drew 0-0 No scorer
1999/00: Won 4-2 Speed 2, Shearer, Griffin
1998/99: Drew 1-1 Hamann
1997/98: Lost 0-1 no scorer
1996/97: Lost 1-2 Shearer
1995/96: Won 2-0 Ginola, Ferdinand
1994/95: Won 1-0 Beardsley
1993/94: Won 2-0 Cole, Beardsley
The three points made it 750 Premiership points in our 480th game (W207 D129 L144).

454 minutes had elapsed since our last goal from open play - Emre versus Birmingham City, when Nobby Solano scored the first goal of his second spell at the club - two days before his 31st birthday.

His last goal for the club came in a Champions League qualifier Belgrade back in August 2003; his last Premiership goal for us was the winner from the penalty spot on wearside in April 2003 and his last success at SJP was against Villa, also in April 2003.

A century of first team starts for Shola Ameobi in all competitions (67 in the league, plus 85 as sub in all competitions and 33 goals).

Waffle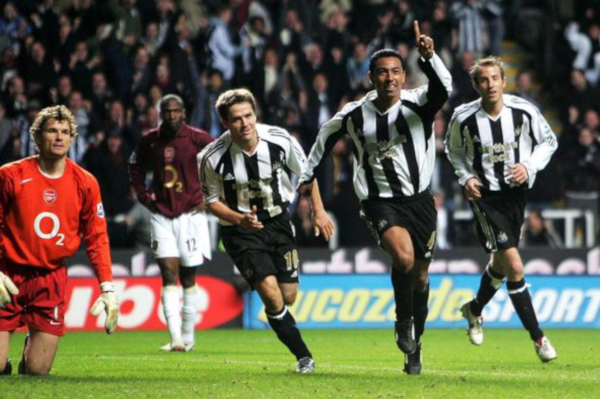 For the second successive Saturday, Newcastle fans raised their voices as they exited SJP after the final whistle. This week though songs of praise rang out - in stark contrast to the post-Villa laments of discontent.

For 45 minutes there wasn't a great deal to admire, save for Given's spring stop to foil Henry and Arsenal's slick inter-passing that threatened to carve us up, but lacked an end product.

That's not to say that there wasn't a slip up or three from the central defensive duo labelled the Chuckle Brothers by one writer this week - but we weren't punished, either by the opposition or officialdom (despite Bramble reprising his penalty-conceding decision and also risking censure afterr an apparently accidental handball in the box).

We were anonymous in attack, missing in action down the right flank and again and again drawn into the trap of resorting to aimless long balls from defence as a response to a lack of movement in midfield.

It was quiet in the stands for much of the half, but there was enough pressure and needle for that restlessness to seep through to the players - witness Ameobi's arms out gesture aimed at the East Stand early on, when mass grumbling broke out over his failure to chase for a loose ball.

But unlike last season's game here and this season's Highbury season-opener, we made it through to the interval without losing a goal or a player.

That was enough to see United warmly clapped off by home fans, although the two ex-players got a better hand during the break.

Whatever words were said in the dressing room had a rather more galvanising effect than the second-half sleepwalking that saw us punished immediately after the restart at both Chelsea and Everton.

The crucial elements of effort and good fortune were to show to good effect, as we upped the work rate from the off and the crowd quickly picked up the scent that something was happening - unlike last week's snoozeathon against Villa.

An increasingly tetchy and cantankerous affair stirred people into voice and efforts just wide from Parker and Shearer cranked up the volume again, before Gilberto's premature departure raised the temperature still further.

It looked at one stage though as if the red card would have a detrimental effect on our chances of getting the longed-for win, as the visitors seem to renew their efforts to press on towards the Gallowgate goal.

Parker's effort was a dipping lob that would have unleashed pandemonium had it hit the back of the net, but within seconds had a tooth loosened as he was knocked to the ground and after lengthy treatment, remarkably got back to his feet and continued, clutching cotton wool, with the same high level of commitment.
His evening came to an end when, after scrambling on his hands and knees to win the ball from Kolo Toure the Arsenal man delivered the final knockout blow to Parker who waved his cotton wool to the bench before collapsing in a dazed heap.
It looked at one stage as if he would be carried off face first on a stretcher (or shield, metaphorically speaking) but Parker got to his feet to shuffle off as the crowd chanted his name.

Not far behind in the effort stakes were Ramage (impressive again - Stephen Carr, be worried) and for the second time in a week, Faye.

And in the middle of it all, the last gunslinger - Shearer.

Whether it was the return of Owen, the benefits of more post-hernia fitness work - or the fact that like the crowd, he just doesn't like this bunch of whingers, wailers and pretty boy thugs - the number nine was up for this today in no uncertain terms.
The presence of the man is the key. That's what Arsenal couldn't cope with and Wenger moaned about and that's what we simply don't have when he's not there. No other club seems to have an equivalent either though - our number nine seems to be the last of the breed.

With the clock ticking on, the roars of the crowd became less sporadic, but we still seemed to be building up a head of steam and with eight minutes left, the place came to the boil nicely as a little Peruvian popped up and made it all worthwhile.

"He did nowt else" was one post-match comment. But.... one chance, one goal, innumerable glasses raised afterwards. Job done.

We may dream of playing flowing football, but the big problem with seems to be that our artistic players aren't robust enough to stay on the field long enough to beautiful game.

Instead we managed to implement a plan B that ultimately bore fruit. It's a world away from the heady days of Lee, Ginola et al when we actually faced teams like this on a level playing field - and beat them at football, not wrestling. To see us humping the ball forward continually isn't a pretty sight - regardless of how much the little laddie scuttling forward in search of it cost us.

However unlike our recent failed attempts to carve out victories we prevailed today, thanks to what Shearer correctly described as our "commitment, work-rate, endeavour, passion and tackles".

All of those qualities were exhibited by Souness as a player and doubtless he approved when the team showed them today. It remains to be seen though whether the number nine can inspire his troops to great things once he swaps the forward line for the touchline. Maybe he won't even try?

Anyway putting aside stylistic concerns, there's simply nothing better than sending suave sophisticates back to the home counties, simpering all the way about cold beer and warm receptions "aap norf in noocarsel". They should never get an easy ride here - on or off the pitch.
The scoreline, intensity of atmosphere and feel-good factor today all echoed the two FA Cup ties last season when Chelsea and Spurs were beaten here. For that alone it was worth being here.
Great days all - and gratefully accepted and celebrated by a crowd so used to disappointment that they're ready to accept mediocrity in return for positive results.

There's no disgrace in that and I'm proud to be called part of that crowd.... but when the warm glow from this win recedes, there wasn't a great deal of craft on show for our outlay.

A result to be celebrated, but a performance to be largely glossed over, save for the enviable level of effort and commitment. Had we been professional enough at Wigan then the man who led the line today might still be dreaming of a final date in Cardiff.
Biffa
Our pre-match comments:
They CAN be beaten
Yes it's time for another bit of NUFC.com sabre-rattling ahead of our home game against Arsenal.

Amidst all the doom and gloom pervading Tyneside at present, we're desperately trying to be upbeat.

No wins in six attempts to beat Wenger's team here and only two goals in that time doesn't bode well, but we meet a Gunners side with a worse away record than us in the league this season.

A win at Wigan and draws at Spurs and West Ham have been their only positive results on the road so far, while they've been beaten at Chelsea, Middlesbrough, West Brom and Bolton - four sets of home fans that can barely muster a cheer between them.

Regardless of the merits or otherwise of the manager or players, a lot of people will pay a lot of money to be present at St.James' on Saturday - it defies logic that they can get value or enjoyment by not helping or even hoping that their side wins the match.

Try supporting the lads - you might like it.

Arsenal have their own injury worries and looked nervous at the back when beaten by a Bolton side last week who were able to defend from the first man and take their chances.

We simply have to do the same - there are no excuses for a lack of commitment to the cause, either on or off the pitch.

There's unfinished business with this lot from the first day of the season. Time to restore some pride and honour methinks.

And if it all goes t*ts up, remember that the game is going out live across the planet - don't help the Sky vultures by giving them easy negative stories to make the club even more of a laughing stock. Please.