Date: Saturday 17th December 2005, 3.30pm (kickoff was delayed by 30 minutes due to a road accident on the A13)

Venue: Boleyn Ground

Conditions: dry, mild, squashed

Admission: £37 (last year n/a)
£3 programme





West Ham United

Newcastle United

2 - 4

Teams
5 mins: Shearer exhanged passes with Michael Owen and the United number 10 left Repka standing to net with a close-range shot that Carroll got a hand to but couldn't keep out. 1-0
20 mins: A cross hammered hard and low across our six yard box by Harewood ended up in the back of Given's goal, as Bramble's attempt at a clearance hammered off Solano and in. Had it not hit him though, the lurking Etherington would have been well-placed to convert 1-1
43 mins: Solano made amends by flighting a free kick into the home area from the left flank, Michael Owen jumping to divert the ball home. Replays confirmed that the ball came off his shoulder, which changed the flight of it and left Carroll flat-footed. 2-1
Half time: West Ham 1 Newcastle 2
46 mins: Solano again was the provider, this time Owen feeding the ball across the box to where Alan Shearer was waiting to convert what was the goal of the game. 3-1
78 mins: After Shola Ameobi raised his hand to connect with Konchesky's free kick into the Newcastle box, Marlon Harewood blasted home the resultant penalty. 3-2
90 mins: Having placed his header from Bowyer's cross into Carroll's arms, Michael Owen got one more chance to claim his hat trick and could hardly miss. The West Ham 'keeper had gone up for a corner and stayed forward, being marooned as Shearer led the counter-attack and Faye played in Owen to shoot into the empty net in front of the away support. 4-2


Full time: West Ham 2 Newcastle 4
Graeme Souness said:
"We are delighted to have Michael Owen at Newcastle. He is a proven goalscorer at every level. We feel that once we get everybody fit we'll create even more openings for him.

"'We've missed Michael when he's not been in our team through injury. He was the difference today along with Alan Shearer - who is still a very big player for our team.

"'We felt the two of them today could get at West Ham's back four and score goals and that's how it turned out. It wasn't a silky passing game because we are missing a lot of our players. We are just delighted with the three points.

"'West Ham are a handful at home and they tried to get after us. We shot ourselves in the foot by giving them a penalty and allowing them back into the game.

"'It should have been an easy 20 minutes for us but at times we were holding on. Strikers make the difference on the day and that's why Michael is valued the way he is.

"'He's scored seven goals for us now and goals win and change games.

"I am annoyed with Scott (Parker) because he got himself booked unnecessarily. He raced out of our back four and launched himself into a challenge. He misses the game at Liverpool now and that is a blow for us.

Alan Shearer commented:
The partnership is going well and if we can both stay fit then we will cause people problems. We both have great belief in our own ability and our games suit each other.
"With him in the team you know you always have a chance of getting goals and he showed that. We said before the game we needed to win to keep going after beating Arsenal.
"We've taken seven points from the last three games so things are looking good for us. I am one goal away now so hopefully I won't have to wait too much longer for it.
"The main thing was the three points. We said we needed to build on the win over Arsenal last weekend and we did just that."
"We had a little sticky patch but we've come through it with seven points from the last nine available so we're a lot happier than we were a couple of weeks ago."

Alan Pardew said:
"The injury (to Benayoun) is more worrying than the result. Yossi was terrific against Newcastle and caused them a lot of problems.

"Hopefully, Michael will be representing us in the World Cup next year and I will be cheering him when he scores goals like that, but not today. His pairing with Shearer is world class and it has cost us the game.

'As well as we've played we need to cut the mistakes out but on a positive note some of the performances we had were fantastic.

'It was another great game here at Upton Park but we are not going to let teams think they can have an easy win here.

'We'll fight right to the end and we are very disappointed in the dressing room because we honestly felt we could have got something out of the game, perhaps should have.

"If we had got the second goal to make it 2-1, I think we would have won today. We were in control almost from the start but kept shooting ourselves in the foot. I don't want to put too much criticism on my players because I thought they were terrific.

"Their whole appetite for the game and the way they went about it was first class. On another day it could have been a victory to us by two goals.

"There are very few partnerships in attack in the Premiership today. The old First Division and the early days of the Premiership was built on them.
"Nowadays systems have changed to try and combat that but as an out-and-out pairing they will take some beating.

Reacting to the Souness quote about his young defenders being scared of our strike duo:
"I think that's a terrible comment really. I don't agree with that at all. We made mistakes and they punished them. That will get the headlines and take some of the gloss of a solid performance for us.
"It wasn't a naive performance, we made a few mistakes and got punished for them by a world-class duo."
For only the second time, Newcastle scored twice in the first half of a Premiership away game under Graeme Souness. The first was at Ewood Park on Boxing Day last season.

50th Premiership match in charge for Graeme Souness - 16 wins, 16 draws, 18 defeats.

Hammers v Magpies - Premiership years:

2005/06 Won 4-2 Owen 3, Shearer
2002/03 Drew 2-2 Bellamy, Jenas
2001/02 Lost 0-3 No scorer
2000/01 Lost 0-1 No scorer
1999/00 Lost 1-2 Speed
1998/99 Lost 0-2 No scorer
1997/98 Won 1-0 Barnes
1996/97 Drew 0-0 No scorer
1995/96 Lost 0-2 No scorer
1994/95 Won 3-1 Lee, Mathie, OG
1993/94 Won 4-2 Cole, Lee 2, Mathie

Goal number 199 for Alan Shearer.

Titus Bramble's 100th senior start for the club (66th in the Premiership)

First hat trick for Michael Owen in a Newcastle shirt, now seven goals in eight games for him.

First away league treble since Mick Quinn's three in a 4-5 Division Two loss at Leicester in December 1990.

The last top-flight away hat trick came in the infamous 5-5 draw at QPR in 1984, when Chris Waddle claimed a treble. Our last treble in any senior game was in the UEFA Cup, Alan Shearer netting three in Tel Aviv in September 2004, against Hapoel Bnei Sakhnin.

Owen's trio was the first in a Premiership game for us since the five goal haul that Alan Shearer netted against Sheffield Wednesday at SJP in 1999 as we thumped the Owls 8-0.

And it's almost four years to the day since we last scored four Premiership goals on the road - December 2001 in a 4-3 win at Leeds. Other four-timers: West Ham 4-2, (1993/94), Derby 4-3 (1998/99) and Bolton 4-0 (2001/02).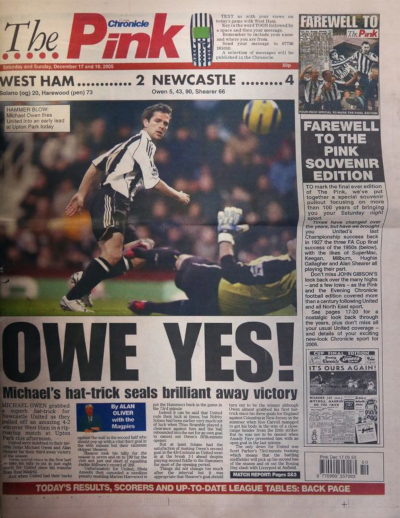 This was a memorable finale for the Evening Chronicle Football Pink, published for the last time.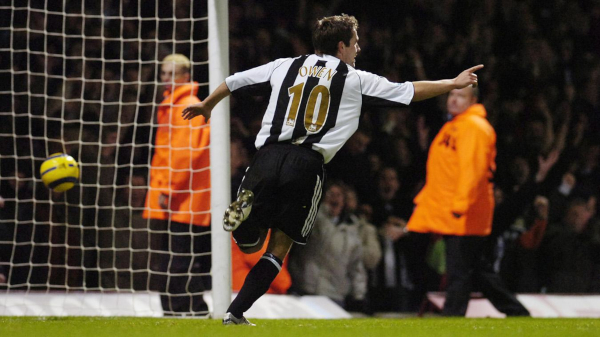 A second successive Premiership victory against Capital opposition, another one nearer for Shearer and a rare away hat trick - all things to be celebrated.

And for Graeme Souness there was the pleasure of reaching his half century of league games in charge of this madhouse - something that looked unlikely less than a month ago.

Thanks to Michael Owen (and that other bloke up front) he can even look forward for a change, rather than presiding over inquests....or leaving others to do so.

The received wisdom from this match appears to be that the Hammers well, hammered us and that we somehow eked out a victory against overwhelming odds - something that may be partly attributed to incorrect possession stats kicking around.

However that slightly one-eyed view conveniently ignores the fact that both home goals were seasonally gift-wrapped by our generous lads.

And by his recent standards, Given wasn't required to reproduce one of the face-saving displays that have been required of late - although he was as busy as ever.

Certainly in Israeli midfielder Yossi Benayoun, West Ham had a potential match winner and the player scouted last season by Souness caused us problems all afternoon with his close control and willingness to run at defenders.

Perhaps Emre - the man we opted to buy instead - may have had a similar effect had be been fit enough to feature.

His inclusion may have been beneficial in terms of the footballing content of our play, but those featuring played their part in keeping the opposition out by any means necessary - Boumsong playing on despite having one leg strapped up, with only the untried Gate on the bench as cover.
And despite Ameobi's slam-dunking silliness, he was as industrious and responsible as anyone for the rest of the game and seems to be happier in this latest attempt at handing him a wide role.
The departure of Benayoun and arrival of Bellion on the hour ultimately ended what chance the home side had of saving anything from this game, although there was of course the odd nervous moment post-penalty.

However Aliadiere failed to live up to the "he's here, he's there...." billing from the PA man when he appeared as a sub and a fair few home fans didn't stick around to see Owen complete his hat trick - voting with one's feet that's called.

To be honest ,watching West Ham today was reminiscent of sitting through some of our recent performances, accentuating the positives while attempting to gloss over the all-too-evident shortcomings in defence (for Repka read Elliott, Zamora, Ameobi) and elsewhere.

And despite the brave words of Pardew, the fact he went out and signed a new striker just hours after this game tells its own story - as did the decision to push defender Collins forward to add a bit of muscle in the closing stages.

The difference was of course that we have Michael Owen.

We somehow retain the allure and ability to sign the likes of him (or at least make a stronger case than the other signature seekers) while the likes of West Ham and Wigan have to rely on spotting potential overseas or in the lower leagues.

Just as much of what was good about us is that lad finding the net, the fact that we have so far been unable to keep Owen on the field accounts for much of our woes to date. We've lost one and drawn one of the eight Premiership games he's featured in, but won only one of the nine when he wasn't playing - and we drew a blank in seven of those nine.
Pardew's side as much as they were at St.James' in August - eager, enthusiastic, ever so slightly workmanlike - all enviable qualities in this league and ones we've crucially lacked at time so far in this campaign,

We by contrast are radically different: Solano restored, Shearer interested again with a genuine partner up front and Parker not attempting to fill the whole of our midfield single-handedly, now that Faye has tuned himself in.

At the back though the situation remains much as it was, with Babayaro and Taylor the most sorely missed of all our casualties, never mind what the Carr, Emre, Luque and Kieron camps might think.
Another little bit of payback for the long-suffering travelling fans then, as we at least head into the festive programme with renewed confidence and a proven match winner.

It may just be a case of enjoying it while we can though, ahead of the trips to Anfield or White Hart Lane - where choruses of Jingle Bells may well be in short supply.

If we're to come home with anything then we'll need to keep the front pair supplied with ammo, while trying to patch up the defence with whatever comes to hand. As ever, anything can happen.

Happy Christmas - a lot of people seem to be getting presents with a St.Michael label this year.....
Biffa

Reports