Date: Monday 26th December 2005, 3.00pm
Live on SKY PPV

Venue: Anfield

Conditions: Mild.... and bitter

Admission: £32 (last season £30)

Programme: £3





Liverpool

Newcastle United

2 - 0

Teams
14mins: Luis Garcia played the ball in from the right and Peter Crouch touched it into the path of the on-running Steven Gerrard. The Liverpool skipper took the ball into the box unchallenged and lifted the ball over Shay Given into the top corner at then Anfield Road end of the ground. 0-1

43mins: Harry Kewell crossed the ball from the left and Peter Crouch met it with a firm downward header. Given looked to have saved it but the ball hit the post and squirmed along the line and after brushing off the keeper just crossed the line. The linesman signalled a goal despite being unsighted and must have thanked his lucky stars when he saw the TV replays.

From the away section it looked a decidedly dubious decision, but the goalkeeper later confirmed that his failure to protest was due to the fact that he'd seen it clearly cross the line from his prone position. 0-2

Half time: Liverpool 2 Newcastle 0



Full time: Liverpool 2 Newcastle 0

Graeme Souness commented on the red card:

"I am not ducking the issue because I have not really seen everything that went on, but I am being told by others who have seen it that there should have been more than one red card in that incident.

"My only thought is that when you raise both your feet off the ground these days in a tackle, then you are facing trouble.

"I think, especially away from home, when you lift your feet and launch yourself at someone you are risking everything. That's the game today. Especially away from home.

"I don't think that Bowyer was the only one who should have had a red card. I am not referring to anyone, I did not see it clearly. But some of the guys sitting near me on the touchline who did see it felt that there should maybe have been another seeing the red card.

"But that has not affected the outcome. I've not seen it, I know people will say it was only a few yards away but when you're looking at other things in the game it's not always easy.

"I wasn't too aware of any crowd reaction to Michael, but if you went out on the street you will know that Liverpool supporters love Michael Owen.

"In the first half Liverpool were magnificent and we were poor. They had outstanding performances in the centre of midfield and they dominated.

"Our game plan didn't work and we were hoping, just maybe, that they would have a reaction to all the travelling they'd done to Japan and back. But it didn't happen. We were over-run in the first half and 2-0 at half time certainly didn't flatter them."

Alan Shearer said:

"It was a bad day at the office and we got what we deserved. Right from the first minute Liverpool were a lot better than us.

"They were quicker, brighter and sharper and the 2-0 scoreline flattered us in the end, and while we did not give up we know it could have been or one two more, but we have no complaints and we cannot say anything different to that.

"So as much as it hurts you have to come off a football field and sometimes say the opposition were better than us and that was the case this time. You just have to be big enough to admit it and say it.

"I thought I had scored in the second half as my shot was going in but it hit Jean Alain Boumsong. That and the sending-off capped a miserable day for us."

Rafael Benitez commented:

"I was happy to see Xabi Alonso walking properly after that tackle (by Lee Bowyer). I didn't really see it because I was planning to change a player at the time.

"I didn't think what (Peter) Crouch did was really important. For me what is important is to stop dangerous tackles.

"I didn't take him off to protect him, it was just to give him a rest. He is not the sort of player to get involved in things.

"I have also seen the TV pictures of his goal, I think it is his and not an own goal, he had the ball, tried to score and it went in.



Steven Gerrard on Owen's mixed reception:

"I am disappointed with that, he should be a legend here for all the goals he has scored for Liverpool in the past.

"He got a mixed reception, which is disappointing. I do not think they were booing him much but he deserves a standing ovation for the goals he has scored."


It's now 12 unsuccessful visits to Anfield for Newcastle in all competitions since we last won here:

2005/06: Lost 0-2 No scorer (Bowyer sent off)
2004/05: Lost 1-3 Kluivert (Bowyer sent off)
2003/04: Drew 1-1 Ameobi
2003/04: Lost 1-2 Robert (FAC)
2002/03: Drew 2-2 Speed, Shearer
2001/02: Lost 0-3 No scorer
2000/01: Lost 0-3 No scorer
1999/00: Lost 1-2 Shearer
1998/99: Lost 2-4 Solano, Andersson (Hamann sent off)
1997/98: Lost 0-1 No scorer
1996/97: Lost 3-4 Gillespie, Asprilla, Barton
1995/96: Lost 3-4 Ferdinand, Ginola, Asprilla
1995/96: Won 1-0 Watson (LC)

The 2005/06 season continues to be the one when the M62 became the Road to Hell, with a miserable sequence of results and goal free displays on our visits to the North West of England (Ewood aside):

Bolton (a) lost 0-2
Blackburn (a) won 3-0!
Wigan (a) lost 0-1
Everton (a) lost 0-1
Wigan (a) lost 0-1 (League Cup)
Liverpool (a) lost 0-2

(Man City and Man United still to come...)

Michael Owen failed to add to his tally of eight goals in his eighth Liverpool v Newcastle match at Anfield and first on the away side. And his Reds record on Tyneside remains superior to his Toon one (six in four appearances for Liverpool compared to one in four as a Magpie.)

NB: If that sounds like nonsense, remember that Owen's last Liverpool appearance on Tyneside came exactly six years ago today, when he scored twice in a 2-2 draw on Boxing Day 1999.

He was then unavailable for the next four visits by the Reds to SJP.


Waffle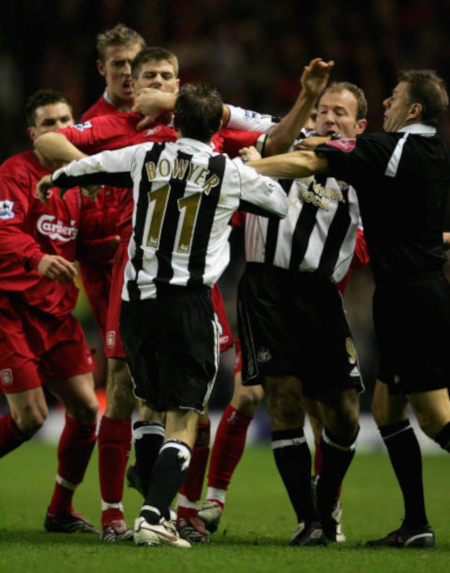 Christmas telly is always crap.

Whether warmed-up David Jason leftovers, skulduggery in Walford / Weatherfield or hearing that it's been another difficult year for the Commonwealth, it's entirely predictable.

And nothing ever changes here, with Groundhog Day showing on the Car-Toon channel as usual - although young Michael could have been excused for wishing it had been Trading Places instead.
Pre-match hype had centred on Owen's Anfield return and Shearer's record-breaking bid - but in the event neither were able to exert any influence on the outcome, as we found ourselves on the Premiership's hard shoulder again, peering beneath the bonnet in a vain attempt to fix things.

Souness may have failed to support Lee Bowyer for the tackle that saw him walk, but the errant midfielder once again allowed our manager to get away scot-free from another questionable team selection.

For the umpteenth time this season, an incident diverted attention from our mediocrity, but in our heart of hearts (and West Ham waffle) we'd written this one off well before setting off from Tyneside.

We won our last away game, yet made five changes to the starting lineup for this one.

Flu epidemic? No, in the name of yuletide squad rotation, we changed half the outfield side.

Admittedly Elliott was a danger to himself and Parker's suspension required a reshuffle, but seeing Bowyer reprise his vaguely forward probing, vaguely wide Stamford Bridge role was just a waste. And that was before his early bath, which looked to have its roots in an earlier lunge at former Leeds colleague Kewell.

Ameobi appeared to have been penalised for his inexplicable handball at West Ham, despite an otherwise reasonable little run in wide left. His replacement was Luque, who howked the ball upfield on a couple of occasions early on but soon faded and spent more time cuddling his countrymen on the home team than tackling them.

The papers are link us with a deal involving Thomas Gravesen - but to be honest I'd take Thomas the Tank Engine in part-exchange.
And what of Bramble? Despite Boumsong appearing again with a heavily strapped leg, he found himself on the bench when the game got underway. But with not even half an hour gone, he was then expected to come on and slot in to an under-pressure defence,

That's with us one down, the Kop ironically serenading him and in the full knowledge that his manager has so little confidence in him that he preferred to gamble on a teenager's iffy shoulder and a Frenchman's gammy leg.

That's not ill-fortune, that's ludicrous risk-taking.

By the way, that's fifth time "unlucky" for us this season when we've tried to hurry along injured players back into the fold.

As well as Taylor's accelerated return we've endured the 23 minutes from Emre and 38 from Dyer against Man United. And then there was Moore's 45 reserve minutes at Brum and Dyer's 19 minute Hawthorns cameo before both disappeared from view again.

And our answer to all of this? To have Nobby warming up on the field at the break before the teams had even got down the tunnel. Stable doors, horses. Points.

The only conclusion we can draw from all of this (and the appearance of Aunt Sally Alan Murray in front of the cameras again) is that we'd written this game off, after getting some unexpected away points last week.

So rather than try and build on our two successive (and deserved) wins, we seem to have just given in before we got off the team bus. That's certainly how we played and, if true, is a pretty shabby return for Freddy's millions isn't it?

There's little positive to write about that's Owen-related, save for two decent bits of defensive work and the fact he didn't walk off the field wearing a swapped red shirt.

His general lack of involvement and an absence of any service meant that we're yet to know whether he's really peed off the locals. By scoring for instance.

And with nothing tangible from the £16m man, the bloke alongside him who cost a million less wasn't able to provide another inspirational performance. Politics and pride probably dictated that he couldn't be dropped for this game, but in retrospect he could have done without this 90 minutes.

Merseyside has never been a happy place for Alan Shearer during his Newcastle career, since he had a goal chalked off on his Premiership debut for us at Goodison in 1996 and crippled himself at the same location the following year.

And while he's scored twice on this side of Stanley Park in a black and white shirt, the nearest he came on his final league appearance was to see Boumsong divert one effort wide. What a shame that we weren't able to set up any supply lines into the box for Shearer - especially given the reluctance of the match officials to penalise Crouch at the other for his illegal aerial challenges...

Souness has spoken about only ever being two matches away from a crisis at this club - well after this, he's halfway there. A failure to beat Charlton at home on Wednesday will see the pressure cranked up on him ahead of what looks like being a long, difficult trek to Tottenham on the last day of 2005.

Regardless of how we fare against the Addicks though, today was another harsh reminder of how we have fallen away from the pack of clubs who trail in the wake of Chelsea and cannot face the likes of Liverpool on a level footing as we once did.

That's not to over-praise Rafa's lads, who shouldn't confuse their ability to smother us on their own ground annually with actually being more than a reasonably competent side.
While the third generation of hangers-on gets back into their charabancs to dream of further European adventures, they might do well to reflect on Liverpool's failure to take advantage of our ineptness and eventual numerical inequality by banging in the third, fourth and fifth that should surely have followed.

It hardly needs us to point out the fact that they lack a genuine goal poacher, even though one was on the pitch today....in our colours - a fact that may have been noted elsewhere.

Crouch probably has more chance of playing here for us in a Premiership game than Owen does of repeating this purgatory in front of the Kop.

The England striker certainly had plenty of time in this game to reflect on the sequence of events that saw him in the away dressing room at Anfield, as his manager and team mates proved incapable of giving him anything to work with, while his old side strolled around and wasted pass after pass, shot after shot.

It never seems to be a Wonderful Life for those supporting the black and whites does it?
Biffa

Reports