NUFC.com
in association
with GNER

Date: Saturday 31st December 2005, 1.00pm

Venue:

White Hart Lane



Conditions: Sombre

Admission £43 upper (last season £40)
Programme £3 (last season £3)





Tottenham Hotspur

Newcastle United

2 - 0

Teams
43mins: Titus Bramble's unforced error allowed Teemu Tainio to shoot low and true past Shay Given from the corner of the United box at the end of WHL where the toon fans were. 0-1
Half time: Spurs 1 Newcastle 0

66mins: Comedy defending again cost Newcastle dear, as Celestine Babayaro cleared the ball across his box only for Robbie Keane to collect it and cross from the left to Mido, who was being loosely marshalled by Jean-Alain Boumsong.

The Egyptian striker (who once claimed Newcastle were trying to sign him) struck his first-time effort into the ground as but it bounced up and into the net perfectly. 0-2
Full time: Spurs 2 Newcastle 0
Graeme Souness said:

"We conceded two goals due to individuals not doing their jobs properly.
"It's something we can work on, but you've got to be confident out there to take the responsibility when it comes your way. We didn't deal with that very well.
"It doesn't take its toll on me. I've been in the game a long time. There's a lot worse things that happen out there off the pitch. But obviously it's a dark day for us, given what's happened to Michael.
"Even when you're not playing particularly well, you feel that you can win games with Michael in your team. I can't tell you how big a miss he will be. It's an absolute disaster for him and for us.
"Do I have money to spend? I don't know - ask the Chairman."

On Michael Owen:
"It's a mighty blow. It's an absolute disaster for him and an absolute disaster for the club. It's a dark day for us."

England boss Sven Adult Books on Owen:
"Obviously I'm very disappointed for Michael. It's very bad luck for him and for Newcastle United.
"Michael is a fantastic striker and a very important player for his club and for England.
"I hope that he returns to fitness as soon as possible and I will follow his progress very closely."
Alan Murray wittered:

"We've not had anywhere near our full-strength team out on the pitch all season.
"We've had three or four first-choice players unavailable and you can't try and get into Europe or the Champions League without having your best players on the pitch."

Steve Harper:

"This place is cursed. Lee Clark and I were sitting there on the bench at White Hart Lane and we've both seen a lot at this club.
"There's a curse on this club and, if anyone can lift it, then feel free. With the luck we've had, we're just getting other people back from injury and then we've lost Michael to a bad one."

Martin Jol commented:

"Hopefully we will (hang on to fourth spot) but then hopefully Chelsea will drop a lot of points and we can catch them too!
"Seriously, our main purpose this weekend was to make the gap bigger on Newcastle, who are now 12 points behind, and Manchester City, who are nine points behind, while Bolton are also very consistent and strong.
"We've had some results which were very encouraging but others when I thought we were not yet there. And we're still not there yet.
"If the young players continue to step up, like Jermaine Jenas has done, we could finish in the first four or five.
"But if they don't, we could have a bit of a problem as Aaron Lennon and Wayne Routledge are my only wide players on the right. We will have our disappointments and that happened against West Brom over Christmas.
"We are at least stronger now because we have Edgar Davids and Teemu Tainio. Paul Stalteri is also a very steady player and that's another difference to last season.
"Last year, our home record was just as good but we've had a few results away from home and look mentally stronger as we've come back from going behind a few times.
"It wasn't easy against Newcastle as Ledley (King) is a very important part of my team and he was missing again. You think it could be a problem but we looked fine without him and that's very positive.
"Robbie Keane would be too expensive for a Scottish club! Jokes aside, he is just as important for us as Mido and Jermain Defoe. They are all important to us."
Toon @ The Lane - Premiership:
2005/06: Lost 0-2 No scorer
2004/05 Lost 0-1 No scorer
2003/04: Lost 0-1 No scorer
2002/03: Won 1-0 Jenas
2001/02: Won 3-1 Acuna, Shearer, Bellamy
2000/01: Lost 2-4 Solano, Dyer
1999/00: Lost 1-3 Solano
1998/99: Lost 0-2 No scorer
1997/98: Lost 0-2 No scorer
1996/97: Won 2-1 Ferdinand 2
1995/96: Drew 1-1 Ginola
1994/95: Lost 2-4 Fox 2
1993/94: Won 2-1 Beardsley 2

We've failed to win any of the seven games Albert Luque has figured in - he has now played 394 minutes for us and we are yet to score a single goal while he has been on the pitch.

Waffle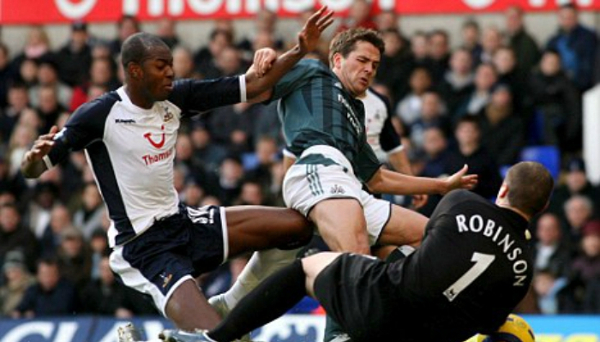 Strikes in each half from Tainio and Mido saw the hosts deservedly collect maximum points against a passionless Newcastle to end 2005 on a low note.

However, the scoreline and the manner of the defeat was overshadowed by the loss of striker Michael Owen with a broken metatarsal in his right foot.

The England man came into contact with Spurs 'keeper Paul Robinson and defender Anthony Gardner seconds before the half-time break and failed to reappear after the interval.

Initial indications are that he will miss the bulk of our remaining games this season, with estimates of anything between two and four months on the sidelines.

And on a day when nothing went right for us, Peter Ramage, Nobby Solano and Shay Given als joined the injury list, while unforced errors from Bramble and Babayaro handed Spurs their goals.

We even spurned the chance of a late consolation when Shola Ameobi unbelievably spooned over the crossbar from point-blank range.

To rub things in still further, former Magpie Jermaine Jenas (who was booed by the travelling contingent) had a decent game and played his part in securing the victory for Martin Jol's side.

That's the same Jermaine Jenas who scored our last goal on this ground - since when we've endured three successive blanks in front of goal; a situation we didn't look like rectifying before or after Owen limped off.

Quite simply we rolled over yet again and were a beaten side from the moment that Given conceded the first goal.

And so our last act in a miserable 2005 was to send weary Toon fans home empty-handed once again. This time the long journey back was from London, but the feelings were the same as those on the return from Lisbon and Cardiff.

The away fans could barely even raise themselves to provide decent backing to the team - sitting instead in a depressed silence, pummelled into submission by the sheer awfulness of the tripe we dare to call football.

There's just nothing there - nothing to feed off, no hope that things will improve, nothing. Only more injuries to prolong Souness's plea to judge his side when it's fully fit - a scenario that is as likely as the Stadium of Plight hosting Premiership football next season.

But it's no longer enough to simply blame the on-field demise of this club on the injury situation. There are more fundamental issues to be addressed in the areas of team selection, scouting, transfer policy and tactics.

At present we give the impression of not being up to scratch in any of those departments, with the consequence that we are regularly out-thought, out-fought and outplayed by mediocre opposition.

And now that the £16m get out of jail card cannot be played, there's no hiding place for Graeme Souness and his staff.

We hope for better in 2006 - but fear worse to follow. In a word, shameful.
Biffa

Reports