Date: Saturday 2nd January 2006, 3.00pm

Venue: St. James' Park

Conditions: Bewildering





Newcastle United

Middlesbrough

2 - 2

Teams
27 mins Chris Riggott's foul on Shola Ameobi led to a free kick in a central position outside the box. Although Alan Shearer was in the vicinity and doubtless itching to try and equal Jackie Milburn's double century it was Nobby Solano who stepped up to curl a cracker into the top corner of the Gallowgate net. 1-0
Half time: Newcastle 1 Middlesbrough 0
54 mins Our regular lapse in concentration saw Yakubu level when Morrison fired over a low cross that the Nigerian easily converted, Titus Bramble charging upfield only to lose possession cheaply. TV replays showed Celestine Babayaro idling back from the halfway line as Boro broke. 1-1.

87 mins Substitute striker Hasselbaink, the man dubbed "Fat Eddie Murphy" by Toon fans (and linked with a move to United in the press) raced away on to Viduka's pass and left Boumsong behind before beating Given. 1-2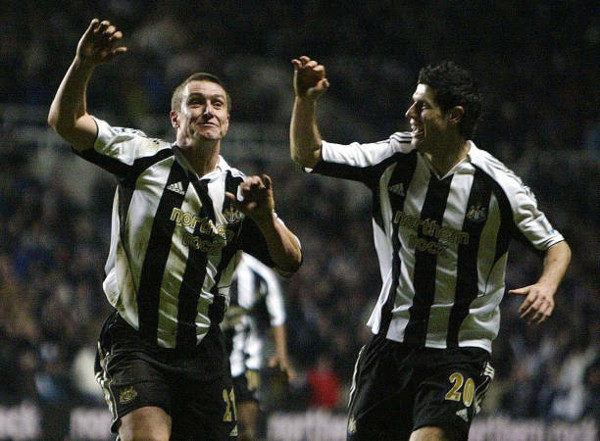 90+3 mins Lee Clark was on hand to shoot home when visiting 'keeper Mark Schwarzer punched a corner to him, even Given having come up for what was the final attack of the game 2-2
Full time: Newcastle 2 Middlesbrough 2
Graeme Souness commented:
"When you look at the six players we've got missing, any team in the country would miss them.
"They would make us a very different team. It would be easy to sit here and say things that would appear to be kidding our public. But I felt that as a manager I got everything from an honest bunch of players against Middlesbrough.
"We showed great togetherness and never-say-die spirit. It might not be slick passing football and creating lots of opportunities at the minute, but the players who played against Middlesbrough gave everything.
"The players missing are an enormous miss. Take six of Manchester United's, Arsenal's, Liverpool's or Chelsea's best players away and see what type of team they could put out.

"Robbie had a difficult first half and Shola felt pain in his hip. We'll have to see what is around the corner for Shola because he is complaining about his hip injury which he had last year and required an operation. Scott Parker was missing because he has nicked a cartilage.
"I thought we were the better team - the possession and the amount of chances we created will tell you that.
"Apart from a scramble in the first half Shay Given did not have a save to make. He was barely called into action apart from the two times he picked the ball out of the net.
"Middlesbrough are a team that are set up to play counter-attacking football. They mugged us twice. They have pace to hit you on the break. I thought we bossed it throughout.
"At the end of the day we spent a lot of money in the summer. We have been ravaged by injuries, we all know that. When you look at our bench it will tell you that. We are so short of numbers it is scary.
"We cannot afford any more injuries - we are in a big hole and we have to dig ourselves out of it. We need to get our players back as soon as possible.
"It is the chairman's football club and he is aware of the injury situation."
Steve McClaren said:
"We were disappointed with some decisions but we cannot blame the referee.

"It's a cruel game because we deserved better. But we are where we are and we will deal with it. When you look at it, it's very tight. There's only six points between us and eighth and you look at the players coming back.
"I said before Christmas that I predicted a better second half of the season than we have had in the first half in the league.
"We have to continue in Europe as we are, but in the league we will have a better second half. A couple of wins can send you well up.
"That has to be our target. We have the quality in this squad to climb the table.
"It was two points thrown away. We were 2-1 up - and I thought deservedly 2-1 up after the performance - and to lose two points like that, it's certainly testing us.
"But our team today showed fantastic character to play like that. It was a gritty performance against Manchester City, but we played great football at times yesterday.
"Even at 1-0 down at half-time, I thought we had enough chances in the first half.
"I said to the players 'If we keep going, we will get our rewards', and we did, but to have it snatched away from us at the end like that is very cruel.
"It looked like a blatant penalty to me. I thought that the goalkeeper had to pick the ball up, not the full-back."
Smog on the Tyne - Premiership:
2005/06: Drew 2-2 Solano, Clark
2004/05: Drew 0-0 No scorer
2003/04: Won 2-1 Bellamy, Shearer
2002/03: Won 2-0 Ameobi, S.Caldwell
2001/02: Won 3-0 Speed, Shearer, Bernard
2000/01: Lost 1-2 Cort
1999/00: Won 2-1 Shearer 2
1998/99: Drew 1-1 Shearer
1996/97: Won 3-1 Beardsley 2, Lee
1995/96: Won 1-0 Ferdinand
Lee Clark's late leveller extended Newcastle's unbeaten home record to seven matches and prevented a first Smoggy success at SJP since March 2001.

The 33 year-old celebrated his first PL strike since netting for Fulham against Villa in February 2005, the first goal of his second spell as a Magpie bridged a nine year gap. It was back in January 1997 that Clark scored at SJP in a 2-1 FA Cup win over Charlton - his last goal for Newcastle here, just hours after Kenny Dalglish took over from Kevin Keegan as our manager.

The following week came the last goal that the man once called "Jigsaw" (because he allegedly went to pieces in the box) netted in our colours, during a 2-2 draw at Southampton.

Waffle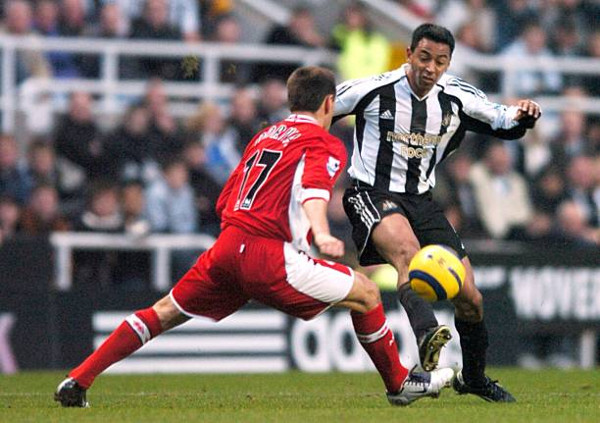 The Newcastle manager was right about one thing - this was a real battle.

Unfortunately for him it's not just a scrap for points on the pitch, it's also one for the hearts and minds of the supporters. And it's a contest that he seems fated to lose.

After a miserable end to 2005 for Souness, the New Year brought with it a recurrence of some painfully familiar problems - in defence and the treatment room.
The popular view after the Liverpool and Spurs capitulations and the Charlton cancellation made this a must-win game - and not because it was an alleged local derby.
Souness knew that he certainly dare not lose this one - a fact confirmed by the instant crowd reaction to what appeared to be the winning goal from Hasselbaink.

Another goal for the Dutchman against us signalled a mass desertion of home fans, amid a spontaneous chorus of "we want Souness out" - the first mention of him by the crowd in the whole game. An outsider watching this would have believed the episode had been choreographed,

But despite those who didn't flounce out failing to sustain the sacking calls, what proved to be a further six minutes was played in the most fearful of atmospheres.
Then came one final chance - a corner deep into added time and another knife-edge moment at the Leazes End to conjure up mixed emotions for at least some of those present.

Just as there were those prepared to sacrifice a point for the greater good as Gareth Barry ran up to take his penalty for Villa a month before, then there were doubtless those who didn't celebrate Clark's equaliser as fervently as they might.

But if Souness thought that goal had stopped the countdown to his departure, the fans were quick to remind him of the reality of the situation.

Within seconds of acclaiming that equaliser, the side were booed off the field and post-match confirmation of Ameobi and Parker joining Owen and the rest on the sick list hardly lifted the gloom on Tyneside. Happy New Year.

Of the game itself there's not that much to say.

We played with more heart than at Liverpool and Spurs, partly because we were at home and partly because we seemed to be putting more effort into it; but also because our opponents played with fear for the second successive year in this fixture.

It's a measure of the media's obsession with all things black and white and disinterest in the smoggies that Steve McLaren isn't being persecuted for his side's general inconsistency and in this game, complete lack of adventure.

And while the travelling fans were shouting and cheering, it was Chairman Steve Gibson whose name was being sung, not McLaren - and it was his team who were booed off after a home draw with Manchester City last week.

Things had started off reasonably well for us, with Ameobi on the left while Shearer and Luque were paired up front.

And it was the Spaniard who almost grabbed his first goal in England after six minutes, getting round Schwarzer only to see his shot hit the post and bounce away.

However we failed to build on that and were only galvanised into positive action when Viduka somehow shot over from point-blank range, Solano netting soon afterwards.

The second half though was notable only for the three goals and a Boumsong miss, as we were punished for our inability to establish a two-goal advantage.

A point ultimately then gave some solace but little satisfaction. The story of our season.

There's a sense that Souness feels he's in his last days here - and that there's a bunker mentality that has seen him retreat more and more from post-match TV appearances and make enemies in the press - a parallel with both Dalglish and Robson's latter days.

From the outside football seems to have moved on and there's no longer a place in the game for Souness or for that matter, Keegan. Maybe the Shankly blueprint is finally worn out.

As he says himself, the injuries would place an unbearable strain on any side, but it gives the lie to the notion that we have a competent squad to cover absences.

True, Souness went to Kingston Park this week, but it was to watch the Falcons rugby team, not Tommy Craig's reserve charges. Yet half of the second string in action have squad numbers and contracts - for what purpose? Why not just loan the rest of them out like Milner?

Going back to the injury problems though, these weren't all random acts.

There's certainly a large chunk of ill-fortune attached to those on the sick list, but enough self -inflicted blows to level charges of ineptitude or worse against those current running the show.

Bringing players back from injury too early, dubious acquisitions and a lack of interest in the club as a whole all tell the tale of a man under pressure for instant results.

Souness has been shown to be a short-term fix that failed to address the heart of the problem. Some of his mission has been accomplished - notably the rooting out of dressing room miscreants - but regardless of the how and why, the reality is that this job has defeated him.

We are more concerned with the teams below us than above, in what is a vital next half dozen league games and under his charge, there seems to be no end to the circle of under-achievement.

Something has to be done to break out of that, improve our league position and prospects and remove the indifference of many supporters to their team.
From our own perspective, this season (and the Souness era) has been difficult to stomach because of the lack of off-the-seat moments. Drudgery has led to despondency, the promised sweeteners like Emre or Dyer snatched away after tantalising glimpses of excitement.
Souness ultimately carries the can for that, if for no other reason than it defies logic for our investment in players to have given the fans (and the Shepherds) such a meagre return.

And having witnessed the likes of Murray, McDermott, Tunks and Saunders in action, surely there has to be more to be got from this squad in terms of motivation, organisation and coaching?

To see a Newcastle side in 2006 with five Geordies in it may satisfy the romantic notions of some.

But for two of those to be Elliott and Clark and for at least the latter to show greater passion, fight and professionalism than so-called big name acquisitions is the most damning indictment of all.

Biffa