Date: Saturday 7th January 2006, 3.00pm

Venue: St. James' Park

Conditions: Gloomy for the most part





Newcastle United

Mansfield Town

1 - 0

Teams
Half time: Newcastle 0 Mansfield 0

80 mins: The vital breakthrough came when Albert Luque back-heeled Nobby Solano's pass to Alan Shearer who found the bottom corner of the Gallowgate net with a thumping angled drive from six yards.

The double centurion raced away round the corner flag and halfway down the touchline in front of the Milburn Stand in familiar arm aloft pose, before being mobbed by his jubilant colleagues. 1-0
Full time: Newcastle 1 Mansfield 0
Graeme Souness commented:

"I though Mansfield were fantastic, worked extremely hard, and were a credit to themselves today.

"They played with a free spirit and had a real go. This was, for the vast majority of them, the biggest game of football they had ever played.

"They may never play in an arena like this or in front of 40,000 people again so they made the most of it. It was a very hard-fought game with not a lot in it.

"FA Cup third round is a very special time and at the start of the day we were determined not to become a shock and we were not a shock.

"Shay made two good saves down to his right. But the longer the game went on the more we pushed them back towards their own goal and I felt we were going to score.

"I was delighted for Alan to equal the record. I don't think it will really have sunk in what he has done yet as he is not a man bothered with individual honours.

"But it was a truly magnificent achievement and it is harder scoring goals in the modern game than it was when the record was set."
Shearer said:
"I'm immensely proud to be sat up there now alongside the great Jackie Milburn because it's a great achievement.
"I was brought here to score goals and thankfully that's what I've been doing for the last 10 years now but when I came here and signed no way in a million years did I think I'd be up there alongside Jackie Milburn.
"I am really pleased it was here at St James' Park and if I'd had a choice it would be here in front of the Gallowgate End where I used to stand as a kid and watch my heroes and that's how it worked out.
"When I was growing up all everybody talked about was how great Jackie Milburn was. It wouldn't bother me at all if I didn't score again because just to see my name alongside the great Jackie Milburn is a great honour for me.
"Thanks to the goal this will be an afternoon I will cherish for the rest of my life. It was fantastic. All my family was here which was important. It's my mum's 60th birthday tomorrow so she can have that one. They're always here watching the game and that just made it that much better.
"You might not believe me but the fact that it was the winner and that put us into the next round is probably more important than me equalling the record so I am a very happy man right now..
"When I scored I felt a mixture of joy and relief although that fact that I've equalled the record should not overshadow what was a great performance by Mansfield.
"It has been a tough time for us recently. No one is trying to hide that fact. We're not playing great, silky football but in the FA Cup it's all about getting through to the next round and we've done that.
"Now we've got another week to get a few more players off the treatment table and fit again and work on one or two things. You don't get anywhere without hard work.
"We're lacking a bit of quality and that's there for all to see but the longer the weeks and days go on we might get the ball players out again and start picking up the points to help us climb the table.
"I'm not sure what went through my mind when I scored the goal. It was mainly relief if I am honest both for the team and also for the record because it's been a couple of weeks now since I last scored.
"I was aware of it and the longer it goes on the more pressure is heaped upon you. I am used to that but it was just relief and excitement."
Stags boss Peter Shirtliff commented:

"We are a bit disappointed but I thought my players were excellent. It's nice to come here and we were absolutely made up when the draw was made and I think we've put on a good show.

"I think my young players will see that game as a benchmark for their careers. I thought we did very well in the first half and I told the players at half-time that if they could keep up that level of performance then you never know what might happen.

"But Newcastle upped the tempo and maybe we started tiring. It just shows you the difference with that bit of extra quality. The longer the second half went on Newcastle were getting wave after wave of attacks.

"But when you lose to a late goal like that and Mr Shearer pops up and scores we are a bit disappointed but not dejected.

"It is a fantastic stadium to come to and what more could you ask from the players who were magnificent all afternoon."

Alan Shearer's goal took Al to the magic 200 league and cup goals, equaling Jackie Milburn.

There was a first senior appearance for Alan O'Brien.
This was our 100th home FA Cup victory.

We last lost an FA Cup tie at home in season 1996/97 when Forest beat us 2-1. Since then we've won 14 and drawn 3:

Stevenage won 2-1 Shearer 2
Tranmere won 1-0 Shearer
Barnsley won 3-1 Ketsbaia, Speed, Batty
Crystal Palace won 2-1 Speed, Shearer
Bradford City won 3-0 Hamann, Shearer, Ketsbaia
Blackburn drew 0-0 No scorer
Everton won 4-1 Ketsbaia 2, Georgiadis, Shearer
Spurs won 6-1 Shearer 2, Speed, Dabizas, Ferguson, Dyer
Sheffield Utd won 4-1 Shearer, Dabizas, Ferguson, Gallacher
Aston Villa drew 1-1 Solano
Crystal Palace won 2-0 Shearer, Acuna
Man City won 1-0 Solano
Arsenal drew 1-1 Robert
Coventry won 3-1 Shearer, Ameobi, Babayaro
Chelsea won 1-0 Kluivert
Spurs won 1-0 Kluivert
Mansfield won 1-0 Shearer

Waffle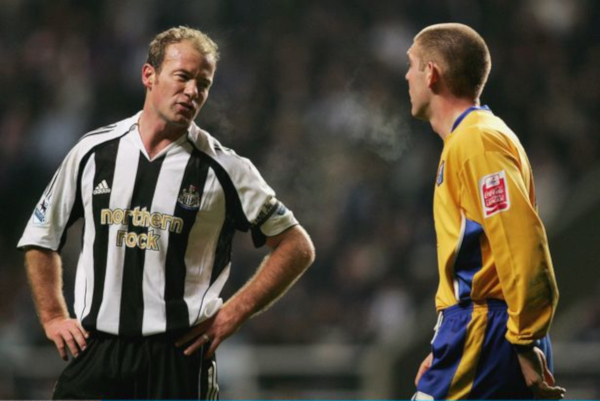 It's FA Cup day: cue high spirits, singing, painted faces, ticker tape welcomes, balloons and inflatable trophies.
Well that's the Mansfield fans dealt with - now onto what could be called the gloom army.

Neither really supporting nor abusing the Magpies during the game, 36,000 home fans dutifully appeared and ultimately went home knowing that they'd seen a piece of club history as a 49 year-old record was matched.

With the clock ticking down towards the final ten minutes things were decidedly less positive though, as the side down in 88th place looked like earning a replay against their Premiership opponents.

The usual bout of injuries had required Graeme Souness to plunder his reserves, with Martin Brittain making his first start for the club, Alan O'Brien a brief appearance to register a senior Magpies debut and even Michael Chopra given a chance.

Paired up front with Shearer, Luque wasted our best early chance when he seemed caught in two minds as he cut into area from the left and slashed his shot into the side netting.

And our makeshift midfield didn't have the most comfortable of afternoons, Clark and N'Zogbia holding the middle ground while Solano took up an unfamiliar left-sided position to allow Martin Brittain to appear in his usual right flank role.
With Carr returning to right back but looking rusty (not having had a reserve comeback game), the interval unsurprisingly saw Ramage warming up - although the change didn't take place until just before the hour.

Had the central defender on the bench not been filling in at right back though, Boumsong could easily have been withdrawn, such was his ponderousness against a pedestrian Stags attack who were without their quick lad up front. Mind-boggling.

Booed off at the break, things threatened to get worse afterwards with livewire ex-Toon youngster Adam Rundle forcing a decent stop from Shay Given.
Chopra's arrival saw Solano revert to a right wing role, while Luque went wide left and this change seemed to suit us, with at last an injection of pace from Chops to harry the Stags defence who had been previously unruffled.

This change seemed to suit us as we pushed the visitors further back towards their goal, but still were unable to put veteran Stags 'keeper Kevin Pressman under serious threat.
Shearer had an effort blocked after a neat Clark and Solano exchange and then Luque fired a free-kick narrowly over shortly after.
Chopra almost deflected N'Zogbia's cross past Pressman but a post came to his rescue and then a mix-up between Given and Ramage left Stephen Dawson a chance to find the unguarded goal from 35 yards. Thankfully he mis-kicked wildly.
Credit should be given to Mansfield for their attitude to the contest and their positive attempts to play football, which belied their lowly placing in League Two and were certainly an improvement on the robust approach of Grimsby earlier in the season.
At the end of it all we have a place in the Fourth Round, Mansfield have some revenue, Al has share in a record and Souness still has a job.

The manner of our victory was worrying in the extreme though - it's clear that we need bodies in to boost us, either from the treatment room or via the transfer window.

We had enough to get through this game, but the scorer's goal touch and the team's efforts won't be sufficient to make an impression in Premiership games. Alarm bells are ringing.

Rumours abound of Emre returning to the side next week. The manager will doubtless hope that's true, but the Turk has already paid the price this season of an early return to the team, when limping off against Manchester United.

Souness cannot afford to lose any more players, but it's debatable whether the club cannot afford to add more to the wage bill.

With the current injury and loan contingent all under contract and our desire to jettison Bowyer or whoever having to be balanced with the reality of the situation, we could be forced into loans or short-term contracts of the type that brought Michael Bridges here for an ill-starred stint.

That's what happens when you put all your eggs in one £16m basket (and a £10m one) - not a criticism of Owen's signing, just an observation. Cast your mind back to our 1997/98 season post-Shearer injury and post-Ferdinand sale. That's right, John Barnes and Ian Rush.

The manager may curse ill-luck, but something positive needs to be done quickly to the team if his door openers aren't to become his coffin makers.

We're a step nearer Wembley, but the manner of win means that the jury remains out, pending future calamities.

Be it Boa Morte, Bellamy or the Fourth Round trip to the minnows of Chester or Cheltenham, the pressure is still very much on, with potential land mines at every turn.
Biffa