Date: Saturday 14th January 2006, 3.00pm

Venue:

Craven Cottage



Conditions: resigned

Admission: £35 (last season £31)

Programme: £3





Fulham

Newcastle United

1 - 0

Teams
Half time: Fulham 0 Newcastle 0

75 mins: Niclas Jensen's goal-line clearance from Jean-Alain Boumsong set Fulham away on the counter-attack towards the Hammersmith End.

Brian McBride's pass released substitute Collins John down the left. His shot was parried by Shay Given, only for the loose ball to arrive in front of fellow replacement Steed Malbranque, who was able to knock it into the goal. 0-1
Full time:
Fulham 1 Newcastle 0
Graeme Souness said:

"He (Ian Pearce) admitted to my players that he handled it. We feel hard done to today. With the players we had available, we gave a good account of ourselves, especially in the second half.

"From the UEFA Cup quarter-final last season onwards, it's been one problem after another because of injuries.
"Titus Bramble went over on his ankle in training and Stephen Carr, having had a hernia and then damaged his stomach on the other side, is feeling a general aching in that area, which is also a concern.
"I thought the game was scrappy in the first half, but we found another gear in the second half and, overall, feel hard done to.

"A manager is there to get as much as possible out of the players he's working with. I think I'm doing that. I don't think I'm doing anything terribly wrong.
"I like to think of myself as someone who keeps going - and I will keep going. When in this job, you have to believe things will turn for you."
Chris Coleman commented:

"It was a terrible tackle (from Celestine Babayaro). It was nasty and over the top. Tomasz (Radzinski) has got four stud marks right down the front of his shin as evidence.

"For leg-breaking challenges, you should be sent off - especially at a time when some players are being sent off for breathing in the wrong direction.
"This was a massive result for us. I thought we dominated the opening 45 minutes and were unlucky to enter half-time level. They came at us immediately after the break and huffed an puffed at the end.
"But we held strong and it was a game where I always thought one goal would win it. Both our squads have taken a fair bit of damage in terms of injuries. It makes it difficult, and I feel sorry for Graeme.

"What's he going to do? The players he's got injured are not squad players - they are first XI."

It's now 270 minutes since Newcastle last scored away from home.

Has there even been a season of contrasting emotions for the away fan? A trio of joyful excursions but no less than nine miserable Magpie outings.

Three second half goals at Ewood, the same at the Hawthorns, two in each half at Upton Park but nowt else: blanks at Arsenal, Bolton, Pompey, Wigan, Chelsea, Everton, Liverpool, Spurs and now Fulham.

Toon at Craven Cottage - last 10

2005/06: Lost 0-1 No scorer
2004/05: Won 3-1 Ambrose, Kluivert, Ameobi
2001/02: Lost 1-3 Speed
1983/84: Drew 2-2 Beardsley, Keegan
1982/83: Drew 2-2 McDermott, Varadi
1981/82: Lost 0-2 (League Cup)
1979/80: Lost 0-1 No scorer
1978/79: Won 3-1 Connolly, Withe, Shoulder
1967/68: Lost 0-2 No scorer
1966/67: Lost 1-5 Pop Robson

We've also faced Fulham twice in recent seasons at Loftus Road:

2003/04: Won 3-2 Robert, Shearer 2
2002/03: Lost 1-2 Shearer

Premiership debut for Alan O'Brien, who becomes the 119th player to represent us in this league, the fifth new face this season (not counting non-combatant Craig Moore) and the sixth Republic of Ireland-born player to appear for us in the Premiership (joining Given, Carr, Jimmy Crawford* and the other two O'Brien's, Andy and Liam).

* born in the USA but played for Eire U21's.

Of the trio of Dubliners we signed on, only O'Brien has made it through, Stephen Brennan and Joe Kendrick having been unable to break out of the reserve side before being released.

Waffle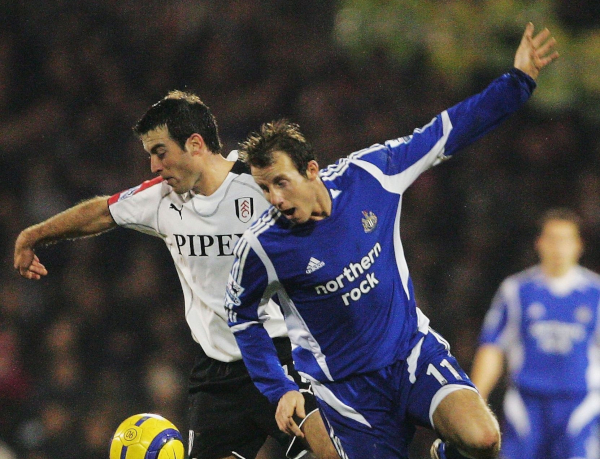 It's getting harder and harder to write these damn things when there are so many counter-attractions on offer, like watching wind farms or tuning in to the test card.

Actually getting into the mood to finger one's keyboard is one thing - resisting the temptation to fill the white space by repeatedly hammering down on the F, U, C, and K keys quite another.

Anyway, to business.

The immediate post-match reaction was to just cut and paste the previous week's Mansfield FA Cup report, remembering to edit out the happy ending bit. However a quick re-read of that rubbish confirmed that it was nowhere vitriolic enough to be applied to this Thameside twaddle.
We once again took part in a tepid Premiership encounter with nothing to recommend it to the uncommitted and scarcely much more to hearten those well past the ability to make sensible financial decisions.

£35 for this one makes it £161 in admissions alone at Arsenal, Spurs, Chelsea and Fulham this season for no goals and no points. Thank the Almighty for the miracle of Upton Park.

Our best guess is that Souness was desperate not to lose here - and for Boa Morte (the ghost of transfer windows past) not to turn in a match-winning performance and feed easy lines to sports writers.

The last time that goalkeeper Anti Niemi faced us was a day short of a year ago, when he conceded goals from Bramble and Shearer.

And more recently, the likes of Leeds, Norwich and Cardiff have kept him supple by repeatedly requiring him to bend down and retrieve the ball from the Southampton net.
Today however, Chris Coleman could have played my aunty Nelly in goal for the first 75 minutes with no fear of damaging his side's chances.

Whatever early nerves Niemi might have displayed on his return to the Premiership were eased considerably by our total disinterest in testing him out, the five man midfield ploy that served us so well at nearby Stamford Bridge (final score 0-5) being employed here again.

The net result of that this time was that N'Zogbia and Luque joining Bowyer in lurching forward ineffectually.

Meanwhile, Shearer was nowhere to be seen and balls were regularly hurled forward to where we once may have had someone with pace and purpose playing for us.

Brainless. Unwatchable.

Souness could point to a similarly smothering ploy having worked before when Niemi faced us - back in September 2004 at St.Mary's.

We beat Southampton that day 2-1 thanks to some good defensive midfielder play, an og forced by a pull back from a striker with pace (Bellamy) and a long-range effort from a defender not afraid to shoot (Carr.)

Today though none of those things were seen - and of course Carr became the 152nd Newcastle player this season to have broken down after returning from injury. Grrrrr.

Nobody in our side was in the mood to be positive, play percentages or have a go at trying to make something happen. Instead the ball was moved around like a hand grenade with the pin out, on the occasions when we proved capable of passing it in the vicinity of each other.

No doubt it'll all be our fault though for travelling ridiculous distances to shout encouragement at the beggars. The travelling goldfish bowl effect perhaps.....

Yes, there were some good workmanlike performances including a committed showing from Clark against his old club, that threatened to get out of hand as he scurried across the midfield trying to make every tackle.

Bowyer though hardly played like a man who had been training his nuts off during an enforced three week absence, straining every sinew on the off-chance we'd flog him.
Was this not the promised land for him though? Born within the sound of car alarms? We seem to be in the minority by questioning his effort in this game, but if that really was him trying, then it's time he packed in.
We certainly didn't have to contain the Cottagers for the first twenty minutes to silence the crowd - they were virtually comatose before kickoff. Yet we were content to be dictated to.

One can only wonder what the scouting report from last week's FA Cup defeat here at the hands of Orient read, when the League Two side caught Fulham cold and never let them settle. "Get there early for some nice cake", probably.
Coleman even looked to be playing into our hands here by putting Collins John on the bench, a man whose pace helped destroy us on Tyneside just over a year ago. But no, we remained as inept as ever.
This was a game we really ought to have salvaged something from. Instead it ended up being a classic case of nothing ventured, nothing gained.

Meanwhile, a few more those teams between us and the mackems stirred themselves slightly - and to think a few weeks ago we had players talking about a push for Europe. You're looking the wrong way, my friends.

Had our late efforts secured an equaliser, it would probably have supplied enough of a short-term fix to banish thoughts of what had gone on before for the addicts behind the goal.

But just as there was no late face saver at Portsmouth, Wigan or Everton, so we left empty -handed from here - and Souness consequently lost another life.

He will point at ill-fortune in the shape of injuries and refereeing decisions, but that fails to tell the story of an another ninety minutes of underachievement from those selected.

The manager may have avoided a Bellamy-led embarrassment in front of 50,000 Geordies next week, but his old Rovers side have more than enough about them to make things very uncomfortable indeed on Saturday.

Certainly a punt on Pedersen for first goal could pay for our post-match wake, were we able to separate reality from stupidity and back against us - as many do.

Which leads us to the Cup tie.

The ingredients are in place: a confined space, an excited crowd and the TV cameras, hoping for an upset.

This potential rerun of the Hereford debacle seems to lack only an influx of parka-clad urchins on to the pitch - and no doubt bloody Jonah Motson will be there, working himself up in a Ricky George -induced frenzy.

Joe Harvey survived the Nightmare on Edgar Street but we're less sure that Souness would emulate him in a 2006 remake on Whaddon Road.

Precisely how uncomfortable an afternoon Freddy Shepherd has may determine whether the axe falls - with or without a plan B.

It's one thing being ridiculed by 5,000 fans of a smaller club, stuck away up in one corner of SJP as was the case for much of the Mansfield game.

However it's quite another when that number are getting giddy on three sides of their own tight ground and breathing down your neck in a cramped Director's Box. Hell hath no fury like a streetfighter scorned.

No change then. The patient remains critical and that hoped-for transplant seems unlikely to happen this month.

Biffa

Reports