Date: Saturday 21st January 2006, 3.00pm

Venue: St. James' Park

Conditions: nail-biting - they certainly
weren't finger-licking good.....




Newcastle United

Blackburn Rovers

0 - 1

Teams
Half time: Newcastle 0 Rovers 0

75 mins: Neil's cross from the right side was met by Shefki Kuqi, who beat Peter Ramage to head back across the six yard box before the ball was knocked into the Leazes end net with his hand by Morten Gamst Pedersen.

The visitors celebrated beneath the away fans, with the corner flag being deliberately uprooted and waved around by one of the players, who mysteriously evaded a booked from the referee. 0-1
Full time: Newcastle 0 Blackburn 1
Graeme Souness commented:

"It's quite simple and I will say this once: the priority in my life is my family, to do the very best for my family at all times.
"And after that, the second most important thing in my life is my work and to do the very best at whatever job I am at, whoever's employing me, and I will continue to do that until somebody tells me differently.
"We think on our side we played quite well today, as we did last week. It was a game we should have got something from last week, and we should have got something from it today.
"As a manager, all you can ask for is total commitment and 100% from your players, and I think I get that. I don't think, I know I get that from my players.
"I think Morten handballed it into the net. It's ironic, I was manager of Blackburn a couple of years ago when Paul Gallagher did the same thing at the same end.
"I didn't get a view of it at the time, and obviously the referee and the linesman didn't, because after seeing it, for me, it's a foul initially by Shefki Kuqi on Peter Ramage and then it is handballed into the net,.
"But I thought we played quite well and should have got something from the game. I got total commitment and effort from my players.
"If you analyse the game, Shay Given has made one save in the first half - and it was a fantastic save - but other than that, he didn't have a save to make.
"If you look at Albert Luque, the chances he had - one where he did nothing wrong early on and it was a great save by Brad and then his header in the second half - and Lee Bowyer's chance when Alan knocked it down to him - that was a great opportunity.
"But when it's not happening for you, it's not happening for you, and the way they got their goal sums up where we are."

Mark Hughes said:
"I've not seen it - I would say that - but if we have got a break, we are grateful for that, but our general play deserved some reward today. I thought we were the better team.
"We looked the more likely side to win the game. We had a number of clear-cut chances in the first half especially, and in the second half, I thought we were always in control of the game.
"I know Graeme (Souness) well and I've got a lot of time for him. He brought me to Blackburn and I've always found him a passionate football man. He's a strong character and he needs to be at this time, but he will come through this.
"We have set high targets that include trying to get into Europe and at the moment we are on track to be able to have a real push at it. We need to keep the run going.
"I felt before the season started it was a target. Whether it was realistic or not, I don't know. But I felt with the players we have and the guys I had added that if we started well and get points on the board, we could give it a real go.
"We needed to turn our performances away from home into results. We played very well in a number of games, at Arsenal, Chelsea and Fulham, where we had good performances but nothing went for us.

"Once we got points we got belief and our form has been excellent. We couldn't be in better shape going into the second leg against United.
"We have to go there, stick our chests out and have a go, which is what we are all about.



Rovers in Toon - Premiership years

2005/06 Lost 0-1 No scorer
2004/05 Won 3-0 og(Flitcroft), Shearer, O'Brien
2003/04 Lost 0-1 No scorer
2002/03 Won 5-1 Solano, Robert, og(Grenko), Jenas, Bellamy
2001/02 Won 2-1 Bernard, Speed
1998/99 Drew 0-0 No scorer (FA Cup)
1998/99 Drew 1-1 Shearer (lost 4-2 on pens: LC)
1998/99 Drew 1-1 Hamann
1997/98 Drew 1-1 Gillespie
1996/97 Won 2-1 Shearer, Ferdinand
1995/96 Won 1-0 Lee
1994/95 Drew 1-1 Lee (FAC)
1994/95 Drew 1-1 og(Flowers)
1993/94 Drew 1-1 Cole

First defeat on home soil in eight Premiership matches, with the side having won four and drawn three since Manchester United left here with the points after a 2-0 win in August.

Waffle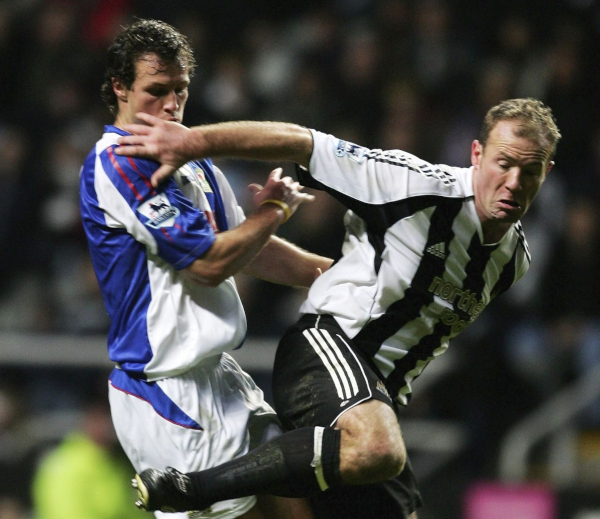 Normally we leave compiling this section for a couple of days after the game, to allow our thoughts to coagulate (or should that be congeal) and avoid the sort of over-reaction that often comes in the immediate aftermath of the final whistle.

Not this week though.

Our immediate gloomy thoughts came into sharper focus after a post-match ale or three and an excursion to a local emporium of spicy delight. End result? After a bit of "Saturday Night and Sunday Morning" action, the following was posted:

It's a fraction over 16 months since Graeme Souness walked into St.James' Park as Newcastle Manager in waiting, taking a lofty perch to watch his former charges from Ewood Park soundly beaten 3-0 by a John Carver-marshalled Magpies side.

On that day in September 2004 we called the Blackburn side led by perennial caretaker boss Tony Parkes "a dispirited rag-bag of an outfit that slouched out to line up against us."

Now in January 2006 the boot is firmly on the other foot, as the fans who cheered the departure of our Manager from Lancashire predicted his imminent exit from Tyneside from their Level Seven seats.

This time it was the home side who were bereft.

Bereft of confidence, lacking anything approaching good fortune, perpetually hamstrung by injuries and now, perhaps fatally, deserted by their fans.

The pre-match build up had been punctuated by a plea for unity from the Chairman and a desperate call to arms from the Manager.

Neither cut any ice with the rank and file.

And this time the good fortune Souness had enjoyed in recent home games deserted him.

A 93rd minute penalty miss from Gareth Barry salvaged a point against Villa, then an extra time leveller from Lee Clark did the same against the smoggies.

And of course with the dark clouds beginning to form against Mansfield, up popped that man Shearer to take a share of Wor Jackie's record and divert attention away from an unsatisfactory display against a side who could be playing in the Conference next season.

Today though there was no late solace for Souness.

And with the usual touch of farce and folly that seemingly dogs this club at every turn, the crucial goal came from the hand of a player Souness signed for Rovers - after having seen his nimble footwork and long-range shooting prowess.
Morten Gamst Pedersen netted with 15 minutes remaining via what TV replays confirmed was a hand - helping Shefki Kuqi's goalbound effort into the Leazes net.

Of course this is nothing new; Blackburn having won here by the only goal of the game in December 2003, thanks to Paul Gallacher's punched-in effort at the same end of the ground.

So, let's just set the scene. Almost 50,000 Newcastle fans in their own stadium, a player one goal away from breaking the club's all-time scoring record and fifteen minutes left to turn things around.

What followed was deeply depressing and deeply predictable.

The players were unable to lift themselves from the rut that we'd slipped into after a bright opening to the first half.

And worse still, nobody seemed to believe that we were capable of doing so - after all, we've never come from being behind to win in the Premiership since beating Chelsea here in April 2004, under Bobby.

Souness sat rooted to his seat, his cohorts around him equally motionless - aside from the usual Dean Saunders mime show.

And from the stands came nothing - no boos, no great walk out, but no attempt at lifting the players.

Had it not been for the "Taxi for Souness" and "sacked in the morning" taunts from the travelling fans it would have been eerily quiet.
In the end Souness and his side were condemned by the sound of silence.

Forget the Sky-hyped protests of charver children outside SJP after the final whistle - the real story was the air of resignation that settled across the ground during the game.

People simply don't believe Souness; don't believe in his tactics, his rhetoric or his purchases.

To nobody's great surprise the promised return of Emre failed to materialise, despite the claptrap in the Friday press conference.

As ever the defence looked flaky and shaky: big name acquisitions Boumsong and Babayaro found wanting both technically and in terms of commitment.

Quite simply, they didn't look as if they gave a f*ck what the score was.

And once again the £10m Spaniard barely featured - one early shot clattered against the 'keeper and thereafter a handful of forays down the left that confirmed he cannot take a man on to save his life.

His withdrawal though saw him burst into action, racing down the player's tunnel with a purpose that had hitherto been lacking all afternoon.

It's the injuries you know - we have a sick list, so all bets are off.

Never mind that what we still put out on the park is an extravagantly-paid, expensively assembled side who have international experience and pedigree but who are playing listless, lifeless football that is breeding apathy and indifference among supporters of this club.
To give Souness a penny to spend in transfers or even in sanctioning wages for freebies (Gregory Vignal aka the French Craig Moore) would seem like a vote of confidence in the management that was conspicuously missing from the Chairman's pronouncements this week - where he failed to mention the words "Graeme" and "Souness" but included "Europe".

A televised embarrassment at Whaddon Road may see the axe fall on Souness, if Freddy can reign in his fury for that long.

It seems that the only thing keeping Souness in post is a lack of suitable candidates to succeed him and an unwillingness or inability to pay the large severance fee that was negotiated in 2004.
Souness should never have been here in the first place but he wasn't going to turn the job down was he? He knew he was on to a good thing and if it all went pear-shaped then he would get a bigger pay-off than Blackburn were about to offer him.
Once again we find ourselves in an impossible and self-imposed situation.

The mood of the fans seems to provide ample evidence that we have no future under Souness, but what lies ahead with him gone?
Quite simply, who in their right mind would come into this madhouse and attempt to work with the current administration?

Your guess is as good as ours, but the view from the stands today suggests the current incumbent has had a bellyful - something that is patently obvious from what his dispirited team is serving up.

It's debatable whether anyone else could achieve any less with what's at his disposal. Yes, talent is missing - but so apparently is heart, desire, pride, organisation and motivation.

Be sure of one thing: the so-called big hitters who are crocked certainly won't be rushing back to bail us out of the crap in the closing months of the season.

No, the only thing those missing players will be rushing to do is phone their agents and tell them to seek pastures new ASAP.

And in all this two more words were never mentioned: "Craig Bellamy".

Perhaps the symbolism of the Welshman returning to his old stamping ground to inflict collateral damage on us would have stirred the Chairman into action, or at least wound home fans up.

But instead he was left to reflect on what his reception on Tyneside might have been - and doubtless glorify in the success of his current employers.

The final insult was perhaps provided by the Saturday evening Sky game, when a Steve Watson own goal gave the mackems a 1-0 win at the Hawthorns.

In our present predicament, that was a good result for us, keeping the Baggies as it did from moving with one point of our lowly fourteenth placing.

PS - A few later reflections:

There were chances in the first half for us to score, with Luque's shot at the 'keeper mirrored later by an even worse miss from Dickov, while Shearer's best opportunity for that 201st goal saw him touch the ball wide of Friedel's goal as the 'keeper came to the edge of his area to snuff out the danger.

Chopra was busy up front without hurting Rovers, while after being below-par last week at Fulham, Bowyer was at least more energetic. However he screwed our best second half chance wide from Shearer's knockdown.

Crucially though we lacked width, with our attacks often foundering as the player holding the ball in the centre waited for Ramage or whoever to gallop alongside to support the attack.

O'Brien appeared midway through the second half and earned applause after showing glimpses of his pace. However he never really got a clear rundown the flank or in on goal.

Perhaps if he'd not been used to defend one of Given's posts at corners then we may have got more out of him - it certainly seemed to us that a more sensible position for him was up front to challenge the last man for the big boot out of defence.

Towards the closing stages, Souness also appeared unaware of the fact Clark was a spent force and N'Zogbia was available to come on. At that point Rovers were just starting to threaten our back line, with Savage and Tugay finding support and space in the centre circle.

By then though the manager looked to have given up on the game - at least him, his players and the supporters could agree on something. On another day this would have been 0-0, but that wouldn't have improved the mood on Barrack Road.
Biffa