Date: Saturday 28th January 2006, 12.30pm
Live on BBC1

Venue: Whaddon Road

Conditions: Blue skies and sunshine but it was bloomin' freezing in the Toon end.

Admission: £25

Programme: £2.50





Cheltenham Town

Newcastle United

0 - 2

Teams
41mins: Alan Shearer held the ball up and played it inside to Nolberto Solano who headed it into Celestine Babayaro's path. Baba got a toe to the ball and it spooned up off the keeper and although Townsend looked favourite to clear, Michael Chopra nipped in front of the defender to head past the man on the line. 1-0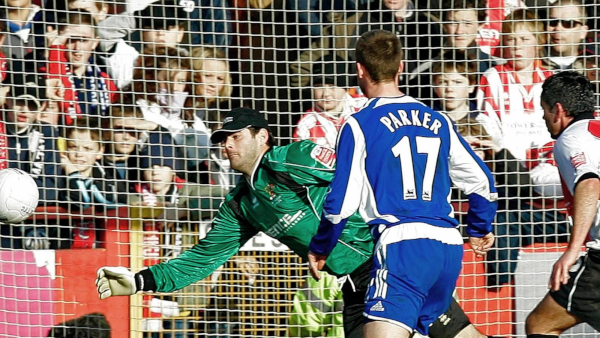 43mins: An excellent first time cross from Peter Ramage was cleared on the volley by Gill. The ball hit Scott Parker in the midriff and ricocheted just inside the post and out of the reach of Higgs and into the net at the C&G Terrace End 2-0
Half time: Cheltenham 0 Newcastle 2
Full time: Cheltenham 0 Newcastle 2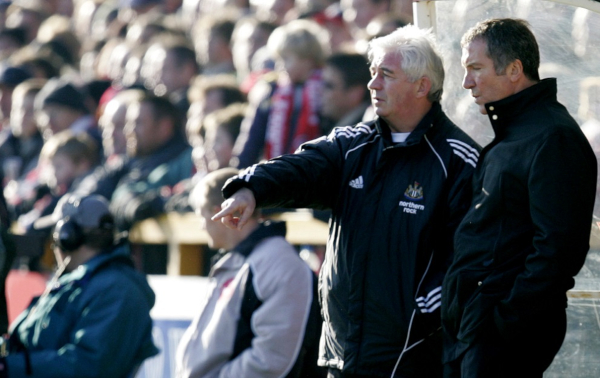 Graeme Souness said:
"We are delighted to be in the next round, but the overall feeling is relief.

"You don't want to be coming to places like this and getting beat if you're a big club, because every year when the fourth round comes along, you'll be mentioned.

"No matter who came here today - it could have been Chelsea or Arsenal - it was never going to be an easy game. That's what the FA Cup's about and long may that continue.

"But the conditions contributed to making life even more difficult. A wee bit of frost on the pitch made it extremely lively and there was a swirling wind out there for most of the game, especially in the first half.

"Fortunately for us, we got our goals in the first half, and then withstood what they had to offer with a wee bit of fortune All credit to Cheltenham, who must be very pleased with themselves, they pushed us all the way.

"On Monday, we've got Kieron Dyer starting in the group again, so we are starting to get our better players on the pitch and that can only make you a better team. And that's nine clean sheets we've had now this season, which is a bit of a platform for us to take some confidence from this game.

"Scott Parker deserves a special mention. The intention was always to play him today, but he's been up since four o'clock this morning having not slept very much.

"He's got a stomach bug going on and he's been out for the best part of a month, so he's done well to last as long as he did."

"You guys put me under pressure - I don't put myself under pressure.

"As much as people would like to think they can put you under the cosh, I'm pretty good at resisting it. Whatever will be said to me in future, I've already been called."
John Ward commented:
"We lost it in the space of a silly couple of minutes before half-time.

"Odejayi gave them problems throughout the afternoon. He's strong, he's quick, and it really is his first full season in league football.

"Although he's as big and strong as he is and he's 23, he was still playing bits and pieces last year, but he's played regularly this year.

"We knew we could get to places, but we had to be calm when we got there. I've heard him on TV say it took a bobble, but then he would do, wouldn't he?

"There was about 17, 18 minutes to play and you think `Go on, put that one in and who knows?'. But we are edging on the side of `who knows?'. It's a pity."

Newcastle made their first-ever trip to Whaddon Road and played their first game against Cheltenham Town in any competition.

This was our third cup tie this season against League Two opposition, our third victory and third clean sheet (1-0 Grimsby League Cup, 1-0 Mansfield FA Cup)

It's the first time we've kept a clean sheet in the opening two rounds of the FA Cup since 1987/88 (1-0 Palace, 5-0 Swindon).
Michael Chopra got his first domestic goal for United to go with the one in Dubnica, both scored wearing the blue third kit, although he didn't register when he wore it at Grimsby.

There was playing return for Emre after a nine game absence due to injury. He last appeared at Wigan Athletic in the Carling Cup back in late November 2005.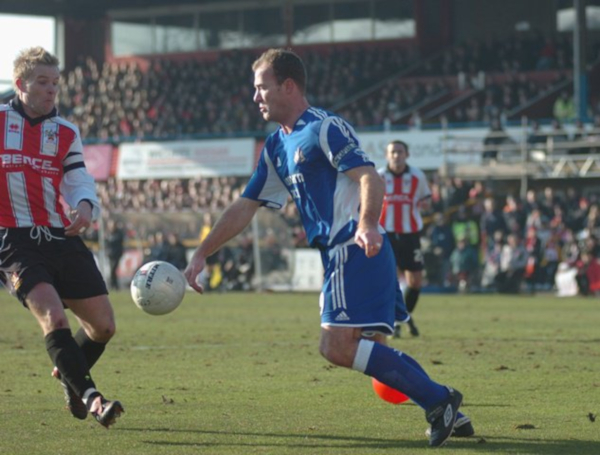 Not today Al: Alan Shearer remained on 200 goals - level with Jackie Milburn as Newcastle United' all-time leading goalscorer.

Waffle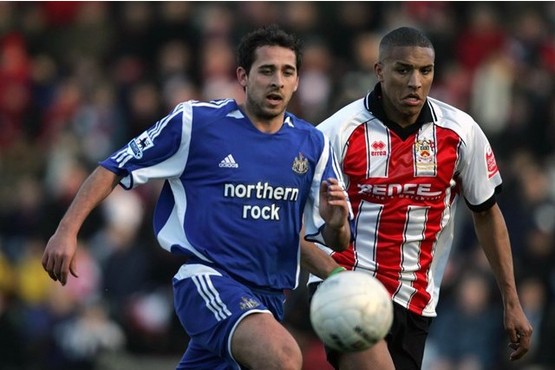 Some people seemed to think that the scent of a Gloucestershire giant-killing was in the air.

Friday night radio programmes came from Cheltenham, pregnant player's wives were interviewed and Ronnie R*dford's name was mentioned even more than usual, which takes some doing....
Depending on how you counted them this was Newcastle's 5000th competitive fixture (including wartime games that often included more guests than Newcastle players seems a bit dubious) and win lose or draw it seemed odds-on to be the day Alan Shearer broke Jackie Milburn's goal record.
It was a glorious Winter's day with blue skies and bright sunshine, home faces had been painted, balloons had been inflated and local supermarkets had experienced a sudden upturn in tin foil sales - the FA Cup roadshow had come to sleepy Cheltenham.
Everything was set for an occasion to be long-remembered, but what followed was something of a damp squib. An anti-climax of gargantuan proportions - unless you favoured the visitors.

For Graeme Souness and many of us who just wanted to leave Cheltenham Spa unsullied by a town awash with cup fever then it couldn't have gone much better. True, it was a disappointing performance but that wasn't massively important.

Progression into the next round, without incurring any more serious injuries or cautions while at the same time welcoming back a few fit-again players was the perfect scenario.
While the nation tuned in to witness a Saturday lunchtime humiliation, by teatime it was another side clad in red and white who claimed the round's biggest scalp - Brentford taking the plaudits thanks to the hapless mackems who again made themselves the objects of further ridicule.
Of course, schadenfreude is all about thinking 'it could have been us' and in the early stages of this tie, the Robins had a few decent chances to suggest that it would be us making the fall-guy headlines on all of the Sunday back pages.
Given the occasion, given our current predicament and given the referee, when Kayode Odejayi tumbled in the box after just four minutes it was more than a relief that Mike Riley waved away the penalty appeals. Thankfully, the fact that Odejayi had already ran Boumsong ragged from the very first whistle didn't count against the Frenchman's clumsy challenge. It easily could have.
Things didn't get much better and although the home side weren't creating too many openings, in Odejayi they always carried a threat. Especially when a few wayward passes - Bramble, Boumsong, Clark and Parker were all guilty parties - put us under needless pressure.
Michael Chopra had wasted a chance to settle the nerves when he missed an opportunity that fell to him in the box, twice having his effort blocked when he looked a certain scorer.
But five minutes before the break Chops deserved great credit for being alert when Babayaro's shot spooned up off the keeper. While the home defence steadied themselves to head clear, Chopra nipped in to head the ball past the man on the line to get his first domestic goal for the club. And how pleased he looked.
Celebrations in the chilled Carlsberg stand housing the away support were suitably restrained but it was relief rather than exuberance that most of us were feeling.
Two minutes later and it was all over. Ramage - earlier denied what looked a certain penalty - put over a fine cross from the right and when Town defender Gill volleyed the cross away the ball hit Parker in the midriff and past the despairing dive of Higgs into the corner of the net.
The collective feeling was again relief rather than elation but to see the home crowd numbed into silence as the half-time whistle blew must have been a decent sight for Souness's sore eyes.
But it was only a job half done. An early goal from the Robins would certainly have frayed the nerves and whipped the quiet home support into a frenzy.
It almost came in the 53rd minute when Guinan turned Bramble with ease before firing a drive that went narrowly wide and then rippled the back of the net, some home fans taking a few seconds to realise the ball was still on the outside of the goal.
A second penalty tangle between Odejayi and Boumsong was again waved away by Riley with the attacker looking like he was backing in well before he tumbled but on another day it could have been given by a benevolent ref.
In theory "Cheltenhamshire" (the home fans' poke at rival town Gloucester) should have left us plenty of room to exploit at the back while they pressed for a goal but we continued to make things look difficult. Two goals up against opposition from three divisions below, this should have been Shearer's chance to go well past Milburn's record but he was slow to react to the best opening - a fine cross from the left by substitute N'Zogbia that flew across the face of the goal.
In truth, we never looked likely to score, even when we welcomed back one of our "door-openers", Emre. The hinges looked very rusty and a few of his passes were wayward to say the least. Luque also appeared from the bench and showed one or two decent touches but chose to shoot, or rather scuff, at goal when he should have played it to a better-placed colleague.
With 13 minutes left Odejayi went on a run that took him past Given and with the goal at his mercy (and a Premiership/Championship contract ready to sign) he missed the target and Town's final chance to salvage the tie slipped away as did the striker's chance of a transfer.
For us to have scored any more wouldn't have been diplomatic - at 2-0 the home side could come out of it with heads held high and we'd just be seen as playground bullies to have got a third or fourth. There were shades of Yeading about this victory - a job done while letting the minnows have their glory but not our place in the next round.
Had we lost then it's difficult to see how Souness could have stayed in charge, although there is a feeling that winning the tie hasn't made a jot of difference to his predicament. Decisions look to have already been made and it's really only a matter of timing and settlement negotiation that has to be sorted out. That could be soon or it could be further down the line but wins and cup progression certainly won't hasten things.
The Chairman seems to hope that the fans will force out the man whom he inflicted on us and for that reason alone we shouldn't do his dirty work for him. It's his mess and he either stands by his appointment or he stops buying up shares and uses his own money to move his hatchet man on.
It seems to make more sense to leave everything until the summer when we can draw a line under the Souness and Shearer eras and start again with the next Wenger, Mourinho or Benitez. It's certainly not the fans' job to pluck someone from Grampus Eight and unearth a great club manager, it's the Chairman's but is ours as shrewd as David Dein?

We're back to where we started the day with that one - lower league versus Premiership.
Niall MacKenzie

Reports