Date: Saturday 4th February 2006, 3.00pm

Venue: St. James' Park

Conditions: Bright, cleansed - hang on, that's a washing powder ad....





Newcastle United

Portsmouth

2 - 0

Teams
41 mins Solano teed the ball up on the right side of the box then dinked a neat cross over for Shearer to powerfully head goalwards. Kiely kept it out of the Leazes net, but Charles N'Zogbia followed up to slot the ball between the 'keeper and the post to send a noisy home crowd wild. 1-0

Half time: Newcastle 1 Portsmouth 0

64 mins There were shades of Kevin Keegan's debut goal after Given's long punt forward was met by Shearer's header, as he got above his marker Andy O'Brien. Shola Ameobi played the Varadi role by backheeling it to the onrushing Alan Shearer, who flicked the ball under Kiely with his right boot from eight yards to send the ground bananas. 2-0.



Full time: Newcastle 2 Portsmouth 0

Glenn Roeder reflected on his first match in charge:

"It couldn't have been more perfect, in my opinion.

"The defence has had a little bit of stick lately. I said to them they need to get some pride back, they needed a good performance - they put in a good performance and they kept a clean sheet.
"Winning 2-0 was the perfect result, but then throw into the mix Alan Shearer breaking the record, then you have got the lot, haven't you?.

"They way he scored the goal, there have been so many Alan Shearer goals like that. I don't know why, but it never, ever crossed my mind in that split-second that he would miss, and that probably says something about him as well.'

"I had a chat with Albert (Luque) before the game, which has to be a private chat. He's a very professional person and asked if he could return home, and I haven't got a problem with that.

"There's nothing sinister in that either. Trust me, there is nothing sinister in that whatsoever."

His assistant added:

"I'm a very happy man tonight. I know what Jackie means and meant to the people. I can now sleep easy that the pressure has gone. I missed the one at Cheltenham on purpose last week, so I could score at home this week!

"To be fair to Glenn, he pointed out before the match that defeat was unthinkable. The crowd played their part, they were with us all the way.

We had to respond in the right way against Portsmouth, and thankfully we did that.

"The goal was a big, big goal for me, obviously, but you have to believe me, the biggest relief was that it helped us get the three points. I wish Graeme (Souness) was here to see it because whatever anyone thinks of him, he's an honest, decent, hard-working, genuine man.

"It didn't work out for him. He knows - you don't have to tell him, he's a big boy - that we are in a results-driven business and we didn't get the results because of an horrendous injury situation.

"We took Emre off, Scott Parker off, Nolberto Solano off and put Kieron Dyer on, Lee Bowyer on and Lee Clark. Graeme didn't really have that luxury for a lot of the time.

"But he would have wanted us to win because he's that type of bloke. He's not bitter, he's honest. We went out and put in a performance that has been coming, and we needed to do it under pressurised circumstances.

"People will turn around and say: 'Why couldn't Newcastle perform like that under Souness?'. I can't give an answer to that."

Harry Redknapp said:

"Newcastle played really well. They haven't been playing that way for some time and haven't played well all season. It was interesting that they could put in a performance like that after such a bad run. Having said that, they have a team full of good players and it was difficult for us out there.

"I am sad to see Graeme go because he is a friend and did not deserve what happened to him. Graeme had a lot of injuries this season and people who say that is only an excuse don't know what they are talking about.

"It's the players' fault Graeme has been sacked, they are not performing.If they go out against us and suddenly start to play well then something has gone wrong.

"Graeme Souness is a good manager and given time he would have turned things around. It is too easy to blame the manager when it is the players who should take responsibility.

"Newcastle have some top-quality players but they have not done it. I thought they would be pushing for Europe this season. I never thought they'd be scrapping at the bottom."


Alan Shearer became Newcastle's most prolific league and cup goal scorer of all time by bagging his 201st goal. He took 395 games to reach that total, while Jackie Milburn achieved his 200 (+1 Charity Shield goal) in 398 appearances.

Kieron Dyer returned from injury and illness to play the last 16 minutes - taking his time on the pitch this season to 142 minutes (69 v Arsenal a, 38 v Man U h, 19 as sub v West Brom a, 16 as sub v Pompey h)

Our first Premiership victory of 2006, ending a six match winless streak in the league since Michael Owen's hat trick helped us to a success at West Ham.

This was Newcastle's first clean sheet in eight Premiership matches.

The last side Glenn Roeder managed to a Premiership victory were West Ham back in April 2003 when a Trevor Sinclair goal was enough to beat the Smoggies at the Boleyn Ground.

This was the 277th match he's taken charge of as manager and the fourth appointment of his career, having led Watford, Gillingham, West Ham and now Newcastle. He also assisted Chris Waddle when he took charge of Burnley.

Roeder also emulated our last caretaker boss John Carver in wining his first match in charge.

Toon caretaker managers who were less lucky though include:

Steve Clarke: Manchester United (a) 2000 lost 1-5

Tommy Craig/Terry McDermott: Liverpool (h) 1998 lost 1-4

Arthur Cox/Terry McDermott: Aston Villa (a) 1997 drew 2-2

Bobby Saxton: Swindon Town (a) 1991 lost 2-3

Colin Suggett: QPR (a) 1988 lost 0-3

NUFC vs Pompey post war @ SJP

2005/06 Won 2-0 N'Zogbia, Shearer
2004/05 Drew 1-1 Bowyer
2003/04 Won 3-0 Speed, Shearer, Ameobi
1992/93 Won 3-1 Quinn 2, Kelly
1991/92 Won 1-0 Kelly
1990/91 Won 2-0 Quinn 2
1989/90 Won 1-0 Thorn
1987/88 Drew 1-1 Mirandinha
1983/84 Won 4-2 Waddle 2, Keegan, Wharton
1964/65 Won 3-0 Iley, Hockey, Anderson
1963/64 Won 1-0 Dalton
1962/63 Drew 1-1 Thomas
1958/59 Won 2-0 Bottom 2
1957/58 Won 2-0 Davies, Mitchell
1956/57 Won 2-1 Crowe, Taylor
1955/56 Won 2-1 Mitchell 2
1954/55 Won 2-1 Keeble
1953/54 Drew 1-1 Milburn
1952/53 Won 1-0 G.Robledo
1951/52 Drew 3-3 Milburn, Mitchell, G.Robledo
1950/51 Drew 0-0 No scorer
1949/50 Lost 1-3 G.Robledo
1948/49 Lost 0-5 No scorer

In other words, it's now 55 years since we failed to score against Portsmouth on Tyneside.


Waffle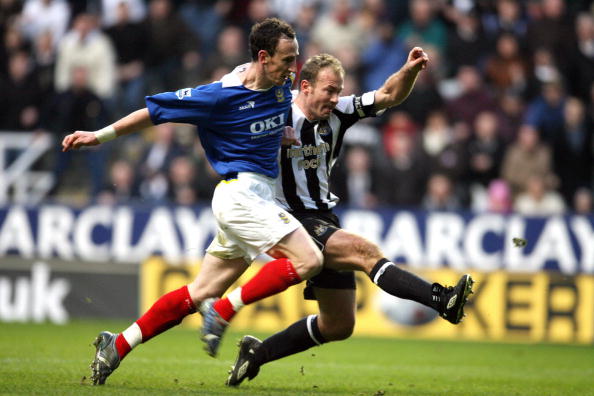 St.James' Park on Saturday could be summed up in five simple words:

Smiles, songs, goals, records, points.

All of these have been in short supply recently, but today the mood among the fans was as bright as the Tyneside skies above, dark clouds having been banished.

A match that held no allure, no promise after the wretched display of Wednesday night suddenly became an event to be anticipated after the events of Thursday morning.

It was as if a collective sigh of relief had been uttered across the region - and beyond, as emails, texts and calls betrayed the long-distance suffering of those unable to see things first-hand.

As he counts his money, Souness can count himself unlucky that he didn't survive to see this day.

Ultimately though he's been consigned to the skip of black and white history (too many discards for a dustbin) almost as quickly as the removal men turned up at his Jesmond gaff.

Of course in our world sub-plots abounded and echoes of the past were everywhere.

Glenn Roeder leading the team and shuffling his players rather than his feet. Ten million quid's worth of Spanish fly and the return of a prodigal son of sorts in the number 8 shirt.

And the timing of Pompey as the opposition also conjured up happy memories of disaster averted here some 14 years ago.
The 2006 version came wearing a version of the kit that they were clad in when David Kelly wrote his name for all-time across Geordie hearts with a late goal at the Gallowgate end.

This time out it was a chap called Kiely who threatened to become the hero.

Ultimately though he couldn't keep us out, parrying Shearer's header to allow N'Zogbia to open the scoring before playing his part in a little piece of history after the break.

But of course we'd seen him do all this before, when appearing here for Charlton in April 2002 - Given's international colleague being unable to prevent Shearer netting his 200th Premiership goal at the Gallowgate End.
Today the end result was no different and Kiely could do nothing about Shearer's latest, as the number nine scored a goal that for all the world was a re-run of Keegan's debut strike against QPR.

That day back in 1982, Al was famously part of the seething mass of fans on the Gallowgate basking not only in the sunshine but also some new-found optimism and rediscovered pride.

There might be a roof on that end now and the only way you'll get a damp patch on your britches will be if the bloke behind you spills his cuppa, but something of the old spirit could be detected as the number nine stood, arms aloft, in front of the Strawberry corner.

Thankfully the fans were allowed to celebrate the goal in the required manner - an almighty roar that went on and on as 50,000 fans staying on their feet to acclaim the achievement in applause and song. No fake moment-killing "wahoohs" or "I feel goods" coming from the speakers thankfully.

The recipient of the applause looked as pleased as he ever could sans trophy, with some relief mixed in there and a quick glance up to the heavens as he belatedly made his way back to his own half.

And fully five minutes later, a break of play saw him acknowledging the crowd's reaction with applause of his own.

It's days like these when you thank the almighty for the sequence of events that led to us staying put, not decamping to some flattened pit heap or reclaimed chemically-infested swamp.

Shearer's goals, Milburn's goals - all scored on this green patch. There's precious little satisfaction in living in a two-bedroomed town house on Tony Green Street or somesuch and then travelling to a pub-free desert next door to Toys R Us. That's not football.

Today there was life in the old ground again - from the loud cheers that greeted the arrival of the players on to the field, to the mass shouts of "United" that dovetailed the opening 45 minutes of this game.

In between the players had done a passable impression of being both united and a football team - their pre-match huddle symbolic of a rediscovered collective spirit (although our first instinct was to wonder if Martin O'Neill had in fact been installed as manager).

Of course there was some good fortune - on his return to top-flight management after almost three years, Glenn Roeder could hardly have wished for more pliant opponents. And in Andy O'Brien, Alan Shearer was up against one of the few Premiership defenders he could match for pace.

Straight away there were positive things noticeable from the side: genuine width with Solano at last providing an outlet on the right and giving Ramage a break.

We also seemed to play at a better tempo and show some forward movement; N'Zogbia trying to run at the defence down the centre, Emre's livewire showing and even a spring in Shearer's step as he benefited from having some support and not having the ball dropping out of the sky at him.
And most pleasingly, the return of crosses, shots and attempts on goal as we at last seemed to wake up to what we were meant to be doing.

As we've said, this has to be taken in the context of being against a rag-bag opposition side - but we showed more in the opening half than for a long time, certainly in the two recent cup ties.

With the goal vitally bagged before the interval, the second half was more workmanlike and less glossy as Given saw more of the ball in his area - or out of it on the two occasions he made mad dashes out, only to be left stranded.

We were still making forward progress, but were often halted by an offside flag as Shola's mixed afternoon continued - a handful for Pompey and a key role in the second goal but also endlessly frustrating.

It's to the crowd we have to return again though.

After recent weeks in the media glare, there were only positive noises from the stands as we stopped doing our dirty washing in public and hot air was expended in supporting the team.

The silent majority showed their relief at the change in leadership and direction.

People were once again able to express themselves and show their true feelings. Unable to support a man they felt nothing for, but equally hamstrung by thoughts of disloyalty to boo him and his players.

All in all, like waking from a bad dream.

And at the end of it all we gained three points, regained a measure of self respect and gave the crowd some small payback.

Enough to make the post-match pint taste better then, but only really a staging post on the road back to mediocrity from the comparative wilderness we've inhabited recently.

The rot and the rotter have been stopped, thankfully. Who knows where we'll go next though?

Biffa