Date: Saturday 11th February 2006, 3.00pm

Venue:

Villa Park



Conditions: Joyous

Admission: £28 (last season £26)

Programme: £2.50 (last season £2.50)





Aston Villa

Newcastle United

1 - 2

Teams
2mins: Classically simple, devastatingly executed. Nolberto Solano's ball forward from the right, Alan Shearer's first-time knock through for Shola Ameobi and a slick finish into the opposite corner of the net. Repeated viewing of the incident confirmed Toon old boy Aaron Hughes also had a role in the goal, playing his former club mate onside. 1-0
16mins: Debutant youngster Gardner hoisted a free kick from the left hand touchline over to be met at the front post by Luke Moore, who was in front of Titus Bramble and able to find the gap between the scrambling Shay Given and his near post with a perfectly-executed header. 1-1
29mins: It was Shearer again, with an assist for an assist, shepherding the ball on for Solano to drive a fierce low shot against Sorensen. There to pick up the pieces and convert the loose ball for the second game running was Charles N'Zogbia, despite the attentions of two defenders. 2-1
Half time: Villa 1 Newcastle 2

(61mins Babayaro sent off for a foul on Baros - denying a goalscoring opportunity)


Full time: Villa 1 Newcastle 2
Glenn Roeder said:

Responding to the "lucky" jibe of his opposite number:
"I think that's a bit spiteful. I thought Villa were lucky to only be 2-1 down at half-time.
"It could have been 3-1 and 3-1 for me at this level is a case of thank you very much. I said to our lads we let them off the hook.
"But is it luck if the keeper makes a great save from the penalty and the defenders keep heading the ball away? Our lads deserve some credit.

"I have no problem with the penalty because in my eyes Babayaro did trip their player .
"But Baros was most definitely travelling away from the goal and was not in a goalscoring position. I will talk to the chairman and our chief operating officer Russell Cushing and I'll be asking them to appeal against the decision.
"Obviously I have not seen all our matches but those who have have told me that Babayaro had his best game of the season against Portsmouth and he was going well on Saturday before he was sent off.
And although we have got some of our injured players back we need as many bodies as possible, especially as starting with Saturday's FA Cup tie with Southampton we have three games in a week.
"We needed everyone to be on their game when we were down to 10 men for the last half hour and Robbie's positional sense was good and his tackling was tremendous.

I don't think he (Shepherd) is going to (offer me the job) and I don't see any reason why he would.
"When I last spoke to the chairman we left it with him saying: `Glenn, pick the reigns up and collect as many points as you can while I find the next manager and then go back to the Academy'. I'm still happy to do that.
"We have taken six points and that's huge for us. There are many more to play for. It would be wonderful if the chairman could find the manager he wants and I can hand the reigns to someone who will take over a club which is going well and moving forward again. But I don't expect to be asked.
"I'm much more comfortable with the life of a Premiership manager than I was. But that doesn't mean that I will be unhappy going back to my lads at the Academy. That's what I want and that's what I will do."
David O'Leary capped a fabulous day by whining pitiably

"I think Newcastle should appoint Glenn Roeder straight away and sign him up because if he's that lucky he'll win the league.
"I have great admiration for Newcastle (oh for f*ck's sake, just stop it David), but no disrespect, I don't know how we've lost that game.
"We gifted them two goals. The first goal was 'there you go' and then another one. We then went on and dominated the game, missed a load of chances but their keeper was inspired.
"I thought we were chasing the game at the end to get an equaliser, but we should've scored a penalty and been chasing to win the game.
"We all need luck in life but I thought Newcastle were very lucky to win.
"I just think it was their day. We had so many chances and, without naming players, we should have scored goals. It was a day you've got to sum up that it just wasn't to be."


Newcastle recorded their sixth Premiership win on this ground in 13 visits.

This is the second time in three seasons that we've successfully stonewalled the Villa at their place with ten men - this time we held out for 61 minutes; in 2003/04 it was 80 minutes after the early departure of Andy O'Brien.

Second successive match in which Villa have missed a penalty against us - Gareth Barry putting his effort over the bar at the Leazes End last December.

And with the previous game against Villa being that mental one at SJP where we finished with 8 men, we've conceded four penalties and had four players sent off in our last three games against this lot. Wow.

Our fourth Premiership away win of the season but the first without Michael Owen in the side. Also our first away league goals when Owen didn't play.

Charles N'Zogbia versus Shola Ameobi (2005/06 Premiership only):

N'Zogbia: played 1,295 minutes, scored 4.
Ameobi: played 1,225 minutes, scored 3 (would have been 2 but wrongly given 2nd v mackems)

Shay's seventh non-shoot-out penalty save for Newcastle and his first for nearly three years:

1. 04.10.1998 Arsenal (a) 0-3 Premiership Foiled a Bergkamp hat-trick near the end.

2. 11.11.1998 Blackburn (h) 1-1 (lost 2-4 on pens) Worthington Cup 4th Round Denied Ireland colleague Jeff Kenna.

3. 08.09.2001 Middlesbrough (a) 4-1 Premiership Stopped a weak effort from Greening after being allowed to stay on the pitch after upending Ince. Schwarzer was red-carded for a similar foul on Robert.

4. 24.11.2001 Derby (h) 1-0 Premiership Saved from Ravanelli. Shearer converted his at the other end to win the game.

5. 26.02.2003 Leverkusen (h) 3-1 Champions League Saved a rotten effort from Neuville.

6. 30.08.2003 Birmingham (h) 0-1 Premiership Parried David Dunn's kick, although Dunn tucked in the rebound.

7. 11.02.2006 Aston Villa (a) 2-1 Premiership Went the wrong way but Baros's effort was so poor, Given saved with his legs.

He also kept out a penalty from Patrick Kluivert during the 3-0 friendly defeat by Barcelona at St. James' in August 2002 and famously saved one for Ireland against Cyprus.


Waffle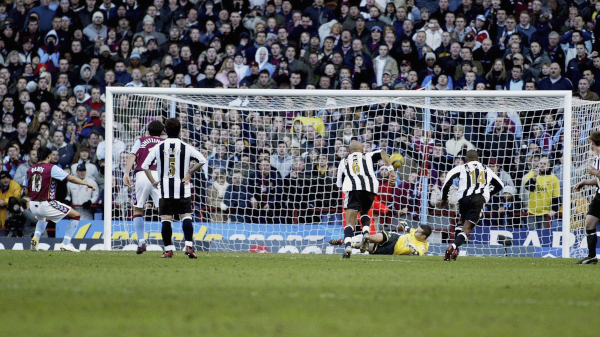 Having not played here during the Souness administration, normal service was resumed here by Glenn Roeder's side, after the 2004 loss that had left Shearer scowling and Bobby jobless.

We've frequently enjoyed home comforts at this particular Villa and once again returned bearing gifts from B6 in the shape of three points, a further confidence boost, a lessening injury situation and most of all, renewed optimism for our immediate future.

So many things that had just melted away over the last year were evident for the second successive Saturday: a collective spirit, some solid old-fashioned entertainment and a genuinely exciting contest that we played a full part in.

Before the game, the buzz from the crowd was back. The support during it was single-minded and committed, the celebrations at the end of it exuberant.
Roeder's record now reads: two huddles, two victories. Obviously that old adage is true: Magpies make passes for managers in glasses....

A draw today would have been a reasonable return on a stop-the-rot basis, but to win without the previous travelling talisman Owen was a massive boost.

As perennial wet blankets we're duty bound to say that the revival still only consists of victories against a ramshackle Pompey and now a raggy Villa. However the level of performance we've seen in these two post-Souness games suggests that our previous wretchedness wasn't purely down to injuries.

Once again we opened up positively, looked to have greater purpose and resolve and were asking questions that weren't of the "what they hell are they trying to do" variety.
Villa looked shaky at the back and vulnerable to crosses into the box - and thankfully we did our best to exploit that, also looking to test their 'keeper at every opportunity.
Shearer had one off the line while Shola could have had a second courtesy of a deflection that just went wide and Boumsong thudded his header into the ground, only to see it bounce up and over Sorensen and his crossbar.

Continuing to gain match fitness, Emre popped up more and dovetail with his colleagues, while retaining that great talent of retaining the ball due to his low centre of gravity. Maybe his boiler had been stoked by the pre-match on-pitch one-to-one motivation session he received from Terry McDermott....

And booed as he was by the home fans, Solano showed up well down the right and his prompting led to both our goals as we reached half time 2-1 ahead here for the second successive season.
The Magpie curse looked to have returned though when Babayaro felled substitute Milan Baros in the box and referee Mike Riley pointed to the spot before showing a red card. With Baros heading away from goal, the decision looked harsh although the penalty was inevitable.

Thereafter saw a succession of near-thing and scrapes that we in turn got ourselves into and extricated ourselves from.

Yes we rode our luck at times, but trying telling Shay Given that the three match-saving stops he made in the second half were fortunate.
As expected, there were some classic Shearer-in-the-corner cameos in the closing stages as he shielded the ball magnificently - we shall not see his like again....
While those with access to Premiership Plus saw a more balanced extract of proceedings, Match of the Day chose to edit the second half of this game for their coverage to give the impression that the home side spent all 49 minutes in our box.

Pegged back we may have been, but there were enough forward counter-attacking forays to prompt a succession of "come away United" shouts.

One breathtaking gallop down the left by Robbie Elliott; the most fantastic block tackle and winning of the ball from Shearer on the other; a late burst forward by Parker which ended in a miskick and a highly optimistic penalty shout. These things never happened, apparently.

And then it was all over - a jubilant Parker indulging in fist-shaking exchanges with the celebrating away fans, while McDermott was jumping for joy on the touchline. Maybe his four horse accumulator had just come in.
O'Bleary though wore that haunted look that had become all-too-familiar when seeing footage of our bench in recent months - and Roy Aitken does look a bit like that Alan Murray from a distance....
Further proof that the Irishman is starting to be seen in the same manner as Souness was can be gleaned from the local press, who were not slow to splice some barbed comments into their post-match inquests - looking "like a man who has gone on holiday only to realise that he has left the gas on" according to one scribe.

It's interesting to ponder how many injured Villa players would return if he was to be replaced by their youth boss, Tony McAndrew....

He certainly doesn't help his cause by aiming yet more blarney in our direction, doubtless alienating yet more disenchanted Villans.

Not content with his Mother Teresa-esque concern for us poor fans after the Dyer/Bowyer fight last season, he used the match programme for this game to launch more Toon-friendly platitudes in our direction.

If Freddy Shepherd gets an unexpected Valentine this week professing undying devotion to him and his club, he may find a Birmingham postmark on the envelope. Let's just hope the boy David's love remains forever unrequited.
A post-match Villa fan website poll recorded that "22% would drive O'Leary to Newcastle" - presumably the other 78% being split between giving him the train fare or making him walk barefoot. At gunpoint.

The fact that we overcame his team fresh from a 4-0 win at Boro, just as Chelsea were being turned over in Smogland this week emphasises the unpredictability of this year's league.

Unfortunately we've been sadly predictable so far - and consistently disappointing in being unable to build on a rare good result or two.

But with four eminently winnable home games on the bounce now ahead of us, things look more positive than at any time since Michael Owen emerged from the SJP tunnel into the Tyneside sunshine last August - notwithstanding the ever-present threat of self-inflicted woundings and calamitous misfortune that apparently stalks us.

Quite when Roeder will be relieved is unclear, but after two games he's certainly done his bit in restoring a semblance of order and calmness to a club that was in turmoil barely a fortnight ago.

And if that creates a better atmosphere in which to appoint the next permanent incumbent, then he deserves to have his Academy position ring-fenced by the chairman.

We can now look forward to the FA Cup and its attendant Shearer sub-plot. Anything can happen. This is Newcastle.

Biffa