Date: Saturday 18th February 2006, 5.40pm
Live on BBC1

Venue: St. James' Park

Conditions: Ultimately heart-warming

Admission: £20




Newcastle United

Southampton

1 - 0

Teams
Half time: Newcastle 0 Southampton 0

68 mins: Emre's short pass to Charles N'Zogbia on halfway set the young Frenchman off on a strong run through the middle and when he released Kieron Dyer (who was just about onside) the no.8 scampered into the box and placed a low shot into the corner of the Gallowgate goal.
Such was his delight, Dyer vaulted the advertising hoardings and was engulfed by jubilant fans - earning him a booking - but the mixture of relief and euphoria was clear for all to see. 1-0
Full time: Newcastle 1 Southampton 0
Glenn Roeder commented:

"He (Dyer) didn't know he was playing until I rang him up at 1pm this afternoon.

"I knew last night there was a possibility he might have to play. But I wanted him to have a good night's sleep, because it's such a long time since he's started a game.

"Alan was probably 70-30, 80-20 that he wasn't going to start - and we did really well to keep that quiet. It's hard to do that nowadays.

"But the scan revealed he's got a strain - and if we risked him there was every chance he would not have finished the game and every chance it would have developed into a tear which could have taken him out for a month or six weeks.

"We can't have that. It doesn't need me to say how important Alan Shearer is to Newcastle United.

"The game could have been over and done with by half-time. Southampton played some good football. It was a typical George Burley team.

"They didn't just crash it long; they weren't just physical. When they could they got it down and passed it.

"If we rewind the video of the first 45 minutes no one could deny we could have easily been over the hill and away. But that doesn't take anything away from the fact that they did play well.

"But I think it would be very unfair to suggest we were lucky. Shay Given made one brilliant save - but you are entitled to make one save a week for your money."

Talking about Shearer:

"He was in the dug-out, he was there with myself, Tommy Craig and Terry McDermott, and I think he enjoyed that.

"Instead of being sitting there as an injured player watching the game, he stood there watching the game as what he's going to be, a manager, one day.
"I think that gave him a different insight. He spoke to the players in the dressing room before the game, after the game, and I'm very happy for him to do that. I'll help him as much as I can.
"When he found out he couldn't play, you couldn't go near him because you know what Shearer's all about. He's so desperate to play every match.
"Once he got over the upset of not being able to play, we had enough players to go out and win the game without Alan and he did his stint in the dug-out.
"We won the game and he thoroughly enjoyed it. The only thing I couldn't get him to do was step out into the technical area - I don't know why."
Saints boss George Burley commented:

"I thought we deserved something from the game. We defended for our lives in the first half but then got on top after the break and created three or four really good chances.

"When you come away to a Premiership club you really have to take one of those otherwise you will get punished at some point in the game. Maybe our finishing could have been better and their keeper made some good saves.

"It was frustrating and disappointing but I could not have asked for more from my team and we come away with heads held high. They worked their socks off and took the game to Newcastle after the break and gave it our best shot.

"I thought we were the better side in the second half, we passed the ball very well and got on top but could not quite get the goal.

"We lost Claus at half-time and then Kenwyne and finished the game with 10 men when Bartosz got hurt. We looked round for volunteers and it was a toss-up who went in.

"Dexter did well and kept a clean sheet although it was a bit worrying when he went on an overlap run! He did fine apart from that!

"But we can take a lot of heart from this performance which again shows we are on the right lines. We defended well, were well organised and worked hard for each other and that is what we have to do until the end of the season."

Kieron Dyer's first start since August 2005 (Manchester United h), his first goal since April 2005 (Sporting Lisbon a) and his first FA Cup goal since January 2004 (Southampton a).

Three games we've been managed by Glenn Roeder: three pre-kick off huddles, three victories.

Jean Alain Boumsong's 50th game for the club - almost marked by his first Toon goal, only for the Leazes End goal frame to deny from close range at the end of the first half. His last goal came for Rangers away to Dunfermline Athletic. In October 2004.

Waffle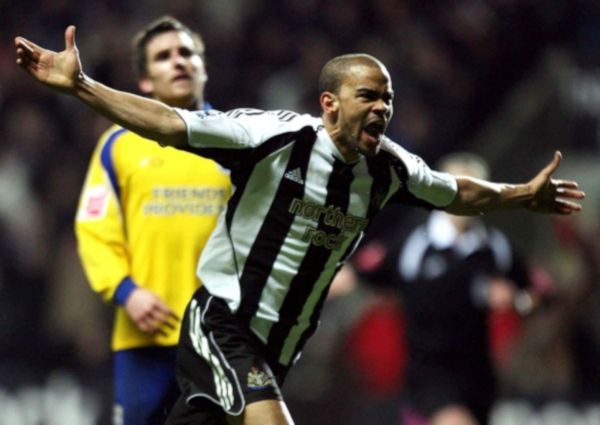 The BBC's coverage of this teatime kickoff included a pre-recorded segment of fictional soap opera "North East Enders" - about the trials and tribulations of being in a goldfish bowl by the Tyne.

It's hardly an original idea, but at least it's slightly better than yet more footage of tattooed gutbuckets, or an interview with that bloody vicar from the church on Darn Crook.

With idols both young(er) and old sidelined though, the script for this particular episode proved to be more Hollywood than Walford, as the villain became hero. Doubtless the aforementioned man of the cloth dusted off the tale of the prodigal son as the text for his Sunday service....

Since scoring in Lisbon last April, Kieron Dyer has only made fleeting appearances in our multiplicity of different-coloured shirts. In his absence we've gone through the usual round of raised hopes, dashed expectations, back-biting, in-fighting and blood-letting. And the Intertoto Cup.

But back he was - and just in the nick of time to save Shola's blushes, keep the smile on Roeder's face and the pressure off the Chairman - who you may recall awarded Dyer an enhanced contract while he was sidelined.

Let's get this right; the player has had a poor time and we're pleased to see him back etc. etc. but once the emotion of the moment subsides, it's as well to recall that his fall from grace was self-inflicted and cushioned by his bank balance.

One newspaper summed him up after this match as going "from pariah to messiah", which is a great line, if a tad inaccurate.

After all, this was a football match against inferior opponents, nowt more. To misquote from the Life of Brian, he's not the messiah, he used to be a bit of a naughty boy....
In a world of instant gratification it's easy to go overboard at the slightest provocation, but the dangers of over-hyping are evident. One goal or good game and then the media is seemingly filled with hyperbole or conversely, having a mare triggers the opposite over-reaction. There needs to be some sensible middle ground.

Of course it's difficult not to be swallowed up by the wall-to-wall coverage of Sky etc but to be fair to Dyer though, at least in public he seems more humble and worldly-wise. Long may that continue and strengthen - along with his fitness.

In an ideal world he probably would have come on to tease a tiring opposition in this tie, but thrown in from the start he gave everything he had to the cause and would rightly have been cheered off the field had he not scored the vital goal.

But a level of performance and commitment like that needs to be the rule - not the exception - before the plaudits follow the pound signs.

There was some symmetry in Dyer's return to the limelight coming against a side managed by George Burley - the man who handed him his first professional deal at Portman Road a decade ago.

However Burley's post-match comment that he'd never had a day's trouble from him put one in mind of those parents who claim their offspring are being victimised, as they accompany them to the local magistrates for the umpteenth time.....

Stripped of a full side (including subs) since the turn of the year, Southampton arrived here on a winless run.

And with a handful of cup-tied new recruits unavailable, genuine concerns about their ability to avoid a second successive relegation doubtless overshadowed their bid to reward those who backed them to win at 9/1.

In that context - and with the home side on a high after two morale-boosting wins - the opening half unfolded as expected, save for our inability to take the lead.

Some of our midfield work was a joy to watch, especially the inter-passing that Emre featured in, the Turk showing again his eye-catching ability to bob, weave and bounce off defenders without falling over - except when he decided he fancied a free kick.

We were a little tepid in front of goal, with the young Pole Bialkowski making one great stop from Ameobi, but watching the ball sail over the bar on a few occasions.

Things were slightly less wonderful after the break though, as we lost our way and looked to be drifting without the familiar anchor up front.

Southampton it was who firstly quietened the Newcastle crowd, then provoked them into redoubling their vocal efforts, via some grumbles - chiefly at Elliott's misguided attempt to dribble out of his own box.

For a few mad minutes we seemed to regress to an earlier point in the season, where the defence was all at sea and Shay was called upon to spare our blushes. This wasn't in the script was it?

Thankfully N'Zogbia got us back on track as he started making headway again down the left flank - although his match-winning contribution came through the central midfield area that he expressed a preference for in the run-up to this match.

The final few minutes were almost farcical, as we tried to do nothing daft and see the game out, while the crowd urged anyone in black and white who crossed the halfway line to "shoot" and test the makeshift 'keeper.

The only player who really obeyed was Luque, who whipped over an unexpected free-kick from the byline and was almost rewarded for his alertness with a first goal in England.

Come the end, no-one looked more pleased than Shearer, who had watched from the dugout as his one last lingering hope of a trophy was preserved by Dyer's strike.

However any romantic notions that we were on some sort of magic carpet ride to the final were to be wrecked by Monday's Quarter Final draw.

Robert Lee got his revenge on those Toon fans who stayed away from his testimonial, pulling our number out to pair up with Chelsea, thus reducing the chances of his pal Shearer marking his final season with at least an FA Cup loser's medal.

Although we beat Mourinho's men in last season's competition, crucially it was on Tyneside, not on the graveyard of Magpie optimism that they call Stamford Bridge.

It's almost twenty years since we last won down there and we've seldom looked like doing so since that day when a Beardsley-inspired side did the trick - abetted by a steady display from Glenn Roeder at the back (Peter Jackson - his defensive partner that day - has already taken his Huddersfield Town team to Chelsea in the FA Cup this season).

In the light of the recent misery at that venue, a draw would represent a phenomenal achievement, even though we'd still have one hell of a task ahead of us on Tyneside.
If the Chelsea game is to be any more satisfying for Shearer than the Semi final defeat of 2000 at the hands of this mob, then he really needs to have his former England sidekick Owen up front with him and preferably Dyer tucked in behind.

Effort and application will get you so far, but there's no substitute for talent and inspiration - or pace. Today we had enough to beat a side at the wrong end of the Championship, who struggled to field a side and enjoyed little good fortune. Nonetheless they made us look ordinary at times, showing that shortcomings that were evident under Souness haven't gone away.

All victories are to be enjoyed but a healthy sense of perspective is a handy thing to retain, even if it is a tad inconvenient at times in the lives of Newcastle supporters.

If there is a crumb of comfort to be had, it's that Chelsea aren't quite in top gear at the moment by their own lofty standards - that 0-3 beating on smogside being the most genuinely startling result of this season, but also a reminder that not everything is as cut and dried as it may seem.

Both Huddersfield and Colchester went down the Kings Road to give a good account of themselves this season - admittedly not on the back of a trip to Old Trafford and a home game against Liverpool though, as we must.

But if our name really is on the damn thing, then it doesn't matter who we play does it?

There's no pressure on us in this quarter final whatsoever - we can simply go and play.

Now if Dyer can come up with goods in that game when it really counts against top-class opponents, he'll deserve all the praise and plaudits that will doubtless come his way.
Biffa