Date: Wednesday 22nd February 2006,
7.45pm

Venue: St. James' Park

Conditions: Inert




Newcastle United

Charlton Athletic

0 - 0

Teams
Half time: Newcastle 0 Athletic 0


Full time: Newcastle 0 Charlton 0
Glenn Roeder commented:

"Seventy-odd minutes might have just tested Kieron a little bit too much and tiredness has caught him out.
"But at the moment there isn't a major concern that, with the scan showing a very mild strain, Kieron won't be about and playing again in three weeks.
"Because it's Kieron, you can never put an absolute definite date on it, but we are remaining positive and the important thing is we are keeping Kieron positive and he is keeping himself positive.
"Titus felt a sharp pain in his hamstring, but at this moment, the physio could not give you an accurate assessment of his condition.
"He's having it iced and it needs to cool down overnight and we will have a look at it tomorrow, and he will probably end up having a scan in about two days' time.
"The physio is hopeful in the way Titus is talking to him that it will be a very, very small tear rather than something major.
"He hasn't got a history of hamstring problems so there's every chance he could be out there again playing within three weeks.
"Shola's chance is the best chance of the game. You are inside the six-yard box, a free header, and it's an empty net because the ball has beaten the goalkeeper.
"Shola is very unhappy in there because he knows he had an opportunity to win the game.
"He's criticised for not scoring enough goals, he's aware of that and he takes it on his broad shoulders, and he's doing everything he can to rectify it.
"He had that one chance and unfortunately he directed it over the bar instead of under the bar."
Alan Curbishley said:
It looked like a stalemate all along really and I'm sure at the end of it Glenn Roeder would have taken a point.

"I don't really think anyone deserved to win it, although we looked that little bit stronger in the last 15 minutes I felt.

"We had a few decent situations which we didn't take full advantage of, but it would have been cruel on either side to lose.
"Our away record stands up to scrutiny over the entire season but in recent months it has been desperate and we needed to turn that around.
"In the last six or seven games we've not given ourselves a chance as we've gone behind early on and been left chasing the game.
"We were determined not to be 1-0 down and chasing it tonight and the players are delighted at keeping a clean sheet more than anything.
"We trained for 4-4-2 but once the Newcastle team came in we changed as we were a bit concerned about Emre and Bowyer and us being outnumbered, so we set about stopping it.
"There are still lots of points to play for, we aren't far off the top six or seven, and a couple of wins can change that dramatically.
"This week was a big week for us. We were at home to Brentford in the FA Cup and needed to get through, and we needed to get something here.
"Then we are back at The Valley again on Saturday. It could tell us a lot about where we are going by the end of Saturday evening.
"By the time we play Villa we will have had really tough couple of months.
"This game and the Liverpool game were rearranged and we have been involved in the FA Cup.
"We need to get through the weekend then we can give the players a little break next week to recharge the batteries - except the ones on international duty that is - and see what the run-in brings us."

Athletic in Toon - Recent years

NUFC v CAFC last 11:
2005/06 Drew 0-0 No scorer
2004/05 Drew 1-1 Dyer
2003/04 Won 3-1 Shearer(2), Jenas
2002/03 Won 2-1 Griffin, Robert
2001/02 Won 3-0 Speed, LuaLua, Shearer
2000/01 Lost 0-1 No scorer
1998/99 Drew 0-0 No scorer
1996/97 Won 2-1 Clark, Shearer (FAC)
1992/93 Drew 2-2 Lee Kelly
1991/92 Lost 3-4 Clark, Hunt, Brock
1990/91 Lost 1-3 Brock
1988/89 Lost 0-2 No scorer
First game under the Roeder reign that we haven't won, so he was unable to match Jack Charlton's record of starting a managerial campaign with three league wins - still undefeated though.
This was our third scoreless draw of the season, coming after the goalless encounter with Portsmouth at Fratton Park and the visit of West Ham early in the season.
We moved up one place to 13th, a point behind opponents Charlton and three points adrift of Saturday's visitors, Everton.

Waffle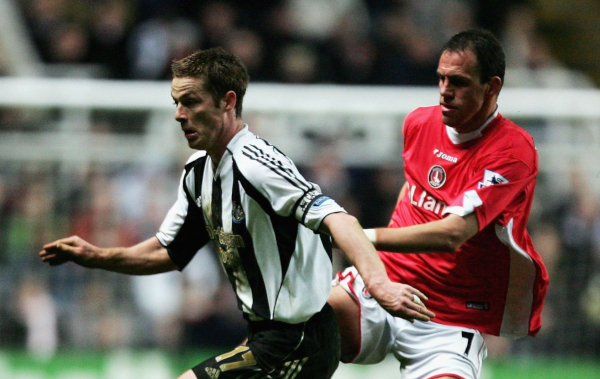 Four games in and caretaker manager Glenn Roeder is starting to experience at first hand the frustrations of his predecessor.

Having been without Alan Shearer on Saturday, tonight saw him preparing for the visit of Charlton in the knowledge that Kieron Dyer's comeback had lasted just one game.

And worse was to follow when Titus Bramble limped off - a second hamstring victim.

A measure of Roeder's lack of enthusiasm for the talents of with Chopra or Luque could be gauged by his decision to leave Ameobi bearing the burden alone up front, relying on support from a five man midfield
We began promisingly, Ameobi testing Myhre with a well-struck effort and Emre grazing the Leazes end crossbar direct from a corner.

However our cutting edge was gradually blunted and crucially lacked width - N'Zogbia cutting inside and Ramage once again trying to patrol the whole of the right flank.

For the third consecutive game Jean-Alain Boumsong found himself in front of goal, but after heading into the ground and over the bar at Villa and striking the woodwork against Southampton, this time he could only direct his header from a Solano free kick straight at the 'keeper.

However the much-maligned Rennie and his linesman were right to call Ameobi offside just before the break, as the striker found the net with a close-range shot which was chalked off.

Things took a turn for the worse ten minutes into the second half when Titus Bramble pulled up sharply in his own box, limping off with what was later diagnosed as a hamstring strain.

The lack of defensive cover that had seen us unable to name a sub for that position meant we had to improvise, Elliott partnering Boumsong and N'Zogbia dropping back to left back.

The reshuffle saw Luque appear, but once again he was unable to contribute anything of note as our passing became looser and frustration started to set in.

We did still threaten the Charlton goal on occasion, with Ameobi unsuccessfully appealing for a penalty after being tackled by Perry.

And it was Shola who missed our best chance of the night when he headed Emre's corner over the bar from close range with a quarter of an hour to go.

At that point it seemed that a goal would never come, but the visitors started to get one or two attacking ideas of their own in the closing stages, leading to some timely interventions from Boumsong and Ramage.

In the final analysis, neither side deserved to win this game. And while both managers put a brave face on things, Curbishley doubtless left the happier after what was a rare clean sheet and point away from the Valley for his side.

For Roeder though there was satisfaction in having coaxed another whole-hearted performance from his side, which while hardly setting the SJP crowd alight at least didn't incur their displeasure too much.

However after the comparative riches of the last three games, this was a strong dose of reality for the black and whites. Had Graeme Souness been watching, he'd have doubtless have muttered something along the lines of "I told you so."

With Shearer and Chopra both heading out of Toon in three months time, the future of Owen up in the air and Luque just not featuring on the Radar, then Ameobi seems by default to be the heir apparent to the number nine's legacy.

Unfortunately it's nights like this that provide a reminder of the fact that while there's no lack of effort (and he's still not 100% fit) from the 24 year-old, he lacks a genuine goalscoring instinct.
Biffa