Date: Saturday 25th February 2006, 5.15pm
Live on Sky PPV

Venue: St. James' Park

Conditions: bullish





Newcastle United

Everton

2 - 0

Teams
Half time: Newcastle 0 Everton 0
64 mins Man of the moment N'Zogbia was once again the architect, picking up an Emre pass before striding into the box and sending over a low centre for Solano to slide into the ball into the Leazes end net from a few yards out 1-0
76 mins Some slick passing around the edge of the visitor's box culminated in Bowyer's pass to Solano on the right hand edge. The Peruvian cut inside and clipped a glorious right -footed curler with the outside of his boot, beyond Westerveld into the far corner of the goal 2-0.


Full time: Newcastle 2 Everton 0
Glenn Roeder commented:
"Emre said to us that he just needed a run of games to show what he can do. He came in today unwell. He'd been sick overnight and was feeling drained.
"We discussed whether he'd play, start on the bench or not be involved at all.
"But if he'd started as a substitute then everyone would be asking 'Why is Emre on the bench?' so we told him to go out there and give it his best shot. He is a great technical player and is very gifted."

On the improvement in his defence:

"They were playing as individuals. I was surprised the first few times I worked with them. There was no communication.
"They all speak English, but they weren't talking to each other. Where I come from, as a former centre half, I don't know how you can play as a defender without giving information and covering each other's backs. It is that simple. I have a background working with Terry Venables — he is so much better than everyone else — and he always started preparing by making sure you don't concede."
On Nobby's sensational second strike:
"He actually scored an even better one in training. I work with him everyday and that wasn't a fluke. He knew exactly what he was doing. At 1-0, I never had any doubt whatsoever that we'd lose the game.
On Parker's omission from the latest England squad:
"I'm surprised and disappointed by the decision but it would be wrong of me to choose someone else's team. Parker would not look out of place alongside the likes of Frank Lampard and Steven Gerrard.
"He's a real player and there are 51,000 supporters here who think he's wonderful.
"Like Alan Shearer, he's the kind of person who would sulk if he lost at Tiddlywinks and to be a winner, you've got to be a desperate loser.

On his own future:

"I don't know if I'll be involved next week, but the only huge achievement we can make next week is beating Bolton and taking three points from them.
"If you start looking beyond that, you trip up very quickly. Football is just that sort of game and scientifically, you can't say why.
"If you start saying 'I'm going to do this, I'm going to do that in a few weeks' time or next month', you don't get there because you don't get the results that lead up to those games.
"If I'm in charge next week, we will work hard and do the professional job we have done on all the teams we have played to try to beat Bolton here next week.

"We are only thinking about winning as many games as we can. Every game has to be a final for us from now until the end of the season."
David Moyes said:
"When I spoke to the players afterwards you could see how disappointed they were. During the game you could see the confidence through them and we thought that we could take something from this game.
"But if you'd have given me just one defeat from this run nine games ago, I'd have taken it.
"We had about 10 players out, through our own fault, so I had to make changes.
"The goalkeeper only had one save to make. He did well but didn't really have a great deal to do.
"Joseph (Yobo) was playing at right-back and that's not his position.
"I didn't think we were under a great deal of pressure.
"I thought we were relatively comfortable. I have said to the players they have played well but we have not come away with any points. We are just disappointed that we couldn't take something from it.
"The run we have been on has been great and if you had said to me nine games ago we would have only had one defeat, we would have taken it.
"Until the goal we were comfortable. I didn't think we were ever really in danger and still felt we offered the biggest threat of scoring. But we didn't get the goals we maybe should have.
"I just felt the first goal we conceded was a poor one. We had a chance to play ourselves in at the edge of the box but we chose not to and from that it resulted in them breaking up the park and scoring. That was the biggest disappointment.
"The first goal in so many games - and maybe even more so with Everton - is vital. But I did feel that we could quite easily get back in the game.
"I felt our play was good enough. I thought the confidence was there and the self-belief too. But we just couldn't finish off the opportunities we had. We had a couple headed off the line in the first half, which on another day if you get them changes the whole complexion of the game."

This was our 150th game against the Toffees and our 61st victory (31 drawn, 58 lost).

Debutant Matty Pattison appeared in injury time for Newcastle, becoming the 120th player that we've used in the Premiership (not including Craig Moore, still to make his competitive debut.)

NUFC vs Everton @ SJP: Premiership Years

2005/06 Won 2-0 Solano 2
2004/05 Drew 1-1 Bellamy
2003/04 Won 4-2 Bellamy, Dyer, Shearer 2
2002/03 Drew 3-3 Dyer 2, OG (LC)*
2002/03 Won 2-1 Shearer, Bellamy
2001/02 Won 6-2 Shearer, Cort, O'Brien, Solano 2, Bernard
2000/01 Lost 0-1 No scorer
1999/00 Drew 1-1 Shearer
1998/99 Lost 1-3 Shearer
1998/99 Won 4-1 Ketsbaia 2, Shearer, Georgiadis (FAC)
1997/98 Won 1-0 Lee
1996/97 Won 4-1 Ferdinand, Lee, Shearer, Elliott
1995/96 Won 1-0 Ferdinand
1994/95 Won 2-0 Fox, Beardsley
1993/94 Won 1-0 Allen

(*lost on pens)

Third and fourth goals of the season for Nobby Solano, who now has 42 goals in our colours, since opening his account against Wimbledon back in November 1998.

And the nine strikes to his name from his "lost" period at Villa mean that his opener for us against Everton saw him reach the half-century mark in English football.

There was an element of Deja Vu about in this game, the Peruvian having netted past Sander Westerveld the last time the Dutch 'keeper had played at SJP.

That came as Liverpool were beaten 2-1 here back in November 2000, Solano opening the scoring, again at the Leazes End.

Waffle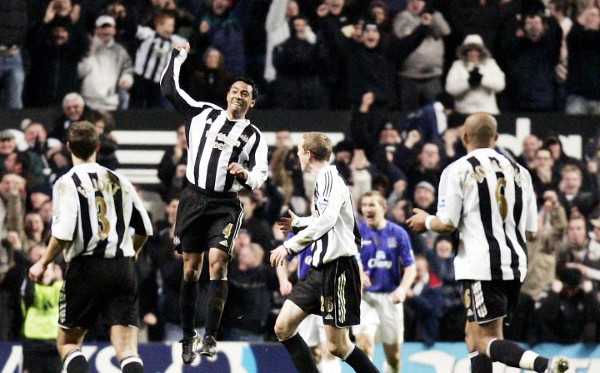 After finding themselves in something of a cul-de-sac earlier this week, Glenn Roeder's revitalised United resumed their forward progress on Saturday night, at the expense of what had been a similarly resurgent Everton side.

And in what is becoming an increasingly positive period of the season, it was pleasing to note that the caretaker manager and his team were able secure the victory despite being hamstrung by injuries in similar fashion to his predecessor.

Short-handed in defence and attack, Roeder avoiding moaning about his plight and instead went about augmenting his side's increasing confidence with some commonsense tactical tweaks.

Wonderful it wasn't, but quietly impressive it certainly was.

Midfielders getting forward to boost the attack and popping up at the back to make crucial clearances and defenders well, defending. One goal conceded in five games is perhaps an even more unexpected statistic than our four wins and one draw in that sequence.

Where Curbishley had stifled our five-man midfield by deploying the same number against them, David Moyes saw his side left short-handed in that area - partly due to the half-fit Lee Carsley only appearing for the final quarter of an hour and the presence of ex-mackem waster Kilbane on the field.

If there was a shortcoming, it was in our attempts at beating stand-in goalkeeper Westerveld - especially in the opening half.

Having seen Ameobi manage to wrap himself round a goalpost as he vainly tried to reach a tempting cross in the opening seconds, it took until time added on at the end of the half for another genuine scoring chance.

Then, Solano was denied by a fingertip stop to turn his full-throttle and rising strike over the crossbar.

However the Peruvian was to prevail after the break, as we twice moved forward with menace - some slick passing firstly allowing him to convert from close range and then clip home a perfectly -flighted effort to seal the win.

The relief that greeted both of those goals was fulsome, from players, fans and officials alike.

But it's a fine line - had we failed to score for a second successive game, then questions would doubtless have been asked of the caretaker manager, who omitted Luque completely and left Chopra on the bench.

Roeder doubtless had an anxious moment when Shola stayed down early on, but things had gone his way so much that he was able to send on Matty Pattison for his debut in the final seconds of the contest - the youngster having made the bench ahead of Luque.

Like the Spaniard, Pattison has returned from a serious injury, but unlike the former Deportivo man he's put in the effort in training and built his fitness up with nine games in the reserves - that's nine more than Luque, by the way.
Beattie and Yobo went close at the end but the victory never looked in serious doubt as the toothless Toffees only briefly threatened to ruin our fourth clean sheet in five games.

While whispers of Roeder being in consideration for February's Manager of the Month award are pleasing, a look at the fixture list would be advised before indulging in wild talk of UEFA Cup places or similar.

Bolton, Liverpool, Manchester United and Spurs lie immediately ahead in the Premiership - a quartet of clubs who all notched convincing 2-0 victories against us in our meetings earlier in the season. And somewhere in amongst those four is that FA Cup tie - hardly light relief, but it's not meant to be easy.

But at least we look capable of competing and when the manager and players talk about having a real go in games, their words no longer have a hollow ring.
Biffa