Date: Saturday 4th March 2006, 3.00pm

Venue: St. James' Park

Conditions: cloudless




Newcastle United

Bolton Wanderers

3 - 1

Teams
34 mins Jaidi brought down Shola Ameobi, who had kicked thin air moments earlier, on the left hand edge of the Gallowgate box. Nolberto Solano hit a perfect free-kick into the left side of the goal, although Jaaskelainen looked a little too easily beaten. 1-0
45 mins Following some excellent work near the centre circle, Scott Parker fed Emre who played in Celestine Babayaro down the left.

The full-back moved it on to Charles N'Zogbia and the winger sent over an inviting cross for Alan Shearer to head back across goal, looking for the far corner. The ball looked to be going in but Jaaskelainen pushed it up into the air and it fell over the line, Ameobi watching it safely home. 2-0
Half time: Newcastle 2 Bolton 0
70 mins Another good cross from N'Zogbia was headed as far as Emre. The Turk's low drive wasn't goalbound but it fell at the feet of Shola Ameobi who controlled the ball before thumping it home from seven yards 3-0
72 mins A short corner routine from the Strawberry corner eventually found Gardner who looped over a cross to the back post, where Jaidi beat Ameobi and headed over Shay Given. Davies got the final touch from point-blank range as the ball dropped on the line.3-1


Full time: Newcastle 3 Bolton 1
Glenn Roeder commented about goalscorer Shearer:
"To be bluntly honest, I was getting fed up with him in the dug-out, so he had to be fit today. He had no alternative.

"It's his last season and he would certainly prefer to be out there playing every game between now and the end of the season.

"When he broke the record and I said, 'you have broken the record, I just hope you are not going to declare now'.

"I won't repeat what he said, but he's got one today and there are still more goals in Alan Shearer.

"I'm not aware of another Alan Shearer-type player in world football. He's going to have to be replaced - how and with who, I don't know.

"Whoever he is, he won't be the same as Alan Shearer. How anyone could say he's become too big for the club, for me, that's ridiculous.

"I haven't seen the chairman about whether I'm picking the team next week yet.

"It's one game at a time. Nothing has changed. I'm doing the best I can, the players are doing the best they can and fortunately at the moment, we are getting a few results."
Sam Allardyce said:
"I'm very disappointed in our performance today, that's from up to going 3-0 down. We never performed to anything like the level we can do.

"Then when we decided to try to play like we can, it was too late. That was after we had gone 3-0 down.

"Clearly from a defensive point of view, we have conceded two goals on set plays that we really shouldn't have done.

"We gifted the game to Newcastle, really, with not much between the two sides in the first half.

"They capitalised on what we should have done better with.

"Both the free-kick and the cross on Alan's header which normally our goalkeeper would have dealt with comfortably, sadly he hasn't.

"That really is the overall reason why we lost the game today."
50th club appearance in all competitions for Charles N'Zogbia - his 35th start (26 starts +10 as sub in the Premiership).

Solano's fifth goal of the season - all of which have come at home. He's netted those five in 24 games - at almost the same rate as he scored in his first period with the club (27 games in 1998/99).

98/99: 6 goals in 38 games
99/00: 4 goals in 40 games
00/01: 7 goals in 38 games
01/02: 12 goals in 52 games
02/03: 8 goals in 45 games
03/04: 1 goal in 20 games
05/06: 5 goals in 24 games
Trotters in Toon - last 30 years
2005/06: Won 3-1 Solano, Shearer, Ameobi
2004/05: Won 2-1 Bowyer, Dyer
2003/04: Drew 0-0 No scorer
2002/03: Won 1-0 Jenas
2001/02: Won 3-2 Shearer 2, Bellamy
1997/98: Won 2-1 Barnes, Ketsbaia
1995/96: Won 2-1 Kitson, Beardsley
1982/83: Drew 2-2 Waddle, Martin
1981/82: Won 2-0 Wharton, Trewick
1980/81: Won 2-1 Clarke, Martin
1975/76: Drew 0-0 No scorer (FAC)

Bolton's last victory at SJP was a 2-0 success in October 1959.

Man U, Liverpool, Chelsea, Wigan and Spurs can still do the double over us - but Bolton failed to become the first side to do so, as had Everton the previous week.
Davies' goal brought to an end Shay Given's SJP shutout record under Roeder of 432 minutes.

We enjoyed the luxury of a two-goal lead at the interval - not something that we've been used to in recent times.

And although we did hold that advantage in our FA Cup at Cheltenham earlier this year, we've not managed that feat in a Premiership game since January 2005.

That came at SJP against Birmingham City, when we led 2-0 at the break thanks to Bowyer and Ameobi, going on to win the game 2-1.

Waffle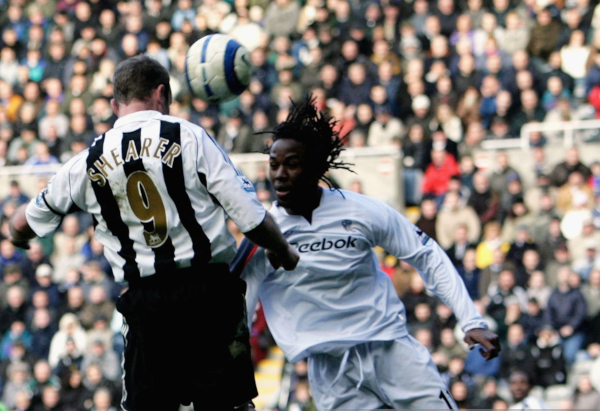 A comparative feast for those at Gallowgate, after the famine that has afflicted these parts in recent times - to paraphrase a rotten choccy ad, "caretaker you are spoiling us".

This wasn't a classic game of football: Bolton weren't in the mood for that and only really got their aerial bombardment going when three goals behind.

But after a slow start, we once again picked up the positive thread that has been a constant feature of the post-Souness era for the side.

Where our former manager seemed more interested in taking the Bolton boss by the scruff of the neck (at least judging by his negative press comments), our caretaker focussed on getting his team to do that in this game.

Six games since we wiped the slate clean then, and we're only a missed Shola sitter against Charlton away from Glenn's full house.

The relief and early optimism may have coincided with the appearance of a Portsmouth side at Gallowgate who would have been given a game by a side from the Eldon Square Tuesday afternoon league, but things have moved on apace since then.

Had Souness faced Redknapp still in charge that day we would probably have got the three points, which would have merely delayed the inevitable.

But to suggest then that we'd record convincing back-to-back wins against Everton and Bolton would have been stretching credibility to the limit.

On consecutive Saturdays though, we've made the products of Moyes and Allardyce look as thoroughly average as we believed they were when they were beating us earlier in the season - and last year for that matter.

Either Roeder is a very lucky manager and teams have off-days against him (certainly O'Leary's cock-eyed view after we won at Villa) or there's something happening here - and it wasn't just "Big Sam's" odds on getting the job drifting out to roughly that of Souness....

Individual performances are improving and collectively we're more reliable and simply better to watch - the belief has been restored (although it's yet to reach the Spaniard).

The pattern of play is light years away from what we'd endured post-Robson and there's a discernible enthusiasm from all quarters. Whoever comes in long-term inherits that buzz, which cannot be measured but is as vital as a transfer kitty - as are the positive newspaper stories that now abound.

And in the final analysis, we seem to want to win more. Whether that's for the manager, new contracts, personal pride or merely filthy lucre is almost irrelevant...

As we head for Old Trafford, it's in a condition utterly removed from the last time we traipsed across the M62 - devoid of hope and travelling in full expectation of another woeful ninety minutes in the North West.

Since that grim night at City the whole complexion of the team has changed, even if the team selection remains influenced by availability as much as tactics. Positivism is the order of the day now though, not whining and wailing for the umpteenth time about perceived injustices.

More importantly, our recent successful points gathering exercise means that the outcome of the game against Ferguson & Co. isn't of critical importance. Defeat for his side won't see our boss labelled "beleaguered Roeder" in the Monday papers.

Let's face it - we cannot be much worse than the feckless afternoon in Cardiff ten months ago, or the battle of Wounded Knee at SJP last August. If nothing else though, we'll have eleven players on the field who are mentally and physically fit - at least at the first whistle.

Biffa