Date: Sunday 12th March 2006, 1.30pm
Live on SkySports

Venue: Old Trafford

Conditions: Punctured

Admission: £39

Programme: £3





Manchester United

Newcastle United

2 - 0

Teams
8mins: A personal disaster for Peter Ramage who left a backpass to Shay Given woefully short. The young defender's body position was all wrong as the ball got stuck under his foot. Wayne Rooney intercepted and expertly clipped the ball over the stranded goalkeeper. 0-1

12mins: John O'Shea fed Rooney on the edge of the box and after a good first touch he fended off the challenge of Ramage to stroke the ball past Given into the corner of the East Stand/ K Stand / Scoreboard End net. 0-2
Half time: Man U 2 Newcastle 0


Full time: Man U 2 Newcastle 0
Glenn Roeder said:

"It's difficult enough coming here. We haven't won at Old Trafford since 1972 but there are plenty of teams who have a poor record here as well.
"This was our sternest test. Some have performed well on the day and some haven't. You need 11 excellent performances when you come here. If not, it becomes impossible.
"We must not polarise this result without looking at the bigger picture. We have had a fantastic five weeks and they will pick themselves up, lick their lips, shrug their shoulders or whatever they have to do, and be extremely positive and prepare for a very attractive game at home to the European champions next week.
"I have seen it written that the games we had before we went to Old Trafford were soft games. There are no soft games in the Premiership.

"If you look at those team's results prior to playing us, you would have to suggest that the teams we have beaten, like Everton and Bolton, had been in a fantastic vein of form. They were very difficult games for us to win. But we did win them.
"We must not take any credit away from the team for beating those sides and winning those games.
"These three games (Manchester United, Liverpool and Chelsea) will give us a clearer indication of where we are at in one way. We have had no easy games but, with these three to play, we are now talking about Champions League teams, the cream of English football.

"We have slipped up at the first at Old Trafford. We have to see where we will go from here."

On a new managerial appointment:
"I have no idea what is happening on that front, I haven't spoken to the chairman about it. Who knows what will happen? I've lost a game now, maybe I will get the sack."

On Ramage:

"No one in the dressing room has criticised Peter Ramage. Every top player, at some point in his career, has made a mistake like that. What he mustn't do is do it again. He has to learn from it. I have said to him, `You now have to be very brave' and he accepts it was a mistake.
"I have told him not to hide away, to stand up and be counted. He will want to be in the team against Liverpool and I'm sure he will be and he will want to have a great game. It's a test of character for him now. I personally think he will pass that test."
On Rooney:
"I don't know where Wayne Rooney will be in three or four years time but there is every chance he could end up being recognised as the world's number one player.
"He is a huge talent and he cannot have anywhere near fulfilled his potential yet. Not only does he have pace and strength, which are the two most important qualities in an international player, he also has technique, ability and a footballing brain to go with it.
"He truly is a wonderful player, the type Manchester United deserve to have. I only wish we had him instead.
"The beauty of football is you get so much scientific information on players and think you have a way to stop them, someone does something like that.

"Wayne cannot yet have come anywhere near fulfilling his potential. In three or four years, there is every chance he could be number one in the world.

"Together with Thierry Henry, he is my favourite Premiership striker. I just wish we had him."

On Kieron Dyer:

"We have increased the intensity of his training and after speaking to him yesterday, we decided it would make sense to put him on the bench with a view to getting him on for 25 to 30 minutes.

"We have done that and Kieron has said afterwards he was fine."

Dyer himself commented to the Chronicle:

"There have been a lot of positives lately, but today just shows that we still have a long way to go.
"For years Manchester United have been the benchmark - now it's them and Chelsea, and we are not quite there yet.
"But today has been a good experience for our young players, like Charles N'Zogbia and Peter Ramage. I know Rammy made that mistake, but what I liked about him was the way he did not hide after it and he continued to look for the ball.

"Like Steven Taylor, he has an old head on young shoulders and this can only be good for the future of Newcastle United.
"But I have to say that there were a number of us today who were well below par when needed all 11 to turn in top-class performances.
"I was quite surprised to be on the bench after the manager had said I was not going to figure at Old Trafford.
"But I had a good week's training, and after a meeting with the manager at the team hotel on Saturday he decided to give me 20 minutes. That's what I got, as much for my lungs as my hamstring.
"Now my aim is to be 100% fit for the FA Cup tie at Chelsea a week on Wednesday, and I feel fine."
Sir Alex said:

"It sounds glib saying it could have been ten but the evidence is there.
"It was a fantastic performance but we could have done with the third goal because one for them would have changed the whole picture.
"We did miss some glaring chances but we produced a fantastic team performance and that is the most important thing.

"I don't know how many Wayne could have scored, but he was absolutely top-drawer.
"We expected him to progress. You expect that in young players and we've seen that. He wants to play all the time and hopefully there is more to come.
"He is far more mature in his game than when we signed him and that's very pleasing."

Alan Shearer's final competitive visit to Old Trafford (unless there's an FA Cup Semi Final staged there that involves us......)

34 years and counting since we last beat the Reds at Old Trafford:

71/72 won 2-0 Tudor, Barrowclough
72/73 lost 1-2 Nattrass
73/74 lost 0-1
75/76 lost 0-1
76/77 lost 2-7 Burns, Nattrass (LC)
76/77 lost 1-3 Nulty
77/78 lost 2-3 Martin, Burns
84/85 lost 0-5
85/86 lost 0-3
86/87 lost 1-4 D.Jackson
87/88 drew 2-2 Mirandinha
88/89 lost 0-2
93/94 drew 1-1 Cole
94/95 lost 0-2
95/96 lost 0-2
96/97 drew 0-0
97/98 drew 1-1 Andersson
98/99 drew 0-0
99/00 lost 1-5 og (Berg)
00/01 lost 0-2
01/02 lost 1-3 Shearer
02/03 lost 3-5 Bernard, Shearer, Bellamy
03/04 drew 0-0
04/05 lost 1-2 Ambrose
05/06 lost 0-2

Toon Torturers - for Andy Cole and Ruud Van Nistelrooy, read Wayne Rooney.

The man who we allegedly tried to buy has now scored six goals in the four Premiership meetings between the Uniteds since he signed:

2004/05 h 3-1 scored twice
2004/05 a 2-1 scored once
2005/06 h 2-0 scored once
2005/06 a 2-0 scored twice

(However he did fail to net against us in the FA Cup semi final last season - we still lost 1-4)

The Reds became the first side to do the double over us this season.

Glenn Roeder failed to guide Newcastle to victory on this ground just as caretaker boss Steve Clarke had also been unable to, back in 1999.

And for our temporary boss there was to be no repeat of the events of December 2001, when a Jermaine Defoe goal brought about a 1-0 win at Old Trafford for the West Ham side then under his stewwardship.

One thing though remained unchanged from his last visit here as a manager, when the Hammers went down 6-0 in 2003 - the presence of Lee Bowyer on the field for the visitors.

Waffle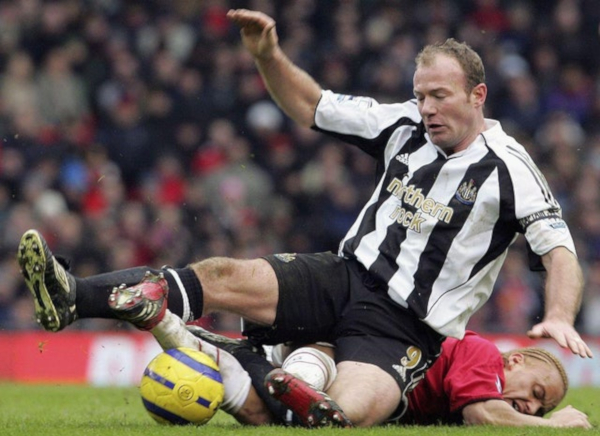 Our post-match headline said it all: "Huddle, muddle, toil and trouble" - although "reality check" would have been more succinct.

After six games of relative on-field calm and off-field enjoyment, our first return to the North West since that wretched night at Man City was the signal for an afternoon with unpleasant echoes of former failures.

That's not just Souness though - who had the brass neck to turn out here as a Sky pundit.

No, Roeder now joins messrs Robson, Clarke, Gullit, Dalglish, Keegan, Smith, Charlton, McFaul, Dinnis and Lee - or in other words, every Magpies boss since Joe Harvey who has tried to beat Man U competitively away from SJP (McGarry, Cox, Suggett and Ardiles never got a go), and failed.

Our caretaker manager had made his last Newcastle appearance here at the end of the relegation season of 88/89.

Since then the changes at Old Trafford are as immense as those at Gallowgate. But some things remained unaltered: the scoreline for one, another 0-2 that could have been far worse, the soporific home sections and the feeling of deja vu emanating wherever the away fans were housed.

Back on that Saturday in May 1989, Roeder had appeared on the field wearing the number nine shirt for no apparent reason and unfortunately the same could be said of our current resident in that shirt, seventeen years on.

However Shearer wasn't alone in being completely bypassed by this game.

Ameobi's fitful contribution saw him removed at the interval, presumably to rest his troublesome hip - there simply wasn't a lot of point in him toiling on for another 45 minutes.

Roeder should have been able to call a straight replacement on, but the continued disinterest of Luque in being a Newcastle player made his appearance on the bench inexplicable - he eventually shuffled on for the final knockings, before scurrying out of Old Trafford with considerably more vigour.

But while most attention and criticism has been reserved for the defence and the two Ramage ricks that gave Rooney reward, there's an element of shooting fish in a barrel there though.

Elliott has been playing on borrowed time as a full back for at least three seasons, never mind a central defender. Ramage is a centre back by choice and hardly the finished article in any role.

The two international players Babayaro and Boumsong are open to stick and deservedly so, but there's a little more to it than that, surely.

Putting aside the Luque issue (and Dyer's delicate fitness) bringing on Bowyer was an acknowledgement by Roeder that our problems today also lay in midfield, an area where we had been short on tackles and blocks and long on poor passing.

Solano was simply crowded out and the occasion and setting looked to have got to N'Zogbia. Meanwhile, remonstrations from touchline and central defence directed at Emre told their own story. The Turk discarded his hand-warmers at half-time but the phrase "the gloves are off" would merely have been descriptive.

Contrast that with the performance of Park for the home side, who rarely wasted a ball and found acres of space and passing options, often finding defenders both alongside and outside him.

Bowyer managed to add a little more solidity to the centre of the park, but although his effort was our only worthwhile shot of the day, his introduction confirmed that this had become a damage limitation exercise; Dyer's later cameo little more than a shot in the arm for the player (and fans) - but vaguely encouraging ahead of Liverpool and Chelsea.

Wayward finishing from Wayne and others spared us a sound thrashing, along with the expected good work from Given, but this was a day best forgotten quickly if the confidence gained from the previous six games is not to be lost.

On the face of it then, a continuation of the torture that was the Cardiff semi last April, but without a Newcastle goal - or added punishment at the other end.

Despite that though, we are in a better position now - at least in midfield where Parker is bedded in, Butt hopefully permanently blues-bound and Milner proving his worth on loan at Villa before returning. Defence and attack though remain rather more of a grey area, especially when looking ahead to next season.

Roeder's positive contribution as caretaker may have bought Freddy & Co. some breathing and thinking space, but the imperative remains to start re-fashioning the club in the image of the next manager. Another pressure-relieving and hasty appointment for the sake of it isn't an option.

While our chances of getting a favourable result against Liverpool on home soil next week haven't really been diminished by today's result, this defeat amply demonstrated the distance we are away from competing at the sharp end of this league.

We may have failed at (or near) the top level today, but that has to be taken in the context of having succeeded against the more run of the mill sides recently - the last time we were in Manchester, even that looked to be beyond our capabilities.
Biffa