Date: Sunday 19th March 2006, 1.30pm

Venue: St. James' Park

Conditions: Leaky




Newcastle United

Liverpool

1 - 3

Teams
10mins A goal so simple it was untrue. Steven Gerrard played it right to Kromkamp who floated over what should have been an easy ball to deal with. Peter Crouch lost Peter Ramage and got behind Jean-Alain Boumsong - who was back-pedalling - to head into the Leazes goal from close range.

Crouch appearedto be marginally offside but was probably level when the ball was played. Given's positioning also looked less than perfect. 0-1

35mins Cisse lifted a high ball to the far post where Gerrard headed it to Crouch. The beanpole striker touched the ball back to Gerrard who hit it powerfully first time past Given into the far corner. 0-2

41mins Another ludicrously simple goal. Ramage played the ball back to Scott Parker who clipped it towards the penalty spot and Shola Ameobi timed his run to guide a header over Pepe Reina into the top corner. 1-2
Half time: Newcastle 1 Liverpool 2
52 mins Boumsong made his biggest black-and-white blunder yet, which is obviously saying something. Gerrard hoofed a hopeful ball towards Crouch and Boum inexplicably kicked at thin air. Crouch was then in on goal but still had to beat Given from a narrow angle.

Boumsong wrestled him to the ground before he could shoot and referee Riley pointed to the spot before waving a red card. Cisse hit the penalty to Given's right while the keeper dived left.

The goalscorer lifted his shirt to display a message to his wife and bairns as he ran to the Milburn/Gallowgate corner - and was promptly booked. 1-3


Full time: Newcastle 1 Liverpool 3
Glenn Roeder said:
"It was a very tough afternoon for us.
"In some respects it was like last weekend against Manchester United, we have conceded an early goal against a quality side and it was always going to be a struggle after that. We didn't keep the ball well enough and when you are playing a side who, last season, were European champions, you are going to have to work very hard to get it back of them.
"Goals change games and conceding so early meant we were always chasing things. At 2-1 at half time we felt we had a good chance of getting back into it. But the penalty and the sending-off has killed us.

On Boumsong:
"If you take aside the issue of his cost, whether it is someone who cost very little or as much as Rio Ferdinand, disregard that, it's still a poor piece of defending.
"What you will not get me to do is slag off one of my players in public because I was a player once and a manager who did that wasn't a good manager.
"But that does not mean to say that when Boumsong and myself sit down and go through the goals I will not tell him where he could have done better. Jean-Alain is very upset, who wouldn't be after what led up to the goal and his sending-off?
"It appeared to be a simple clearance but he hasn't got enough on the ball and Peter Crouch has got the other side of him.
"He had to make a decision. Did he let the player go or did he try to make a tackle? Obviously he made a decision to try to retrieve the ball, which ended up in a penalty. I've got no complaints with the decision, the referee got it absolutely right and he will now be missing against Chelsea.
"Is he mentally tough enough to bounce back? Well, he didn't exactly take the shortest route off the pitch after he was sent off, so that would suggest he has got to be mentally tough.
"I cannot knock him as a person, he works hard in training, but we will look at the evidence and I will talk through it with him. But as we all know, you can't continue to make mistakes, especially when you play in the position he does.
"Titus had trained without any problems for 10 days so we were very surprised on Friday when he felt some tightness in the area of his hamstring injury.
"If he had played against Liverpool he wouldn't have made it to half time and he is probably another seven or 10 days away from playing again, so he will not make the Chelsea game."
Rafa Benitez said:
"Our idea is to think about one game at a time and in this case, it was to win three points. We have to keep going to be closer, and if the other teams keep winning, we have to do the same.
"It was difficult because they starting keeping the ball and playing long balls, and it was more difficult for us to go forward.
"But we created enough chances, we won 3-1 and I'm sure if we had needed another goal, we would have got it.
"It's really important for them and also for the team to see all the strikers scoring goals. Now the problem is for me. All of them are scoring goals, but it's a good problem and we will have more confidence for the forthcoming games.
"He was playing well,. He can keep the ball and pass and win it in the air.
"We decided to sign Peter (Crouch) because in the English league, it's really, really important to have a player like him.
"If you want to win titles, you need a good squad. That means you need good players who if you call upon them, must be ready.
"We had a new system and they were aware. I am happy for me as a manager and for them. That means they are really good professionals.
"They have two good players up front, one good in the air and the other one quick, and we tried to control them.
"We used different players, Kromkamp and Warnock, in the wide areas to go forward. We started the game really well with the movement of Harry Kewell and Warnock going forward and we created a chance with the first cross in the first minute.
"I don't expect the FA to take any action against him (Cisse).
"We talked after I saw the incident on television and he said he is happy to meet people from Newcastle and say sorry about what he did.
"I think he was under pressure because he had not scored a goal for a long time, so when he scored, the reaction he made was almost normal.

"It was a bad reaction but one made when he was under pressure."
NUFC v Liverpool @ SJP - Premiership years
2004/05: Lost 1-3 Ameobi
2003/04: Drew 1-1 Shearer (pen)
2002/03: Won 1-0 Robert
2001/02: Lost 0-2 no scorer
2000/01: Won 2-1 Solano, Dyer
1999/00: Drew 2-2 Shearer, Ferguson
1998/99: Lost 1-4 Guivarc'h
1997/98: Lost 1-2 Watson
1996/97: Drew 1-1 Shearer
1995/96: Won 2-1 Ferdinand, Watson
1994/95: Drew 1-1 Lee
1993/94: Won 3-0 Cole 3

Jean-Alain Boumsong became the sixth Newcastle player to be dismissed this season, trudging off the field in the footsteps of Parker, Taylor, Bowyer and Babayaro and the rescinded Jenas red. Referee Mike Riley has been responsible for three of those dismissals.

Waffle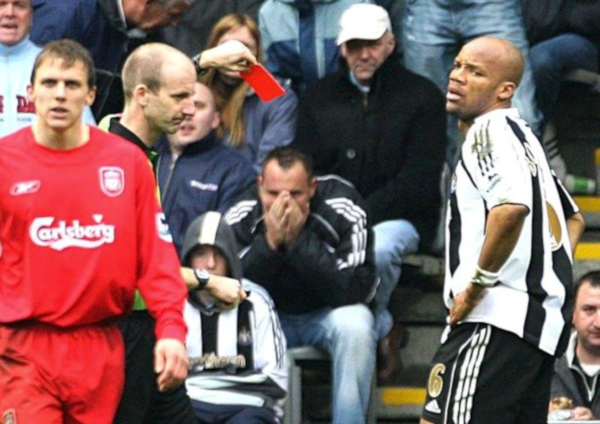 In our role as perennial wet blankets and glass half empty merchants, we were careful to express our relief at the points gathering exercise that accompanied the switch of Glenn Roeder from Academy coach to interim Saviour.

And while we paid tribute to the effort and occasional accomplishment of the team he fielded, it was in the knowledge that his time in the black and white bridal suite was liable to end at any moment.

Said to say though that two successive Sunday examinations have provided a stark reminder of our "fur coat and no knickers" status - and with a return to our own personal Room 101 on the Kings Road up next, the honeymoon period looks well and truly over.

This defeat by Liverpool was by no means as painful as the loss by a similar margin at Old Trafford a week previously, despite our falling behind again almost before we'd broken sweat.

Two down and struggling to make any headway through a congested midfield, we looked uncomfortable at the back and lacking cohesion up front.

N'Zogbia showed his forward running prowess all too briefly before departing, while Emre and Parker ran round in ever-decreasing circles - hamstrung by a lack of width outside them due to Liverpool's game plan.

Frankly, we looked as if the task was beyond us.

But at what was an opportune moment to revitalise crowd and players alike, Shola netted. And had Boumsong not greased his forehead then he could have had his first goal for the club and his side had a half time cuppa in decidedly better fettle.

Crucially, the crowd had stayed with Roeder and his side - both in body and attitude. And there was just the chance of one of those occasional great days unfolding, when the crowd and players combined to produce that St.James' Park synergy that saw us home despite overwhelming odds.

Instead, and in the classic style to which we've become accustomed, within seven minutes of the restart, Jean Alain's headless poultry impression had knocked the stuffing out of all concerned.

And that really was that.

While the Liverpool players and slackjaws on their bench had a key role to play in the dismissal of Bowyer at Anfield last December, Boumsong's early bath at SJP in this game was all his own work.

The Frenchman's continued inability to follow the flight of a bouncing ball saw him react to the sight of Crouch lumbering past him by clumsily upending him.

Riley's reaction was predictable and correct and the consequent conversion of a third goal for the visitors ended this as a spectacle with forty minutes still to play.

Liverpool seemed happy not to inflict further punishment - meaning that Roeder may regret not chucking Moore on for at least a brief taste of senior football for the first time this season.

For our part we kept our shape reasonably well and Solano had a more effective second half, despite being forced to fill in at right back.

But it was all a bit false, as it had been at Anfield a couple of seasons ago when Shola scored and a bloodless 1-1 draw was played out. There were a few more tackles today though...

Just as it could be claimed that Roeder's arrival coincided with a succession of easier games for United, then the boot's certainly on the other foot with this little sequence of matches.

The caretaker boss can rightly turn round and say that he's at least tried to drill his defence since he assumed control, in contrast to the previous administration. Like Michael Owen's metatarsal though, Boumsong's rick today was outside the scope of what could be prepared for.

At the risk of being labelled pro-French here though (not a charge often levelled against us) we have to express some sympathy with Boumsong for playing alongside stand-in centre half Elliott - no lack of effort from him but those little dribbles on the edge of the box are doing nothing for our tickers....

What worries us greatly is that we slip back into the post-Lisbon/Cardiff rut of 12 months ago after what seems an inevitable defeat at Stamford Bridge on Wednesday.

Boumsong was rightly pilloried as he left the field on Sunday by many fans, who were justifiably angry at his contribution to screwing their day up.

But he'll doubtless feature against Charlton, where we'll need a quality performance from him.

Quite simply, stopping three defeats on the bounce becoming four at the Valley next Sunday is a major concern - not least to quieten down the more hysterical sections of the media and our fanbase, who are now flicking the switch to "everything terrible" from the alternate setting of "everything wonderful". It doesn't help.

With Luque and Chopra out of the mix, the burden on Shearer and Shola is weighing heavily at present. And even though he'll not be returning to an FA Cup Semi Final (save for a minor miracle), the sight of Owen on the field (alongside Dyer) will come as a massive relief to all concerned.

Biffa