Date: Wednesday 22nd March 2005, 8.05pm
Live on BBC1

Venue: Stamford Bridge

Conditions: Galling

Admission: £25 (upper and lower)

Programme: £3





Chelsea

Newcastle

1 - 0

Teams
4mins: Peter Ramage lost John Terry as Damien Duff's corner kick dropped beyond the penalty spot at the Shed end. The Chelsea man met the ball on the half-volley and although it wasn't the most powerful shot, Nolberto Solano tried to stab the ball clear but only succeeded in preventing Shay Given from saving it. 0-1
Half time: Chelsea 1 Newcastle 0
Full time: Chelsea 1 Newcastle 0
Glenn Roeder said:
"Alan (Shearer) set his heart on getting into the last four but conceding an early goal to the Premiership champions disappointed us.

"For Alan to lose the game 1-0 and not even have an opportunity to take them back for a replay at St James' Park has to be a disappointment.

"But he won't want any sympathy. Alan is not a sympathy man, just look at his career and look at his life.

"He will shake himself down, pick himself up and work hard towards his retirement before he comes back into the game in football management.

"I don't know whether that will be in one year's time or six or seven years but Alan can still win the FA Cup one day. Why not?

"When he comes back into management, I am sure it will only be at this club and this club has the capability to win it even though the last time they did it I was not born."

About Robbie Elliott's sending off:
"My view is crystal clear. Wright-Phillips took the ball past Robbie Elliott, who immediately turned his body sideways to let him go.

"He is an experienced defender - but Wright-Phillips knows he has beaten him and he's on the ground. He made no attempt to run past him at all.

"I am disappointed with the young man - and I don't think his dad will be too pleased either. What disappoints me most is the contrast between two incidents in the game.

"Kieron Dyer was 'scissored' in the corner but he gets up straightaway and he is not looking for a foul or a booking.

"Then we have the sending-off incident. They are at two ends on the spectrum of fair play.

"I am sure the other manager will have his opinion - but that is mine."

"For me you should just play the game of football.If you are fouled, go down. If you are not fouled, don't.

"The incident overshadowed Shearer's exit from the FA Cup. It was his last chance to win a trophy in the colours of his home town club because he will retire at the end of the season.

A disappointed Alan Shearer said:
"It was a blatant dive. There was absolutely no contact and I thought that at the time. I have seen it again on a replay and it was definitely the case."
Jose Mourinho refused to speak after the game.
Goalscorer John Terry said:
"It was important to get a good early start and we did that straight from the kick-off.

"We turned them around and squeezed them and that set the tone for the whole game.

"It's not about revenge for last year. The most important thing is that we are in the hat for the draw on Friday and we are pleased to bounce back after a very disappointing result at the weekend."
Nearly 20 years since we last won here - November 1986 (3-1 Andy Thomas 2, Beardsley).
This was our sixth 6th Round appearance in the last nine years.

Waffle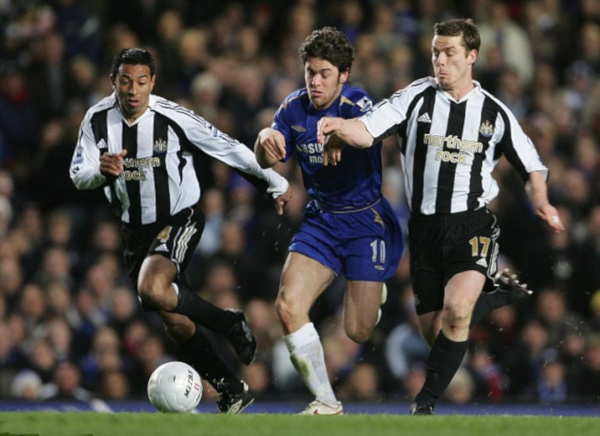 The end of an era then: the twilight of a Champion – albeit one who never got a gong in our colours.

Although league games remain still to be played before his final hurrah against the hoops, tonight was where the story ended for Alan Shearer.

Sadness is the over-riding emotion at this final confirmation that neither he – nor we – will be more than the supporting cast at someone else's shindig.

On that basis, maybe it was better it ended here, rather than as an anti-climax to an overwhelming tide of whimsy that would have accompanied a Cup Final appearance - and the even more inevitable defeat.

A decade of Shearer-inspired football has taken us to the brink of Premiership, FA Cup and European success and back again – ten years and well over £100m having significantly failed to improve our duck-breaking odds in that time.

It's been an exhilarating ride but ultimately an utterly frustrating one, as we've changed strike partners, playing personnel and management as often as our shirt design, but never happened upon a winning combination.

The goals are what made the man though – that and the single-minded attitude that got under the skin of opposing players and fans, not to mention referees. We need to replace both.

Strikes meaningless and magnificent alike from him took us the brink of something tangible. But now comes the realisation that it's time gentlemen please in that last chance boozer. For this writer, that's more worthy of a moment's quiet contemplation than for some dead drunk who never played for us.

Money, fame and power aside, two losers medals, a club goalscoring record, a furrowed brow and a sizeable void in the team are Shearer's legacy.

It's nonsense to talk about retiring the number nine shirt, but as a symbolic gesture it would certainly have some resonance.

It wasn't meant to turn out like this though, surely?

After the retirement U-turn in 2005 came hopes that his last hurrah would see the younger players easing Shearer through a final season, providing sufficient grounds for optimism that he could pack in, secure in the knowledge his team was in safe hands. Wrong.

As we've seen, the reality was of a tired player being asked to do a job he was no longer capable of – but still the prime candidate for the job.

This season the bad has outweighed the good - we've been poor with him but aimless without him.

Sad, but also a savage indictment of transfer activity and the failure of an Academy system that means even a half-fit Shearer is worth his place.

While Shearer's footballing contribution has dwindled, so the influence he's been able to exert on his colleagues has diminished.

There's also precious little (if any) evidence that he's managed to impart any wisdom to the Geordie pretenders to his striking crown. Maybe though the failure of the Jack Hixons of this world to uncover his successor tells its own story – that there's not one to be found.

As he has been in recent times, Al was again a shadow of his former self tonight – trying manfully to turn the tide our way, but really doing little more than fill a shirt in terms of influence.

That was made all the more painful by this being the venue for one of his most memorable away goals, viewing of which always bringing to mind grazed knuckles caused by inadvertently howking the low stand roof in the away section.

There wasn't much to punch tonight – air or concrete - although there were more than a few in the adjacent home sections who were fully deserving of a slap…..

Never mind Shearer's last stand or even thoughts of sticking it right up the conceited Mourinho , two decades-worth of fruitless visits here to be scoffed at by the drifters, hangers-on and tourists who make up the home support made this a big game.

The stakes were high, the scalp a worthy one – the potential satisfaction even more immense than beating these lot at SJP in the competition last season.

And there was just enough belief (and red wine) that we were destined to do it rather than fated to f*ck up that had apparently sane folks parting with folding stuff at 9/1 for an away win.

Just as Rooney and Crouch had done in our two previous outings though, the early Terry goal stifled any hopes of glory at birth, as a note of reality was swiftly injected into proceedings. Don't you just hate it when that happens?

From then on, Glenn's big night out up West was little more than a gallant rearguard action / face-saving exercise – in itself not unwelcome, given Birmingham's mullahing on live TV the previous evening.

On that level, we did well thereafter and came out of the contest with a modicum of respect intact.

As for anything else though - like making their 'keeper earn his wedge or threatening to force a replay – forget it.

Obviously lacking pace and a cutting edge, we found ourselves unable to get behind Chelsea – partly though a fear of over-committing numbers and exposing another reformed backline.

The lack of viable alternatives open to Roeder dictated team selection, while the rigours of the previous two examinations were as debilitating as playing against the current and future Premiership champions.

Yes, the poor refereeing decisions and play-acting from Mourinho's men continually frustrated – but didn't change the course of history.

A year ago we lost successive games to Lisbon, Man United and Norwich – a trio of defeats that we were unable to bounce back from, the season consequently draining away to its joyless conclusion.

This time out we've been unfortunate in that we've copped for three of the toughest domestic fixtures possible on the bounce.

The trio of defeats though were utterly predictable in their execution and outcome, providing ample evidence of our shortcomings for the nation and beyond to see from their armchairs and barstools.

Having failed at the top level though, the onus is on Roeder to restore fading belief that we can compete successfully with the next strata of sides in our league.

The encouragement gained recently by beating the likes of Villa, Bolton and Everton shouldn't be forgotten as we contemplate the final run of games through to the season's end.

If Shearer has anything left to give, propelling us into a European spot would be a worthy final playing contribution to this club. He can't do it on his own though.
Biffa

Reports