Date: Sunday 26th March 2006, 2.00pm

Venue: The Valley

Conditions: Munificent. Overcast but dry.

Admission: £25 (last season £25)

Programme: £2.50





Charlton Athletic

Newcastle United

3 - 1

Teams
24mins: An awful clearance from Peter Ramage landed at the feet of Jerome Thomas before debutant Craig Moore made a wild lunge, leaving referee Mark Halsey with little option but to award a spot-kick.

Darren Bent's low penalty was only just beyond Shay Given's dive to his right but was firm to enough to find the net and put Charlton ahead. 0-1

35mins: Alan Shearer exchanged passes on the left edge of the Charlton box before laying the ball back to Addicks old boy Scott Parker.

The midfielder - booed from the first whistle - let fly with a thirty yard rocket that ex-mackem Thomas Myhre got nowhere near. Parker promptly sprinted the length of the pitch to celebrate with the away fans. 1-1
37mins: A less-than-threatening free-kick into the Newcastle box caused all sorts of problems and Moore's hurried, low clearance ricocheted off Lee Bowyer giving his own goalkeeper Shay Given no chance. 1-2
Half time: Charlton 2 Newcastle 1


89mins:
After our forward foray broke down, Charlton counter-attacked at pace and Dennis Rommedahl was able to find Jay Bothroyd at the near post to head home - his first touch after coming on as substitute.
1-3
Full time: Charlton 3 Newcastle 1
Glenn Roeder said:

"It is more than disappointing.

"I said to the players that Charlton Athletic have made a name for themselves because they beat the Newcastle Uniteds of the Premiership.

"If you are not fully concentrated on what you are doing, especially defensively, you will lose - and we're giving goals away that a manager can't possibly legislate for.

"Our defending for all three goals was woeful. At this level, for Newcastle United, it's not good enough and it's happening too often.

"The players have to realise that if they want a long career at this club, whoever the manager is going to be, they've got to be much more consistent and cut out the mistakes - otherwise they will find that professional football is a hard, cruel game.

"We lost 1-0 (in the FA Cup quarter-final) at Chelsea last Wednesday, and every member of their back four - Geremi, John Terry, Ricardo Carvalho and Asier Del Horno - was prepared to put his foot through the ball.

"There is no need for tippy-tappy play at the back. If basic defending is good enough for Chelsea, who are the champions, then it has to be good enough for our defenders.

"We are thirteenth in the Premiership now, and mid-table is not good enough for Newcastle. It will be a huge job for the next manager to sort this out.
"This club cannot be in the middle of the table. It is a huge, huge job for whoever comes in because defensively we are showing no consistency.
"Yes, we've had injuries, suspensions and bad decisions but everyone has those. I came into the job saying there would be none of those excuses.

"There is one positive from that game - Scott Parker's goal. He is a winner and he will be hurting just like I am at that performance. Imagine how miserable he is coming back here and losing 3-1.

"I will not have anyone say the players lacked motivation... but it is not acceptable to come here and lose in the way that we did."
Alan Curbishley said:

"I was really pleased with the performance, but I am at a loss when it comes to working out how our season has gone.

"At the start of the campaign we were playing terrific football, but we could not win at The Valley and we were winning away from home.

"Since Christmas, we have not been able to win away but we have been excellent at home. But I have everybody fit - which has not happened for some time - so I am confident about the run-in."
Addicks v Magpies since The Valley re-opened:
2005/06: Lost 1-3 Parker
2004/05: Drew 1-1 Bellamy
2003/04: Drew 0-0
2002/03: Won 2-0 Shearer, Solano
2001/02: Drew 1-1 Speed
2000/01: Lost 0-2
1998/99: Drew 2-2 Ketsbaia, Solano
1996/97: Drew 1-1 Lee (FAC)
Alan Shearer made his 400th appearance in all competitions for the club.
Newcastle endured their eleventh away defeat of the season - our worst ever return in the Premiership with three games on the road remaining.

Craig Moore became the 121st player to represent Newcastle in the Premiership and the first Australian at top level. Previously we fielded David Mitchell in 1991 (two appearances, one goal in Division Two).

Waffle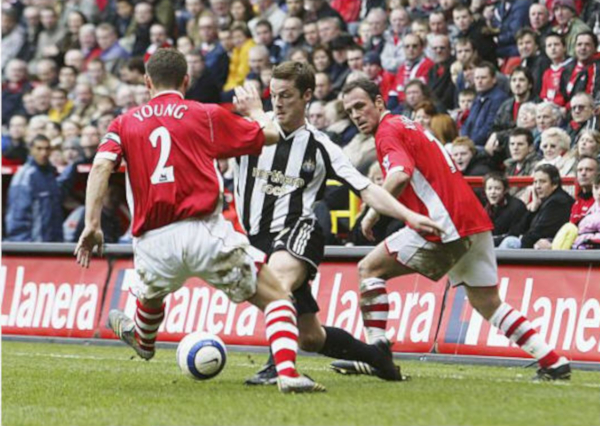 After the seemingly inevitable disappointments of the Manchester United, Liverpool and Chelsea tests, this fixture had a rather more of an air of reality to it, in terms of us competing with something more than forlorn hope of gaining a tangible return.

Unfortunately we chose this Valley visit to inflict a thoroughly disjointed, listless non-performance on our most loyal subjects.

If there was a silver lining, it was that live transmitted proof of our awfulness was restricted to overseas viewers - and those UK devotees receiving it with Arabic subtitles via some dubious relay.

Our high point wasn't hard to pick out - a sizzling strike from Scott Parker that home fans later confirmed was the most eye-catching effort that he'd ever converted on his old stamping ground.

Unfortunately that moment of quality was in stark contrast to most of our other movements, which were by turns stilted and comedic, and had home fans raising their voices to ridicule Parker by the final whistle.

The fact that we opened up the brighter of the two sides was long forgotten by the time Addicks' sub Bothroyd netted the decisive third with his first touch of the afternoon, to condemn us to yet more misery.

Making the early running though counted for nowt, once some slipshod defending led to an ill-advised attempt at clearance by Ramage that ultimately led to Moore conceding a penalty.

And although we broke with seasonal trends by hitting back, Parker's equaliser was merely the prelude to any bout of cows arse/banjo defending that somehow left the ball in the back of Given's net.

That slapstick interlude brought Roeder to the touchline with a minute of the first half remaining, the technical area having been the territory of one T.McDermott up until that point.

The appearance of Dyer for the second half coupled with the less-than-convincing cover in front of home 'keeper Myhre led rise to thoughts of a comeback to save at least a point.

In the event though, we failed to test the Charlton defence sufficiently to prolong those notions of optimism, even after N'Zogbia was introduced for the ineffective Ameobi - who was booed off by a section of the Toon support.

What Glenn Roeder does and says to his shell-shocked troops now is unclear. But if his text to the troops is vitriolic and abusive, then he's entitled to turn the air blue after this latest misadventure.

To all intents and purposes we've regressed twelve months to the point we were in post-Lisbon and Cardiff where we looked in need of some form of stress counselling rather than more games.

Deeply concerning frankly, with reservoirs of form and confidence seemingly having drained away to nothing in the last fortnight.

And with the latest noises from the Owen camp seemingly more Three Lions than Two Magpies oriented, it's hard to see where the required shot-in-the-arm is going to come from at this juncture.

Like us, Charlton had come into this fixture on the back of a midweek Cup outing. Unlike us, they hadn't had their hopes of glory dashed or their squad selection restricted due to injury or internal politics (Luque again nowhere to be seen).

Those two debilitating factors plus a cobbled together defence containing tired bodies and minds and creaking joints ultimately proved to be our undoing.

But to be second-best against a merely workmanlike side like the one Curbishley stewards is just unacceptable.

Regardless of the press-friendly soundbites directed towards the Caretaker Manager recently, the reality is that players are coming up short and letting him down, just as they did when pulling the rug from under Souness.

Forget about fanciful thoughts of Europe. On this performance we don't look like adding to our current points total, simply because we cannot stop conceding goals and never score enough to spare our defensive blushes.

As we seek a new architect to implement our grand plans, we remain structurally unsound and in need of substantial renovation. Hardly the most desirable address currently up for grabs....
Biffa